How to set up and configure your new Razer BlackWidow keyboard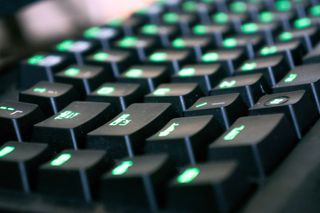 Razer's family of mechanical keyboards under the BlackWidow (opens in new tab) banner are a popular choice for gamers due to the build quality, switches used and satisfaction while in-game. In order to properly set up and configure a Razer keyboard to your liking, you'll need to make full use of Razer's Synapse software, which allows you to alter all manner of things.
Before we crack into this guide — which should work for most Razer keyboards with only a few differences — should you be interested in picking up a new keyboard and are looking to see what Razer has to offer, there are a few options within the BlackWidow family, depending on what you require.
First up we have the BlackWidow Chroma (opens in new tab), which sports all the bells and whistles with an insane choice of color for the LED backlighting. This particular keyboard can be purchased with either green or orange Razer switches. Next we have the Razer BlackWidow X Chroma (opens in new tab), which strips away the outer shell around the keys to showcase the mechanics underneath. This also makes it much easier to clean.
Both the Razer BlackWidow Tournament Edition Chroma (opens in new tab) and BlackWidow X Tournament Edition Chroma (opens in new tab) are essentially the same as the two keyboards aforementioned, but they do not have the numberpad and are more compact for enhanced mobility and less of a footprint on desks. The Ultimate (opens in new tab) and X Ultimate (opens in new tab) are your classic BlackWidow standard keyboards with green backlighting and the BlackWidow Tournament Edition (opens in new tab) is the most affordable keyboard with no backlighting.
As we noted in our recent guide on how to set up your Razer Naga mouse on Windows, the company's Synapse suite (opens in new tab) is where you'll be doing most of your customization and configuration for Razer peripherals. This is no different when it comes to keyboards.
Customize
The Customize section of Synapse will let you configure each and every key on your Razer keyboard. You'll be able to select from a drop-down list of pre-defined functions, but you can essentially switch around where keys are located and create new macros. Wish to switch around your "T" and "Y" keys? You can do just that.
Should your keyboard also have some macro keys available on the left-hand side, you can use them for advanced programmable functions and macros without losing functionality on other keys. For example, you could program M3 to actually emulate you pressing F+D+R+E+Q+W in quick succession without having to physically hit the corresponding keys.
Just as you would with a Razer mouse, profiles can also contain configurations, lighting and other settings that can be switched out depending on which game you're currently playing.
Lighting
This area of the suite enables owners of capable Razer keyboards to configure lighting controls and options. The choice of settings here depends on which keyboard you've purchased — be it a standard Ultimate BlackWidow or the Chroma. With the latter, you'll be able to choose what color you wish to have beamed into your surroundings, as well as attached patterns. No matter which you go for, everyone will visit this page to change how their peripheral illuminates the darkness.
With the BlackWidow Ultimate, you have the option for pulsating lights or a constant level. The latter can further be configured to be at different brightness levels. (This can also be achieved on the fly by FN + F11/F12.) Lastly, there's the option for the keyboard to shut off its lighting should the display be disconnected/turned off.
Gaming Mode
Gaming mode enables you to disable certain shortcuts and functions when in-game. Things like ALT + F4, ALT + TAB and the Windows key can be disabled from this section of the suite. This should help prevent those accidental moments when you've been returned to the desktop, either by hitting a shortcut or by inadvertently killing the game's process.
The best part about Razer Synapse (and other manufacturer solutions) is how everything is relatively straight forward to use. With your keyboard fully configured, you'll now be able head in-game and take full advantage of the power of mechanical.
RzStats
When you've played a session or few and wish to see just how you're using the keyboard to interact with in-game functions, be sure to check out the Razer Statistics suite. Just like mouse clicks and movements, Razer's software can also track keystrokes and showcase just which keys you're mainly using in any particular session.
It can also reveal how many profile switches you do, what number of macros were deployed and what distance you achieved through key pressing. As we noted in our previous guide, be sure to remember to activate your warranty on your Razer account, which is worth setting up for cloud storage and synchronization of your profiles and configurations.
Rich Edmonds is Senior Editor of PC hardware at Windows Central, covering everything related to PC components and NAS. He's been involved in technology for more than a decade and knows a thing or two about the magic inside a PC chassis. You can follow him over on Twitter at @RichEdmonds.
Build quality and switches you say.. You should have made an article about the Corsair K70 keyboard then. Brushed metal casing, feels sturdy and solid, using German Cherry switches. Design wise, it beats the Black Widow as well, not to mention Razer are using their own switches that are manufactured in China. The only downside on the Corsair is the price, but let's be honest.. Once you get your hands on that keyboard, you fully understand why you paid what you did for it. Hope you make a review about it.

I was just about to comment about quality but you beat me to it Ayyyyy lmao

The Razer switches get a bit of a bad rap because they're made in China, but I have to wonder if that's anything more than snobbery. I also wonder if the new MX speeds would exist without the Razer and Logitech switches. I suspect not. Posted via the Windows Central App for Android

It's just snobbery. Razer switches have been great in my experience.

Relax, when corsair sponsors the site I'm sure we'll get a handy 'guide'. Whoops! Time to delete the comments!

Yeah build quality is not the Razor's strength

I had a Razer BW once. Bought it, set it up, and then returned it the next day. The Synapse software is terrible. Build quality of the kb itself is so-so. Ended up getting a Gigabyte Aivia mechanical kb which was awesome but big. Now I have a Steelseries Apex M800 and it's awesome.

Razer tech support is crap and keyboard have tons of problems. I had1 BW and 1 deathadder that i had to replace a little bit over a year of use.

Had a razor headset, didn't last too long before broke. Cheap plastic headband gave out. I would hope keyboards better given the price
Windows Central Newsletter
Get the best of Windows Central in in your inbox, every day!
Thank you for signing up to Windows Central. You will receive a verification email shortly.
There was a problem. Please refresh the page and try again.