How to set up and use Facebook Chat and Messenger for Windows Phone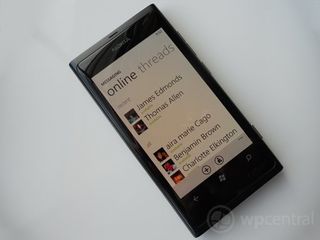 Being actively social while on-the-go is Microsoft's main aim with Windows Phone, and both Messenger and Facebook Chat provide the means for owners to communicate with contacts via the social network and popular IM service. What's great about these features is that they are integrated into the operating system. Switching between text, Messenger, and Facebook can be achieved in the conversation itself with zero apps.
The only issue with such integration is actually setting it all up - it's not as simple as one would like to believe (there's no click-and-go here). Messenger is automatically connected and ready to fire up once you'd attached your Live ID in the Windows Phone setup walkthrough, but to activate Facebook Chat, you'll be required to login on your Live account and set up Facebook Connect via the web browser, as well as adding your Facebook account to your phone. Simply connecting your Facebook account to your Windows Phone only kick-starts the social integration for the People hub and Me tile. Too much, too fast?
Read on for our full tutorial on Facebook Chat and Messenger for Windows Phone....
Add your Facebook account to your Windows Phone (Settings > Email and Accounts).

Head to live.com and login using your Live ID (the same one that's used on your handset).
Under "Messenger Social" (where all your contacts updates are displayed) select "Add" next to the list of connected networks.

Connect your Facebook account to your Live ID and grant permissions.
Now you'll be able to utilise Facebook Chat on your Windows Phone with the above steps carried out. To connect to both Messenger and Facebook Chat, you simply pop into the messaging hub and swipe to the left to change your chat availability.
If you're unable to connect to Facebook Chat, be sure to check and see if the service is active in the messaging hub settings (select the "..." to bring up the menu and select "settings", ensure Facebook Chat is switched on).
Once up and running, much like any IM client on Windows, Linux or Mac, you're able to set your status to:
Available - activate both Messenger and Facebook Chat
Busy - appear as "busy" (affects Messenger only)
Away - appear as "Away" (affects Messenger only)
Appear Offline - activate Messenger only, appear "offline" (Facebook Chat is not activated with this option)
Offline - close all connections to the IM services
The messenger services will now be available in conversations present in the messaging hub. Text/SMS, Messenger and Facebook Chat are all integrated into the single location. When conversing with a contact you're able to select which means of communication you wish to use by selecting "Switch" from the application bar (the contact will need to be online as well as yourself to use Messenger or Facebook Chat - statuses are displayed when service switching for convenience).
Check out our speedy visual walkthrough below:
Note that actual Facebook messages are not displayed or loaded in conversations in the messaging hub, nor can you message a Facebook contact who is offline on the Chat service. To use messaging on the social network, the official Facebook app is a superb client (and is available for free).
Rich Edmonds is Senior Editor of PC hardware at Windows Central, covering everything related to PC components and NAS. He's been involved in technology for more than a decade and knows a thing or two about the magic inside a PC chassis. You can follow him over on Twitter at @RichEdmonds.
It would be nice to fo the same thing with Whatsapp :/

That would be great indeed!
But due to the strong cooperation between Facebook and Microsoft, I don't think, that this will happen soon.

Idk if anyone else has experienced this, but for me, offline messaging works for Live Messenger/MSN. It doesn't do it for FB Chat though.

Should be good to go now.

Eh I'm in a sucky situation. All my friends used to use Windows Live Messenger which would be perfect now but they've all moved onto Facebook, no one logs into MSN anymore and I'd rather not sign up to Facebook.

Sigh :(

Why don't you want to sign up for Facebook?

I just have serious reservations using the Facebook service. I don't trust the company. I just don't want to share info with Facebook. I understand nearly all companies collect info about their users, but I'd rather give my info to Microsoft or Google before I'd give it to Facebook. And FB doesn't really offer any features apart from my friends being there that would make me want to sign up.

I just find the way FB works to be compromising in relation to the integrity of my privacy as a whole.

You talk about fb and live chat a year later. What's the use. If you have a windows phone and haven't figured that out yet you need to move to alien or rotten apple.

Windows Phone is still just kicking off in the US, it makes sense to get these tutorials up now for later reference should anyone require a quick walkthrough. New Windows Phone owners are popping up on a daily basis, some more technologically savvy than others.

@abond32 With the Nokia launching the Lumia 800 everywhere worldwide and the Lumia 900 selling very well, we have a lot of new Windows Phone users. This is for them, not you.

This is still an incredibly useful article for new and existing users alike. Thanks to the author for taking the time to write this!

there's an issue or not omplemented features (depends on how u want to call it :-) ) if someone is online in the facebook-app on his iphone, the wp7 won't recognize him as online. does this issue just affect me or is someone able to see them as online?

It's not just you, the chat implementation sucks big time.
And it's really frustrating that nobody seems to care about this. I wish wpcentral would bring it up when they interview the MS people. Along with all the other issues that plague WP7...
Oh well :(

I really would like a way to add secondary Windows Live accounts to the chat. While setting up my phone, I created a seperate Live account, thereby leaving all my contacts are in my other account. I don't want to merge the two accounts (I want to keep them seperate), but I would like to add my secondary account so I can use the chat feature.

A big problem with this is that you can only use the main Live ID to chat with Live Messenger (the one that you set up initially). This is a problem for those people that use different Live ID for IM, email, Marketplace/XBOX/Zune, etc... Of course, you can always do a factory reset, but this is painfull...
And this get worst when you contact Windows Phone support because you cannot change the country of your Marketplace account and the only available official workaround is to create a new Live ID, reset your phone, and configure the new Live ID just to have access to your contry marketplace (btw, ridiculous). Then, you will also have to move all your contacts to the new Live ID if you want to chat with them using intengrated messaging (which is even more ridiculous).

Getting Live Messenger to work is a PITA if you don't know that you and your friends have to add each other to your respective friends list. We spent way too much time trying to figure that out. That really portrayed Windows Phone in a bad light to my non-WP Messenger-using friends.

MSN messenger chat is rarely working. When that is down, so is FB chat. I keep getting the message "Cannot connect" whenever I go to my text option. It's frustrating to have to go through this process of resetting my FB account on my phone everytime Messenger goes down. I wish Microsoft would fix this problem.

I use FB chat all the time, and have never had to reset it, and it seems to always work

Never had an issue that I know of with the native messenger...I get all my messages and people receive all my messages. Basically conversation is flawless.

Messenger kicking ass for me. I wonder if you have a Samsung phone? (Connectivity issues sounds like my old Omnia 7)

I actually have a LG Quantum. My connection is so spoty. I would have to sign out everywhere from my laptop, try the instructions from this article, then hope it works on my phone. Currently, I have no connection to MSN chat. I'm having to resort to 3rd party apps just to connect to FB & MSN chat. Pretty frustrating. I've posted my problem on the forum and I hope MS reads it.

I've ;never has any troubles with the chat features on my phone. If I start a conversation with a friend on FB and we switch to WLM the conversation continues flawlessly. If one of us go offline we can pick up the chat via text with no issues what so ever.

nice recap. I have just recently set all this up. It generally works fine except my partner always shows as offline for messenger when I use the switch icon to select the transport. However he isn't offline, or invisible, and he has checked on the phone availaibility and on the windows live page on his PC. Anyone else have this issue? Weirdly though, messages seem to go through to him.

I've done all the setps as above and made sure that FB is connected and all but i'm not getting the messages of facebook in my message hub... any ideas?
Thanks
Lumia 900 user

hi.. thanks for the information .. i just recently bought a lumia 610.. tried out all the steps installed facebook chat too.. but wen i go into messaging hub it says cannot connect to chat.. kindly help

Thank you so much. It works ! :)

I really love it thanks and everyone should try it #just do it #

Hi Guys, for those of you not experiencing any problems with the FB=text messgaer I'm assuming you have the upper-end models i.eLumia 820-925 etc.
I have a feeling the messgaing issues is with the lower end models. I have a Nokia Lumia 620. I love this phone but it's really fustrating having to log into my facebook account everytime I need to view my chat messages. When I first broughtit it was fine, now I get a 10 190 miunte delay and now they hardly come through. It's a shame as it's such a great idea!
If anyone knows of a solution to this problem, I would love to know about it.

Thanks guys!

I did what you wrote above, But it shows error message- Oops! we're having a problem that we can't solve at the moment. Try again later

I am using Nokia Lumia 630 but i cant recive call from facebook messenger friend and neither i can call from facebook messenger how can this problem may resolved please reply hurry up thanks

Did ALL the steps completely correct afew times and am still getting "Cannot connect to chat." Any ideas???
Windows Central Newsletter
Thank you for signing up to Windows Central. You will receive a verification email shortly.
There was a problem. Please refresh the page and try again.