You just got a new Windows phone! Here's how to get started
Got a new Windows phone this holiday? We've got you covered on the set up and out of box process!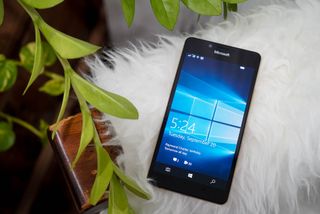 Whether you're coming from an older Windows phone, or are new to the platform. Windows 10 Mobile phones are easy and convenient to set up and enjoy, and takes only a few minutes once the device is powered on for the first time. It's the same, universal setup for all Windows phones, so no matter what device you've got, this tutorial will help you out.
Understanding your options
There are two ways of setting up and getting started with a new Windows phone.
Set up as "new", which means starting everything — every setting — from scratch. This is for people who've never owned a Windows phone before and are starting afresh.
Restore from a previous Windows phone backup. You can do that online with a Microsoft Account. This is for people who've had a previous Windows phone device and are upgrading to a new one.
How to begin setting up your new Windows phone
Regardless of whether you're setting up as new, or restoring from a backup, everything kicks off in the exact same way.
Select your language and tap next.
Choose your home country or region from the drop down menu and tap next.
You'll be prompted to read and agree to the terms and conditions. To continue, tap accept.
Adjust your phones time and date and make sure it's correct. Use the drop-down menus to select the time zone, date and time. Tap next to continue.
Select your WiFi from the range of WiFi routers available. You'll be prompted to enter a password if your WiFi requires that. If you'd rather not connect to WiFi, tap skip.
You now have the option of customizing your phones core settings. To have the phone automatically choose the best settings, select Express. If you want to manually adjust these settings, select Customize.
Sign into your Microsoft Account to sync settings, data, apps and documents. You have the option of creating a new account, signing into an existing one, setting your phone up for work or signing in later. If you wish to restore from a backup, you will want to sign in here.
How to restore from a Windows phone backup
If you're looking at restoring from a backup, you'll need to have signed in with a Microsoft Account as detailed in Step 7.
After signing in, you should automatically see a list of previous backups. Selecting a backup and tapping Next will begin to restore. You may be asked to verify some securify details (such as your Microsoft Account's phone number).
If you'd rather set up your phone as new, scroll to the very bottom and select "Don't restore".
If you don't get the option to restore from a backup after logging in, you'll need to start as new as there are no backups available in the cloud. There's also the option of setting your device up as new, rather than restoring from a backup.
Finalizing the setup process
Now you've signed in and decided whether you're going to restore from a backup or not, it's time to finish up the set up process.
Enable automatic upload for photos, videos and documents by tapping next. Or select "not now" if you don't want this feature.
Enable Cortana by selecting "Use Cortana". If you don't want to use Cortana, select "not now".
Your phone will then do the rest of the work, taking a few minutes to install any remaining apps and settings.
Once that's finished, select next to begin using your new Windows phone!
More resources
For more tips and tricks, and the best coverage on Windows 10 Mobile, you can visit the following resources:
Windows 10 Mobile on Windows Central – All you need to know
Continuum news, tips, and tricks
Windows Central Newsletter
Get the best of Windows Central in in your inbox, every day!
Zac Bowden is a Senior Editor at Windows Central. Bringing you exclusive coverage into the world of Windows on PCs, tablets, phones, and more. Also an avid collector of rare Microsoft prototype devices! Keep in touch on Twitter: @zacbowden.
Uh no, nobody just got a Windows Phone. We're all waiting for the Surface Phone.

I dunno, one of my relatives was genuinely considering getting a Lumia recently. There's definitely still interest about, even if just second-hand or hand-me-downs.

Moving to windows phone from another platform? Wow that's a first. I'm not trying to bring down the platform, but I have never heard that from someone this year

Now if they get one as their very first smartphone maybe...i started with windows and never moved. ;)

I just got an Android device... I'm still glued to my Lumia 640XL though, but, soon I will be engrossed with the Andy platform. I migrated cos I don't trust Microsoft and their mobile platform, I feel they might shut the door on developing it soon.

If it happened, "soon" would mean about five years from now. That's a long way still.

They have basically stopped developing it today. They outright said they only see value in keeping it for LTE and ARM support in Windows. Next year when they have Windows on ARM available, Windows Mobile will just be dead weight. The Creators update is the biggest nail in the coffin. It was originally supposed to be Mobile focused and they didn't even mention Mobile during the announcement. Surface "Phone", if they decide to release it, certainly isn't going to be running Windows Mobile. They need something new and original. That isn't Windows Mobile. If they planned on Surface "Phone" running Windows Mobile, they would have at least announced some sort of features or services coming to Windows Mobile.

Windows 10 on Arm and Windows 10 Mobile are the same thing.

I think you are mistaken. Base code and same thing are vastly different

Kernel, drivers, UWP support, file system, registry.. All the same. The UI is different for the different form factors. NBD.

So I can install W10M on my Surface Pro and it will run just fine?

Was WM, went to iPhone, then came back at WP7.

WP7 is better than WP10 in so many ways. In AdDuplex stats I'm one of those 2% who is still rocking my WP7.X device. But I do have an 8.1 device as well. There is nothing compelling in WP10 for me at this moment. I love pivots! I love the panoramic photos hub. Zune music on my 7.X is still the best. There's so much goodness about 7.X and 8.1 until WP10 has something special I'll hold on until my other phones dies. :)

I fell in love with windows phone 7 UI. it was a real game changer but people wanted to stick to what they know. Gridded icons and disgusting framed apps.

Ah, Windows Phone 7... The Lumia 900 was the best smartphone I never had. When it came out, I saw it at the local Media Markt, but I didn't have the money to buy it. So I went back like every week for two months to play with it for a bit, and see if the price drops. But it didn't :/ It felt so refreshing and so beautiful :D After that, I bought android phones and used them for three years, and forgot about Windows Phone. Until Windows 10 came out on PC. I was instantly sucked in, and in October 2015, I finally bought my first WP, a Lumia 535, used it with 8.1 until W10M came out. Now I have two Windows Phones, the 535 and a 650,. I love them both, and I love W10M. So I think people should stop living in the past. :D

A game changer that doesn't change the game isn't a game changer. Windows Phone didn't have any effect on the game at all. The UI was really bad for anyone other than the most simplistic of users. The interface put too many restraints on the user, even the iPhone felt more free. It was a bit better with WP8.1, but it was too late then.

While I would gave agreed with you to some degree at the early stages of Win 10 ...Pivots are back with latest Win10 updates ...Groove has gotten a lot better than Zune on WP7/8. Win10 is generally much richer in features. The OS has also become a lot faster/snappier.

I find it people will down vote my comment. But here's a FACT!!!!!! Windows 7.X and Windows 8.X had more WP users or higher percentage of users. WP 10 has regressed!!! Period!!! That's why they only have 1% of users today!!!!! Or less than 1%!!! And please don't act like you're more of a Microsoft fan than I am. Because I can guarantee I own more Microsoft hardware than most of you! But WP 10 Sucks right now. No matter how you slice it. Get back to 10% and lets talk or else STHU!

As if WP had many users to begin with.

windows 10 mobile is a total crap compared to WP8 and 8.1. It's slow, buggy, poorly designed...a mediocre attempt from MS

If last christmas is ok here i am.

My dad still has a Symbian phone (a Nokia 500) which is on its last legs. He's thinking of getting a Lumia because he doesn't want an android and iPhones are just way too expensive

My wife moved to Windows Phone a month ago after a few years of torment using Android. My dad is very upset that I gave him an Android device for Xmas instead of a Windows Phone (2nd hand phone, only a few months old). He will likely buy a new Windows Phone in the next month or so

My brother wants to move from Android to a Windows phone. He's not really a big apps and games person and is just sick of his Android phone's crap. His Sony Xperia Z1s constantly freezes, touch some time doesn't register, unexpected reboots and so on. But where else does he have to turn? iOS is locked down, Blackberry is down for the count (I primarily use a passport with my android phone for games and media). A couple years ago the market had a lot of choice, now we are down to 2 platforms. Unless you're a kid, you realize how sad the mobile market is right now.

Because it's almost not happening. After 6 years of supporting Microsoft, I finally bailed. They can kiss my ass.

I'm still seeing people wanting to get their hands on a Lumia, even importing it out paying a premium to get one here in India.

I have a couple of Lumia 640's I use as side devices for things like Instagram, because the iOS instagram app is ******* awful, but my daily driver is an iPhone 7+ now. Microsoft dropped the ball, kicked it into a field across the street, poked its own eyes out and is now stumbling around like a drunken madman in the swamp when it comes to mobile. They are truly lost under Nadella's "leadership" when it comes to mobile.

Is this article a joke?😂😂😂😂😂

"you've just got a new Windows Phone! Get ready for a life of countless resuming""..... 🤓🤓🤓

My first thought was "I'm sorry..." I do love my Lumia 950XL though, even though the camera sometimes just doesn't save the pictures it just took. =P

Wow! I thought I was the only one experiencing this issue. Only with W10M I've ever experienced taking a photo not even saving it, talking about missing a crucial moment. And this is even from a flagship device. This is why I tend to carry another Android phone just in case because geez the Lumia and W10M is quite unreliable nowadays. Where is the strict quality control here? Not saving a photo after taking a shot shows how they "care" so much about their customer experience. Camera is considered basic for a smartphone these days, and yet they managed to not properly working at all times. It's really frustrating experience which I missed countless of photos realizing that it didn't saved at all. Even recently during holidays with shiny new 64GB MicroSD card (which I expect taking tons of photos during holidays).

Interesting...hope this doesn't happen on mine.

Yes, it's quite annoying because it even shows up in the picture preview icon in the app and flash occurs and all. I guess I will need to submit a feedback issue if I haven't already. I will post a link later.

You should. I'll upvote it. Even though it hasn't happened to me.

There is apparently a lot of issues with the camera right now but nothing exactly matched it. I created a new one. https://aka.ms/Djkjre

Chill.... U r not alone...

Broken camera, saves only 1MP thumb nails. Lost 3 days of photos. Microsoft quality control. And if you google, this bug is more than a year old. Reboot, soft reset doesn't help, and it happens not to everybody. Never seen a iphone or android with such a crappy camera bug.

Yeah... I've been losing pictures from time to time... Super frustrating. I have a feeling all this will be fixed (at least for high end devices) with the REAL universal W10 on Arm. Can you imagine the capabilities Windows 10 on arm will have on mobile devices?

An update screwed it I believe because I never used to have the problem but now I get it occasionally. The "saving" thing is really annoying too and the fact that the OS has bugged out the front facing camera.

Well, a lot of it is apps, mainly FB, but you can blame that on the developer... But, Windows does resume itself way too much, and too long.

It's a windows 10 issue and not specific phones. Happens on my 1520 rarely but my wife's all the time.

when they use insiders instead of dedicated professional testers, what do you expect? quality?

That's what happens when Microsoft goes cheap and fires all of Nokia's talent. I don't know for the life of me why people are pretending WP10 is any good at this moment. They have taken a number of steps backwards. I won't pretend WP10 is any good at this moment because it isn't.

On my 650, when I take a photo with HDR on, it takes a long time to save them, because it's "adding final touches". But it does it in the background, so it's ok with me :D

That's what finally made me switch to a OnePlus 3. It just clicked one day, that I was forever compromising and making excuses for the W10 mobile platform. I couldn't do things with my family because of the 'app gap' and my life was being made poorer for it. Since leaving I've never been happier and the scales have been lifted from my apologist eyes. MS are only ever going to support enterprise. Cortana, continuum etc are only useful in a business setting. Sad but true. Nokia brought me to WindowsPhone but I'd had enough. I pop back now and again to WindowsCentral but its like visiting an old folks home as far as mobile. The rest is just gaming. A sad end.

Same, sistren, same. I will also tell you guys a secret, lol, snapchat is one of my favorite apps now.

I don't believe this enterprise story. The OS is just too buggy and limited, no enterprise wants this. Unless you hate your employees.

Yeah, I don't understand this business argument either. Windows RT Lite (aka Continuum) would never fly at my company. We do have quite a few Surface Pros though.

Nah, if the phones are sold out, of course there are people who got new ones.

Not sold out. Most of the MS stores around here have then in stock. Stock is going fast though. Picked up my 950XL with the $200 of sale a few days ago. Love it! Got an iPhone with my wife because that's what she likes/wants. We have the best of both worlds. All the apps for the various free stuff and discounts you get through the apps and a mini pc on the go with a super camera with Continuum. I have barely any apps other than the core apps on my Lumia running the latest Fast Ring Build (which runs smooth)

Nice deal there! In my radius of stores, the actual store doesn't have them in stock. The kiosk(?) is the only one that even has stock LOL. Random question: Were you able to combine discounts, like the Education one with the sale? If I could, maybe I'll take a drive to get a 950.

My Kiosk Microsoft store gave me the 10% education discount & the $ 200.00 off on the 950XL !!

Awesome, thanks! I have my education id, maybe I'll go there.

It's customer appreciation month too...so make sure you get that discount as well.

No way! Thanks for the heads up, I'm going to really have to try to see if I can get lucky.

I got the $200 off the 950XL. Got the customer appreciation discount on the case I got. It depends on the location. I've heard of some locations giving both discounts on the phones.

Just saw on an article on Android central :how to search in playstore seems like mobile nations is on a roll today

Just saw on an article on Android central :how to search in playstore seems like mobile nations is on a roll today 😂

Just on an article on Android central on how to search in play store. I think this is still better 😂😂

Just saw on an article on Android central on how to search in play store. I think this is still better 😂😂

I'm still cursing myself after buying Nokia Lumia 1020. Battery performance has degraded significantly.... Getting no support from Microsoft.
Ridiculous decision of mine.

Well...it's an older phone now. Especially if you use wireless charging excessively....the battery life degrades over time.

Damn.. Is that the reason my L1520's battery died within 6 months... I only used wireless charging... This is ridiculous... Why sell an item thats gonna screw the stuff

No more windows phone to get unless we get the surface soon.

I bought my wife a Lumia 550 a month ago, and my Dad is PISSED that I gave him an Android device (wife's old phone, lol) for Xmas instead of a Windows Phone. The Lumia 550 is consistently selling out whenever it goes on sale. If they dropped the price of the 650 and 950's they'd sell like hotcakes too.

They took $200 off the 950 and 950 XL for the holidays. It did sell like hotcakes!

Obviously they want to get rid of their stock.

And what's your point? If you've been to any shop recently you'll see sales and discounts galore, as they try and clear old stock and boost their end of year sales figures. Welcome to Capitalism.

Sadly not in Australia - they had some phone discounts a month or so ago, but they only have a measly AU$100 off the HP Elite bringing it down to the "bargain price" of AU$1,000. The 950 is still at AU$400 which is the full price for the past 6 months (it was closer to AU$800 when it was released).

In the USA some big carriers are giving free iPhone 7s.

*ahem* I got a new Windows phone just last week. Not everyone will be able to fork out all the money that getting a Surface Phone will require when/if it's released.

I'm a recent convert, and you couldn't be more wrong.

Lol. On eBay before sunset Christmas day.. 😅😅

Nobody wants to buy mine...

It's kind of niche. I have one to sell too, but doubting if anyone will bite at all.

If you've got one that's upgradeable to Win 10 and you're in the uk. DM me.

I have 830. If i win the elite x3, this article will apply to me. Although I know windows phones almost inside out. XD
Let's see how fate turns out to be. Trying everything I can to win it. ;)
#windowsphoneforever. :D

Winning the EliteX3 is the only way I could still be on the Windows Mobile Platform, but, that's if fate will allow me.

I don't know why people cry so much. Windows platform has always worked perfectly for me. I have all the essential apps. And lemme tell you, all work. I've got all the games I want as well. And a few hidden gems her and there. In fact, at times my phone becomes the centre of attraction, coz of is exclusive features. You can way it is like iPhone from old times, only better. A million times better. Just love windows Phones.

Get ready to find out what 'shuttered' really means... ;-)

Given Microsoft's current non-commitment to the consumer market isn't getting a Windows phone right now akin to getting a lump of coal?

Yeah, there are some ppl I'd love to BURY them in... O_o

Who's got a new Windows phone? o.O

Today? No one judging from the comments.

Just got a 950 XL. I saw a couple people in the comments get others like the Alcatel Idol 4S Pro

Setting up new 950xl, trying to restore from 1520's last backup. Every time it gets to select backup it then seems to start but comes up with cannot connect to service, try again later. I'm stumped.

Go in and update the phone first. Then factory reset the phone and try again. I am currently working technical support for a cell phone carrier as we speak.

I did update to current release. Still get "Can't connect
We're having trouble connecting to the service. Make sure you have a good connection. If you do, the problem may be on the other end. Wait a little while and try again."

This is a really nice article for less than 1% global smartphone users 🎅🏾 Merry Christmas!

And, only a small percentage of that one percent will even see it...

And that percentile really doesn't need assistance with this self explanatory process...

If you got a Windows Phone for Christmas you should start by cutting ties with whomever hates you enough to give you one in the first place :P

My kids bought it for me for my Christmas/birthday because I asked them too. Was going to get the Alcatell Idol 4s from T-Mobile but the 950XL was $ 100.00 cheaper an has A much better camera, NFC, tap to pay & iris scanner login. will see if this was a good decision as I have the T-Mobile 640 currently and like it very much.

You've raised some great children.

Go back to Android Central loser.

Zac your newest backup is from March? Have you not used your Windows Mobile phone in a while?

Or maybe he just doesn't backup often. I delete my backups quite a bit.

But why would he be only deleting new backups?

Not saying that he does that, he just might not allow them to backup. In my W10M experience, I never restore from a backup because it always breaks something.

Had that issue back on 8.0 but never on 8.1 or 10. My L925 would fail on a manual backup, but would always be fine with an auto back up for some reason.

Just spent eight months on android, but came back to my old Lumia 930 running Windows 10 Preview build, just missed it too much! But definitely holding out for announcement about new Microsoft devices before buying anything more recent. Have used IOS and Android, but for some reason keep being drawn back to Windows. Maybe because we're such an elite club!! Totally off topic, sorry! Happy holidays folks.

step 1: return it .... step 2: buy an old iPhone, refurbed 6s, or SE ... my iPhone 5s i just bought outperforms any of the 7 windows phones i have ever owned :( ... with outlook, one drive, and cortana it makes a good windows phone.

And u make a good sales person for ios....

Can't stand iOS. Switched to android, very happy after installing all my Microsoft apps.

Isn't it nice having multiple choices when it comes to mobile OS'?

It really is. I have an iPhone 7 for work and that thing drives me nuts.

Well, you can all suck it. :P Not only did I get myself a 650, I bought 4 more as gifts. One person is coming from WP 7.5, one from a low end garbage android, and 2 from 1020s. Despite the whiners, I am actually really enjoying it. And 2 of the others just wanted to make sure that Facebook and WhatsApp could be installed.

Rodney, are you still rocking your 950 btw? :D

He'll, yes I'm still using it... I don't want an iPhone, and I dread going to Android.. I like Windows Mobile (or at least the concept of it), and I'm sticking it out as long as it takes. I have a Lenovo laptop, a 950, and a Surface 3... Killer combination, and they all meld together nicely with Windows10....
.........
I'm just joking, and poking fun at our platform.. The situation is funny, if anything. You gotta be able to laugh at yourself in this life. To many fans are too serious about this stuff. 😂😂😂

I loved my 950 as well. I had to install all of my Microsoft apps on my G5 as soon as I bought it.

It's a boring device, but it has a great camera. I would definitely prefer the XL, but att didn't carry it.
Hopefully this will hold me over until next decade, when MS has something new to offer......

Glad to hear that you are enjoying it! I can get that, the only non system app that my dad uses on his WP is WhatsApp, which works just fine for him.

You're just a terrible person to your friends and family, Mr. Scrooge.

I feel sorry for YOUR familiy. Will they experience a doom and gloom person like in 2016? Must be. Hard headed too. My condolesces to your family.

If he truly wanted to be terrible to them he would have gotten them something that runs Android while encouraging them to allow their life and data to be an open book to the World's largest advertising and data harvesting company. But he didn't do that, so no, he's not a terrible person.

Remember when that argument almost made sense? Now Windows 10 is the most egregious data miner. Microsoft's Terms of Service are much more invasive than Google's.

Microsoft is a bit worse than they once were, I'll concede that, but they are still nowhere near as bad as Google.

Microsoft's ToS is definitely worse than Google's. They give themselves the option of actually sharing your data with anyone. I don't think either are risky to use though. They have too much to lose by mishandling your data.

Google's behavior is much, much worse. They are worse where it actually counts. Google has already been caught mishandling data, it doesn't stop them, they just bury it.

With that many people on win10 I suggest telegram for a bit alongside what's app then compare.
The games they added along with gif and stickers along with security make it quite interesting

Ha! Well done. Me too. I just got the 950xl and LOVE IT! Very stable, and awesome camera. My wife will take it as I just ordered the HP! Woohoo!!!!! Can't wait. Played with it a few weeks a go in store and thought it was brilliant. I love what MS is doing and their direction. I love supporting them as well. I was going to hang out to see what Wharton Brooks brings out, but taking too long and most likely not as good specs as HP.
I believe the Surface mobile device won't come out until early 2018 and I'm fine with that as HP will be good for a few years. I also believe that Wharton Brooks's Cerulean will be out VERY soon and that MS is helping them with this. Just saying...

Loved Windows Mobile and I really like the 650. I really missed the build quality with my 950. I would have stuck with the WM but I could not find a watch that would give me notifications. My band broke 5 times. Kept sending it back to microsoft, just to get one that broke 2 months later. Finally I just cashed on my Brett but warranty and got a fit bit. Was hoping that would pick up notifications-but just decided to move on. Happy with my LG G5 so far.

Put it right back in the box and take it back to the store, lawl. I love my winders phone.

There are NEW Windows Phones? OK.

Hp elite x3, Alcatel ido 4s, then there's still Lumia 950, 950XL, Acer Liquid Jade Primo, and Alcatel

"There's also the option of setting your device up as a new iPhone" I like this option. New iPhone sounds great. How can I do that?

I saw that and thought, Spellcheck maybe? Lol

>Buying Windows Phone in 2017
>Surely nobody can be THAT stupid

Thanks for calling me stupid ...

Why are you here at windows central ? Huh?

Agree. Buy Windows 10 Mobile instead.

I wouldn't call them stupid, that's harsh...just too naive to still trust a company like MS, ran by a man who hates it's own mobile OS.

I picked up lot's of 650's from Microsoft's Store holiday sale. My daughters (13) who replaced their L520's with Kyocera's in the Spring, wanted to switch back to Windows Phones, replaced my sons (10 & 6) 520's and Fathers Blu Jr lte with a 950. The girls also gave up wasting time with their iMac for an older but much faster PC and even their $75 NuVision tablets ran better. From a parents perspective, having everything running Windows 10 in our home makes life so much easier especially using the Family settings.

Getting Windows Mobile phone right now is like getting a lump of coal.

I'm enjoying my Alcatel idol 4s . Merry Christmas to all the windows phone fans.

Merry Christmas. That's a very nice phone.

thanks, Merry Christmas to you too.
yes it is a super phone, no NFC and the camera its a little downgrade than NL 1520 , but still is very nice.

My getting started with you WP christmass gift: Step 1. Chop some wood Step 2. Start a fire Step 3. Get some charcoal from the fire (let it cool!!!) Step 4. Wrap it in brown paper Step 5. Give it to the person who bought you a WP for christmass

Wooo. I just got a new google pixel phone.....

Congratulations, sounds like you got what you want.
It's really great that we all can find different phones and operating systems we enjoy and still communicate together.
Everybody's got choices, yup.

Don't watch the news about all the Pixel bugs. Even hard locking. Good luck. Hopefully Google will fix then soon.

it is highly unlikely that current wp devices get 64bit ARM windows next year since they have 32bit UEFI firmware, microsoft will pull another "wp7 to wp8 not possible" situation, I guarantee it

The demo device being used to show off Windows on ARM was confirmed by Qualcomm as being the HP Elite x3.

lol I get downvoted and someone spreading even more FUD gets upvoted, no point in trying here, I keep forgetting this isn't anandtech

At 1:01:10 of the full keynote, Cristiano Amon, Executive Vice President at Qualcomm and President of Qualcomm CDMA Technologies states that the engineering device being used in the demo as he holds up the HP's Elite x3, states it's the same exact chipset and device. https://channel9.msdn.com/Events/WinHEC/WinHEC-December-2016/Keynote/

At 1:01:10 of the full keynote, Cristiano Amon, Executive Vice President at Qualcomm and President of Qualcomm CDMA Technologies states that the engineering device being used in the demo as he holds up the HP's Elite x3, states it's the same exact chipset and device. https://channel9.msdn.com/Events/WinHEC/WinHEC-December-2016/Keynote But my question to all this, is what devices will Insiders be using?

Why would there need to be a wp7 to wp8 situation? Windows 10 for PC also still exists in 32 and 64 bits versions, so the same should be the case for phones.

:)) you really trust MS in this :)) lol they will ditch and run as they did more than two times before. it's in their nature to lie to users.

If you just got into W10M game, I'm sorry. It's like getting excited about boarding a sinking cruise ship. And that's coming from a guy who loves his 950XL.

But that camera though. The fact that you can get that for less than the price of the newer phones with the top cameras isn't a bad deal, provided you know about the rest.

They do have awesome cameras.. I got a 950, and I'd have to say the camera is the best part of the phone.

it's the only good part of the phone

....and then there's Trump Donald...

Please don't make fun of people or say they are stupid. Either side! Lumia owner, iPhone owner or Android Owner or otherwise! Alot of you sound like children with your insults.
I have a a Lumia, wife has a iPhone, in laws still like flip phones...who cares what someone else likes or chooses. Don't be bitter/mad because W10M didn't materialize as you wanted it "MS doesn't listen to you", or whatever...
Get over it people...really

Well said.
I use all of them, but I love the look and uniqueness of Windows Mobile/Phone the most.

Kind of self explanatory process.

Ask for receipt and go return tomorrow!

I have the receipt, you will have to pry it from my cold dead hands. Merry Christmas Windows 10 phone lovers.

Don't plan on ever getting rid of mine! Merry Christmas!

I still haven't found how to restore a Windows phone backup after the initial setup. Also missing step is exchange your micro-sim for nano-sim at the store. <- Moving from a 435 to a 650.

Or...do what I did and pop the outer part of the regular micro sim off to make it a nano sim. Mine was perforated sort of.

Unfortunately, Fido micro sims aren't perforated. Thanks anyway.

Bummer. Worth mentioning though. Sorry.

Is it me or the lumia 950 has a terrible yet quiet sound over Bluetooth? Even when the volume is at its maximum it's nothing compared to my nexus 5x's audio quality over Bluetooth. I expected more from a phone that did cost me $550 in canada.

It's you or your BT device. Nothing wrong with Lumia 950 BT sound.

My 950 crapped out yesterday, just 1-month out of warranty. Picked up an S7. Nice phone, but trying to use Android after 4-years of Windows Phone has been a bit challenging. I'm going to miss the interface and the live tiles. Guess I have to bookmark Android Central now too...

What happened to the 950?

Wireless charging was intermittent. Wouldn't pass mobile data intermittently and would tell me that I didn't have an internet connection when I did. Would drop calls, and people were scratchy like the old analog days. I completely reset it and didn't restore from a backup and tried a new sim card. It was bizarre. All while my wife's 920 and my son's 640 worked perfectly.

Sounds like a detective unit.

I hope your happy with your S7. New and my wife went with the G5. Really liked its lumia like features. Really reminds me of my old Lumia 925. Double tap to unlock and lock, glance screen, similar build. Just so happy with it.

LOL. Here's what to do. Put the gift receipt in your pocket, grab your keys, get in the car and return it.

I like mine too much to do that!

I just switched to a Motorola Moto Z Play from a Lumia Icon. Loved my Lumia, but the app gap was just too much. When company-specific apps were only available on Android or iOS I had to make a move. What's striking is not that the Motorola performs better than the Lumia It is just how much more polished the vast array of apps are. Maybe in a few years Microsoft will come with a phone that has the selection of apps that I need along with the Lumia camera performance and user interface.

Jeff, I don't get the down votes for your entirely reasonable comment. Must be an awful lot of idiots on here today. Put it down to Christmas. Anyway, just wanted to agree with you. I reluctantly parted company with my L930 in February. Lovely phone but the OS & ecosystem was dead in the water and it was clear that any improvement was going to be a long time off. I'm glad I made the move. My Nexus 6P does most of what I want it to to, when I want it to do it. And Viber messages (my main bugbear with windows) now arrive instantaneously. Something Windows Phone/Mobile could never manage in 4 years of ownership. Don't get me wrong, I loved my L930 and was very proud to own it. I also loved Windows Mobile 10, unfortunately Microsoft didn't and once they stopped promoting it the whole thing turned into the rotting corpse it is today. I still return here in the hope that something great is about to happen, but none of the current crop of WM10 phones are going to change anything.

forgot the most important part. update apps then update phone then update apps again then update phone till there are no more. sure there are some that got the lumia 650 free from cricket too.

I wouldn't mind getting the Alcatel Idol 4s, Jade Primo or the Elite X3. I'd be happy with any of these.

Played with the HP. Wish I could have afforded it.

The final setup step is to go into settings > update & security > phone update
This will ensure your phone downloads Anniversary Update and any bug fixes that are available for your phone. This will prevent you from experiencing bugs that have already been fixed in the current release.

Had to get an LG G5 because Microsoft can't seem to pull their heads out of their asses...hate Android and I have 360 view and camera, still not as fun as Windows...:(

Got the G5 as will. Love the thing.

Gave two Lumia 650s each with a prepaid year to the local battered women's shelter. They must have been cutting onions in the kitchen. Merry Christmas.

Loving my new Lumia 950. Took great pics today. Hubby is loving his new 950XL. Merry Christmas.

Moved from iPhone to WindowsPhone....never regretted it once. I do regret the uncertain future though.

Going from Android to the HP Elite x3 until the Surface Phone comes out! Tomorrow!

I got tired of using old hardware tech Windows phone, and lumia 950 xl are international phones that doesn't get all bands in my area so I have ASUS ZenFone 3 deluxe 5.7in... wishing I could put w10m on it.... its actually the best phone I've had yet besides lumia 1520 although it was a little bit large.. I am waiting for surface phone just like the rest of you. 😀

Its a request for the insiders to add call record feature in the next update, because it is very important sometimes.

Call record? Or using voice recorder app to record calls? It's there

Best tech :- Laptop - HP or Microsoft, Phone - iphone 7 plus, Tablet - well MS just killed this & my HP Spectre is laptop & tablet. Smart watch - waste of money. Use a Gshock it looks better and is peace of mind & 10 years battery life.

Get a windows phone and download "coc coc browser" for best third party browsing experience...."sofascore" for best sports app...."Railyatri" for best railway app..."saavn" for best indian music..."appraisin" to discover new apps..."slimsocial for facebook" the light fb client app.....enjoy

You just got a new Windows Phone! We used to give out clothes because we loved to see the look on kid's faces when they open something they don't want, but clothes got hip again, so ENJOY!!!

I play a game "Gears of War 4" on Xbox and also on my PC with windows 10 Anniversary version. It means you get to pay once play on both. Cool with Lumia 950XL too, XBox achievements will sync with Lumia Xbox app too. Now some Lumia apps are also in Xbox. My Lumia paid apps can also install into Xbox. There is news and on YouTube Microsoft and Qualcomm Snapdragon cpu that runs 64 bits windows 10 and Adobe Photoshop. If you have seen the Qualcomm technician in the YouTube, he was holding a phone with windows 10. So if you have a hub like Lumia 950xl, you will know it can turn a phone into a laptop, netbook, or how ever it can invented. That Will be more programs, apps, games for a machine than any other smartphone.

Sadly, on my current visit to the UK, there is no longer a meagre Windows Phone section in any phone shop that I have seen. There is nothing Windows Phone back where I live either. A shame really.

No one gets a Windows Phone anymore!
RIP
Everyone I know (including myself) who owed a Windows Mobile - including the latest HP X3 - moved to Android.
Interestingly, I don't know anyone who went to iPhone!
Unfortunately, I'm afraid no one got a new Windows Phone this Xmas.

No one huh? *looks down at my brand new 950 XL*

You're THE one? ;-)
Congratulations! I hope you'll like it.
Windows 10 Mobile is a great OS - much better than Android and iOS doesn't exist next to it.
The issue is that the OS isn't backed up by apps developers... or even Microsoft (most employees don't even use WM devices!); a gem in a desert is kind of useless unfortunately.
That's why more and more platform's fans are leaving to Android.

Love those interactive notifications

I'm always ready for some MS bashing, based on their numerous stupid decisions, but if someone enjoys W10M, getting one as a present is surely joyous. Anywho, Merry Christmas / Happy Holidays to all of you, negative and positive people alike.

JuNot so true. It's missing some apps but nothing like it's going to cripple the experience. You know you can pin web pages to start , like for banking or YouTube , even Facebook,etcetera. Windows Mobile it's what it is. I don't have any problems with it. It still in development, either you like it or you don't. I personally love it. I have an android phone and a tablet, I just don't like them because I don't . Android and iPhone, to me they're boring. My first smart phone was Windows,I love the os . It's so nice.just like my 2in1 laptop. So nice. You know I those expensive apple computer's....don't have touch screen. In 2017....unbelievable....I can't see myself using a laptop with no touch screen.

Wow... the trolls sure like to come out eh? Don't like Windows Mobile? Don't use it then.. stick with iPhone. .. go with Android... shesh. Anyways... got a HP Elite X3 from HP to try out over the holidays. 60 day demo... gonna be fun.

Go where your happy and content right? People are free to choose their own device and platform.

Reading these comments has been entertaining thanks to all the blatant negativity. "But there's so much to be negative about." Maybe there's not a need to express it every single time a blank comment box presents itself as if the staff at Mobile Nations is actually Microsoft. If this article helps even one person somewhere figure something out, then it did something really novel and contributed to people around it. Cheers to my mates here who mentioned missing WP7. I always miss my cyan L900, and WP7 was so gorgeous :)

If someone gave you a Windows phone they must really hate you.

How many times is this going to be said? Yeesh.

There are probably more people commenting on this story than people that actually got new Windows phones this Christmas

Not true. But their are certainly a few non W10M users loading up the comments...

The latest slow ring on Lumia 650 is really good.

The latest slow ring on Lumia 650 is really good.

I still rock a 640XL. With some newer hardware, and some tweaks to W10, I think it could be awesome. Not giving up.

What is a Windows Phone? I have never seen one in the wild!!!

Windows Phone was something great until MS decided to go completely mediocre with it.

Well I still have my Lumia 640 XL but I use my Google Pixel Phone as my Daily Driver......Because lack of apps......

Recently moved to iPhone 7 from Lumia 950. But, boy I keep going back to Lumia for photos. Lumia is 10 times better than iPhone for taking picture. I wish MSFT hadn't given up on app problem so soon. Like shutting down DVLUP program for example.

Agreed about the photos. I see Lumia as being the best in that category.

Not so. This is a Windows / Microsoft site . I don't know why someone who doesn't like this platform does even bother to spend time reading / posting comments . Interesting.....

Windows Mobile and Windows 10 are two very different things. It is OK being upset with Microsoft and their sub par phone platform. 7 years later, it is time for something new.

They really aren't, though.

They are not the same. You can not load Windows Mobile on your PC or Windows 10 on your phone. It is like saying Android and Ubuntu are the same because they are both based on Linux.

Do Windows phones still exist? If so, I would buy the most horrendous (all of them) as a bait for robbers. Maybe they won't even notice me.

Windows phone or not, I suspect you're not noticed much anyway.

I got a pixel bout a month ago from wMobile for about 6 years. Would not recommend going back to w10m for the time being... to anyone. Wait it out. We've given a lot to MS already.

I was almost expecting an article on how to return the Windows phone you received for Christmas and the best phones to buy instead. That would at least be helpful. Anyone buying a Windows phone today is a fanboy and doesn't need this kinda article.

Or they are people that are smart enough to avoid Google while being frugal enough to avoid Apple.

I wouldn't call buying a HP Elite being frugal.

What would avoiding Google get you? Data mining is worse on Windows and the features and services are also subpar. Windows phones are really a lose-lose situation.

There are still a few W10M fans out there. I have a 3 week old iPhone 7 Plus but still keep a 1520 or 2 around to play with and use occasionally.

Recently got a L650 after my L930 bricked up due to battery /charging problems. I dont even see how i could use any other OS . Windows phone is boss all else are toys. One phone to rule them all.

After my mom's lumia 720 updates, it no longer allows to save two similar phone numbers with different prefix (ex: 0917xxxxxxx, and 2917xxxxxxx) we need the 2nd one to send prepaid loads to other numbers. Now doing that is such a pain in the ass i almost threw my mom's phone when she asked me to pass a load to my dad. I tried changing the number before sending but it persists to use the 0917. But when i sent the message actually got sent to 2917! I also noticed that the microsoft concept store in a major mall nearby is already closed. Good riddance, since it only sells lumia 950 and xl, and two outdated tablets. And nothing more. They never sold surfaces, or microsoft accessories. Bottomline: I got a new lumia phone! Better start finding a buyer.. :)

And let me guess.... so the market sharte went from 1% to 1.00000000000000000005% now ?

1% is rounding up. It is more like 0.3% worldwide and certainly not increasing.

...so many trolls to feed

Windows Phone is legend... But the store.... Ah store !

I just bought a Lumia 650 and my daughter is greatly envious and coveting my phone. I had a 640; the new 650 phone is similar but a lot thinner and quite the beauty. The latest SLOW RING build is running really well on this device.

I switched from my outstanding Nexus 6 to the HP Elite this holiday season. I could not be happier with the phone.
The HP hardware is very nice. If I had to complain my only gripe would be that I wish the whole front of the phone was all black. The HP phone handles everything you can throw at it. I read a lot of books, news, and cover professional Rugby via YouTube. The display is terrific. I know the app issue us a problem for many potential users. I will say that the edge browser works so well that I find myself just pinning web pages as live tiles. That covers some of the app "gaps" for me. The speed of the HP phone is impressive. Finally, once I got up to speed with continum I'm wondering how I worked without it. The ability to work from your phone on your PC via continum is pretty sweet. If the Surface phones are going to be anything like the HP's in terms of hardware then the future may be bright.

I bought a Dell touch screen monitor for my HP Elite X3 when in continuum, pretty awesome.

I don't know why people cry so much. Windows platform has always worked perfectly for me. I have all the essential apps. And lemme tell you, all work. I've got all the games I want as well. And a few hidden gems her and there. In fact, at times my phone becomes the centre of attraction, coz of is exclusive features. You can say it is like iPhone from old times, only better. A million times better. Just love windows Phones. And being an architecture student, it is exactly what I want.
Although I really need hp elite x3, as it is water resistant and has got a big screen and docks and all... But i do not have that kinda money. And i don't think I'll be able to gather that kinda money either.
But still, i have started to save, skip some meals and all. :D So that i am able to save enough, by 2017, and get the hp elite x3, if at all I get it in India.
I don't have money, agreed, but imma do everything to stay with the Windows platform. Windows phones are my life. Have been there from the start. Amber , black, cyan, denim, preview for Developers, Windows 10mobile, insiders, seen it all! Just waiting for more. And I always wanted to own the best Windows phone, which i couldn't till now. So hp elite x3, wait for me! Here i come! :D
Windows Central Newsletter
Thank you for signing up to Windows Central. You will receive a verification email shortly.
There was a problem. Please refresh the page and try again.