How to keep your child safe online using Windows 10 software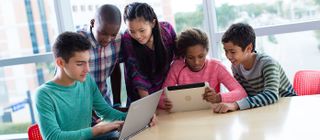 (Image credit: Windows Central)
I have 10 kids, and like most parents, I worry when they are online. Whether they are gaming, tapping into social media, doing a live stream or finishing up a school assignment, there are enough dangers to cause some anxiety. But I use parental controls and antivirus software programs to keep cybercreeps, inappropriate websites and screen time at bay. Here are some ways software can help keep your child safe online and my list of recommended parental control software.
Recommended parental control software
Content filters
All parental control software blocks inappropriate content. Some of these programs filter based on your child's age. However, I prefer dedicated content filters. These let me decide specific content to restrict my child from seeing based on their maturity as well as their age. And I have the power to allow a child to search or read content that may be blocked because of these filters for a small window of time. For example, I was able to allow a child to search for scholarly articles on the dangers of tobacco use for a school assignment when usually this content type would be prohibited. After a designated time, the filter automatically enabled, and content was again blocked.
The best parental controls have a lot of filter categories to allow you to be more specific in the type of content blocked. For example, some software programs dump all gaming under one filter while others specify P2P gaming while allowing educational games to be accessed.
I especially find filters for instant messaging and chat rooms helpful in blocking individuals that may use these mediums to contact, entice or bully my children. These filters can be set to completely disable all chat and messaging programs, including those embedded within social media or gaming sites. This allows my child to still enjoy playing or watching videos without worrying about someone attempting to get personal information or engaging in conversations riddled with profanity.
Time controls
Another great perk of most parental software programs is time controls. Basic time controls let you block out specific times of the day when your child can't be online, for example during bedtimes, dinner time or when they should be doing homework. If they attempt to access the internet during these times, they are greeted with a reminder from the program that internet access is restricted. Time controls are a great way to ensure a healthy balance between all aspects of your child's life.
Some of the best parental control programs also let you limit the total amount of time your child can be online. The American Association of Pediatrics recommends setting healthy screen time restrictions for children. Being able to set time limits reminds your child of other activities available away from the computer and helps you keep time restraints without drawing your attention away from other important tasks.
Social media monitoring
Kids spend a lot of time on social medial platforms, including Instagram, YouTube, Twitter, and Facebook. More and more parental control software gives parents the tools to monitor the activity on social media accounts. The best programs capture all posts on your child's times line, including those shared by other people. You can also get information about the individuals you child friends, follows and likes to ensure they are interacting with safe individuals.
Some parental control software programs let you block messages and searches within social medial networks. For example, Kaspersky's Safe Kids allow you to block YouTube searches so your kids can't watch videos about certain topics such as violence, drugs, and alcohol.
Prevent malware downloads
While there are several great standalone parental control programs, I recommend looking at antivirus programs that include parental controls. For example, Kaspersky Total Security includes its Safe Kids program that has content filters and time controls. But it also recognizes dangerous websites and malicious downloads that often look legitimate and enticing to a child. This is especially true in online gaming sites. While most are good games to download, there are some bad apples that like to tack on a virus that unsuspectingly gets downloaded. If your child is like mine - a bit click-happy - a good antivirus program will stop the download before it can install and infect your computer.
On top of stopping malware files, if you have an antivirus program with a safe browsing feature, it will also tag and block dangerous websites that are known to harbor malicious downloads. A big warning will display in the browser view window if your child attempts to access a dangerous site warning about the potential threats lurking there. It is usually enough to prompt a child to back out of the site or get help from an adult.
Webcam monitoring
Another perk to using a computer protection program, like Kaspersky Total Protection, is these programs often include a webcam blocker. This tool ensures hackers, programs, and snoops can't access and turn on the webcams, both those included on your desktop, and those freestanding devices that connect to your computer. Too many creeps have learned how to tap into webcams and use them to spy on people in the privacy of their own homes. I like the peace of mind that comes from having a webcam blocker handy that notifies me of suspicious activity and shuts down my webcam from being accessed without proper permission.
My recommendations for parent control software
I use Kaspersky Total Security along with its Safe Kids program on most of my own kids' devices. I like the ease of setting it up and being able to manage all devices – including cellphones – from my online account. Plus, it has always ranked high for overall malware protection
Complete protection
The best way to protect your children

On top of blocking dangerous content and including time controls, Kaspersky Total Security monitors webcam use and blocks malicious downloads.
Child-friendly protection
Simple parental controls

Kaspersky Safe Kids has several filter categories, but will also block content based on your child's age. It also lets you place time limits on when your child can be online.
Other recommendations
Here are a few other parental control programs I use or have used in the past that I am impressed with and would also recommend.
Qustodio (opens in new tab) ($55/per year at Qustodio)
Qustodio has 26 specific filter categories to block pornography, violence and news sites. You can also set time limits and veiw screenshots of what your child is looking at.
Surfie by Puresight ($60 at Puresight)
Surfie alerts you when someone messages keywords to your child. These include asking for personal information or if you child is home alone.
Net Nanny (opens in new tab) ($40/per year at Net Nanny)
Net Nanny masks all profanity so your child can't read it in any online content. It also prohibits your child from typing out these words.
Nicole writes for multiple Future Publishing brands covering topics from antivirus to kitchen appliances to SAS. She has over 15 years of research and writing experience, including eight years of testing and reviewing consumer products. Nicole earned bachelor's degrees in both English and Political Science with a focus on empirical research. In her spare time, Nicole serves as a member of several school councils and volunteers for a local arts board.
Windows Central Newsletter
Thank you for signing up to Windows Central. You will receive a verification email shortly.
There was a problem. Please refresh the page and try again.