How to switch to a local account from a Microsoft account on Windows 10
Don't need a Microsoft account on Windows 10? Here's how you can switch to a traditional local account.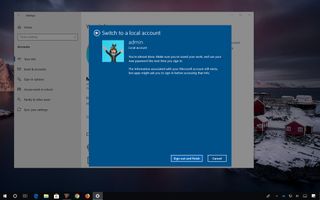 Although Windows 10 allows you to choose from a Microsoft account or traditional local account through the out-of-box experience (OOBE) or Settings app, the experience has been designed to lure users into selecting the Microsoft account option.
The reason behind this approach is that using a Microsoft account lets you access additional benefits, including the ability to sync settings, passwords, themes, and files across devices. You can manage various aspects of your computer, such as update personal information, reset the account password, and find a device if it's lost or stolen.
However, this is not an account type that everyone wants to use. If you mistakenly created a Microsoft account on Windows 10, or you just don't want to use one, there's an option within the Settings app to switch to a local account without having to start from scratch.
In this Windows 10 guide, we walk you through the steps to switch to a local account from a Microsoft account using the Settings app.
How to switch to local account using Settings
To switch to a local account from a Microsoft account on Windows 10, use these steps:
Open Settings.
Click on Accounts.
Click on Your info.
Click the Sign in with a local account instead option.
Type your current Microsoft account password.
Click the Next button.
Type a new name for your account.
Create a new password.
Type a hint that will help you to remember your password in case you forget it.
Click the Sign out and finish button.
Sign back into your account.Quick tip: If you had a PIN previously configured, you can still use it to sign in without having to enter a complex password.
Once you complete these steps, your Windows 10 account will be disconnected from your Microsoft account, and it will switch to the traditional local account style. Using this method, your Microsoft account credentials will continue to be available on the device to sign you into various services as required automatically.
How to remove Microsoft account data from Windows 10
If you're switching to a local account, and you don't want to keep your Microsoft account information on your computer, use these steps:
Open Settings.
Click on Accounts.
Click on Email & accounts.
Under the "Accounts used by other apps" section, select the Microsoft account that you want to delete.
Click the Remove button.
Click the Yes button.
After completing these steps, restart your computer to completely remove your Microsoft account information from your device.
More Windows 10 resources
For more helpful articles, coverage, and answers to common questions about Windows 10, visit the following resources:
Windows 10 help, tips, and tricks
Mauro Huculak is technical writer for WindowsCentral.com. His primary focus is to write comprehensive how-tos to help users get the most out of Windows 10 and its many related technologies. He has an IT background with professional certifications from Microsoft, Cisco, and CompTIA, and he's a recognized member of the Microsoft MVP community.
I had a Hotmail account years ago, but then most people had a hotmail account those days or yahoo or both, it was a thing people had.
I used my hotmail account for windows 8 when I first tried it as it was almost impossible to do anything with windows 8 to start with unless you was signed into MS servers, thank goodness that changed quickly. i did go back to Windows 7 for a while until 8.1 came out.
Anyway, I never used my hotmail account much to be honest and over the years it have ceased to be. i have never used an MS account on Windows 10, I do not require it, even if Ms try their hardest to get us to have one and then try their hardest with more and more apps that have MS account options. I have a skype user name from before MS took it over and that is it and even then MS is trying to get us to make it as a MS account

At least Microsoft is better than say Google in this regard.
Microsoft lets you use Windows 10 without a Microsoft account and you can also use Windows Store to download and update apps.
On the other hand, Google doesn't let you use their Play Store on an Android device unless you log in with your Google account.
Further more, on some Android devices, you can't even use the device after buying it unless you set up the device first with a Google account.
So be thankful.

Your can only download some free apps without a Microsoft account, not all. You cannot buy apps or install them from external sources on S-Mode devices. Anyways, why wouldn't you want a Microsoft or Google account? Doesn't your tinfoil hat protect you well enough?

Well of course you can not buy or install purchased apps without an account...

While I do agree with you that you can not use the play store without a google account, you are talking about a different thing. Smart phones are like that, since Apple Iphone first came out an account was needed, smart phones or tablets for that matter have had this installation of software/apps from a store since they came into being. Windows is a different thing, it is not a mobile OS, even if Ms would love it to be, it is a fully fledged computer OS. MS was just trying to make it more like a mobile Os for their failed phones. As for not have an MS account to use the MS store, that is true to a certain degree, but some stuff like themes you can not get without an MS account. I am pretty sure if windows 8 had taken off, we would be further down the slope of an MS account, as when windows 8 first came out it was mandatory to have an MS/hotmail/live account for it.
Ms dropped that because Windows 8 was not doing so well. there was other reason Windows 8 failed,

yeah....we all know about this deceptive crap.... you refuse to get a Microsoft account... then when you need to download something off of the Microsoft store you signin thinking its a one time sign in.... and Microsoft dishonestly goes behind your back and changes your local account in a Microsoft account... that seriously pisses me off... it pisses other people off too because if you install windows store apps on a shared computer that somebody else owns... it changes their password on them and locks them out with the account that you only wanted to install one sh!tty little windows store game.... Microsoft ares serious dickheads about forcing cloud on everybody.... I want to just throw away windows and start over with some other company that doesn't piss people off...

You can just click "Microsoft Apps Only"

Steve you never used an Android device I assume? I do , from November 2018 I've my first Android OS device. Well I can tell you this, that's really ****! Google is there in all the things you had to choose and when you choose onetime to much the wrong answer for Google you can reset it to factory state because it doesn't work anymore. Your Android-device doesn't work anymore. Even Google Maps is totally out off the road. Your device, Android (Google) device don't work. That's really ****, Android OS.

so the same as what you would get with IOS on an apple Iphone. not sure what you mean about one time too much being the wrong answer, that is the way i work on my phone and it is fine.

You don't have to use Google Services. You can use stores like FDroid and Apkmirror. Sure, you lose access to Youtube etc, but that is what you want, isn't it?

What happens when you switch from one MS account to another in W10? When W8 first came out, I accidentally signed with an e-mail I didn't intend to use. Do you lose everything if you switch?

Each e-mail address is a seperate account

It acts like a user account.
Windows Central Newsletter
Get the best of Windows Central in in your inbox, every day!
Thank you for signing up to Windows Central. You will receive a verification email shortly.
There was a problem. Please refresh the page and try again.