How to take a screenshot of your monitor when using Continuum on the Lumia 950 or 950 XL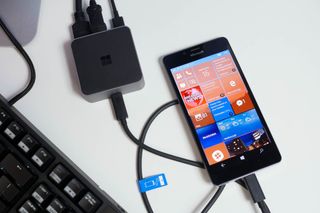 Taking a screenshot of an external monitor while using Continuum doesn't work how you might think. We all know how to take a screenshot with the Lumia 950 or 950 XL, right? You press the volume up and power buttons at the same time. It's a different action if you want to take a screenshot of the bigger monitor. We'll show you how.
On your keyboard, press the Windows key + PrintScr
This only works if your keyboard actually has the PrintScr button. I tried it on the Ozone Strike Pro gaming keyboard (opens in new tab) and can confirm that it works. I couldn't do it with the Microsoft Universal Foldable Keyboard because it doesn't have the keyboard button. I tried several combinations and had no luck. Let me know if you figure it out.
The screenshots are saved in your phone's photo collection. You can also access them in the screenshots folder.
News
Want all the latest news on these phones? Hit these topic pages for all that we got.
Microsoft Lumia 950 XL main page
Support and help forums
Need to chat about the Lumia 950 and Lumia 950 XL? Jump into our forums and ask others what they think or get help and advice on your new phone!
I finally got a chance to use Continuum today. I connected my 950XL to it with a keyboard, mouse & monitor. It's now serving as a second PC in my office. Really liking it!

Nice tip. Any way to bring the volume bar up with mouse or keyboard? You can with the xbox controoler if you use the wireless display app. So there should be a way to do it with the keyboard, right?

I was surprised that this was an article, but then it dawned on me, there are likely a huge amount of people who don't know about this as desktops have become periphery devices.

I love when I read an article that makes something so mundane and ordinary seem like it's new... It's almost like Apple marketing.

If you type keyboard in cortana, it will show you on-screen keyboard which will have a print screen key, the problem is it is an on screen keyboard so it will probably show up in your screen shot.

Cool tip. It's time Microsoft adds all the traditional shortcut buttons like ctrl, alt, tab, shift, prnt screen, windows key on touch keyboard that appear on phone/tablets in continuum mode if they expect people to make use of these shortcuts through muscle memory. I've been giving feedback in regards to adding these buttons and shortcuts to touch keyboard through feedback app since ages and it is incredible they have baked this functionality inside continuum and expect people to use office apps with same old shortcuts on tablet mode too but failed to add the necessary keys and functionality to touch keyboard. Another lack of sight on Microsoft's part. Someone should register a feedback regarding this under continuum category, I don't have my spare Windows 10 mobile insider build running phone on me right now.

These shortcuts already work with continuum. And tablet mode. Except there is no tab button so you have a point.

Take screenshots should be an quick action in the Action Center...

If you really need it you can remap a key to become the screenshot button

Maybe fn+windows+space in sequence like with the type cover 3?

I´m curios if the share charm (win + h) works to create screenshots. Could anyone test this?

Thank you... Good things come in small packages

Same alt + print screen cant be used

There should be a way to take a screenshot on the device itself especially for those using Continuum without a keyboard.

To funny, I was wondering how to do this today. Thanks

This only works if your keyboard actually has the PrintScr button.

Sadly this kind of explanation is in fact needed.

If you just press PrintScr without the Win key does it copy the screenshot to the clipboard so you can then paste it into an email or other app if you want, like it does on a Windows PC?

Have you tried pressing the Win + Fn+ Space button combination? On the Surface Type Covers, there's no PrntScrn button, but the Fn + Space combination reproduce the PrntScrn button... Posted from my OnePlus One.

Hopefully at some point they will Universalize the Snipping Tool app like they did with Calculator and we can use that to take all different kinds of screenshots.

Could we take screenshot through Word or Excel(Right click -> Add Screenshot) with the continuum as well?

with this keyboard http://www.ebay.co.uk/itm/272104674853 screenshot combination is Win + Fn + F7
Windows Central Newsletter
Thank you for signing up to Windows Central. You will receive a verification email shortly.
There was a problem. Please refresh the page and try again.