How to use Windows Phone to download games and apps to your Xbox One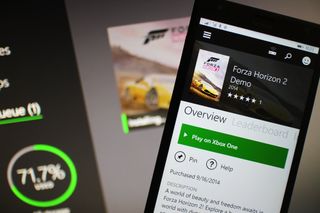 Xbox One SmartGlass is probably the best app to have on your Windows Phone if you have an Xbox One. The app is incredibly useful and gains new functionality with nearly regular monthly updates. Recently, Microsoft introduced the ability to buy and purchase games and game add-ons using SmartGlass. A few of you still aren't too sure how to do that, so here's a quick guide on how to install stuff to your Xbox One without being anywhere near your Xbox One.
Install Xbox One SmartGlass
Step one is probably the most obvious, but you're going to need to grab the Xbox One SmartGlass app. It's available on Windows Phone, Windows 8.1, Android (opens in new tab) and iOS (opens in new tab). On Windows Phone and Windows 8.1 you also have access to the beta version of Xbox One SmartGlass.
Both the beta and non-beta version of the app on Windows now can download 'stuff,' so grab whichever you want. Though we'd recommended living life on the edge and using the beta version of SmartGlass. You'll new features are added first to the beta version, and it's a fun way to get the latest first.
Configure your Xbox One
Installed Xbox One SmartGlass? Great! You're almost ready to download games to your console without being near it, but you do need to be around it to make sure you've configured the Xbox One properly.
In order for your Xbox One to install games and apps through SmartGlass, you'll need to make sure the system is set to take updates automatically.
Go to system settings
Go to Power & startup
Make sure your Power Options have the Power Mode set to 'Instant-on.'
Make sure 'Automatically download updates' is enabled
Get to system settings by clicking the Start button on your controller while on the Xbox One dashboard. You'll see a menu pop up, and you'll then want to click settings. Then just follow the steps above to makes sure your Power Mode is set to 'Instant-on' and that you've enabled updates to be automatically downloaded.
Download all the stuff!
Your Xbox One is set to download games and apps without you there and you now have the SmartGlass app on your phone. You're good to go now!
Sign into Xbox One SmartGlass with your Xbox Live Gamertag / Microsoft account
Open the menu and go to the Store section
Browse for a game, game add-on or app
Alternatively, you can just search for the game or app
Click the 'Buy' or 'Get it free' button
Confirm the transaction
And just like that, your game, game add-on or app will begin the download to your Xbox One. So when you get home the game or app will be ready to play with no download or install times keeping you at bay.
The Forza Horizon 2 demo is out today on the Xbox One. Try using the steps above to download the demo to your Xbox One automatically. Just search for 'Forza Horizon 2' in the SmartGlass app and then click the 'Get it free' button to have it automatically on your Xbox One. Enjoy and let us know what you think!
Sound off below if you have any questions!
Do you use Xbox One SmartGlass to download games and apps automatically to your Xbox One?
Windows Central Newsletter
Get the best of Windows Central in in your inbox, every day!
Easy peazy. But wanted a guide for those who didn't know about or were a little confused!

Note that if you have multiple Xbox Ones, SmartGlass will only trigger the download on the One that you have specified as your 'home' console. You can only specify one per account.

Which is quite frustrating.

Awesome thanks for the tutorial greatly appreciated. #Lumia1520

I don't have a Xbox :'( and my dad won't buy me one!

This is where jobs and savings start. Be independent and buy your own!

Yes. Though I don't have Xbox I have a gaming PC. Xbox Live is unsupported in my country. Bought this PC myself. You will feel more grateful if you use your own money ;)

I don't have instant on set up, but it still downloaded my .com "purchase" recently. My kids had been playing on the box, so it downloaded it when they turned it on. Great that it now works via Smartglass.

Yeah, it should be noted in the article that those settings are only required for download while the console is powered off. The functionality still works when the console is on.

Thank you! Forgot to enable it on my Xbox.

Just used this today to download the Horizon 2 Demo! A windows phone with an XBOX One really is awesome!

I use this app to download all the free games for Xbox One. I don't have the XOne yet. :)

Best way to queue up those monthly freebies!!!

Nice idea! No point missing out on Games with Gold just because you can't play them yet ;-)

Exactly what I did today from work, when I was back the Forza Horizon 2 demo was ready to play :) Last week I did the same thing with watch_dogs. Xbox Smartglass is so useful!

I prefer the games that are in a dvd

No xbox one, ps4 or ps3 for you then. DVD is old hat :p

Yep, DVDs are going to be like the floppy disks, they are condemned to be just history.

But cant see downloading stats. WTF

Not on SmartGlass, but you can on the console.

BTW what happened with biweekly Xbox music updates? No more features to add so no updates?

Damn! MS totally forgot about the bi-weekly updates... The last update we got was some 2 weeks ago and that for minor bug fixes and improvements but none for any major features like gapless feedback. Or faster startup time for the relevant devices. I so really prefer the old music hub which was embedded. But then the pulled it of the os to push more updates but they've had a hard time making it stable.. So once all this is done. Will they finally be able to push those important updates they were talking about in the first place? And even if they do, what are the features left to add? There's no special features in the market right now. They'll have to come up with better ones like the Gesture control with I'm sure would not support low end devices and moreover that, it does not even support screen split multitasking...

Only thing stopping me from enabling it or instant on is not being able to use my router to its fullest(HD Fuel QOS) & I rather download updates manually

Downloaded FH2 at work. Played when got home. On of the best features

Yes. Love this feature. The Smartglass for Xbox One is awesome. Use almost daily....the Beta ones for both WP and W8.1.

The app is incredibly slow.

Hey that's what I did today for Forza Horizon 2!

Microsoft should make this the ONLY way to get games for the X-Box. WP market share would double overnight!

Except SmartGlass is also available on Android and iOS ...

AND Xbox sales would plummet overnight too :P

What phone is in the top picture? 930/Icon?

The Lumia 1520 "bruh edition" comes with a Clear Back body color that has the deepest blacks since the discovery of the silhouette!

Bwhahaaaaa. That was a cool one. Sam got nailed.. Lol stilll laughing my ass off!!! Haha.. The 1520 "Bruh edition" lol and the "Silhouette"! I still can't stop laughing..... Those terrible times when the forums were filled with old guys. Hahga this is what we need.

When it bloody works. Yes I leave my xbox on connected standby, and have auto download ticked, and it is set as my home console. Set the forza horizon 2 demo to download at 11pm via smartglass, got up this morning and it was waiting in my collection, ready to download.

Mine works perfect. Maybe to early. I don't think it came out until today. Just saying.

I'm in Australia, your 6am was our 11pm.

Now that... Is freakin awesome! :-)

This is awesome! Only downside. It doesn't seem to work with EA Access Vault games. Went to go download Need For Speed Rivals and the only option is play on Xbox but the game isn't installed on my Xbox. Either way, this is still awesome.

It seems that the EA Access games are already 'purchased' on your account, and SmartGlass download only works for games that aren't purchased yet. So fixing the latter issue should also fix the issue with EA Access games.

This is one of the ultimate features that I like about the smartglass app. Able to download a game while your not at home so once you get home its ready to go.No more waiting and you can pre-install a game before it launches. So when the game is released you can play it instantly, no more waiting in line.How convenient is that? Very convenient.

Set everything up per the article and queued up forza on smartglass. When I got home forza was waiting ready to install but did not install. Now I have to wait for it to download....wtf.

I had the same problem as you man

There was one key step missing in this article: you need to also configure your Xbox One as your "home" console. Go into settings and look at the "home console" setting on the left bottom of the settings screen. Go in there and confirm it as your home console. This does not happen automatically but needs to be explicitly specified (which in turn also enables anyone signed into your "home" console to play the games and apps you have purchased).

I use this. Well done article, GeneralSham!

Max 10 days for my Xbox one with Kinect to come! So excited!

Why doesn't the actual windows phone store look like this? Xbox music and video on Windows 8.1 have opted for this design style. When is it coming to Windows phone? Threshold?

Does the same/similar steps work for the 360?

These 'How to' articles are great! Keep it up!!!

Didn't work for me. Tried to queue up FH2 and got home and it wasn't downloaded. I had the instant on selected and the download/update box checked. It's also set as my home xbox as one other user suggested. What gives?

I tried the same thing with the Forza Horizon 2 demo. It didn't work. Then I tried it buy buying D4 and it worked perfectly. Was fully downloaded when I got home. Maybe it doesn't work for demos or maybe just the FH2 demo. D4 is awesome, by the way, especially for Kinect fans.

Official Instagram Appointment
Windows Central Newsletter
Thank you for signing up to Windows Central. You will receive a verification email shortly.
There was a problem. Please refresh the page and try again.