How to use Windows Phone to download games and apps to your Xbox One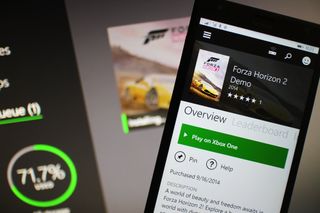 Xbox One SmartGlass is probably the best app to have on your Windows Phone if you have an Xbox One. The app is incredibly useful and gains new functionality with nearly regular monthly updates. Recently, Microsoft introduced the ability to buy and purchase games and game add-ons using SmartGlass. A few of you still aren't too sure how to do that, so here's a quick guide on how to install stuff to your Xbox One without being anywhere near your Xbox One.
Install Xbox One SmartGlass
Step one is probably the most obvious, but you're going to need to grab the Xbox One SmartGlass app. It's available on Windows Phone, Windows 8.1, Android and iOS. On Windows Phone and Windows 8.1 you also have access to the beta version of Xbox One SmartGlass.
Both the beta and non-beta version of the app on Windows now can download 'stuff,' so grab whichever you want. Though we'd recommended living life on the edge and using the beta version of SmartGlass. You'll new features are added first to the beta version, and it's a fun way to get the latest first.
Configure your Xbox One
Installed Xbox One SmartGlass? Great! You're almost ready to download games to your console without being near it, but you do need to be around it to make sure you've configured the Xbox One properly.
In order for your Xbox One to install games and apps through SmartGlass, you'll need to make sure the system is set to take updates automatically.
Go to system settings
Go to Power & startup
Make sure your Power Options have the Power Mode set to 'Instant-on.'
Make sure 'Automatically download updates' is enabled
Get to system settings by clicking the Start button on your controller while on the Xbox One dashboard. You'll see a menu pop up, and you'll then want to click settings. Then just follow the steps above to makes sure your Power Mode is set to 'Instant-on' and that you've enabled updates to be automatically downloaded.
Download all the stuff!
Your Xbox One is set to download games and apps without you there and you now have the SmartGlass app on your phone. You're good to go now!
Sign into Xbox One SmartGlass with your Xbox Live Gamertag / Microsoft account
Open the menu and go to the Store section
Browse for a game, game add-on or app
Alternatively, you can just search for the game or app
Click the 'Buy' or 'Get it free' button
Confirm the transaction
And just like that, your game, game add-on or app will begin the download to your Xbox One. So when you get home the game or app will be ready to play with no download or install times keeping you at bay.
The Forza Horizon 2 demo is out today on the Xbox One. Try using the steps above to download the demo to your Xbox One automatically. Just search for 'Forza Horizon 2' in the SmartGlass app and then click the 'Get it free' button to have it automatically on your Xbox One. Enjoy and let us know what you think!
Sound off below if you have any questions!
Do you use Xbox One SmartGlass to download games and apps automatically to your Xbox One?
Get the Windows Central Newsletter
All the latest news, reviews, and guides for Windows and Xbox diehards.