Backing up on Windows Phone 8.1 and other cool features you may not know about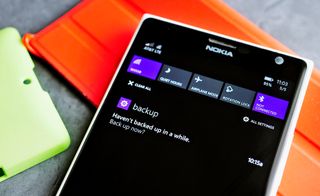 One neat and understated feature of Windows Phone 8.1 is the ability to backup apps + settings. Previously, Windows Phone could restore apps, but your Start screen was left off of the restore point in addition to passwords, browser favorites and app configurations.
Now, with Windows Phone 8.1 users can finally restore all of that when jumping to a new phone or after hard resetting. Let's take a quick look at how it works.
How to enable and manage your backups
The backup process is automatic, and it can be found under Settings > Backup > Apps + Settings. Tapping that screen will give you two options, one for Settings backup and another for App backup. Either one can be toggled on or off to make sure backups happen on a regular basis. When enabled, the backups will happen automatically.
Likewise, you can do a 'back up now' for saving manually in addition to managing those backups, including deletion. The size of the backup can vary, but my Lumia 1520 with a sizeable chunk of apps on board weighs in at 44 MB. That data is saved to my OneDrive account.
Interestingly, if you choose not to have backups performed automatically, the OS will remind you to do a manual backup once every three weeks. That's a nifty feature to have, especially if you're not keen on automatic processes or are worried about data usage.
Wi-Fi is preferred, but not needed
For those curious, the backup process waits for a Wi-Fi connection before initiating, but you can override it by performing a manual backup. That will force the backup and depending on your connection, it may take some time to complete (even on Wi-Fi it can take five minutes or so).
If you are doing a manual backup and you don't have a Wi-Fi connection, the OS will alert you of that fact and remind you that you will use your cellular data. Assuming you are okay with that, hitting 'continue' will start the process. End result? Everyone is happy.
What exactly is backed up?
In case you were wondering what gets backed up, Microsoft has detailed it on their help and support site (opens in new tab):
The apps you've installed on your phone, along with high scores and progress from participating apps.
The passwords for your accounts.
Your call history.
Your Start screen layout and theme color.
The accounts you've set up on your phone.
Your Internet Explorer favorites.
The custom words you've added to your phone's dictionary.
Settings from around your phone, including photos, messaging, email and accounts, lock screen, Speech preferences, and more.
In addition to the above, which is just for Apps + Settings, you can also optionally backup your text messages and photos/videos to OneDrive. Enabling all four settings will ensure a fairly robust restore to your new Windows Phone.
App and game settings are backed up?
While it is true that Windows Phone 8.1 can backup and restore game progress and high scores, it's important to remember that those apps or games need to be optimized for 8.1. That is until developers enable that feature it won't save your current game progress. Once 8.1 officially launches – and developers have toyed with the SDK – hopefully they'll allow it for their creations.
Wrapping it up
As you can see, Windows Phone 8.1 is quite powerful for backing up when compared to its predecessor. I recently restored my Lumia Icon to my Lumia 925 and indeed, after about 15 minutes my Lumia 925 looked just like my Icon (the one difference was I had to use the 'show more Tiles' feature to match it perfectly that resulted in moving some Tiles around).
The Holy Grail of being able to back up your game progress and high scores is truly fantastic, though we still need to wait for some new apps and games to leverage that power. Hopefully it won't be too long as Microsoft has given developers some great tools to enable this in their creations without much fuss.
Are you surprised about how much can be backed up in Windows Phone 8.1? Have you had to use it yet? Let us know in comments.
Related Reading
Windows Phone 8.1 Tips and Tricks
Windows Central Newsletter
Get the best of Windows Central in your inbox, every day!
Daniel Rubino is the Editor-in-chief of Windows Central, head reviewer, podcast co-host, and analyst. He has been covering Microsoft since 2007 when this site was called WMExperts (and later Windows Phone Central). His interests include Windows, laptops, next-gen computing, and for some reason, watches. Before all this tech stuff, he worked on a Ph.D. in linguistics, watched people sleep (for medical purposes!), and ran the projectors at movie theaters because it was fun.
Yes! Just in time as I just switched phones!!!! Lumia920 to Lumia1520

Congratulations on the upgrade!

Thanks! I Won it yesterday at my local Microsoft Store!!

Nice :) Posted via Windows Phone Central App

You sir just got the best phone on the entire market... That 1520 is awesome.. What color did you get❔

I just can't put my 1520 down, it's such an awesome phone and it me so much joy.

I know, I can't believe they just handed it over lol. I went with Red can't go wrong with my favorite color. ;)

Thinking of getting one of them. Is it really that awesome I mean I know d specs and stuff but is it really worth it than the 930

A week ago I would have said the 930 would be my natural go to phone migrating from my 920 BUT after having the opportunity to own the 1520 @ 0 cost I took the chance on this form factor & I must admit that being on the other side of the phablet game I can't see myself downsizing.
I use to be the same as most people "way too big, that phone is impractical, Id look silly, nice screen but. . .".
Now as an owner I can't believe how badly it dwarfs my 920 (4.5") in every area, it makes the 920 look like a tiny iphone.
Also the inclusion of a micro SD slot that can and soon will read a 128GB cards (potentially more) was a paramount feature I was disappointed to not see coming to the otherwise perfect 930, so that just set the 1520 far and above in a class on its own.
Living with the Lumia 1520 I can honestly say that it does not feel cheap, over done or silly, it in fact feels very natural, well thought out and top of the line in esthetics and build quality it's really difficult to explain, you just have to experience it (real world) to understand.
so in other words YES for me it was very worth it!
Side note: I've seen reviewers complain about the pointed corners and I must say with a phone this size the corners actually create a comfortable grove in your palms and stabilize the the 1520 quite well as the corners are angled but not sharp at the tips.

⬆⬆ Best comment ever ⬆⬆
This is EXACTLY what I've been saying for months to skeptics...
.....................
6" feels normal once you use it, and the 1520 is the flagship WP device.. And, its obvious that Microkia treats it as such...
..................
Still, the camera algorithms need serious work, but it is the best WP device yet.... SD card slot, and all!

i think flagship has to go to the 930 cause its the commone size people will go for mastly, the 1520 whilke a fantastic phone is a phablet, and a phablet is still a nich market. even my hard core friends dont want phablets, so for that reason it shouldnt be considered the flagship phone.

Man I'm so jealous though.lol Congrats.

Haha thanks I couldn't believe it I freaked! Its so awesome!

I switched from a 920 to a 1520 a couple months ago. I liked my 920, but I love my 1520.

I chose the 1020 over 1520, though I like the action centre in 1520(5 quick settings)

Ive got a 520 and I get my 1520 this week I hope ;)

I started with a 520 (from an iPhone 4) and upgraded to a 1520, NOT disappointed at ALL :)

Nice! Its so funny when I got my 1520 I sat out in the mall common area to update over WiFi and guess who I ended up sitting next to. . . . A displeased iphone 5 user and I looked over at how cramped up he was on his phone and looked back at my new phone in utter disbelief lol!
The 1520 Rocks, Nokia Rocks, Mirocsoft Rocks & Last but not least WP Users freakin Rock!!!

What a leap! I'm excited for you!!!

Same here, my 920 was the best up until the run in with 1520 now my 920 has stepped down and is serving a a media player and noble HD. ;)

what u think of the size?
thats like my only concern :)
good for you btw :D

Thanks. :)
As far as holding and use it fits right in my average sized hands just fine and the weight is very comfortable, talking on it feels natural and texting is much more enjoyable with the larger screen.
I can one hand most things if need be but honestly it just feels good two handing things, It slipped very comfortably into my well fit jean pockets and didn't cause me much issue while riding my road bike for extended periods as the profile is much more thin than my 920.
I'll have more to say about riding in a weeks time as I'll really be putting it to the test and also a bit more once I place 9H glass and a case on this baby.

How much will you sell your 920 for?

I'm sorry I couldn't do that I still have plans for it not to mention the screen is all cracked up.
Thanks for your interest though, the 920 is an outstanding smart device I'd still recommend to anyone just getting into WP8!

Doesn't work - haven't yet managed to back up my settings. Keeps saying "something went wrong, try again." On Wifi, 2g, 3g, 4g.

Delete the backup, and try it again.

Turn off auto photo/video upload. Worked me for me.

Doesn't worked with me too... Lost every thing :(:'(:(:'(:(

I've always had to disable text backup. It seems to cause some odd issues. Don't know if it is the problem for you, but might consider disabling that. Everything else seems to work just fine (for me). Good luck.

Me too. As soon as I enable text backup, none of my mail accounts can synch. 8.1 didn't fix this.

Same here. I don't want to start fresh because something is corrupted... Idk what
Update: I deleted backup and tried again... This time it worked. After 8 or 9 tries

Same here, so very annoying!!! I don't want to lose my data!

Ah its been there for a long time. Works fine on my 520

How did you get that backup notification

I waited three weeks. Read the part about not using the automatic backup feature and reminder.

I actually got that notification today. The odd thing about it is that have automatic backup set up on my phone. That's how I found out my backups haven't been working all this time.

Have you had a WiFi connection at all in the last three weeks? If not it could be due to that?

I've got wifi on most of the time, and I've tried manually backing up my data whenever I'm at home and connected.

Wish my gta game would back up.

Great post ! I just switched to a new Lumia today from my 925, and the back up was INSANELY helpful lol !

Which new Lumia did you get?

I just got a Lumia 1020 haha but I won it as a part of Opportunity Rings this past weekend :) so now I get to switch!

Which Lumia did you switch to? I have been seriously considering getting a Lumia Icon and use it on AT&T. I have a 1020 as my main phone right now.

Well I finally get to experience the 1020 as my main phone now so I'm jealous you've had it for so long :) I just won it this last wknd and my friend was able to get AT&T to unlock it (I have t-mobile) so I"m going to start using it today ! !

I had sync my settings turned on and changed my accent color - got back to my PC and it had updated as well. Lime green looks much better on a phone than a monitor.

Stuck at 96% on two different phones. Also, lost my game save (which SHOWS is saved in my OneDrive account) for Frozen Free Fall. I had to get a replacement 920.

That would be because developers have to opt-in by updating their apps before they can take advantage of this.

But...the app has me login with my MS account and places a game save file in my OneDrive account...

Yeah, that's not using the WP8.1 built-in backup then - it's using something the developers implemented fully on their own. If that's not working, it's on them entirely.

Mine HTC 8X stuck at 96% and gives error... I am very disappointed. But as I could see, the data is still uploaded on the OneDrive, so I think it is still backed up...

It sucks. I did a backup from my HTC 8X and then when I got my Nokia Lumia icon, nothing came down... Not my start screen or my settings.

Since I went thru the same with both mine and my fiancee's phones I assume it's because the new phone starts up with WP8 not 8.1

I suppose that could be true... But then shouldn't it not work for anyone? All phones start with 8.0

What I did when I got my wife a new 925 recently, loaded the phone up and installed the developer preview 8.1 update and then did a hard reset on the phone. Her old phone already had 8.1 and backed up all the settings. Then after doing a hard reset on the 925 after installing 8.1, I was able to restore from her backup.

This will help me immensely when I get a new Icon. :) thanks

Still getting "There was a problem backing up to your settings. Try again later." message.

I was getting that too. Try deleting previous backups and then try and manually backup again. I just did, and finally got my phone to successfully backup for the first time since upgrading to 8.1! However, the data being used in my OneDrive is exactly the same as before, so now I'm suspecting the backups have been successful, but it was giving a false error message.

You're the second person I've seen today say that deleting an old backup will fix the issue (after having never seen anyone say this before), so I gave it a shot but am still getting the same error message. Interestingly enough, when I go to "Manage my backups", I'm seeing the same amount of space being used in OneDrive as it was before, even though I deleted my backup. So perhaps that was indeed a false error message, even though I'm still getting it. Edit: I tried it again and it went through! It may have been because my first attempt wasn't on WiFi whereas this attempt was, but whatever the reason, "Last backed up 5 minutes ago", THANK YOU!

The thing I've been trying to find out is how to enable an app to backup its data. As a developer that would be great to know, but haven't found anything about it. Is it restricted to Xbox Live games or it's it available for only certain types of apps?

This doesn't sound good, it should just be a single line of code. Xbox only would be terrible.

Don't worry, tt's not xbox only. Microsoft had an entire //build/ session about data roaming and backup (see my link below) and I believe there are samples available online.

http://channel9.msdn.com/Events/Build/2014/2-522 I skimmed this video back when it was posted so I can't really remember all of the details but apps should automatically be backed up with their storage data if back up is turned on. If it's not, then maybe existing apps have to be upgraded to SL8.1 or XAML apps to take advantage of that. Watch the //build/ session I posted to find out the nitty gritty details. Note that roaming data is not the same as backed up data but both are covered in this video.

Just got a notification banner for it.

Mine doesn't automatically backup and i have those options turned on.....thats why i lost some settings after reset :(

You're going to lose many settings after reset no matter what, because apps don't get their data backed up until they explicitly are updated for that.

Yeah but the start sceen also...thats when i went to settings and saw that it wasn't backing up automatically even on wifi

Nope, it doesn't sync game progress on my phone! I've played angry birds star wars 2, almost passed 3 stars every level and I backed up everything, did hard reset and voila! I had to start playing game from beginning...

Nope, you didn't read the article fully ;) Hint: those games are optimized for 8.1 backups yet.

Which would be why this developer opt-in nonsense is terrible (of course, in my opinion). As an example, how many Xbox games are we actually going to see updated for this? Almost none of them, most likely. What the platform needed (again, in my opinion) was a method for a 100% backup, and this wasn't it.

I mean, I agree but there are technical limitations here. You need app/game data to be stored universally in a single format. How is the OS to pull out high scores or game progress from each and every app/game when developers all save/store it differently? That doesn't strike you as, difficult? (It actually strikes me as impossible, TBH). Sure, getting developers to standardized can take time, but what is the alternative besides backing up your entire phone, which will run into multiple GB? 100% backup, imo, is totally stupid. How many people want to physically sync their phone to their PC to back up a phone that could have 16, 32 or even 100 GB of data? This isn't 2005 and to quote a meme, "ain't nobody got time for that!"

Developers might store settings, high scores, etc. differently, but it's always a file in the same place, in each app's isolated storage. So, at the very least, all of those folders should be backed up by default (with the developer then able to opt-out instead of needing to opt-in). It might of course lead to too much data being backed up... video files in Moliplayer, or something like that. Better to have too much backed up than too little though, and active developers would quickly be able to update to fix that. As for how many people want 100% backup for 32GB and greater devices, I think that every time iPhone users replace/upgrade their phones, they're pretty thankful for the feature. And since people are already possibly having to download gigs upon gigs of apps and games, it could probably be faster that way anyway.

Existing apps do not back up because that was the expected behavior of backups in WP8.0. Devs shouldn't be blind sided by new behaviors of existing apps everytime there's an OS update. It's more reasonable to ask devs to update their app to take advantage of new features. Existing apps just need to be upgraded to SL8.1 apps (this is done with a right click so it's easy in most cases) and they will automatically be included when backups are done.

That's great, if you're Apple and can safely assume that everyone is going to update the first day your new OS is out. When you're the WP Store and a large number of apps and games are abandoned (even a large number of Microsoft published apps that are Xbox Games), that just doesn't work so well.

The idea isn't to expect devs to update their apps. The idea is to not break existing ones with the new OS. If an app stores and requires the device id, for example, restoring that data might cause it to crash or do weird things since that data might be on a different device with a different id. Upgrading is choice so users don't encounter that scenario. Also when upgrading, the dev can still opt out, thus preventing this scenario from happening. The approach is the most non-disruptive one I think.

Thanks for appointing me to that. I guess you wanted to say "those games aren't optimized for 8.1 backups yet" but thanks anyway :)

Don't ever hard reset before at least checking if things went smoothly. :/
Ahh nvm you were updating your phones OS post back up?
Ouch

From 720 to 1520 next week, I was imagining how am gonna start from scratch! But what will happen to the 512mb ram stuff when I upgrade

It'll work better than ever before on your 2GB RAM 1520.

What happens to apps on the SD card after a hard reset of a 1520? Should I pull the SD before reset? If so does installing the SD card automatically reinstall those apps?

When you hard reset you're asked if you want to format the SD as well
If you choose no and just hard reset the phone then when it starts back up it'll tell you that there appear to be apps from another phone on the SD card so would you like to delete those in order to save apps to SD. If you choose yes then you have to download all the apps and I'd you choose boo you can't save apps to the SD
So moving them to the phone does nothing as they have to redownload after a hard reset either way.

Thanks. That's to bad I keep almost everything on the SD I was hoping that they would just stay and work.

I had to hard reset my wife's 620. after the hard reset the SD card saw the phone as a different phone, so I had to redownload all those apps, it wouldn't let me reinstall them. music and pictures of course were fine. when I tried to move the apps to the SD card again, it told me there were existing apps from a different phone, and if I wanted to get rid of them.

Thanks, wish it just worked without re-downloading

Would you want someone to hard reset your device, yet still have free reign to all your app data, which could easily include banking apps and other sensitive data? Hard reset devices are treated as new phones, and for good reason. Microsoft is trying to make sure SD cards are actually secure, unlike what Android has been prior to Kit-Kat.

Good point I didn't think of that. It make sense thanks

The Holy Grail for me is backing up to my PC or other storage device that I control and maintain.

I'm sure for some, it is. But I'm not aware of much user demand for such a feature. Seems very pre-cloud, inefficient and catering to niche audiences.

You're probably right. Microsoft keeps alienating me at every turn. So be it. I will keep evaluating other options.

I am saying it again, Its no use , Its not complete backup of your phone ,If some one is using 1520 , Try moving all apps to SD card and do this backup thing, And check the size of the backup , This is just a trick they played,

Who said it was a "complete backup of your phone"? No one but you. This backs up Start screen settings, passwords preferences and the things listed in the article. What apps do you have that can be backed up e.g. are optimized for 8.1 and their settings enabled? My guess is zero. Regardless, this is no "trick". I think this is your misunderstanding of what this backup feature entails. I've at least restored one phone (Icon) to another (Lumia 925) with success. It's way better than 8.0.

Daniel, Ok i might be wrong in understanding the complete backup ,Did you tried moving your apps to SD card and backup , I have this question for long time, I have a 1520, moved all apps to SD card , Taken a backup , Now i have to restore the backup on my another lumia 1520 , Could you explain how does it work , All the apps in SD card are invalid because it is associated with phone not with our Live account, If you have done it successfully , could you please share

It shouldn't be a full backup. That's inefficient and unecessary. There are different types of data that an app might need. User data might be important per person so that's logical to back up. However, transient temporary or session based data shouldn't be backed up. If I have an image search app, images found from a session is stored as app data but that's only important for that that one session. In a normal situation, a dev might want to keep that data around on the device if there's available space in case the user encounters those images again for quick reloading. But, this doesn't mean that it should be backed up. When the user restores this app to their new device, that data may never be needed again so it's smarter to not back up that type of data and have that kind of cache recreated next time the user makes the same/similar search.

Mine backed up all my settings and logins and passwords and start screen and apps and everything, but it will not back up my internet explorer favorite places. Tried it on my icon and my moms 928 and had the same result both times. Everything except favorites restored on both phones after hard resets.

Settings don't get backed up on my 920 but everything is. It shows an error. Anyone else has this problem?

Delete previous backup, try again.

Got the 'haven't backed up in a while' notification this morning, having forgotten that I had disabled auto back ups for some reason pre WP8.1 dev preview. Worked great for me. It also reminded me just how great this whole OS is-no messing just simple. Love it.

I have used the backup function after a hard reset and it's awesome

Damn ... Does that mean games like Spectral Souls and Final Fantasy won't backup our progress? Big sized games tend to leave it as is without any updates :(

Especially when they're Xbox games like FF is, too.

Yep. Only some app data is not in the backup. But everything else is in the backup. Even including very specific OS settings and start screen.

The restoration process works amazingly well. I switched my mum from an 820 to a 1020 (both running 8.1). Everything copied over seamlessly.
Now I just hope Whatsapp allow us to backup chat logs to the cloud. It's annoying losing all that chat history when switching phones!
But yes, thumbs up to MS for making it such a seamless feature. It really is excellent, and takes the pain out of switching phones (it also makes me even more inclined to stick with WP)

This is also a very desired feature for Whatsapp for me. I should be able to backup to OneDrive and restore on a new device. The other thing is, Whatsapp still crashes when loading old messages in app :(

I have automatic backups on but never use Wi-Fi. I have no idea if my phone is actually backing anything up now. :( Does this Wi-Fi limitation for automatic backups also include text messages in 8.1? My text messages were always backed up on 8.0 even without Wi-Fi.

when I see a text message sent to one phone appearing on the second phone five minutes later, apparently the text message has already been backed up.

Are you on Wi-Fi though? It sounds like more of a sync than a backup then. I don't know why they don't just call it that.

Anyone know how often it backs up? Constantly or every time you install something?

Please vote for this feature-
http://windowsphone.uservoice.com/forums/101801-feature-suggestions/sugg...

I could backup to an SD card with the Nokia 210. People blame developers and whoever. It is most likely all intended, a 'business model'. There is 'no demand' some say. More likely many people don't know what to ask for when options aren't there. Is PC Windows 8.1 just as controlled? I have the 520 and things like this keep me from wanting to devote more to smartphones.

Microsoft can keep their cloud backup; I want easy backup to my local storage so I have control over my data not Microsoft and anyone else who can secretly get the data from them without notifying the data owner. As it stands WP has the worst backup capability in the history of Microsoft mobile products; I had better backup options more than a DECADE ago on Windows Mobile 2003SE. Now that is sad, and shows just how far Microsoft has fallen as a software company; no wonder they have become the joke of the tech world.

Paranoid much? Yikes, I hope you don't use the internet- or that you run your own ISP. A local option would be nice, but I find it hard to deny the appeal of being able to restore your device anywhere you have a data connection, without needing to connect to any PC (let alone a single primary home PC).

I have a funny quote for you: "Just because YOU'RE not paranoid doesn't mean THEY'RE not out to get you." ---------- But on a serious note, each person has their own requirements, and certain proffesions have legal limits on handling clint contact and other data that can reside on your phone, be it doctor-patient, client-lawyer, or other privilaged info, and unless you want to get into deep shit you better be careful how you handle data. Same goes for your own data, why should anyone give up control of their data to someone else when you have your own resources for that data storage, it just makes no sense. That is the same reason most bussineses have their own data servers and local storage, even if in limited scenarious cloud storage might be convenient; but just because something is convenient does not mean it is better, or safer.

Hey Dan what if the app was pulled from store will it back up and reinstall?

Oh man I got this amazing app called Cartoon HD could watch HD anime, cartoons and movies but I was pulled from store and I don't wanna lose it so no reset lol

I know this is really nitpicking, but I wish I could save my start screen at both a 3 tile width and the 2 tile width. So if I switched from one layout to the other it would just go to the saved outlay as opposed to just going all whacko. I have it at 3 right now, and I like it, but if I were to get a backup phone like the next revision of the 520 should something happen to this one where the screen is too small for the 3 med tile width, I wish there was a backup I would be able to keep where I could just switch to that layout and have it be ready for me to go. YCS

The reset system and backup is awesome

I tryed to back up my 925, but after reaching 98% it says it could't backup settings. Auto backup is off and I tryed it over wifi...

Yeah, had the silly 80C805E2 syncing error on my Lumia 1020 with WP 8.1 because I edited too many contacts, so I had to reset. Have to say, restoring was a much better experience than I expected. All my accounts where there, just needed to plug in my passwords, and all my apps were downloaded and installed as well. Wish more apps stored their settings with my Microsoft account like many Microsoft apps did, so I didn't have to re-login to them and set them up from scratch though...

Off topic, but seriously where is weave? Can't find it in store. Isn't it optimized yet for Windows Phone 8.1

http://www.wpcentral.com/weave-returns-windows-phone-store-after-being-delisted

I'm on Instagram and I do photography using Lumias from here on I'll be shooting with my Lumia 1520. Feel free to Follow me @icclairphotography
Thanks for all your comments and congrats WPCentral has the Best community seriously!

Are the 5 quick settings from the slide down (new notification slide) on available on the 1520? I'd liek to add one more to my 920 but thinking that's just for 1080 screens.

In terms of backup, when I move from one phone to another my biggest concern is text messages. I've got the error where I have to disable text backup in order for my MSFT(ie., Hotmail) account to sync. This is beyond frustrating. I've looked in many forums and they all suggest the same thing to successfully backup... Disable text backup. Can't believe MSFT has not yet addressed this issue. C'Mon!!!

For some reason since three weeks the update is not working anymore. Not even manually triggering it

Question. I'm running 8.1 preview on my 925, if I hard re-set to try get rid of start screen lag I'm experiencing, will I have to re install 8.1 before restoring my apps/settings? Thanks

If you have 8.1 you have 8.1. You don't go back to 8 if you hard reset your phone.

App backup is worthless..unless a dev support it and all those unupdated games in the marketplace will never be able to backed up...and that is about 99.9% of the games. Wish MS said enabled for all apps and you need to update your app if don't want it backed up A pretty much worthless feature for a few years at least...

My text messages from earlier than March 22nd disappeared. How much is exactly backed up?

There is an option for the length of the backup - check it... Mine is "Download messages from: the past month". You could select an year ago or anytime also.


What if you had select ANYTIME, does it recover all of your backup messages in threads? and does it works 100% sure? please answer. thanks!

Is there any way to restore only the custom words for dictionary at the time of restroing other then msgs and contacts. ?

I hard reset 2 data ago thinking that all my scores and levels were saved. Lost everything. Need to start from the beginning again.

I've been trying to backup text messages for a long long time. Each time I try my Facebook, email, and Microsoft accounts won't sync under settings. The ability to back up text messages has been around for a while, but has never ever worked even with 8.1, kind of sucks.

One thing I did not know about backup at all was if you have 2-step verification enabled on your Microsoft account you have to disable it to restore your phone. I found out the hard way. I could never log into my account when I added my Wi-Fi because of 2-step. I hit "sign in later" not knowing that skipped restore altogether. App passwords don't work, your normal password and then a code (none is sent) nor the code from the authenticator app work. You just cannot login after setting up Wi-Fi to do a restore without disabling 2-step verification on your Microsoft account as far as I have found.

I would like to know what exactly IS backed up. Are ALL the settings for Exchange Accounts backed up? Or just the password? If you are using POP mail accounts from providers that are not automatically recognized by the account setup process, ie, not one of the 'Big' email providers, and you had to manually set them up, are ALL of the settings backed up, not just the password? Sorry to sound pedantic, but I've herd this claim before, and then found out it only results in a restored phone that works right away IF the accounts can be set up automatically. Anyone know?

It would be awesome I backing up my texts didn't cause my email to not sync. When is that error gonna be fixed?

That same message just popped up for me Yesterday LOL

Can this backup be seen when we open OneDrive or it remains invisible?

Yes, I'd like to know that too. The author of the article stated that the backup of his Nokia 1520 amounted to 44Mb. Is the backup file visible anywhere on OneDrive?

He has 5 quick settings in the notification centre i have only 4 (lumia 520) How can i get 5

Is there any chance to get back my Whatsapp Chats after a hard reset?

Devlopers pls help me I am facing problem after windows 8.1 update. Basically I've Lumia 520 ( Indian Region ) . (01) After WP 8.1 update my SONGS List are not getting updated completly. for example If I have 100 songs , it shows only 80 to 90 songs .. (02) Problem number 02 After WP 8.1 update - After completion of a each Song and jumping into another song ., A SCRATH Like Noise Comes Remedies I've tried: 01 ; Formatted my 08 GB Memory card , for many times 02 : Hard Resetted My Lumia 520 , for many times 03 : Bought New 32 GB CLASS - 10 Memory card.. But still I haven't got solution.. Pls help me.. Email ID : premsdarshan@outlook.com

I'm really happy with this backup feature (don't have to take screen shots of my start screen or account configuration anymore haha). The only thing I dont understand is the size of the backup. If it's only settings that are in the backup I would expect it to be less than 5 Mb. I hope only the app settings are in the backup (meaning I don't have to configure each app again after reinstalling). However there is no need to backup the complete app since these apps could be automatically reinstalled from the Windows Phone store. Only the settings and a list of installed apps is needed.

I thing to be notice is that the picture shown is having 5 quick actions....???

Sadly on my Lumia 620 8.1 backup fails at 96% with - "There was a problem backing up your settings. Try again later." Trying again later of course results in the same error, any ideas anyone?

Even if you do backup you'll be lucky to be able to restore. Mine is frozen at 25%.

My son lost his iPhone. My son gets a new iPhone. One Click! EXACTLY LIKE HIS OLD ONE!! WP is soooo far behind.

i think the problem is not the backup but the alert, it is so annoying, impossible to read it, had to google the words to find it out, anyway i disabled it!!!!! here's how: http://www.technonsense.com/2014/12/havent-backed-up-in-a-while-disable-...