How to update Astro A40, Astro A50 for Xbox Series X, Series S
Even without an optical port, you can still get great sound.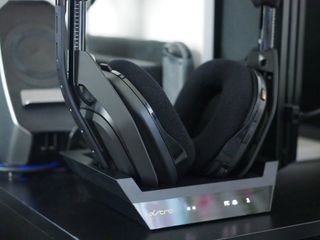 (Image credit: Windows Central)
The Astro A50 and Astro A40 are two of the best and most popular gaming headsets for the Xbox One, and Astro has committed to making it as easy as possible to also use them on the Xbox Series X or Xbox Series S. However, since the new consoles lack the optical port that has traditionally been part of all of Microsoft's systems, you'll need to update Astro A50 and A40 headsets, so you use them through the USB port.
Not sure what you need to do? We've provided step by step instructions for the required firmware update so you can enjoy the best sound with all the next-gen games.
How to update Astro A40 and Astro A50 to work with Xbox Series X and Series S
Connect your MixAmp Pro TR (often paired with Astro A40) or Astro A50 Base Station to your PC or Mac over USB. If using an Astro A50 headset and Base Station, ensure the headset is placed on the Base Station and charging.
Visit the Astro Gaming site and download the Astro Command Center software

(opens in new tab)

for PC. A Mac version is also available.
Initialize the Astro Command Center Setup Wizard to install the software.
Choose a destination folder for your software. It will default to program files.
Click Install to begin the installation.
You'll receive a pop-up indicating the Setup Wizard is completed. Click Finish.
At the top of the Command Center dashboard, you'll see what firmware version your headset is currently using and a notification that an update is available. Click update now.
The Command Center will display details on everything that's in this version of the firmware and ask if you want to proceed. Click update.
When the installation is done, you'll receive a notice that the update has completed. Click OK.
Upon successfully updating, your Astro devices will work over the Xbox Series X or Xbox Series S integrated USB port. Simply unplug your headset from your PC or Mac, and reconnect it to your Xbox console via an USB port.
Sound on!
Once you've completed these steps to update Astro A40 and Astro A50 to work with Xbox Series X and Series S, you'll be able to use your trusty headset to play on the new system. If you have any other concerns about changing console generations, let us know in the comments.
Xbox Series X/S
Main
What is the Xbox Series X release date?
How much does Xbox Series X cost?
Why you can't preorder Xbox Series X yet
Windows Central Newsletter
Get the best of Windows Central in in your inbox, every day!
Getting the headphones to be detected by the app was kind of a pain. Maybe it was the way they were sitting in the base?

I can't get the update to work because it keeps saying place my headphones into the base station even though they already are.

That's the error I had. It must need a better connection than just the charging does. Move them around and/or put pressure on the headphones. One they connect make sure they STAY in that position. I think I had to hold them for the whole update or I turned them upside down and had the base on top. I did just to make sure I didn't brick them during the firmware flash.

I just sat here for an hour trying what you said and still no luck. Looks like I'm going to have to try to return them.

Damn, that sucks. You never even got a hint of it connecting? Maybe my base is bad too. If your TV has optical out, that actually might be a better solution because the USB seems to be causing problems.

Does the headset to controller audio cable still need to be used for chat functionality?

What cable are you talking about? Nothing plugs into the controller, this is a wireless set.

hey
After updated my headset i still got a problem on xbox series X
The surround button and the 3 presets doesn't work , i tried to synchronize multiple time but nothing happen when i switch presets.
Otherwise it work properly when i switch basestation on PC mode but dont work on my Xbox series X ;(
Sorry for my bad english.

I am experiencing the exact same issues. The Dolby surround button and the presets are no longer functional. I also tested on a PC and it works fine. I submitted a ticket with Astro. Waiting for a response. I purchased the Astro A50 three months ago with the expectation that it would work, as promised. Very disappointed. Hoping for a new firmware soon. If everyone submits a request maybe they'll escalate it. https://help.astrogaming.com/hc/en-us/requests/new?mobile_site=true&tick...

No answer from Astro yet but found a workaround. USB from base to xbox and optical from base to TV. Headset Dolby toggle and presets are now functional.

Got mine to work but it makes a fuzzy buzzing sound now. Same for everyone else?

I had some sound issues with the chat portion that always came from the USB, strange.

Apparently weve lost alot of sound quality, losing the optical wire. Looking into hdmi audio extractor, its what playstation has to do to use optical. Kind of disappointing we weren't told of this beforehand.

You think this is because of the crappy micro USB connection to the base?

Anyone who has optical out on their TV can still use that after the update, right?

I was able to update the firmware for the mixamp and have audio through the headset on the Series X however the system will not assign the headset to my account so I cannot use chat. I opened a ticket with Astro. Hoping there is a solve

I'm having the same problem

Is anyone else having issues getting the headset to sign in so that you're able to talk? I updated can hear the Xbox but it's still saying it can't detect a headset

How is the update working now for everyone? I see lots of posts about problems, but not info on if the problems got solved by another update.
Windows Central Newsletter
Thank you for signing up to Windows Central. You will receive a verification email shortly.
There was a problem. Please refresh the page and try again.