How to update Astro A40, Astro A50 for Xbox Series X, Series S
Even without an optical port, you can still get great sound.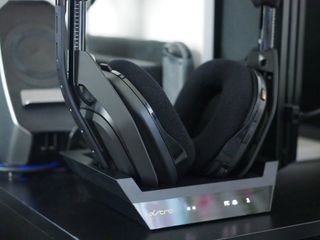 (Image credit: Windows Central)
The Astro A50 and Astro A40 are two of the best and most popular gaming headsets for the Xbox One, and Astro has committed to making it as easy as possible to also use them on the Xbox Series X or Xbox Series S. However, since the new consoles lack the optical port that has traditionally been part of all of Microsoft's systems, you'll need to update Astro A50 and A40 headsets, so you use them through the USB port.
Not sure what you need to do? We've provided step by step instructions for the required firmware update so you can enjoy the best sound with all the next-gen games.
How to update Astro A40 and Astro A50 to work with Xbox Series X and Series S
Connect your MixAmp Pro TR (often paired with Astro A40) or Astro A50 Base Station to your PC or Mac over USB. If using an Astro A50 headset and Base Station, ensure the headset is placed on the Base Station and charging.
Visit the Astro Gaming site and download the Astro Command Center software for PC. A Mac version is also available.
Initialize the Astro Command Center Setup Wizard to install the software.
Choose a destination folder for your software. It will default to program files.
Click Install to begin the installation.
You'll receive a pop-up indicating the Setup Wizard is completed. Click Finish.
At the top of the Command Center dashboard, you'll see what firmware version your headset is currently using and a notification that an update is available. Click update now.
The Command Center will display details on everything that's in this version of the firmware and ask if you want to proceed. Click update.
When the installation is done, you'll receive a notice that the update has completed. Click OK.
Upon successfully updating, your Astro devices will work over the Xbox Series X or Xbox Series S integrated USB port. Simply unplug your headset from your PC or Mac, and reconnect it to your Xbox console via an USB port.
Sound on!
Once you've completed these steps to update Astro A40 and Astro A50 to work with Xbox Series X and Series S, you'll be able to use your trusty headset to play on the new system. If you have any other concerns about changing console generations, let us know in the comments.
Xbox Series X/S
Main
What is the Xbox Series X release date?
How much does Xbox Series X cost?
Why you can't preorder Xbox Series X yet
Get the Windows Central Newsletter
All the latest news, reviews, and guides for Windows and Xbox diehards.