How to use a VPN with Kodi on Windows
If you're using a VPN on your Windows machine, you're also using it for Kodi.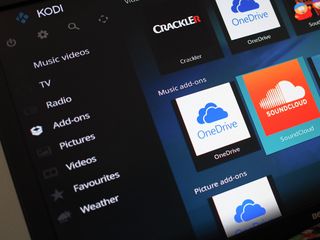 There, post done, right? Not so much. It is true that if you're using a Windows-based Kodi install on a PC then so long as the machine is behind a VPN so too will your Kodi install.
Advertisement
It's also not necessarily just for nefarious reasons you'd want to use a VPN, either. But if you do, and you probably should, here's some information to help.
What is a VPN?
VPN stands for Virtual Private Network and is an encrypted 'tunnel' that transfers your internet activity between your PC and a host server. The internet is a public thing, but a VPN adds a dose of anonymity, making it harder for someone to track your activities.
Reasons for using a VPN are various, but one popular reason is to 'spoof' your location. In some countries, like China, internet access is severely restricted, a VPN is a tool that can help get around that. Specifically, in relation to Kodi, the open-source nature of the platform has its own concerns, mainly down to third-party add-ons.
These can be built by anyone, anywhere, and even if you're not using one to access pirated content, there's always a chance that your security could be compromised. Kodi itself is an empty shell, and while you'd assume all add-ons in the official repository are good, outside of that it could be a real hornet's nest.
For more on the what and the why, check out the video above from your friendly neighborhood Modern Dad.
How do you use a VPN on Windows?
It's really easy, actually. VPN clients are widely available for Windows. You can get some that are browser extensions, but for complete protection of everything your PC does a native client is the way to go.
When you've chosen a client that's right for you, installing it on your PC is as easy as any other program. If you also want to use your VPN with any of your mobile devices, you'll have to use the mobile clients of your service, assuming it has them at all.
Windows also has built-in support for adding some VPN configurations right in the Settings app. Check out the guide linked below from PureVPN on how to set it all up.
How to manually configure VPN in Windows 10
So which VPN should I get?
There are lots out there, hundreds, perhaps thousands. Some are good; some are not so good. Only you can really make the decision on which fits best for you.
Advertisement
Here are some suggestions on the best all-round products available. These may work for you; you may find a better fit elsewhere. But ultimately make sure you understand what you get and what it costs.
The best VPN services of 2017
Your tips
If you're using a VPN with Kodi and have some wisdom to share with us, be sure to drop your tips in the comments below.
Updated October 5, 2017: Added a new link on how to setup your VPN manually in Windows 10.
We test and review VPN services in the context of legal recreational uses. For example:
1. Accessing a service from another country (subject to the terms and conditions of that service).
2. Protecting your online security and strengthening your online privacy when abroad.
We do not support or condone the illegal or malicious use of VPN services. Consuming pirated content that is paid-for is neither endorsed nor approved by Future Publishing.
Richard Devine is an Editor at Windows Central. A former Project Manager and long-term tech addict, he joined Mobile Nations in 2011 and has been found on Android Central and iMore as well as Windows Central. Currently you'll find him covering all manner of PC hardware and gaming, and you can follow him on Twitter and Instagram.
NordVPN on Windows 10 creators and Microsoft 950XL FTW!

73 %of people using IPVanish Learn More www bestvpnreviewz c om

What a joke. You know, and I know, people use a VPN with Kodi for all the torrent streaming. U ain't fooling noone with this article wording lol

Indeed. This article is 100% about using a VPN to pirate with shady Kodi addons. No amount of "Even if you don't use Kodi to pirate..." wink-wink nudge-nudge is going to change that.

You guys should be ashamed. You are going for SEO, and nothing else. There is no real reason to use a VPN for Kodi unless you are using crappy streaming plugins that work like trash. Nothing Kodi does itself is illegal, nor would it require a VPN. BBC iPlayer doesn't need one, and technically streaming it outside the UK is illegal streaming.
"There, post done, right? Not so much." yes, post is done. Everything else you mention is about VPN's not Kodi. You wanted a clickbait title, and that's it.

Just because you are connected to a VPN does not mean all network traffic goes through that VPN. There is an option "Use default gateway on remote network" on the Windows built in VPN client. So you can connect to a VPN to access remote services and not have your regular internet/Kodi traffic go throug the VPN.
Windows Central Newsletter
Get the best of Windows Central in in your inbox, every day!
Thank you for signing up to Windows Central. You will receive a verification email shortly.
There was a problem. Please refresh the page and try again.