How (and why) a visit to a Microsoft Store left one enthusiast feeling dejected
As a Microsoft enthusiast, I was disappointed when my local Microsoft Store wouldn't sell me a Surface Pro bundle for the same price as Costco.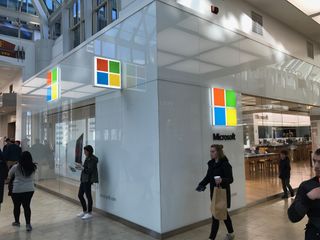 Though I write extensively about Microsoft, I've never owned (but have always wanted) a Surface Pro. So, I recently visited the Microsoft Store in Farmington, CT and bought a Core M3 Surface Pro and Type Cover Bundle for $699 to replace my failing Toshiba 2-in-1. I added a Surface Pen and Microsoft Complete Warranty for $89 and $149, respectively. After spending $997 total for my new Surface, I left the store feeling good ... but also a little guilty.
I'm a writer and a small business owner, however, and a reliable PC is essential for both, so my wife encouraged the purchase.
Still, the Core M3 I bought is entry-level and I needed a Core i5 for PhotoShop projects. Sadly, that mid-tier model was beyond my budget. That's until I saw the Core i5 Surface Pro Bundle with Type Cover, Surface Pen and two-year warranty at Costco for $899, just after I'd already purchased my Pro.
Microsoft lacks a price match guarantee
Though the Costco warranty isn't as comprehensive as Microsoft's, the Costco Core i5 bundle was a better deal than the inferior Core M3 Microsoft Store Surface bundle.
I spoke to a Microsoft rep (not at the Store) who confirmed that Microsoft Stores sometimes price match, and I set my hopes on that possibility. (I later confirmed this with Microsoft.) I wanted the convenience of a simple return and exchange, and the choice of the black Surface Pen since the Costco bundle only came with the platinum Pen.
I walked into the Microsoft Store with my Core M3 Surface, receipt and photographic proof of the Costco deal in tow and told a store associate my story. I was encouraged when she said a price match shouldn't be a problem, and she walked over to her manager just to confirm. My hopes dwindled when his body language said, "no way."
After some back and forth, management encouraged me to get the Costco bundle because it was a great deal that the Microsoft Store simply couldn't match. I understood, but as a diehard Microsoft enthusiast and advocate, I felt dejected.
I was there from the beginning
On March 1, 2014, like a kid going to an amusement park, I dragged my wife to the opening of this very same Microsoft Store that rebuffed my price match request. I wasn't writing for Windows Central at the time, but as a passionate Microsoft enthusiast, I was there to cover the opening for my personal blog. The only reward was the joy of being part of the event and using my tiny platform to promote Microsoft's efforts.
I didn't expect the reps from the store to know about any of this when I asked for a price match. Nor did I share it. But I knew the passion that I poured not only into that store but also into Microsoft over the years even before becoming a paid writer.
As someone who writes Microsoft analysis, I'm keenly aware that its stores are far less popular among consumers than Apple Stores. Anecdotally, when I visit the Farmington or Danbury, Conn., Microsoft stores, both are usually relatively empty where, sadly, the staff outnumbers customers. This isn't true of the Apple Store that's comparatively much busier. Windows Central Managing Editor Al Sacco tells the same is true of the Boston, Mass., Microsoft and Apple stores.
Intangible value
I raise these points because I walked into the Farmington store as a first-time Surface customer but didn't leave feeling great. And it is that "great" feeling (along with popular products) that encourages customers to return, creates goodwill, and promotes positive word-of-mouth that produces the foot traffic Apple Stores enjoy and Microsoft Stores desperately need.
I will likely return to the Farmington Microsoft Store to buy the Microsoft Complete coverage. But what if I was a regular consumer? Would the money Microsoft saved on not price matching Costco be more valuable than the potential rewards that could have come from a customer leaving the store feeling great and eventually returning for more purchases?
A luxury image ...
The Microsoft Store, like the Apple Store, is positioned to showcase first-party high-end devices. Thus, making a practice of price matching would conflict with that mission and image. Microsoft also has a host of partners that build an affordable range of devices patterned after the Surface. And when partners like Costco sell Surfaces, Microsoft benefits.
So, Microsoft Stores making a practice of price matching could hurt long-term sales of Surfaces through resellers like Costco, and ultimately their future reorders of the devices. But I wasn't asking Microsoft to change its policies and guarantee price matching. I was asking that local stores have the discretion and impetus to weigh the costs and benefits of matching a price on an individual basis.
What do you think? Should my Microsoft Store have bundled its $799 Core i5 Surface, $129 Type Cover and $99 (black) Surface Pen and matched Costco's $899 bundle price? Let us know in comments.
Get the Windows Central Newsletter
All the latest news, reviews, and guides for Windows and Xbox diehards.
Jason L Ward is a columnist at Windows Central. He provides unique big picture analysis of the complex world of Microsoft. Jason takes the small clues and gives you an insightful big picture perspective through storytelling that you won't find *anywhere* else. Seriously, this dude thinks outside the box. Follow him on Twitter at @JLTechWord. He's doing the "write" thing!