How (and why) a visit to a Microsoft Store left one enthusiast feeling dejected
As a Microsoft enthusiast, I was disappointed when my local Microsoft Store wouldn't sell me a Surface Pro bundle for the same price as Costco.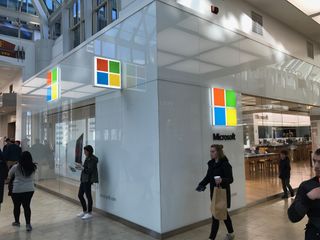 Though I write extensively about Microsoft, I've never owned (but have always wanted) a Surface Pro. So, I recently visited the Microsoft Store in Farmington, CT and bought a Core M3 Surface Pro and Type Cover Bundle for $699 to replace my failing Toshiba 2-in-1. I added a Surface Pen and Microsoft Complete Warranty for $89 and $149, respectively. After spending $997 total for my new Surface, I left the store feeling good ... but also a little guilty.
I'm a writer and a small business owner, however, and a reliable PC is essential for both, so my wife encouraged the purchase.
Still, the Core M3 I bought is entry-level and I needed a Core i5 for PhotoShop projects. Sadly, that mid-tier model was beyond my budget. That's until I saw the Core i5 Surface Pro Bundle with Type Cover, Surface Pen and two-year warranty at Costco for $899, just after I'd already purchased my Pro.
See Surface Pro at Microsoft (opens in new tab)
Microsoft lacks a price match guarantee
Though the Costco warranty isn't as comprehensive as Microsoft's, the Costco Core i5 bundle was a better deal than the inferior Core M3 Microsoft Store Surface bundle.
I spoke to a Microsoft rep (not at the Store) who confirmed that Microsoft Stores sometimes price match, and I set my hopes on that possibility. (I later confirmed this with Microsoft.) I wanted the convenience of a simple return and exchange, and the choice of the black Surface Pen since the Costco bundle only came with the platinum Pen.
I walked into the Microsoft Store with my Core M3 Surface, receipt and photographic proof of the Costco deal in tow and told a store associate my story. I was encouraged when she said a price match shouldn't be a problem, and she walked over to her manager just to confirm. My hopes dwindled when his body language said, "no way."
After some back and forth, management encouraged me to get the Costco bundle because it was a great deal that the Microsoft Store simply couldn't match. I understood, but as a diehard Microsoft enthusiast and advocate, I felt dejected.
I was there from the beginning
On March 1, 2014, like a kid going to an amusement park, I dragged my wife to the opening of this very same Microsoft Store that rebuffed my price match request. I wasn't writing for Windows Central at the time, but as a passionate Microsoft enthusiast, I was there to cover the opening for my personal blog. The only reward was the joy of being part of the event and using my tiny platform to promote Microsoft's efforts.
I didn't expect the reps from the store to know about any of this when I asked for a price match. Nor did I share it. But I knew the passion that I poured not only into that store but also into Microsoft over the years even before becoming a paid writer.
As someone who writes Microsoft analysis, I'm keenly aware that its stores are far less popular among consumers than Apple Stores. Anecdotally, when I visit the Farmington or Danbury, Conn., Microsoft stores, both are usually relatively empty where, sadly, the staff outnumbers customers. This isn't true of the Apple Store that's comparatively much busier. Windows Central Managing Editor Al Sacco tells the same is true of the Boston, Mass., Microsoft and Apple stores.
Intangible value
I raise these points because I walked into the Farmington store as a first-time Surface customer but didn't leave feeling great. And it is that "great" feeling (along with popular products) that encourages customers to return, creates goodwill, and promotes positive word-of-mouth that produces the foot traffic Apple Stores enjoy and Microsoft Stores desperately need.
I will likely return to the Farmington Microsoft Store to buy the Microsoft Complete coverage. But what if I was a regular consumer? Would the money Microsoft saved on not price matching Costco be more valuable than the potential rewards that could have come from a customer leaving the store feeling great and eventually returning for more purchases?
A luxury image ...
The Microsoft Store, like the Apple Store, is positioned to showcase first-party high-end devices. Thus, making a practice of price matching would conflict with that mission and image. Microsoft also has a host of partners that build an affordable range of devices patterned after the Surface. And when partners like Costco sell Surfaces, Microsoft benefits.
So, Microsoft Stores making a practice of price matching could hurt long-term sales of Surfaces through resellers like Costco, and ultimately their future reorders of the devices. But I wasn't asking Microsoft to change its policies and guarantee price matching. I was asking that local stores have the discretion and impetus to weigh the costs and benefits of matching a price on an individual basis.
What do you think? Should my Microsoft Store have bundled its $799 Core i5 Surface, $129 Type Cover and $99 (black) Surface Pen and matched Costco's $899 bundle price? Let us know in comments.
See Surface Pro at Microsoft (opens in new tab)
Jason L Ward is a columnist at Windows Central. He provides unique big picture analysis of the complex world of Microsoft. Jason takes the small clues and gives you an insightful big picture perspective through storytelling that you won't find *anywhere* else. Seriously, this dude thinks outside the box. Follow him on Twitter at @JLTechWord. He's doing the "write" thing!
Yes, they should have. Even if you had to play the "I'm a windows central writer" card. I also felt dejected the last time i went because i was trying to show my GFs son the HTC vive and three different times we were given excuses as to why we couldn't use it. It's like they are not even trying to sell the dang thing

Thanks for the response RHoudek2.

That's really sad. I actually have had nothing but great experiences in the Microsoft Store in Boston Prudential. The most recent experience I had was with my pen tip disappeared. I had seen online that the pen tips for the Surface Pro 3 pen weren't sold online and that MSFT stores carry them. When I got to the store and explained to the staff member, he got the tips and even showed me a black pen he had for the Surface Pro 3, when they came out in different colors. I was really excited about the black one but he told me they didn't sell them anymore. However he asked me to pick a favorite color (between Blue and Black). I said the black and he just told me "keep it". Now I'm aware that the pen i received was a gift from the worker and not the store, as this was one of his own pens. But, in the past whenever I have needed help with my Microsoft Band, or my original Surface stopped working, they replaced it without even touching the warranty.

Thanks for sharing your experiences mymarcio.🙂

I had the same good experience with Microsoft. My Surface Pro 4 battery had expanded due to overcharging and caused a bulge on the Surface. Called to customer support and they sent me a new unit without much fuss. I'm from Malaysia btw =)

No. It would be not that easy decision to make to offer the Costco price match. And they will never be able to offer. As a reseller you will always buy in bulk and sell. That's where the real deal is in terms if prices. It would have been better they could have offered refund so you had an option to simply buy from other retailer. If the product was not opened. The real deal is always make a search of the product you want to buy through various channel.

I agree @RHoudek2. I have gone to the Natick, MA store multiple times and can never use the VR stations they have set up. Each time I am told I need to make an appointment. A appointment for what? There are like 3 people in the store!!!! @Jason Ward you are completely right in feeling dejected. A measly couple hundred bucks that a billion dollar company could not afford to provide it's customers shows a real lack in customer satisfaction ratings.

Thanks for jumping in Jordan.

I think that you in you're analysis self explained why Microsoft doesn't do price matching. And you made a compelling case for why they shouldn't do it. Also, if they'd price match you? Then they need to do it with every customer. Don't expect special treatment. I work in retail and I can't stand companies that have certain rules for one situation (customer) and a different set of rules for another situation (customers).
That kind of company policy breeds a environment where rude and obnoxious customers (not saying you where or are behaving like that) that are willing to create a scene to get their way (special treatment), get their way, while polite and decent people that accept company 'rules' get denied those same privileges due to the fact they where behaving like good people. And that's just wrong! So no, honestly, I disagree with you're assessment that they should have price matched. Must be a first, me, disagreeing with you on Microsoft matters, haha. Well, okay!

Agreed. When I worked at the 5th Avenue Store, we were able to pricematch Costco. When I worked at other retail places, we could not because of the bundling and special deals that Costco offers. Plus when you're paying for a yearly membership with them, their prices are going to be better for the most part.

Lol...heres the thing Michael, before publishing the piece I reached out to Microsoft to confirm that they do price match on a case by case basis. I was aware that their policy does not guarantee price matching, but as I shared in the piece I was told by a rep that they do have the liberty to do so on a case by case basis. But I didn't want to rest on just what a rep told me via telephone so I reached out to Microsoft and got this official word confirming that managers, at thier discretion can price match on a case by case basis. So though, in fairness I expressed both sides of the argument as you point out, I'd like to highlight in response to your comments that the stores are not precluded from price matching. Here's an excerpt from the email I was sent which pretty much restates their policy regarding not guaranteeing price matching, but adds the case by case discretion given to local store managers: ** Hi Jason, Our store associates strive to provide world-class customer service, including helping our customers get great deals. All Microsoft Store locations follow our terms of sales. Microsoft Store does not have a price match guarantee, and we will not match the advertised price other retailers offer for the same items; however, store managers have the ability to price match on a case by case basis. So, I have to disagree that in exercising that liberty to price match in my, or someone else's case, would have been special treatment. It would have been well within their right and power to do so. They, exercised their discretion and felt, based on what they told me, that they'd be loosing too much money if they did it. So, here we are.🤨

Okay let me put it like this. I disagree with Microsoft. It should be company policy, mandated from the top down and not at store managers discretion, if price matching is a customer service which Microsoft as a company supports! Putting it solely in the hands of the manager puts a stink on the fact youre request got denied.

in conjunction with Jason, well said "puts a stink on the fact youre request got denied" *THUMBS UP*

So, it begs the question ... Was it you he didn't want to use his discretion on? Would Zac or Daniel be afforded such discretion? I mean, I just got to ask and keep it real.

Stop trying to play the race card.

I'm glad you live in Utopia. It must be nice to have it like that. But just so you know, not everyone has it that way. Unfortunately the people who don't "LIVE IT" think it's a card game of some kind. Those who live it know differently.

I'm from Chile, Latinamerica, and this is a little story from a few years ago: my mom entered a restaurant in this lake town we were vacationing (Frutillar), nobody even greeted her for several minutes... when my dad went inside he was greeted inmediately, offered a table and given the menu right away. my mom is brown skinned with black hair
my dad is pink with light brown hair

Yes. That is a very common scenario unfortunately. The problem with Microsoft's store policy is that they give too much discretion to the store manager. I'm not saying Jason's denial for the price matching was in fact a racist reason. I'm saying it's a possibility. Microsoft should just match or not match. If a manager has any kind of bias (against anyone) that bias may influence him/her to whom they provide this benefit. That's all. For all I know the manager could have been a person of color.

No, you're wrong. They absolutely should price match. Microsoft should ALWAYS want to give their customers the best experience and the best price. Moreover, if Costco can sell the bundle that cheap, there are zero reasons Microsoft can't, too.

I've gone to several Microsoft Stores in Canada both in provinces of Alberta and Ontario and every time they were willing to price match with BestBuy or Staples for an item they sold.
.
I've gone to 2 Microsoft Stores in Michigan but left both times feeling cheated and pushed away. I will never go to a US store again.

As a former employee of 5+ years my job was reduced to doing circus rides. This is why we made it excuses to show vr. Its annoying.

As a current employee, I know exactly what you mean. They have slowly transformed the stores into a toy store for adults and it's tiring and frustrating. More people come in just to hang out, and play Xbox & VR than are actually interested in product. We use to take pride in what we do but many feel like we basically work for a "high tech arcade" at this point.

The reps there probably don't know what Windows Central is.

You should've returned the Surface. Bought a Mac. And started writing for the Cult Of Mac website. ;)

Cult of Mac vs Cult of Windows, same difference

I wonder what happened to the MS store that was meant to open in London's Regent Street, it was announced last September if I remember

The London store is based on the sales and response of the NYC 5th Avenue store. When Microsoft feels that this flagship location has done well enough, then it may happen.

Lol. Even at own store Microsoft do not care about customer. Like in all other parts of it business. This is a new cloud-first, consumer-f*uck reality. Ghy ghy...

Would you say the same about apple?

I bought a pumpkin at a local farm for $5. I later saw pumpkins from that same farm at a local grocery store for $4 a week later. I went back to said farm but they refused to reimburse me the $1 difference. I sued and now that farm is out of business. Look at me! Hoorah!

If you want best price then refurbs from Microsoft store online is best. Still sorta surprising they didn't price match but OTOH this is where MS has to respect it's vendors (Costco) too. MS is in a lose-lose situation here. Of course Apple stores are busier but they get heavy traffic of people waiting like cattle for repairs & such. Dreadful experience compared to the MS store actually.

I hear you. I realize they're in a tricky position when you consider partners. But, on a case by case basis, not a widespread promise to price match, I found the outcome a little surprising.

I think this may vary by store or it's just a policy for the surface line. I was able to get a price match on accessories in Burlington, MA. But to your question, Yes, I think they should have price matched or at least worked with you on a bundle. Perhaps the staff have limited options but I got the impression it's the store manager's prerogative.

Pretty sure there is a membership fee for Costco. They sell items at or just above cost and their profit is in the membership fee. Glad you had the chance to slam the Microsoft stores by using your WPCentral credential. You probably won't dare do the same to Apple, would you?

Hi Farver, Costco does have a membership fee and the manager at the Microsoft Store actually said he'd have to charge me $60, the cost of a Costco membership, even if they honored a price match. Also, I do not buy Apple products, (I love gadgets and if I had the disposable income I likely would), thus i don't frequent the store. Still I am not philosophically opposed to writing ✍🏿 articles about Apple that may not place them in the best light in order to communicate a truth I perceive. I wrote a piece here called: The Truth about Apple's latest iPad ads
https://m.windowscentral.com/apple-ipad-pro-ads-microsoft-surface-window...

I own apple products, but there is no way in hell I would buy a macbook over anything running windows. MacOS is TRASH. Plus their hardware is old now. They have nothing to offer on the PC side of things. Until apple embraces full touch, which I am guessing wont be for years yet, They will be old tech....the ipad and iphone on the flip side are amazing still.

That's really surprising to me. I have been to the Farmington store on many occasions and have always found them to decide in my favor, whether it's getting credit back on device trade ins, or honoring deals I've found. Maybe you just got unlucky with the manager on staff. Might be worth trying again at a different time.

Thanks for the feedback robbie.

I went into a Microsoft store recently to ask a few questions about my Lumia 950 and Tablet running w10 and the employees there (including the manger) were very unhelpful. It seemed like they didn't have the knowledge on my devices (even though I purchased the lumia from them) or the products in display. I for one love windows 10 but if i put myself in someone else's shoes that knows nothing about windows and just wants to buy a Microsoft product at a store then I think I would leave without buying anything from Microsoft. Maybe that is the reason why their stores have no customers in them anymore

That's because Windows Phone no longer exists and is not supported by them. Why would they waste their time on it?

Generally, direct vendors (Microsoft, Apple, etc.) don't price match because they don't want to piss off their 3rd party partners. 3rd party vendors (Costco, Bestbuy, etc.) do price match each other though.

I lean towards getting the deal wherever you can and adding things on later... If Costco, Best Buy or even Walmart has a better deal but the services can't match at least MS store will support the devices regardless. It's a fine line and give/take in each case, we all have different experiences. Sorry that happened tho

Would go to one if they were in the UK. But on a flip side, whenever I have purchased from the MS website in the UK they always do a deal for a student or now as a teacher! Also the prices are as good as amazon or... Well that's the choice here. And for the Apple shop or their certified resellers, they have never price matched anything I have looked at in over ten years. Some good deals on student warranties but that's it.. Even my uni shop was cheaper for Apple gear. An MS Surface phone is my next buy, if it ever comes out lol.