How (and why) a visit to a Microsoft Store left one enthusiast feeling dejected
By Jason Ward last updated
As a Microsoft enthusiast, I was disappointed when my local Microsoft Store wouldn't sell me a Surface Pro bundle for the same price as Costco.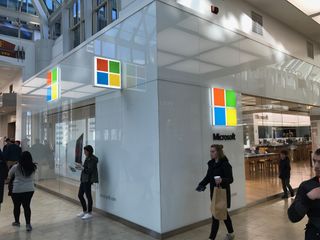 Though I write extensively about Microsoft, I've never owned (but have always wanted) a Surface Pro. So, I recently visited the Microsoft Store in Farmington, CT and bought a Core M3 Surface Pro and Type Cover Bundle for $699 to replace my failing Toshiba 2-in-1. I added a Surface Pen and Microsoft Complete Warranty for $89 and $149, respectively. After spending $997 total for my new Surface, I left the store feeling good ... but also a little guilty.
I'm a writer and a small business owner, however, and a reliable PC is essential for both, so my wife encouraged the purchase.
Still, the Core M3 I bought is entry-level and I needed a Core i5 for PhotoShop projects. Sadly, that mid-tier model was beyond my budget. That's until I saw the Core i5 Surface Pro Bundle with Type Cover, Surface Pen and two-year warranty at Costco for $899, just after I'd already purchased my Pro.
See Surface Pro at Microsoft (opens in new tab)
Microsoft lacks a price match guarantee
Though the Costco warranty isn't as comprehensive as Microsoft's, the Costco Core i5 bundle was a better deal than the inferior Core M3 Microsoft Store Surface bundle.
I spoke to a Microsoft rep (not at the Store) who confirmed that Microsoft Stores sometimes price match, and I set my hopes on that possibility. (I later confirmed this with Microsoft.) I wanted the convenience of a simple return and exchange, and the choice of the black Surface Pen since the Costco bundle only came with the platinum Pen.
I walked into the Microsoft Store with my Core M3 Surface, receipt and photographic proof of the Costco deal in tow and told a store associate my story. I was encouraged when she said a price match shouldn't be a problem, and she walked over to her manager just to confirm. My hopes dwindled when his body language said, "no way."
After some back and forth, management encouraged me to get the Costco bundle because it was a great deal that the Microsoft Store simply couldn't match. I understood, but as a diehard Microsoft enthusiast and advocate, I felt dejected.
I was there from the beginning
On March 1, 2014, like a kid going to an amusement park, I dragged my wife to the opening of this very same Microsoft Store that rebuffed my price match request. I wasn't writing for Windows Central at the time, but as a passionate Microsoft enthusiast, I was there to cover the opening for my personal blog. The only reward was the joy of being part of the event and using my tiny platform to promote Microsoft's efforts.
I didn't expect the reps from the store to know about any of this when I asked for a price match. Nor did I share it. But I knew the passion that I poured not only into that store but also into Microsoft over the years even before becoming a paid writer.
As someone who writes Microsoft analysis, I'm keenly aware that its stores are far less popular among consumers than Apple Stores. Anecdotally, when I visit the Farmington or Danbury, Conn., Microsoft stores, both are usually relatively empty where, sadly, the staff outnumbers customers. This isn't true of the Apple Store that's comparatively much busier. Windows Central Managing Editor Al Sacco tells the same is true of the Boston, Mass., Microsoft and Apple stores.
Intangible value
I raise these points because I walked into the Farmington store as a first-time Surface customer but didn't leave feeling great. And it is that "great" feeling (along with popular products) that encourages customers to return, creates goodwill, and promotes positive word-of-mouth that produces the foot traffic Apple Stores enjoy and Microsoft Stores desperately need.
I will likely return to the Farmington Microsoft Store to buy the Microsoft Complete coverage. But what if I was a regular consumer? Would the money Microsoft saved on not price matching Costco be more valuable than the potential rewards that could have come from a customer leaving the store feeling great and eventually returning for more purchases?
A luxury image ...
The Microsoft Store, like the Apple Store, is positioned to showcase first-party high-end devices. Thus, making a practice of price matching would conflict with that mission and image. Microsoft also has a host of partners that build an affordable range of devices patterned after the Surface. And when partners like Costco sell Surfaces, Microsoft benefits.
So, Microsoft Stores making a practice of price matching could hurt long-term sales of Surfaces through resellers like Costco, and ultimately their future reorders of the devices. But I wasn't asking Microsoft to change its policies and guarantee price matching. I was asking that local stores have the discretion and impetus to weigh the costs and benefits of matching a price on an individual basis.
What do you think? Should my Microsoft Store have bundled its $799 Core i5 Surface, $129 Type Cover and $99 (black) Surface Pen and matched Costco's $899 bundle price? Let us know in comments.
Jason L Ward is a columnist at Windows Central. He provides unique big picture analysis of the complex world of Microsoft. Jason takes the small clues and gives you an insightful big picture perspective through storytelling that you won't find *anywhere* else. Seriously, this dude thinks outside the box. Follow him on Twitter at @JLTechWord. He's doing the "write" thing!
Yes, they should have. Even if you had to play the "I'm a windows central writer" card. I also felt dejected the last time i went because i was trying to show my GFs son the HTC vive and three different times we were given excuses as to why we couldn't use it. It's like they are not even trying to sell the dang thing

Thanks for the response RHoudek2.

That's really sad. I actually have had nothing but great experiences in the Microsoft Store in Boston Prudential. The most recent experience I had was with my pen tip disappeared. I had seen online that the pen tips for the Surface Pro 3 pen weren't sold online and that MSFT stores carry them. When I got to the store and explained to the staff member, he got the tips and even showed me a black pen he had for the Surface Pro 3, when they came out in different colors. I was really excited about the black one but he told me they didn't sell them anymore. However he asked me to pick a favorite color (between Blue and Black). I said the black and he just told me "keep it". Now I'm aware that the pen i received was a gift from the worker and not the store, as this was one of his own pens. But, in the past whenever I have needed help with my Microsoft Band, or my original Surface stopped working, they replaced it without even touching the warranty.

Thanks for sharing your experiences mymarcio.🙂

I had the same good experience with Microsoft. My Surface Pro 4 battery had expanded due to overcharging and caused a bulge on the Surface. Called to customer support and they sent me a new unit without much fuss. I'm from Malaysia btw =)

No. It would be not that easy decision to make to offer the Costco price match. And they will never be able to offer. As a reseller you will always buy in bulk and sell. That's where the real deal is in terms if prices. It would have been better they could have offered refund so you had an option to simply buy from other retailer. If the product was not opened. The real deal is always make a search of the product you want to buy through various channel.

I agree @RHoudek2. I have gone to the Natick, MA store multiple times and can never use the VR stations they have set up. Each time I am told I need to make an appointment. A appointment for what? There are like 3 people in the store!!!! @Jason Ward you are completely right in feeling dejected. A measly couple hundred bucks that a billion dollar company could not afford to provide it's customers shows a real lack in customer satisfaction ratings.

Thanks for jumping in Jordan.

I think that you in you're analysis self explained why Microsoft doesn't do price matching. And you made a compelling case for why they shouldn't do it. Also, if they'd price match you? Then they need to do it with every customer. Don't expect special treatment. I work in retail and I can't stand companies that have certain rules for one situation (customer) and a different set of rules for another situation (customers).
That kind of company policy breeds a environment where rude and obnoxious customers (not saying you where or are behaving like that) that are willing to create a scene to get their way (special treatment), get their way, while polite and decent people that accept company 'rules' get denied those same privileges due to the fact they where behaving like good people. And that's just wrong! So no, honestly, I disagree with you're assessment that they should have price matched. Must be a first, me, disagreeing with you on Microsoft matters, haha. Well, okay!

Agreed. When I worked at the 5th Avenue Store, we were able to pricematch Costco. When I worked at other retail places, we could not because of the bundling and special deals that Costco offers. Plus when you're paying for a yearly membership with them, their prices are going to be better for the most part.

Lol...heres the thing Michael, before publishing the piece I reached out to Microsoft to confirm that they do price match on a case by case basis. I was aware that their policy does not guarantee price matching, but as I shared in the piece I was told by a rep that they do have the liberty to do so on a case by case basis. But I didn't want to rest on just what a rep told me via telephone so I reached out to Microsoft and got this official word confirming that managers, at thier discretion can price match on a case by case basis. So though, in fairness I expressed both sides of the argument as you point out, I'd like to highlight in response to your comments that the stores are not precluded from price matching. Here's an excerpt from the email I was sent which pretty much restates their policy regarding not guaranteeing price matching, but adds the case by case discretion given to local store managers: ** Hi Jason, Our store associates strive to provide world-class customer service, including helping our customers get great deals. All Microsoft Store locations follow our terms of sales. Microsoft Store does not have a price match guarantee, and we will not match the advertised price other retailers offer for the same items; however, store managers have the ability to price match on a case by case basis. So, I have to disagree that in exercising that liberty to price match in my, or someone else's case, would have been special treatment. It would have been well within their right and power to do so. They, exercised their discretion and felt, based on what they told me, that they'd be loosing too much money if they did it. So, here we are.🤨

Okay let me put it like this. I disagree with Microsoft. It should be company policy, mandated from the top down and not at store managers discretion, if price matching is a customer service which Microsoft as a company supports! Putting it solely in the hands of the manager puts a stink on the fact youre request got denied.

in conjunction with Jason, well said "puts a stink on the fact youre request got denied" *THUMBS UP*

So, it begs the question ... Was it you he didn't want to use his discretion on? Would Zac or Daniel be afforded such discretion? I mean, I just got to ask and keep it real.

Stop trying to play the race card.

I'm glad you live in Utopia. It must be nice to have it like that. But just so you know, not everyone has it that way. Unfortunately the people who don't "LIVE IT" think it's a card game of some kind. Those who live it know differently.

I'm from Chile, Latinamerica, and this is a little story from a few years ago: my mom entered a restaurant in this lake town we were vacationing (Frutillar), nobody even greeted her for several minutes... when my dad went inside he was greeted inmediately, offered a table and given the menu right away. my mom is brown skinned with black hair
my dad is pink with light brown hair

Yes. That is a very common scenario unfortunately. The problem with Microsoft's store policy is that they give too much discretion to the store manager. I'm not saying Jason's denial for the price matching was in fact a racist reason. I'm saying it's a possibility. Microsoft should just match or not match. If a manager has any kind of bias (against anyone) that bias may influence him/her to whom they provide this benefit. That's all. For all I know the manager could have been a person of color.

No, you're wrong. They absolutely should price match. Microsoft should ALWAYS want to give their customers the best experience and the best price. Moreover, if Costco can sell the bundle that cheap, there are zero reasons Microsoft can't, too.

I've gone to several Microsoft Stores in Canada both in provinces of Alberta and Ontario and every time they were willing to price match with BestBuy or Staples for an item they sold.
.
I've gone to 2 Microsoft Stores in Michigan but left both times feeling cheated and pushed away. I will never go to a US store again.

As a former employee of 5+ years my job was reduced to doing circus rides. This is why we made it excuses to show vr. Its annoying.

As a current employee, I know exactly what you mean. They have slowly transformed the stores into a toy store for adults and it's tiring and frustrating. More people come in just to hang out, and play Xbox & VR than are actually interested in product. We use to take pride in what we do but many feel like we basically work for a "high tech arcade" at this point.

The reps there probably don't know what Windows Central is.

You should've returned the Surface. Bought a Mac. And started writing for the Cult Of Mac website. ;)

Cult of Mac vs Cult of Windows, same difference

I wonder what happened to the MS store that was meant to open in London's Regent Street, it was announced last September if I remember

The London store is based on the sales and response of the NYC 5th Avenue store. When Microsoft feels that this flagship location has done well enough, then it may happen.

Lol. Even at own store Microsoft do not care about customer. Like in all other parts of it business. This is a new cloud-first, consumer-f*uck reality. Ghy ghy...

Would you say the same about apple?

I bought a pumpkin at a local farm for $5. I later saw pumpkins from that same farm at a local grocery store for $4 a week later. I went back to said farm but they refused to reimburse me the $1 difference. I sued and now that farm is out of business. Look at me! Hoorah!

If you want best price then refurbs from Microsoft store online is best. Still sorta surprising they didn't price match but OTOH this is where MS has to respect it's vendors (Costco) too. MS is in a lose-lose situation here. Of course Apple stores are busier but they get heavy traffic of people waiting like cattle for repairs & such. Dreadful experience compared to the MS store actually.

I hear you. I realize they're in a tricky position when you consider partners. But, on a case by case basis, not a widespread promise to price match, I found the outcome a little surprising.

I think this may vary by store or it's just a policy for the surface line. I was able to get a price match on accessories in Burlington, MA. But to your question, Yes, I think they should have price matched or at least worked with you on a bundle. Perhaps the staff have limited options but I got the impression it's the store manager's prerogative.

Pretty sure there is a membership fee for Costco. They sell items at or just above cost and their profit is in the membership fee. Glad you had the chance to slam the Microsoft stores by using your WPCentral credential. You probably won't dare do the same to Apple, would you?

Hi Farver, Costco does have a membership fee and the manager at the Microsoft Store actually said he'd have to charge me $60, the cost of a Costco membership, even if they honored a price match. Also, I do not buy Apple products, (I love gadgets and if I had the disposable income I likely would), thus i don't frequent the store. Still I am not philosophically opposed to writing ✍🏿 articles about Apple that may not place them in the best light in order to communicate a truth I perceive. I wrote a piece here called: The Truth about Apple's latest iPad ads
https://m.windowscentral.com/apple-ipad-pro-ads-microsoft-surface-window...

I own apple products, but there is no way in hell I would buy a macbook over anything running windows. MacOS is TRASH. Plus their hardware is old now. They have nothing to offer on the PC side of things. Until apple embraces full touch, which I am guessing wont be for years yet, They will be old tech....the ipad and iphone on the flip side are amazing still.

That's really surprising to me. I have been to the Farmington store on many occasions and have always found them to decide in my favor, whether it's getting credit back on device trade ins, or honoring deals I've found. Maybe you just got unlucky with the manager on staff. Might be worth trying again at a different time.

Thanks for the feedback robbie.

I went into a Microsoft store recently to ask a few questions about my Lumia 950 and Tablet running w10 and the employees there (including the manger) were very unhelpful. It seemed like they didn't have the knowledge on my devices (even though I purchased the lumia from them) or the products in display. I for one love windows 10 but if i put myself in someone else's shoes that knows nothing about windows and just wants to buy a Microsoft product at a store then I think I would leave without buying anything from Microsoft. Maybe that is the reason why their stores have no customers in them anymore

That's because Windows Phone no longer exists and is not supported by them. Why would they waste their time on it?

Generally, direct vendors (Microsoft, Apple, etc.) don't price match because they don't want to piss off their 3rd party partners. 3rd party vendors (Costco, Bestbuy, etc.) do price match each other though.

I lean towards getting the deal wherever you can and adding things on later... If Costco, Best Buy or even Walmart has a better deal but the services can't match at least MS store will support the devices regardless. It's a fine line and give/take in each case, we all have different experiences. Sorry that happened tho

Would go to one if they were in the UK. But on a flip side, whenever I have purchased from the MS website in the UK they always do a deal for a student or now as a teacher! Also the prices are as good as amazon or... Well that's the choice here. And for the Apple shop or their certified resellers, they have never price matched anything I have looked at in over ten years. Some good deals on student warranties but that's it.. Even my uni shop was cheaper for Apple gear. An MS Surface phone is my next buy, if it ever comes out lol.

Costco is the exception tho.. Warehouse membership prices rarely get price matched. You name another retailer that matches their price? Places that price match Amazon won't for Costco.

Actually BestBuy, Frye's, Target, match Costco and Sams Club if there is a local one. I have also heard the Apple Store will price match a local Costco and Sams as well.

I'd love to know how much money Microsoft is burning through to keep the brick and mortar stores open. Apple store consistently has around 80+ people milling around in it. Microsoft store near it at the mall they are lucky if customers outnumber the employees at any given time.

it sounds like the store was enabling it's partners who sell the same gear. the only thing that the store has that's different from Costco might be the warranty, and if you can get the same warranty through Costco, why not?
I would ask if you can get the Microsoft complete warranty from the store after you bought it from Costco.

D149 warranty... You should've saved your money.

Next time advise them to revisit the Ryse Program courses in ExpertZone. Creating fandom using FISH and Reverse Thinking should be every RSP's first duty, and selling hardware then is much easier! Greetings from DACH Field Reps and
Community Managers team ;-)

I've been to Microsoft stores in Colorado, Washington and Nevada, I've never had any issues. I've been encouraged to try out whatever is on display. And I've experienced the staff going out of their way to help. Maybe it's the distance from Belleview is why the staff acts that way?

in order for a product to be on Costco shelves, they need to provide Costco a deal that they can pass to its members. For electronics, it is usually 2 year warranty, and a perhaps a small decrease on the price or something more (More HDMI ports on a TV, or an added controller and/or game(s) in a console, etc). They are chances that the Surface Pro being sold at Costco are being sold without retail profit or a minor lost for Microsoft (affecting their profits), which they want to limit. If they do a price match, everyone not a Costco member will ask for the price match, and then Microsoft would have its profit for the system reduced as a result.

Way to write a complete and thorough article with clear and concise points. I wish I could get paid to write a article title then 5 sentences that explain squat about the title.

I think there's an error on the website with it loading the article but you can read the full story inside the app

Hi TennisGuy there was an error on the site that should be fixed now.

Where's the rest of the article? For me it stops when you said you left feeling guilty after spending all that money.

I think it's the same with all Brands including Apple, Sony taking a lead in it !!

Retailers are not obligated to price match, especially from a wholesaler who requires a membership fee. No retailer I've been to matches wholesalers nor places with membership fee.

I'm sorry they didn't match but as you said, the warranty was not the same. Apples to apples.

Hi wpcautobot, Yeah, I wasn't asking them to include the Warranty in the price match, just the three thing I listed at the end of the piece: Surface - $799 Type Cover - $129 Surface Pen - $99 Even though the Costco deal included all of the above and a two year warranty I was just asking for the above. As I said in the piece, I will still likely get the Microsoft Complete Coverage from the Store because it offers more than Costco's coverage. Also as I pointed out in the piece, I was looking for the convenience of a simple return and exchange and hopefully get the black pen since Costco's deal only offered the platinum pen. Anyway, I was definitely comparing Apples to Apples. LOL. :-)

You know, I just thought of another reason they should have price matched.... Until this most recent surface, the pen was INCLUDED! This means they really would be giving you a discount on the typecover and just not profiting as much

Why do you people think you're owed something because you're a fan? It's such fallacious thinking! You pay the money, you make the choice, they give you what you've paid for. It's quid-pro-quo. You're not owed anything for being a fan. Jesus.

They did exactly that. Gave me what I paid for with Core M3 Surface weeks earlier. The Core i5 model, I had not paid for, for I had not purchased it, so they had not yet given me anything. :-) I was inquiring if they would match the price of a Core i5 device that I was planning on buying from Costco as I returned the Core M3, I had purchased from this same Microsoft Store a couple of weeks earlier.

Yes, they absolutely should have worked with you on price, even if they could not match it. Even half the difference should have been offered. Microsoft has billions in cash, they need to start using what they have to deliver for customers (any customer, but especially consumers). Or they will only have a commercial only customer base. Then it will only be a matter of time before Google, Apple, and others start offering more capabilities there. In other words, Microsoft can decide to compete at the consumer level or continue to fallback just to compete at what is left of the commercial customers. The next IBM.

Jason, this post makes me sad. But it essentially summarizes my graduá disappointment with Microsoft and their consumer strategy. I have been a die hard fan of microsoft. Since the time of DOS 6.2. Over the decades i have been through most of their consumer products. Every company i have been through transformed into MS environment. I have always been recommending MS. But slowly I feel betrayed, by their failures. By their ignorace and corporate arrogance. I feel embarrassed for recommending windows mobile stuff and xbox when alternatives are clearly better. But I am not suprised any more. I know people working for MS. Its a corporate job. They know nothing of their company and products aside of their immediate job roles. They do not feel pride and excitement working for MS, compared with Apple and google people. Walking into MS offices in Prague, i get weird looks for using Lumina 950. Their own tech support has been discouraging MS products for years. They do not even have Surface products. In the end, what do you expect from a regular employee in a store? Consumer oriented excitement and brand loyalty such as apple store? MS doesnt have this in their DNA, they are a hardcore corporate numbers company, they do not care about an average joe like me, not even a journalist of your class. We are not even quantifiable element for them...

"But what if I was a regular consumer?" A regular consumer wouldn't take the fanboy approach and would have checked the prices in more than one place before buying.

I say NO. you should not have gotten a price match. Costco charges membership fees which allows it to offer products at a lower than usual retail price. They make up a lot of that difference in the fees they collect. Unless you were to pay Microsoft a yearly membership fee, you shouldn't benefit from the same discounts.

I've been in the Lenox Square Mall (Atlanta) location several times, and have had both good and bad experiences. First the good. I replaced my Surface Pro 3, three times. I'm reaching back, memory-wise here, but if I remember right, the first exchange I had to do by mail, and had to wait. But when that replacement device arrived DOA, and I explained to the person on the phone that I had to have it replaced right away, he made a phone call and arranged for me to exchange it at the store, an hour from home. I got a brand new device that time. One of the times it was replaced, I took it in, expecting to get a replacement TypeCover, as my PC stopped detecting the keyboard. It still detected my Surface Ergo Keyboard (BlueTooth), so I figured it had to be the keyboard. When I arrived, they tested, and it ended up being that my PC wouldn't detect any TypeCover. More troubleshooting, and they decided to replace it. They would have replaced it right there, but I had to go home and back-up info, as I had not expected to be replacing the PC. Came back a few hours later for a replacement. I don't recall what the final failure was, but it was right after the SB with Performance Base came out. I wanted that Surface Book. They wouldn't give me a credit to exchange the SP3, so I took a replacement. When I got home, and that replacement wouldn't boot up, though, I called the store and spoke with the manager. The next day I went back, as my phone call was just a few minutes before close, and I live an hour away. When I got there, I told him, I want the SB with Peformance Base, the 512 GB model. I really wanted the 1TB model, but this was two weeks before it was to release. He went to the back room, and came back and said, "I don't have that model, but I have this one," and held out a 1TB model. YES! I ended up with a credit toward the not-yet-released SB with Perf Base 1TB model. I couldn't be happier. Not so good: Several months later, I had a problem with the Surface Book. I don't recall now what it was, but I needed an exchange. They had told me on the phone that they could exchange it by mail, but I'd have to send my PC in first. I wanted a replacement sent first, but I didn't have enough credit on my card to allow them to put a roughly $3500 hold on my card, so they wouldn't do it. I called the store, and they didn't have one to exchange, and he told me that they don't do exchanges in the store like that. What??? I've done it before with my SP3, several times! I ended up writing to Microsoft's appeals or whatever department, and a few weeks later got a call (the PC was still usable, but had whatever the problem was that I can't think of). That guy arranged to send a replacement to the store, so I could exchange it there. He was sure to point out that this is a one-time exception, not the rule. Come on, Microsoft. I have a $3500 computer that I bought from you, plus the $250 or $300 extended warranty/insurance that I paid extra for. The least you could do is make replacement easy when it is a warranty issue that necessitates the replacement!

Oh - and one of those exchanges, where I was trading in a bad SP3 - they took the replacement out of the box, and gave me the PC but wouldn't let me keep it in the box, and wouldn't give me a bag to carry it in. Do what??

It's even more disappointing when I walk into a Microsoft Store as a Windows phone user and all the employees are using iPhones 😂😂😂

Yes lol but everybody going to be having a surface note in year anyway. Or the surface watch and the tablet-phone. Lol true story I walked into the Apple Store and everybody had to Android phone. Lol

As a fellow enthusiast, I do a lot to promote Microsoft's devices and services, and specifically in my case Microsoft servers and development tools. I've been at this for over 20 years. It ultimately does result in corporate goodwill for Microsoft. I think the community supporting Microsoft's software, such as Windows Insiders are truly unique to Microsoft, and unfortunately Microsoft risks leaving that goodwill and additional sales on the table by not acknowledging it. No, I'm not saying that we deserve anything free for it. I'm saying that, much like the service a frequent customer should receive at their favorite local restaurant, it's a symbiotic relationship in which everyone involved will benefit when customer service is good and sales are growing. I get the devices and services that I want, and Microsoft gets the sales and growth that they want. Insiders don't have a physical badge or membership card, but maybe we should. Maybe we should get special treatment or acknowledgement in our local Microsoft Store. The nearest MS Store is 120 miles from me so I'd likely never benefit, but wouldn't that be something? This just begs the question though. Why not just treat everyone like an Insider and simply bend over backwards to please your paying customers? Wouldn't that really be the best way to acknowledge and pay respect to us Insiders? Maybe you wouldn't have been motivated to write this article in the first place.

Microsoft store used to be AMAZING at customer service. My first surface pro was the original, and when it died in warranty (extended) they have me a pro 3 at no cost to replace it--updated keyboard included. Nowadays it's a fight to get them to do anything useful at all.

Dude. Costco charges a membership fee

I was told once when working in retail, "It takes only a few dollars to loose a customer, but thousands to get them back". They should have priced matched. You never want a customer to go someplace else.

No Microsoft stores near me, but lots of retailers won't match Costco here because of the membership. I don't think it is right as it just justifies shopping more at Costco, but I understand why. That said, Microsoft needs to figure out what they are trying to achieve with their stores. Apple is very consumer-facing with their products. Microsoft? Increasingly less and less. Personally the key benefit I see for them is to have a venue to showcase things like Hololens and other devices places like Best Buy won't carry. Focus on the image, mindshare and keeping up the "cool factor" I think, because with no phones and few tablets outside of Surface Pro's, there's little else to go on

I once wanted to try samsung wmr at Microsoft store. Nobody was using that at the moment, but I was told that I must experience Acer wmr first, then I would be allowed to try others. There was a long line waiting for Acer wmr. I explained that I had already experienced all others few weeks ago, and only want to try samsung because it's new, but it doesn't help. I don't want to waste hours so I left with huge disappointment.

Yes, they should have as it's on the customer reps to create an environment where the customers feel valued. Therefore more likely to return to the store to make repeat purchases. I have a similiar experience with Microsoft, I was buying three surface 3s (the whole set up) and since these were for my little siblings who are students, the purchase was logged on their student emails but Microsoft cancelled the order because the payment details were not in their name but mine. I felt annoyed and miffed as my little siblings really could have made use of the versatility offered by the Surface 3. Annoyed and miffed at the stupidity of the cancellation, do they invoke such lame brained policy when parents buy Surfaces for their kids? As result of this experience my family members bought ipads instead, ipads!
Therefore missing out on few hundred pounds in sales. Sadly, some people just don't think beyond what their actions may cause. But as it stands that's really Microsoft in a nut shell, always with the knee jerk reaction.

I've had nothing but good luck with the MS stores here in Glendale, Century City and Cerritos CA. It wasn't for huge big ticket items like VR, Surface or laptops. They treated everyone the same no matter the purchase. I have bought a few tablets when they used to sell them, Windows Phones when they were still available and relavent and the occasional accesory when I didn't want to wait on shipping. It's been a while since I have had the need to visit an MS store. If I do go again anytime soon, it would probably be in the realm of VR or upgrading to an XBOX One X

Jason, I know how you feel. I had a similar experience at the Oakbrook, IL store. I bought the Surface Pro i5 online in the Microsoft Store with pickup at the Oakbrook store. To say the staff wasn't helpful would be an understatement. Not only did they misunderstand why I was there (they kept thinking I was picking up a repair and couldn't find it and this after I explained to a couple of people, too) but everyone was way too busy talking to each other and playing on their devices. No one acted like a salesperson should. I know since I was in retail for years before co-starting our own business. If my employees were as self-absorbed as these employees were, they'd be given a crash course in sales at the very least. So my passion for Microsoft still exists. But the stores, not so much.

Thanks for sharing your experience judithen.

As a former Microsoft sales rep, I've never price matched Costco or Sam's because you have to be a paid member to shop there. I've matched Amazon as long as it was shipped and sold by Amazon. That's the deal with places like Costco. You pay to be a member and get those deals. We never matched them when I was at Best Buy either.

It sounds like it depends on the store. I go to the Denver store all of the time and it has always been a good experience. The last time I was up there was when my Pro 4 died. It also turned out that my warranty expired two months prior. They realized that my Pro 4 was toast and couldn't be repaired so they gave me a new one free of charge. It could also be that because of my job I spend a crap ton of money with them so they know that they will make up for it eventually.
I can't imagine anyone price matching Costco though. That is a member only store so they get better than normal deals because of it.

Thanks for sharing your experience Icthiodrak.

Sorry but I can't help but see this as a "first world problem".
Just how easy, cheap and convenient do people think it is for those us in countries where Microsoft doesn't sell their products? Just imagine how much harder it is to even get access to their hardware, being able to pay the import taxes, the premium price, the currency conversion to dollars...And finally, when you get to buy your dream device you also pay the price of not having any kind of warranty for it. So you're walking a thin line knowing that when it breaks, that's it, goodbye. The only alternative is paying good money to send your device away to USA and pray it fits the whims of whoever receives it at MS. Nah, it's not easy being a fan of MS in my country. But I keep making sacrifices to get their products. And how do they pay us? Crappy support from their software, with most of the features cut down outside US. A friend bought the Harmon Kardan speaker, and ended up having to use his phone in US English. Yeah, a small sacrifice, the likes of which we end up getting used to making. So I'm sorry if I sound bitter or non-empathetic about what happened to you. After all, great support after you buy a device and solid return policies are something you guys are used to. Just appreciate them for what they are and don't take them for granted. A lot of us are in a far worse position.

My girlfriend and myself have gone to the store here in Las Vegas several times, just for the service alone. She bought her Surface Pro 3 there, bundled with accessories and the pen it released with at the time. After that she purchased me a Microsoft Band as a Christmas gift, when the strap opened we took it in and they gave me a replacement on the spot. Some time after that her pen stopped functioning and they actually just replaced it with the pen of the Surface Pro 4. They were also helpful when they MB1 broke again, they let me upgrade to MB2 for only the $50 difference. I don't think I have had a bad experience with the store here in. Vegas. I did visit the San Francisco store by Union Square but only ran in to use my gift card to buy the Xbox gift card in order to buy Cuphead lol.

Since the Microsoft stores have a generous return policy, why didn't you just return the Surface you feel you got ripped off on and buy it from Costco? The only reason. I can think of, is, you wouldnt have a hard luck story to write about then.

Please reread the post. That's exactly what I did.
1. I bought the M3 bundle.
2. Had it for a while. I was within my 30 days to return it when i saw the Costco deal.
3. I explained in the piece I then went to the Microsoft Store with Core M3, receipt and photographic proof of the Cosco deal in hand.
4. I explained reasons why I wanted the price match rather having to go to Costo.
5. I returned the device and went to Costco after they rejected my request and recommended I do so. Thanks for having a desire to jump into the discussion, but, sadly, in your zeal to to interject sarcasm you missed key parts to the story. I hope you keep reading.

"After some back and forth, management encouraged me to get the Costco bundle because it was a great deal that the Microsoft Store simply couldn't match. I understood, but as a diehard Microsoft enthusiast and advocate, I felt dejected." I don't understand this. Just return it, go to Costco and get the better deal. Stop being so emotionally invested in a friggin store/company. If you don't want to pay retail, don't go to a retail store. "But what if I was a regular consumer?" I understand this even less. I have news for you. You ARE a "regular consumer". You were treated the same as anyone else.

A regular consumer: one who is less aware of the position, challenges, strengths, weaknesses, strategy and goals of Microsoft.
A regular consumer: one who is not an enthusiast.
Regular consumer: One whose hobby and profession does not have him/her engaged daily in the affairs and news about Microsoft and its place in the tech industry and the world.

If that happened to most "regular customers" Jason, I think ALOT of them would have taken their money and mosey'ed to the nearest apple store. They equate brands with service, product etc. Going to the Microsoft store is the same as going to the apple store. You expect a superior buying experience, as well as after sales support and good treatment. MS needs to fix this. That being said, I think you will be seeing MS stores shuttered since ole Nads is so anti consumer it's laughable. CLOUD CLOUD CLOUD....Yes, I know thats where "MOST" of the money is. But leave out consumers, and they move on to other services. i.e. Google and apple ecosystems. I have been close a few times to tell you the truth, and I have moved on in the mobile/portable computing space. BUT, On the PC side of things, I cannot. Mac OS sucks, Chrome is not quite there yet. Linux is fun but not useable for my purposes. Therefore the only REAL option is to stick with MS. I have my iphone and Ipad MS'ed as much as I can. I am now trying to get onedrive to sync everything on my apple deivces. It's tricky but I think I have it now. But you can see my point. I was ALL IN with MS. Had surface 3s for our tablets, 1020s for our mobile devices, and full PC's. It was all working great, until w10. then **** started going down hill fast.

Definitely should have price matched! I suppose though it's an example of Microsoft's core problem... a lack of enthusiasm. They seem generally ambivalent... near apathetic... about just about everything. UWP? MS: "yeah whatever... moving onto PWA now!"
MS App Store? MS: "yeah whatever... we'll leave it to 3rd party developers instead of filling any app gaps with our own MS authored software."
Cortana? MS: "yeah whatever... that's US only. Besides we're moving onto AI infused Office 365 now."
HoloLens? MS: "yeah whatever... nobody is competing with us yet... so let's put that on hold until somebody leapfrogs us."
The "ultimate mobile device". MS: "yeah whatever... we'll get to that in 2016... 2017... 2018..." But sure, let's take the brick-n-mortar store. It could be a showcase for everything cool about MS and MS OEMs. For example:
* why is there not 3 or 4 HoloLens stations in every store?
* why is there not a holographic Cortana display capable of showing off all these AI "breakthroughs" they're making?
* why are there not sections in each store showing off OEM manufactured premium devices?
* whi, if they're so excited about Edge/Cortana on Android, then why not sell Android phones in the store and offer to install the MS launcher for free? It's one thing to "say" you're passionate about something, and another thing to actually act passionate about it. Hopefully this management shakeup will change things, but I don't think so. Sadly, I think they're all just old, too well compensated, and self satisfied. There's nobody really hungry over there.

I just used a hololens at the Portland store last week. So they do have them in some stores.
Which holographic display would they use?
There are OEM pcs of various prices including the high end ones in the 4 or so MS stores I have been in. Its the same for all their stores I think.
Both stores near me have had S7s/S8s and now S9s in their stores on display and to sell, with the Launcher/MS app set up

It sounds like you've never been to a Microsoft Store. The only place I've ever seen a HoloLens was at a Microsoft Store. They were letting people try it out but the line was long so I didn't. I tried out all of their OEM Mixed Reality headsets in a large display area with staff assistance last fall to help decide which one I might buy. The stores always have a central area devoted to curated OEM devices: laptops, AIOs and gaming rigs. The stores frequently have video game tournaments, coding classes for kids, training for all ages. I brought a Galaxy S8 to a local store and they happily loaded a selection of Microsoft apps on it for me.

Microsoft has been doing this since long ago, when it abandoned Encarta, Reader (.lit), Windows Phone 6.*, Lumias, ... And now Windows Phone 10. When there was no iPhones around I had an iMate Jam, then an iMate JasJar, iMate Ultimate 8150, then and HTC HD, then an HTC Mozart, Lumia 820, Lumia 920. And my Lumia 1520, which I owned it since February 2014, died two days ago. I am using my HTC HD again, until the time I can find a Lumia 950XL. It is discontinued by Microsoft. Or better to say, we, as you called it, the Microsoft enthusiasts are discontinued.
Microsoft is no more a player in Mobile platforms, and it will be no more a player in PC platforms. Apple's Mac OS and Google's Chrome OS will be the winners. Microsoft is going to be part of the personal computing history. It's focusing on Cloud and AI. But they will face failure in those fields, too. Because they are not respecting their costumers, AND their mobile platform is not there anymore to support their Cloud and AI. Every Android phone is pre-loaded with Google, Samsung and other companies apps and cloud and AI portals of entry.
On the other hand, no body is going to use Office 365 on a ChromeBook, where there lots of alternatives to MS Office, and most of them are free. Microsoft is going to make Windows a subscription service, and they don't realize that their rivals are either free (Chrome OS and Android) or exclusive (Mac OS and iOS). One of the main reason behind the failure of Windows Mobile 6.* and Windows Phone 7 was this. Companies like HTC were no longer ready to pay for Windows on their mobile devices at a time that they could have had Android for free. The same will happen with PC.
The Game is Over, Microsoft.

MS Store DO price match with brick and mortar. The exception beinh online (Amazon) and wholesale clubs (Costco, Sam's Club, B&Js). The specific reason for Costco is because they prices are built into the membership fees for shopping there, so... how is that an even Price match? Plus, a surface is a surface. Not only would it not matter if you bought it at Costco, you can even take it TO an MS, and buy the store's extended warranty

MS Store DOES price match with brick and mortar. The exception being online (Amazon) and wholesale clubs (Costco, Sam's Club, B&Js). The specific reason for Costco is because they prices are built into the membership fees for shopping there, so... how is that an even Price match? Plus, a surface is a surface. Not only would it not matter if you bought it at Costco, you can even take it TO an MS, and buy the store's extended warranty

Jason, I don't know much about Farmington, CT and i had to Bing it to get an idea of the general location but i wager another factor. Considering you write stories in advance, this could have put your episode at the end of a month/quarter for that location. If that was the case and that manager is aware of their sales in relation to their assigned goals, they could have said no for that reason, maybe Farmington isn't a hotspot for Microsoft? I don't know... Sure in the grand scheme of things, preserving as much loyalty as possible should be a goal for Microsoft but at the end of the day, a store has to hit numbers and i feel like that may have been the case. I probably should venture to my location more often because they have video game tournaments every Friday but I'm not excited to drive the 30 mi utes and swim through mall crowds cause the "cool" gadgets have been discontinued and there are plenty of closer stores I can go play with a Surface. If it was a standalone store, maybe. Anyway, i offer that as another consideration. Timing matters when sales are slow. After all, that's why we don't have Windows Phones anymore because lack of sales? I was able to get $40k off my house simply cause i was looking at the end of the builders fiscal year. Ever since then i check these kinds of things before making a large purchase.

I totally disagree. Most stores will not price match any membership based 'club' stores. They offer the lowest prices because they have hundreds of thousands of people paying a $50 that they probably rarely use. So a place like Costco can sell items at a loss but still turn a profit. I've been in retail for 10 years and I have never worked for a company that will guarantee a price match of Sam's or Costco. If it's a couple bucks sure but anything else is a hard NO

Is MS trying too hard to get out of the consumer market? I had a great experience at the MS store - yes, I bought an HP Elite x3 - they guy working there really knew his stuff and shared his enthusiasm. Sadly I think the MS direction to get away from consumers as fast they can supersedes good sales people

I work in a store that offers a better warranty than MS ever will for the same price. Some companies pay a lot to get exclusive bundles, however sounds like the manager was mistaken.

I have always received good customer service in the Austin TX Domain MS Store location. They price matched a Costco SP3 with type cover and pen deal for me about 3 years ago during the holiday season.
What makes me sad though is that it's literally the same empty store experience you've shared.
I can't say that I've ever seen more than 10 shoppers in there at a time. The only time there seems to be any resemblance of a "crowd", it's when they host a free workshop.
The Apple store is packed with people literally from open to close every day.
MS has to be losing money in their retail store channel. It's sad really, especially since they continue to squander one opportunity after another.
If they even expressed one iota of concern about customer feedback and how you sharing this experience means something to them. They have little to no interest in connecting it to how poor it reflects the state of their brand image. Not price matching puts them at a disadvantage over other retailers (many offer this value to customers) makes it harder for a customer to buy. Consumers today are always looking to get things done quickly and easily with minimal cost.

Apple Stores are very profitable. Yet don't be conned by the crowds in their stores, take a walk through one sometime. Most of the people in my experience are there for repairs or other service needs because it is a reliable place to get their expensive products attended to. At one local mall, it is possible to have coffee and watch the traffic coming out of an Apple Store and a Microsoft Store. In my unscientific survey (which is just as credible as Consumer Reports membership survey by the way), watching on a fall weekday afternoon for 30 minutes, there were far more people inside the Apple Store, but 6 customers walked out of the Microsoft Store carrying something in a bag in that 30 minutes and only 4 did the same from the Apple Store. I'm sure the Apple Store made more profit on those 4 sales, but that is OK by me. Apple is far more dependent on retail sales than Microsoft is so their stores better be busier.

Congrats on the purchase of your new Surface Pro Jason! May it last you many years! I`ve been using Surface Pro models on insider preview every year since the pro 3 and as you can imagine I`ve been through every driver, GSOD and update nightmare which accompanies the line of hardware/software magic that encompasses, for me, the ultimate portable work and leisure device, I`m a professional Chef by way of trade and honestly incorporating technology into the office side of my job gives me more time with my kids which is a blessing, on the subject of MS being competitive I couldn't comment as we don't have MS stores here in Ireland but I have had numerous encounters with support teams and nearly always with expense I have paid hard earned cash to have my devices fixed. By the way I still use a Lumia 650 and xb1x.

I'd be curious how many readers actually have a Microsoft store nearby. I sure don't. But we have an Apple Store

I work at a Microsoft Store so I can tell you that we do price match..... depending on the situation. We'll price match Best Buy, Walmart, most brick and mortar stores, and even Amazon if it's sold directly by Amazon as it's accessible by everyone. It gets trickier with club membership places like Costco and Sam's Club where you have to pay a membership fee, which is basically how Costco can afford to sell you the Surface Pro bundle at such a significant discount. With that being said, we always let customers know that they can purchase their devices from Costco or Best Buy and still come to our store to take advantage of our bundle which offers a discount on our extended warranty services and Office. I can't speak for other Microsoft Stores, but we do try our best to take care of customers of our 1st-party devices regardless of where they choose to purchase them. At the same time.... not sure if you can walk into the Apple Store and get them to price match Costco ;) And who knows maybe Apple Stores seem busier because there are some many people trying to get their iPhone batteries replaced. :)

At least apple has phones to get batteries replace Tmngyn.

FFS just buy it at Costco. This article wasn't worth a tweet.

Exactly. To me, the "stores" - Apple or Microsoft or whoever- are there for service/warranty issues. When buying, by all means go there and check it out. Then go elsewhere/online and buy it at a discount. If you feel you have to pay full retail because you "want to support the store and/or be a loyal customer", then you have some sort of mental/personality issue. Would you go to the LG/Samsung/General Electric/whatever store and pay full retail to buy a fridge/TV/microwave oven/washing machine/whatever because you want to "support the company"? Of course not. Best Buy/Costco/Sams/eBay/whatever. Whoever has the best price. "This article wasn't worth a tweet." But hey, it generates comments. Which is all that matters. Keeps the advertising rates up.

Hi Naddy, please reread. You've constructed your own reasons for what you wanted to express as my motivations for wanting the price match at the Microsoft Store. Here's what you wrote, which I never said: If you feel you have to pay full retail because you "want to support the store and/or be a loyal customer", then you have some sort of mental/personality issue. Here's what I actually said: I spoke to a Microsoft rep (not at the Store) who confirmed that Microsoft Stores sometimes price match, and I set my hopes on that possibility. (I later confirmed this with Microsoft.) I wanted the convenience of a simple return and exchange, and the choice of the black Surface Pen since the Costco bundle only came with the platinum Pen."

Microsoft is just confusing...

Face it, buddy....under this idiot's helm, Microsoft is not what it should be. You guys really need to rally the troops and demand his occupational head.

They need to move him to head of cloud services. They need a visionary CEO. Nadella is a singular thinking individual. CLOUD CLOUD CLOUD....thats it. Nothing else. They need a leader to push consumer products, cloud, Xbox, HoloLens development, mobile, etc.

they shouldn't price match a store that charges a membership to buy products there.
2. they shouldn't match because when you buy products from a flagship Microsoft store, you are getting Pure , Clean Windows without a bunch of 3rd party garbage like you get when you buy from best buy and Walmart etc. Microsoft Signature comes from Microsoft. Not Costco.
the REASON Costco and bestbuy sell the item cheaper is because the junkware makes the product cheaper for Costco and best buy.
stop expecting everything to be a 'cake and eat it too' situation... geez millennials are ridiculous... they deserve everything, all the time, for freeeeee

Hi Mayconvert, actually there is no junkware on the Costco device. Also, with millennials ranging in age from 18-29, I'm old enough to be the biological father of a millennial😉.

FWIW: The i5 is the worst of the options. Either go i7 or enjoy the fanless M3.

Hi Sascha, The Surface Pro (2017) Core i5'which is the subject of this piece, like the Core M3 is also fanless.
That was one of the high points to this new line of Surfaces - fanless Core i5. Check out the presentation video and our coverage here on WC.🙂👍🏿

Apple stores price match authorized Apple Resellers like Best Buy, and Best Buy regularly has small savings on Apple products. That's really all that needs to be said. I personally don't buy the argument that Microsoft is unable to present a high-value, quality imagine if they price match. They should be matching resellers just like Apple does. After all the whole point is ensuring a great experience and value proposition for the customer. And if Microsoft won't provide the same level of service Apple does what's the point of shopping at a Microsoft store? Just seems like a lose-lose situation to me. You have to wonder if Microsoft themselves holds the keys here or if they have some deal in place with OEMs not to price match.

You can return anything to an MS store, opened or not, within 30 days, for a full refund. How many days had it been since your purchase? I have owned every generation of Surface Pro (meticulously maintaining my machines, then selling my previous gen on eBay and throwing in the bundled stuff I get, making the upgrade cost manageable). However, I bought both Surface Books, tried them for 29 days, didn't like them, and returned them for a full refund, no questions asked. I think they should have honored the price match, but up to a point of 30 days (or maybe been friendly at 31 or 32 days). But you can't ask a store to price match FOREVER, because prices on tech will always drop as new items come out. You are very unspecific about how much time had passed, leading me to believe that you were outside of the 30 day window.

Hi chapmattman. Sorry it wasn't clear. Remember I opened the piece introducing that I had initially purchased a Core M3 Surface Pro. I then shared how a Core i5 would have been my preferred choice but it was beyond my budget. I closed the intro by sharing I later saw the Core i5 bundle at Costco. I then went back to the Microsoft Store within 30 days with the Core M3, receipt and photographic proof of Costco's bundle. Now returning the Core M3 that I purchased was never the issue, that's why there is no reference to a debate with the store about taking the Core M3 back. As I share in the piece I was either going to get the Core i5 from the Microsoft Store, price matched with Costco, or from Costco. So the issue here, as the piece focuses on, is the Microsoft Store not matching the price of the Core i5 Costco deal. I never had an issue returning the Core M3, that's why there are no references in that regard.🙂 Thanks for the question👍🏿

"I was disappointed when my local Microsoft Store wouldn't sell me a Surface Pro bundle for the same price as Costco." But why? Are you disappointed when you walk into your neighbour's flat and he would not give you the game you want for free while GOG has a full discount?

I explain various reasons why in the piece.

I explain various reasons why in the piece.

Jason, my take is that the discretion is good for emergencies, but that in your case, they did the right thing by suggesting you buy it at CostCo -- that allows you to get the price you wanted at a store you obviously visited without price-competing with a valued reselller. I think MS needs to prioritize sales through their channel partners, using its own stores as a playground and showcase. For people who buy directly at the store at their prices, great. For people who will not or can't get to another store but know it's cheaper, price matching allows the MS store to keep the customer from abandoning a Microsoft solution altogether. But in your case, offering you a full refund so you could buy it at another place seems like the right customer-friendly and partner-supporting move. In other words, I think the manager discretion should never be used to take business away from a valued channel partner. But I do agree with other comments above that the problem with discretion is that it will also vary from place to place and can result in rewarding the most obnoxious customers, all of which are unfortunate consequences.

Sorry folks, but this is just another case of the new "Apple-esqe" Microsoft. Don't waste your breath going into an Apple Store and asking them to price match a Best Buy sale - not going to happen. Microsoft Stores, like Apple, are MSRP zones only, just like the ridiculous prices they quote on that game show The Price is Right... At least Microsoft gives you 30 days to return it...their Apple friends kick you to the curb in 14 days...

there's always the option of saving up a little more and getting what you want. don't settle.

Hi Jason, Did they offer you anything? A free pen, free keyboard or the complete warranty may have been very easy for them to include. They don't have to match everything, but the seeming resistance to even offer you an option other than full retail is not acceptable. A friend of mine went to the Microsoft store at the MOA a few years back with his broken Surface 2, not the pro the RT version. He was within days of his warranty ending. They didn't have any replacements and no more were coming so guess what, the manager gave him a brand new Surface Pro to replace it. Now that is service! That is the kind of manager that gets people coming back year after year. They don't have to do everything perfect but they really should offer something. That is just good business.

Lots of commenters have already said it, but I was amazed enough at this entire rant that I want to rant myself: expecting Microsoft to price match a Costco deal is unrealistic enough and playing the "I'm a tech blogger" card is even worse. First, I saw that Costco Surface Pro bundle the other day and was blown away by it. Costco has some amazing deals on electronics at times. But is a warehouse store owned by the company and not a mall store in leased space like Microsoft, and it does charge you $60 or $120 a year in membership fees to be able to purchase those great deals. And that the Microsoft employee indicated he had discretion to price match, doesn't mean he has to just because someone asks or a particular customer tries to claim a privilege. You were asking him to take hundreds of dollars off the price of a Surface and create a bundle on top of that. It was an audacious request. You could have returned your Microsoft Store purchase for 30 days and then headed to Costco. But that would have not allowed for a rant. You got one thing right. Microsoft Stores are a place to make some money but mostly to showcase first party hardware and demonstrate a better way for retailers to sell PC's. Remember before Microsoft Stores came along and the pathetic retail displays of non-working PC's and clueless employees? And as for your repitition of the common comparison of foot traffic in Apple Stores vs Microsoft Stores: bunk. Unless some new device has hit the store, the vast majority of people in any given Apple Store are there for service, which is kind of weird because I keep hearing that Apple stuff is so great I don't understand why all those people need service.

Hi someoneinwa, thanks for jumping in and offering your perspective. First a point that some seem to missing, yourself included is that my original purchase was the Surface Pro Core M3. I brought that back, as I indicate in the piece, after seeing the Costco deal for the Core i5 bundle. No where in this piece do I indicate that the Microsoft Store had a problem honoring the return and refund for the Core M3. That was not the core of the debate. They honored the return of the M3, that's why you see no references to an issue or debate about that in the piece. What I address here is the store using thier case-by-case discretion to honor or not honor a price match and choosing not to in this case. Now, as I indicate in the peice and in comments above, before this article was published I went further than a Microsoft rep and got official confirmation via email that managers can honor price matches on a case-by -case basis. An excerpt of that email is pasted in a comment above in bold text. Also, the core of my experience was not that of a tech blogger, but as a first time Surface customer and Microsoft enthusiast.

Jason, you keep ignoring (or won't address) everyone's comments that inform you to the fact that Microsoft Stores don't price match deals for Costco and Sam's Club because these places charge you a membership fee and that's how they're able to offer a better deal than your local Microsoft Store. If you found a similar deal at Best Buy, Walmart, or (if sold directly by them) Amazon, and if it's in stock at those retailers, Microsoft Stores will price match it. Like you stated, the rep confirmed with you that managers will price match on a case by case basis, and in this case with the Costco bundle they won't be able to honor it. You then compare Microsoft Stores to Apple Stores... I don't believe Apple would price match a Costco deal for any of their products. Microsoft Stores may not be as busy as Apple, but we can definitely match or exceed them in customer service when it comes to our first party products regardless of where our customers choose to purchase their devices from. We encourage our customers to get the best deal for their products even if it isn't from us, and we let them know that they can still purchase the extended warranty from us so we can provide them the best support. (Disclaimer: I work at a Microsoft Store.)

Well there has to be topic to write so....

Thanks so much for jumping in as an MS Store employee. I'll first address your point about price matching most stores with the exclusion of stores like Costco. To clarify your restatement of what I wrote, I didn't "confirm" the case by case price matching with a rep. I first called the number for the Microsoft Store and spoke to a rep, not at the store who explained that the stores do honor price matching on a case by case basis. That random rep, however, was not sufficient for me before I published this piece. So I reached out to more official channels at Microsoft and received an email of course first confirming and restating what is written in MS policies that there is no price match guarantee but she added that the managers can price match on a case by case basis. Now this may be perceived as nit-picky from your perspective, but if clubs like Costco are ABSOLUTELY excluded from that case-by-case discretion given to store managers, that in my opinion, should have been included in the communication. My interpretation of the official word given me via email is that store managers have the the discretion to determine these price matching scenarios on the merits of each case alone. Club exclusions were never mentioned. Comparison to Apple To your point regarding my comparisons to Apple please note WHAT was compared. I didn't compare MS Stores to Apple to suggest Apple may have done the price match as your comment suggests. I compared the two to highlight a problem that I as a Microsoft enthusiast who wants the MS Stores to succeed have observed on more than one occasion. Microsoft are poorly patronized, there's very little foot-traffic, in comparison to Apple stores. Here's the excerpt: "Anecdotally, when I visit the Farmington or Danbury, Conn., Microsoft stores, both are usually relatively empty where, sadly, the staff outnumbers customers. This isn't true of the Apple Store that's comparatively much busier. Windows Central Managing Editor Al Sacco tells the same is true of the Boston, Mass., Microsoft and Apple stores." The only other comparison I make between the two highlights each stores purpose and how a consistent practice of general price matching could hurt the stores vision. Here's that excerpt: "The Microsoft Store, like the Apple Store, is positioned to showcase first-party high-end devices. Thus, making a practice of price matching would conflict with that mission and image." Additionally even if Apple customers are frequenting the Apple stores for service as someone suggest here, that foot traffic still serves the primary purpose of showcasing Apple's wares since customers are actually in the stores. Now having shared the purpose of my comparing Microsoft Stores to Apple Stores in relation to the superior foot-traffic/patronage Apple Stores get allow me to address one of the primary purposes of the piece. Goals of this piece I am a Microsoft enthusiast and I want the Microsoft retail stores (and other MS endeavors) to succeed. I shared in this piece my position as an enthusiast and my role covering the opening of this Farmington, CT store in part to communicate to readers and Microsoft that I care about its success. I also included my role as an enthusiast coupled with my experience as a first time Surface customer, to convey that my knowledge of Microsoft's goals and challenges are more than that which a normal consumer may have. And if one carefully follows the flow of this piece they'd see that, after conveying my level of passion for Microsoft coupled with my knowledge of the company and my experience, I then compare Microsoft's poorly trafficked retail stores to Apple's highly trafficked stores. I did that because as a customer/enthusiast who is aware of Microsoft's challenges among consumers with failed/failing/struggling products like phone, wearables, digital assistant, smart speaker, AR etc, in comparison to rivals the company NEEDS foot traffic in the store in order to fulfill the store goal of highlighting its range of products and services for consumers. I know the positioning of the Xbox and VR (and the activity it engenders) by one side of the entrance and a Surface Hub on the other are meant to encourage that foot traffic. Sadly, from my observations, with the exception if certain holidays or special events, the stores simply ARE NOT getting that traffic I believe Microsoft desires, and certainly no where near what Apple achieves. So my strategy with this piece was a hope that Microsoft would read it and understand that my knowledge and passion for the company gives my a bit of an "authority consumer" perspective where my suggestion coming out of this experience might be heard as one that could, even in a small way, beneficially impact the challenge of improving the stores customer appeal. So, my point is that perhaps given the challenges facing the stores, Microsoft needs to be a little bit more flexible (and trust me I understand the level of service you extend to people for device repairs, support, community outreach efforts, and more) and perhaps think a little further "out of the box" beyond its current price matching limitations (still on a case by case basis however) with the express intent of trying to engender that intangible value, that goodwill, that could potentially multiply into repeat patronage, and because of that "great feeling" I shared consumers should feel leaving the Store, powerful word-of-mouth that may encourage others to come to the store. Readers and Microsoft should not see me as an antagonist/enemy with this piece, but as with other pieces where I may be constructively critical about something the company does, it is meant to communicate an area that I think the it can improve in and a way in which that improvment may be achieved.

I used to work for a large frozen food manufacturing company in the UK. The frozen peas in the staff shop were always more expensive than in the major supermarkets - I'm 'just saying'. Having said that it seems to me it wasn't so much the lack of price matching that was so unpleasant but the attitude of the staff. Reading other comments it seems that this varies from store to store. In some ways that would seem to be a good thing as it might show a degree of autonomy at store level. One would hope that in this respect MS stores distance themselves from Apple stores in much the same way that MS software allows more flexibility than Apple software. It still doesn't make the attitude of the staff right - I for one would have been furious to have been treated like that. It would be interesting to see whether word gets back and whether they 'reach out' to you. Please keep us up-to-date in that respect. In the UK we're still waiting for our new Regent Street store in Central London. I just hope we're not as disappointed as you were recently Jason. Expectations are very high so it will be interesting to see what it's like. We don't even have the much vaunted 'customer service' mentality for which the USA is so well renowned. On balance it seems that it was the way the first sales associate raised your expectations (falsely we now know) and then the manager (very unprofessionally) let you see from his body language that it was not going to happen. Most people would feel very badly done to with that experience. They could have said 'no' in a much better way than that. Poor training. Good luck!
PS out of interest would you have felt less bad if the MS store didnt actually sell anything but just showcased their products but also advised you where you might get the best price? In this case Costco.

There ain't no Microsoft Store in my country, yet two flagship Apple stores. Microsoft is out of touch and out of date. They never even released their Bands here.

So I work in a MS and we won't price match only for a few occasions :
1. If it's an online reseller (Amazon & eBay) We've seen a lot of price manipulation from resellers/customers
2. Costco and Sam's specials ( Only available to members and not the general public.)
3. Said retail store had a sale on a device but no longer has it in stock. (Which means you wouldn't of gotten the price from them either anyway.) The two store's we typically match often is Best Buy and Micro Center, if you have one in your city. We all generally run the same sales so it's not a big deal to do so.
Outside of that, our retail stores probably have the most lenient return and exchange policies I've ever seen. We literally say yes to just about everything else or at least try to come up with a solution that still benefits the customer. The stores eat a crazy amount of losses in customer appeasements that I know for a fact no other electronic retailers will do. I really do think so many of our customers are so spoiled to this that the few instances that they do say no, they tend get overly upset and start bad mouthing the company for one small situation.

Thanks for this response MusicMastermind. My experiences with three Seattle area Microsoft Stores, plus ones in San Francisco, Portland, and Dallas have all been positive. I had a hassle once on a return with the online store, but one of the Seattle physical stores even fixed that problem.

My local electronics retailers will price match any retailer, including online-only. It's a bit dodgy that MS can't/won't for products they themselves manufacture.

You also have to remember, no one matches with Costco because their deals can't be beat. The reason for this is you have to PAY to be a member to go in and get those great prices. Many times I've seen items that are substantially less than other stores and I get more. But stores will not match with Costco. I'm siding with Microsoft on this. While ******, there is a reason Costco can undercut everyone. That's not a price Microsoft is willing to sell their product for.

I feel ya, and I agree. Microsoft doesn't breed love of the brand from its supporters. It's more like.... stockholm syndrome. Treat 'em mean, keep 'em keen sort of thing. The problem with that is, well, people eventually get fed up.

That is not the Microsoft I know and I know it well.

I always listen to what you have to say Jason, but I have NEVER had a bad experience in my Microsoft store (Somerset). Yes, MS Stores should have a price match (at least) on MS items. This is a corporate, not a store, definition. I wonder if Costco has an agreement with MS to sell for lower.
Somerset also has an Apple store. It is total mayhem, darker, feeling like a fire-sale all the time. The MS Store is bright, always greeting, always, helpful, little wait for help. We are in there several times a month for our client and our personal needs.
Knowing the Apple Store as I do, I am glad I don't have to put up with it. It's one reason why I let my wife support our Apple clients (Yuk!!).

Sadly Jason this is not unusual. it reflects the MS attitude to consumers since Nadella's reign began. Nadella's MS simply does not get it.
Windows Central Newsletter
Get the best of Windows Central in in your inbox, every day!
Thank you for signing up to Windows Central. You will receive a verification email shortly.
There was a problem. Please refresh the page and try again.