How to work at home more effectively: Tips and tricks from an all-remote workforce
By Dan Thorp-Lancaster published
If you've found yourself working from home during the coronavirus pandemic, here are some tips from Team Windows Central on how to stay productive.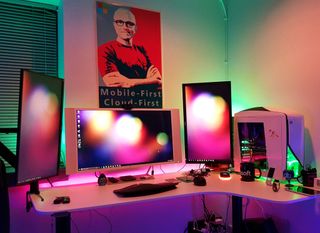 (Image credit: Windows Central)
With the coronavirus (COVID-19) pandemic still raging around the globe, more companies are implementing work-from-home policies to help stem the spread of the virus and protect their workers. If social media is anything to go by, the transition from office to home has been a bit of a shock for many. However, the need to work remotely likely isn't going away any time soon; in fact, it could be a quite a while before any of use can return to the office.
While working from home has its benefits, you'll definitely find you now have to contend with a whole slew of new distractions. Even remembering to take a break now and then can be a little onerous.
The Windows Central team has been working remotely for a long time, so you might say we're experts at this whole "working from home" thing. In fact, that's exactly what we'd say. We've rounded up our tips to make things easier for anyone who is doing it for the first time. Hopefully, they'll help you stay productive and sane for however long this pandemic lasts.
Dan Thorp-Lancaster, News Editor
Working from home can be great, but it's easy to get distracted or forget to take the breaks you'd normally get in an office setting. For your sanity, remember to get up and walk around every hour or so, and don't skip your lunch break. I'd also recommend picking up an affordable pair of noise-canceling headphones (opens in new tab) to help tune out any outside distractions.
If you can swing it, I'd also recommend investing in a super comfortable office chair. My pick is the 2020 Series from Secretlab (opens in new tab). But if you're looking for something less gamer-y and a little more affordable, we have a rundown of some of the best office chairs for home and work.
Stay focused
(opens in new tab)
Anker Soundcore Life Q20
Shut out distractions

The Anker Soundcore Life Q20 offers noise-canceling sound without a huge price tag. If you need to focus on your work, these are a pretty solid buy.
Richard Devine, Reviews Editor
I've worked from home for seven years, and I've had about every bad habit going in that time. Making sure you stay hydrated is one of the important ones to do, it's easy to think that since you're (likely) sitting down you're not getting fatigued. A good refillable bottle like the Razer Hydrator (opens in new tab) is a sound investment.
Make sure you stay away from the TV, too, because not only is daytime TV mostly terrible, it's a distraction you don't need. The product I can't make it through the day without is my AirPods, because I can move about the house always listening to music or a podcast, never having to touch my phone. Music helps me concentrate not only by cutting out distractions, but I find it helps me focus my mind.
Much better sound
(opens in new tab)
AirPods Pro
A worthy upgrade for anyone who wants a perfect Apple accessory that has a much better listening experience — especially when you're on the go.
Classic but still great
(opens in new tab)
AirPods
The classic AirPods you know and love. While it lacks the advanced sound quality and features of the pro version, you can't go wrong with a little extra battery power and cheaper price tag.
Brendan Lowry, Freelance Gaming/Tech Writer
When working from home, family distractions can be one of the most difficult types to avoid. However, if you get up at the crack of dawn, you can get a significant amount of work done before anyone else in the house has even opened their eyes yet. Something you'll need to keep track of while working is your digital workspace organization; if you open 20 different tabs or programs, it's going to be a pain to try and navigate all of them. Therefore, only keep a few open at a time, and close the ones you're done with or won't need for a while. Finally, a comfortable office chair is a must have for all the sitting you'll be doing.
Check out our roundup of the best office chairs available for a selection of great options. If you want something affordable, the IKEA Markus is an excellent choice.
Affordable quality
(opens in new tab)
IKEA Markus
Stay comfy at your desk

The IKEA Markus is fitted with plenty of cushioning, reclining, lumbar support, and a tilt lock function to enable you with quality comfort that's also affordable for most people.
Jez Corden, Gaming Editor
I've worked from home for five years, and honestly I'm not great at it, but I can give you some tips on things I do that you SHOULDN'T do. The number one thing I'm no good at is sleep discipline, if you're working from home, it can be tempting to nap or sleep in late. A good way to avoid this is don't work in the same room where you sleep, if you're able to separate the two (I'm not able, unfortunately), and set alarms for working hours, and try to stick to them.
Also, expanding your screen real estate with a second monitor really boosts your productivity, and ensuring that you have good ergonomics at your desk, with a laptop that's eye-level and a comfortable chair posture is also really important.
More screens
(opens in new tab)
Dell Professional P2417H monitor
Add more screen real estate

Grabbing a second monitor is absolutely a must-have for all types of work, research, and reference, and this number from Dell ticks all the right boxes for a relatively affordable price.
Cale Hunt, Staff Writer
I mostly love working from home and am quite productive, but that's because I get myself into a separate headspace when I wake up on a workday morning. I make coffee, turn on my PC, and forget about the house around me. Sure, there might be some dishes in the sink and the snowy walk might need to be shoveled, but I reserve those activities for a lunch break or the end of the workday.
Worried about sitting too long? Invest in a standing desk and save your back (opens in new tab). Unfortunately they're rather expensive, especially if working from home is temporary, but you can check out a more affordable desk riser (opens in new tab) that will turn any standard tabletop into a standing desk.
Standing Desk
(opens in new tab)
Flexispot Electric Adjustment Desk
This standing desk is actuated by an electric motor, meaning there's no cranking necessary. It has a sturdy base, and the tabletop and legs are available in a few different finishes. If you hate sitting for long periods, grab one of these and take some strain off of your back.
Desk Riser
(opens in new tab)
VIVO Standing Desk Converter
Don't want to spend hundreds on a brand new standing desk? This desk riser from VIVO gets the job done for far less, adding up to 15 inches of height to any standard table or desktop. It's sturdy, and it has lots of room for a monitor, keyboard, and mouse or a laptop.
Matt Stanley, Duty Editor
Part of the problem I encountered when first working from home was separating my home life from my work life. It's important to get into a work frame of mind, at least for me. To make the mental shift from at-home-Matt to work-Matt, I keep a defined schedule, and have a designated work space that I use for nothing else. My dual monitor set-up helps with editing, as I can see an article in its "live" state while editing it on the back-end on the other monitor. A comfy office chair with a nice cushion also helps.
If you don't have a dual monitor set up, there are other options to help modernize your home office.
Arm your desktop
(opens in new tab)
AmazonBasics Premium Dual Monitor Stand
Put your monitors where you want

These monitor arms make my small desk much more workable. They remove the bulky stands, and I can literally place my monitors anywhere I want, in any arrangement. The arms are strong and stay put.
Ergonomic support
(opens in new tab)
AmazonBasics Premium Dual Monitor Stand
Keeping you productive in comfort

This cushion has all the bells and whistles: memory foam for comfort, gel to keep you cool, a non-skid bottom, and a machine-washable, zip-off cover. I use it every day.
Al Sacco, Managing Editor
Working at home means lots of remote videocalls and meetings, at least for me. If you too spend a significant chunk of your workday in meetings, and you're now working remotely, you'll benefit from a quality webcam. The universal webcam of choice across the Windows Central team is the Logitech Brio 4K. It's a bit pricey at $160, but the quality is top notch, it's designed to work with Windows and macOS, and the design is modern and functional. If you do a lot of remote calls, seeing your colleagues is important, and the Brio ensures they can see you in life-like clarity.
Don't want to spend $160 on a webcam? Check out our full roundup for more affordable options.
Top-notch cam
(opens in new tab)
Logitech BRIO
If you want your webcam video to look its best, this is the one. It's one of the only 4K webcams and supports Windows Hello.
Sean Endicott, News Writer
I recently started going to the gym before logging on to work from home. In addition to losing weight and getting into better shape, I have more energy during work hours. I start each day by taking my dogs out on a walk, so they're calm and snuggly throughout the day. After they've run around like maniacs on their FLEXI leashes (opens in new tab) I hit the gym to boost my energy levels.
Flexible exercise
(opens in new tab)
Flexi Vario Tape Dog Lead
Freedom to move

My dogs aren't trained to be off their leashes, but I like flexibility when I take them on walks. This retractable lead is long enough to let them explore but gives me enough control to keep them safe from cars and other dogs. They also work with attachments such as treat containers and the oh-so-important poo bag holder.
Rich Edmonds, Staff Reviewer
I used to write most of my work in our editor, which was fine for most of the time, but when there's an error with your connection or Chrome decides to have a little fun every now and then, you run the risk of losing work. This is where Office comes in. Microsoft's suite of productivity tools really do enhance my workflow, allowing me to get much more done.
This may sound rather strange, but when you're working from home, make sure you have a solid Office suite. Microsoft Office is a fantastic package that includes everything you need like Excel for those hours required perfecting formulae, Outlook to remain connected to colleagues, and Word for typing up your essay about how much you loved working from home.
Subscription-based
(opens in new tab)
Office 365
Stay productive with the latest features

Office 365 gives you full access to all the apps and perks, such as 1TB OneDrive and Skype minutes. You can also install Word, Excel, PowerPoint, Outlook, and other apps on up to six devices, and depending on the subscription, you can share the account with up to six people.
Daniel Rubino, Executive Editor
I've been working home full-time for seven years, and if you count part-time a decade. The life is not for everyone, especially if you crave human contact, but I happen to love it. The biggest challenge that I had was setting a firm schedule. I make sure I'm in front of the computer by 10 AM, and I usually wind down around 6 PM, though I'm available until later if news is breaking or my team needs assistance.
The other advice is to remember to take a break. Taking 20 minutes to take a walk down the street or even around the house, read something, not on a computer screen, or give your pets some attention. Taking a 25-minute "nap" (don't go longer!) can clear your head and reduce anxiety. Pacing yourself is more important than working a specific set of hours. Do what you need to do to get the job done.
Also, I swear by Respawn by Razer, which I reviewed last year. And while all the flavors are great Green Apple (opens in new tab) is the one to get.
Treat your wrists right
(opens in new tab)
Microsoft Ergonomic Keyboard (2019)
The most comfortable way to type

Microsoft's Ergonomic Keyboard rocks large keys, better key actuation, fixed spacebar, and dedicated keys for other features.
How are you adapting to the "work from home" life?
Have you had to transition to working from home? Or is it something you already do every day? Share some of your favorite tips for staying productive (and keeping your sanity) in the comments.
Dan Thorp-Lancaster is the Editor in Chief for Windows Central. He began working with Windows Central as a news writer in 2014 and is obsessed with tech of all sorts. You can follow Dan on Twitter @DthorpL and Instagram @heyitsdtl. Got a hot tip? Send it to daniel.thorp-lancaster@futurenet.com.
I am a freelancer and I work from home anyways, so nothing changes for me. I just make sure I have a set schedule, take frequent breaks, use a comfortable keyboard and chair, and avoid spending too much time on Windows Centr.......yeah...I'll get back to work now.

When teams meet, everyone should be on their own headsets, no matter how people are seated.
It's difficult to hear many persons in a conference room (soft voice far from microphone is the worst 🙄) + it's easy for them to 'forget' that remote person 😉

Some great advice here:
Do: Separate home life from work life. Pretend you're at the office.
(same as: Don't: Get distracted by everyday chores. Those can be done later.)
Don't: Work without taking a break.
Don't: Let your sleep cycle get crazy.
Must have: A second monitor These themes are repeated in the other contributions and elsewhere on the web, but I really do think these are the most important. I normally spend one to two days working from home (not counting weekend work) so this is stuff I have to deal with constantly. You are your own worst enemy! Some BAD advice? "Listen to music or podcasts while working." Your work would have to be completely mindless for that to not affect your productivity. I am constantly reminding my students in class (all college-age) to put away their phones, and in my own classes I ban laptops (except for ink-based note taking). They are a constant source of distraction. (It's probably worse now that all our classes are now online.) Having the distraction literally in your ear canal the entire work day? Despite what you might tell yourself, that is not a good idea at all. Terrible, terrible advice.

Actually, I'll have to disagree. As a coder, I become noticeably more productive and MUCH less likely to get distracted when listening to music (electronic music, no vocals). Even just waring my Surface Headphones without any music on, with just the calming quiet white noise of ANC in my ears helps. But really, some good, melodic, sophisticated EDM helps me get into "the tunnel", helps me stay laser-focused and allows my mind to come up with creative solutions to complex software problems. I guess we're just all very different :)

I have wanted to work from home (WFH) for many years. So many, that at lot of those type of jobs were highly suspicious, when I first started looking. e.g.: Stuffing letters into envelopes, etc. For many years WFH was an impossibility. I couldn't find anyone that would let me do development from home. Then, last year at one of my local .NET user group meetings, the sponsor of that group told us why we couldn't do it. (The sponsor of our .NET group is a technical recruiting agency, so they've got their finger on the pulse of the local work environment. What she said is that no company or agency in the state wants any of their employees to WFH. That goes for both public and private sectors. Well, with COVID-19 that has all changed. And trust me, the people in the C-suite absolutely hate it, but they have no choice. The tough problems isn't something in the employees' control, it's because the higher ups were so totally adamant against anyone WFH that they didn't prepare the infrastructure to handle the load. I've got great Internet connectivity at my house, but when I remote to my desktop at work (which I have to), connectivity is very slow. Every day of this forced WFH I've lost connection to work. But even so, I'm productive. I believe my colleagues on the team I'm on are as well. An odd thing not common (so I understand) about my WFH situation is my employer requires that all their employees tell them exactly when they're going to start work each day and when they'll stop working each day. Of course, it must overlap significantly with your coworkers. So, there's no starting early or working late. I have to watch the clock VERY CLOSELY to be on the minute I said I would start and get off the minute I said I would stop.

That's insane! Boggles my mind that IT companies operating this conservatively can even exist in 2020...
Windows Central Newsletter
Get the best of Windows Central in in your inbox, every day!
Thank you for signing up to Windows Central. You will receive a verification email shortly.
There was a problem. Please refresh the page and try again.