How Your Phone finally let me keep my phone in my pocket
A broken phone led to an experiment and a realization about Microsoft's mobile plans.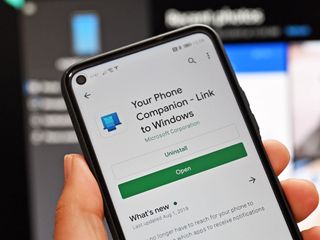 (Image credit: Windows Central)
About two weeks ago, while on a walk with my dogs, I bent over to clean up after one of them, and I heard a clack. My phone fell out of my pocket, landing screen first onto a rock. I have an impact case on my phone that's held up for years, but in this instance, a pebble made the ground uneven and knocked a hole in my phone's screen. Instead of just a crack, a noticeable black spot of dead pixels encircled a hole full of broken glass surrounded by splinters and cracks. Replacing the screen costs more than it's really worth at this point, so I started the hunt for a replacement.
While waiting to get my next phone, I still had a phone that worked, at least in terms of connectivity and all of the internal components. So for the last couple of weeks, I've mostly kept my phone charged and on a desk or in my pocket, handling the majority of my phone communication through the Your Phone app on my PC. While I don't think this situation is common, it led to some realizations about the app and Microsoft's mobile plans.
Your Phone just keeps improving
When the Your Phone app first shipped, it had somewhat limited functionality. It could sync text messages, notifications, and some photos, but it didn't even do that reliably, at least not for me. Over time, Microsoft added several notable features. Now, Your Phone can sync texts, photos, notifications, and phone calls. These features also got more reliable for me over time and with several updates.
It's the preseason for my American football team, so my free time is spent largely calling players, contacting parents, fundraising for the club, and making phone calls. I managed to do all of this right from my PC. I've known about these features, but I never had to use them. I always had my phone on me anyway, so it was never a hassle to pick it up and use it. But having to use my phone's capabilities on my PC made me realize how much more work I could get done.
Responding to text messages and notifications is actually better through the Your Phone app than using apps on Windows 10. Your Phone supports in-line notifications, so you can respond to messages directly from a notification. If you miss the notification in the tray, you can now jump into the notifications section of the Your Phone app and respond later. Windows 10 apps can support in-line responses as well, but in reality, developers implement it more on Android than on Windows 10, so it's better through Your Phone in most cases.
Using Your Phone to make calls felt like I was on speakerphone on steroids. I could jump on the call on my PC, then tap a button to take it on my phone if I needed to move (my phone still works, but I have to be careful not to crack the screen more).
Microsoft continues to improve Your Phone's feature set, and it's now to a point where I can keep a phone on a charge or in my pocket and not miss any functionality.
Developing Your Phone was the right call
We've spoken ad nauseam about the death of Windows Phone and how Microsoft retrenched its mobile efforts through Android and, to a lesser extent, iOS, but it's really on display when you use Your Phone. Your Phone is yet another reason that Android is the phone for Windows OS users.
As Microsoft adds more features like call support, syncing battery levels, and managing all of your notifications, Your Phone provides a single hub for all of your phone's content.
I think Your Phone is still generally unknown to the everyday consumer. I've told people that I could make phone calls from my PC and they've said they didn't know you could do that. Mac users are quick to point out similar functionality, but PC users seem unaware of Your Phone's capabilities. As more people find out about Your Phone and as the app gets better, I think it will be a significant component to Microsoft's success in mobile.
With several Microsoft apps reaching a billion installs or hundreds of millions of installs, it's clear that people use Microsoft services on their Android phones, but Your Phone is a new beast. It makes your PC feel like a true extension of your smartphone, and that's worth a lot.
Please Microsoft, don't keep anything exclusive
I've purposefully skipped mentioning features that are exclusive to certain phones so far. RCS messaging, screen mirroring, and cross-device copy and paste only work on select Samsung Galaxy phones right now. My hope is that these exclusive features are tested on Samsung devices and then rolled out to more manufacturers. It'd be a real shame if other Android phones can't take advantage of these features.
In Microsoft's defense, these features rely on OEMs working with Microsoft. For example, cross-device copy and paste requires special OEM access to work. That's why it's available on the Samsung Galaxy S20 series and the Galaxy Z Flip but not other phones. Microsoft's growing partnership with Samsung leads to these types of features appearing first, and sometimes exclusively, on Samsung hardware.
Roberto Bojorquez, the group program manager over Your Phone, stated on Twitter that "Any feature that doesn't require special integrations we enable for all phones."
Access to phone clipboard requires special OEM integration, hence enabling it through our Link to Windows partnership with Samsung. Any feature that doesn't require special integrations we enable for all phones, such as the new 2K photo access.Access to phone clipboard requires special OEM integration, hence enabling it through our Link to Windows partnership with Samsung. Any feature that doesn't require special integrations we enable for all phones, such as the new 2K photo access.— Roberto Bojorquez [Microsoft] (@bojorchess) February 15, 2020February 15, 2020
I just hope Microsoft can work with OEMs, so there isn't a feature gap between different Android phones. At a minimum, all flagship Android phones should be able to use these features.
I've also experienced the known issues of Your Phone on iOS. It has significantly fewer features than its Android counterpart. I don't know if this will ever improve as it would require Apple and Microsoft to work together. I don't know why Apple would allow an iMessage competitor that works with PCs onto its phones.
A happy little accident
While I'm not thrilled that my phone broke, it was kind of fun using my computer as a phone. It showed off how far the Your Phone app has come and that Microsoft has a hit when it comes to connecting smartphones and PCs. I'll still use my phone as a phone, of course, but at my desk, I'll keep it tucked away a lot more frequently.
I've stated several times that I think developing Your Phone is one of the best decisions Microsoft has made in years. Our executive editor Daniel Rubino seems to have some similar feelings that he shared when he used Your Phone with his Galaxy Z Flip.
Microsoft's addition of in-line responses and phone call relaying pushed Your Phone over the top for me. I'd love to see features like screen mirroring and cross-device copy and paste come to more devices, but I don't think they're essential for my personal workflow. At least, I never felt held back by their absence. Your Phone can now replicate my everyday phone use, which helps me stay on my PC and not to have to jump between devices.
Windows Central Newsletter
Get the best of Windows Central in in your inbox, every day!
News Writer and apps editor
Sean Endicott brings nearly a decade of experience covering Microsoft and Windows news to Windows Central. He joined our team in 2017 as an app reviewer and now heads up our day-to-day news coverage. If you have a news tip or an app to review, hit him up at sean.endicott@futurenet.com (opens in new tab).
I keep going back to this app and keep being disappointed by the messages feature. It is not even in the same arena as Google Messages for web

In what way? The only difference I've noticed at this point is RCS support

Can you start a new group text?

I just leave Your Phone on the notification section to reply to text messages. You can view/reply to RCS messages there

The most glaring is the lack of copy/paste support in your phone.

Wow... So my phone let's you keep your phone in your pocket?
How was I able to achieve that?

It's just a play on words

1st Rule of Comedy: If you have to explain it, it wasn't any good.

Or may be the audience is dumb, or may be the audience does not know the reference :)

Ignore the haters! I thought it was funny. (But the explanation did help...)

I feel like there are a few things that are still difficult with Your Phone. One is being able to initiate MMS messages from it. I'm still only able to start a conversation with one recipient (but can reply to a thread with multiple). Also much of my group messaging is through WhatsApp. You can reply but not initiate or see history through Your Phone. Do people use screen mirroring for this?

So use the whatsapp desktop app, Microsoft can't emulate every messaging app in the your phone app. And yes I'd imagine people would use the screen mirroring function for those apps they can't access from the you phone all

People who care about this probably should buy a Samsung phone, which has integration built in, and DeX on PC/Mac.

I'm hoping that by the time Duo is out, Your Phone will be smooth, seamless, and feature full. Until then i'll stick with Android Messages as a PWA on the new Edge.

I wish screen mirroring was a little more open about the connecting. At my office, pc is connected to one wireless that let's it get to all inside network resources while phone is connected to the internet only wireless. Because they are on two different wireless SIDs, cannot do screen mirroring. Would be handy to be able to screen mirror with bluetooth in this case but that does not seem to be option. Gives notice that pc and phone must be on same wireless for screen mirroring to work.
I do love the notifications in Windows 10 and with Your Phone app when I miss them on the Win10 notification panel.
I am on Samsung GS10+ so screen mirroring is there for me currently.

"Access to the phone's clipboard requires special OEM integration" Then how is KDEconnect able to handle clipboard sharing between phone and computer without partnering with any OEMs? Come on Microsoft, this problem has been solved already.

From what i read they did it by working around security features.

Yea. Ended up buying an iPhone 11 Pro and iPad Air with Apple Pencil instead of a Surface Pro and using Your Phone on my Note 9. I don't like how the Microsoft Account login works on Windows 10, and the iPad is "enough laptop" for me when I don't need heavy duty apps. Android feels weird because there are too many competing ecosystems, which makes everything feel messy and leads to subpar battery life when you have to load up on yet another suite of apps that include background services, etc. Plus, I cant stand to look at UWP apps. They look like a$s. I just hate the design language. Windows phone was great for those of us who like a first class, first party, mono-ecosystem user experience. You don't get that on Android, and certainly not on. Samsung device.

Couldn't get it working with mine. 🤷‍♂️

I wish they would finish rolling our features such as screen mirroring before adding new features. I'm getting to the stage when I might go back to the Dell Connect phone app.

Could you please update me about status of Your Phone companion for iOS (which is reduced to the bare minimum "Continue on PC), as well as the related planned Microsoft roadmap if any, as well as elaborate about the hurdles that might pave the road towards more balance for the remaining mobile OSes (iOS intrinsic limitations, Microsoft focus on Android...)?
Thanks in advance

Yeah, no. Your Phone is still only so-so on phones that aren't Samsung phones. Pretty close to just uninstalling it because it's so limited for me.

> I think Your Phone is still generally unknown to the everyday consumer. And, until what is Fast Ring today becomes available to the everyday consumer it would be best if it stays generally unknown. It has been awhile since I ran 1909 on my daily driver, but I think even 25 photo limit is still there. Unless you have recent Samsung phone or running Insider build, Your Phone app is a smoldering pile of garbage.

That is not the case. Using Your Phone on a One Plus 7 and I have the 2000 photos with drag and drop, and all the other features not limited to Samsung.

Can you, by any chance, tell what build you are on?

I'm on 1909 on all my devices. I use Your Phone on both my Surface Book 2 which serves as my desktop most of the time and my Surface Pro X.

Is it perfect? No but then again nothing is. But Your Phone has come a long way and it is much better than it used to be. Keep up the good work Microsoft.

Everything works, but making and receiving calls. It just will not connect, even after following the instructions on Microsoft's website.

As a Samsung user I'm pretty happy with how things are going with Your Phone. It's come a long way. I find photos access and calls the most useful. Now if only the clipboard sharing and browsing history / tabs sync were fully up and running.

As someone who is running Fast Ring on my daily driver I'm pretty happy with how things are going with Your Phone. It did indeed come a long way. Unfortunately, it is hard to recommend it to someone who is neither Samsung user nor Windows Insider.

Thanks to remind me about this app, i see it everyday and everyday i say like, oh ok im gonna start using it but i don't :D, but thinking seriously to use it after reading your review.

I can't figure why you would want to use Your Phone to sync pictures. I just use OneDrive on the phone to sync pictures on the phone onto my OneDrive in the cloud. That works perfectly. For texting, I use voice recognition on the phone extensively. It is way faster than typing; even on a full keyboard. Not sure why you would want to take calls on your PC. If you are using a wired headset, you are stuck at your desk. By using a headset on your phone,, you are free to move about (even beyond the 30 foot Bluetooth range), or just talk in front of your PC. You have more flexibility this way. So I don't really get Your Phone.

It doesn't sync photos to your PC. It lets you see them, and quickly grab them if you want.

I take it that this isn't available for the One Plus 7 Pro yet? The phone call feature? I haven't seen it yet.
Windows Central Newsletter
Thank you for signing up to Windows Central. You will receive a verification email shortly.
There was a problem. Please refresh the page and try again.