HP Elite x3 could be used in the future for running AR apps with HoloLens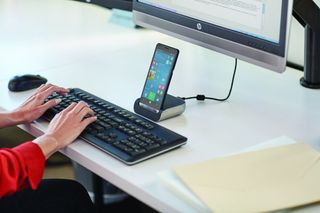 Michael Park, the vice president and general manager of mobility at HP. stated in a recent interview that the company would like to run augmented reality apps with the upcoming Elite x3, perhaps in a partnership with the Hololens headset.
In a chat with PCWorld, Park expressed interest in using the company's Windows 10 Mobile phone for business AR apps:
Park added that there are different ways that the HP Elite x3 could be used for AR apps:
He also stated that at the moment, HP is not interested in launching lower-cost Android phones for the consumer market:
The first shipments of the HP Elite x3 are expected to begin for some regions of the world as early as next week.
Need more? Don't miss our other coverage of the Elite x3 including:
Windows Central Newsletter
Get the best of Windows Central in in your inbox, every day!
Microsoft might have just stumbled upon something with this HP thing.

Yes, HP clearly encourages msft to acknowledge the possibilities... This is the other way around since msft started the hardware innovation with the Surface line.

But MS already acknowledges the possibilities of AR with Hololens and Continuum is also their creation. If anything, MS is doing the inspiring and HP is running with it.

I didn't say msft doesn't realize its potential, it's just good to have someone on your back.

Its not so much an HP thing its a Windows 10 thing so much potential for any OEM be it Windows 10 PC or Mobile

Yes, I work for a competitor, but agree HP and MS are doing some good things.

Thanks for being honest and not here bashing others who choose to use Microsoft products.

The comment sounds very encouraging from Hp to continue the focus of windows 10 mobile. I believe Hp will be the biggest ally Microsoft will rely on to give them head on head flagship devices

Hate hp laptops.. Still loves to hear good news

This partnership with hp is gonna do some really good things for both the companies.

No, Compaq. HP was making PocketPCs all the way up until the WP7 era. They simply restarted and with the same strategy they had before: low volume commercial but available to whoever wants one.

New Nokia is free of failed mobile platforms.

In a sense of believing in Microsoft, yes. In the audience they are trying to get, no.

The hardware it's a lot more powerful spec wise than what Nokia put out and we know people are spec mongers. It's also not confusing like illogical number system Nokia used so I'd say HP is off to a better start that Nokia!

Liking the sound of this from HP

So MS can just build a light weight dumb HoloLens headset without PC (4GB Cherry Trail PC) inside and instead provide a built-in Dock for X3 or Surface Phone? HoloLens display will support Continuum and AR. That works for me. :-)

This partnership should get them both profit, giving them a successful run leading to other OEMs joining the bandwagon. Especially I'd love to see ASUS's take on a Windows Mobile device.

Azure RemoteApp closing announced today..

No, it's being phased out by next year and being replaced by another solution. Do you enjoy always telling half a story to support your "facts"?

Not replaced. Maybe Citrix maybe not. Microsoft is done app virtualization. Hp phony is dead.

continuum cannot run basic processes smoothly how the hell can it run Intensive VR? too funny. This article is a kin to someday we could all have jetpacks to fly around with unlimited fuel onboard.

AR and VR aren't the same thing and Continuum runs programs and a virtualized desktop just fine. If you are going to crawl out from under your bridge to whine, at least get your facts straight.

potato potatoe. either way, continuum is slow as cold molasses..

Nice to hear "There are a lot of people in the commercial domain who are not using Pokemon Go," Focus on a market that actually works to get this done! Leave the games and useless apps to the other guys...

Both MS and hp are creating a solid market in future, not Pokemon hype.

This gives me sight of AR enabled Surface Phone
Windows Central Newsletter
Thank you for signing up to Windows Central. You will receive a verification email shortly.
There was a problem. Please refresh the page and try again.