The HP Elite x3 photo gallery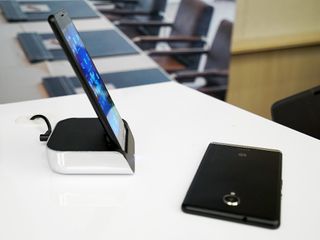 The HP Elite x3 is a stunning piece of hardware that can revive Microsoft's mobile ambitions in enterprise. It was just announced today. The phone is jam-packed with every latest bit of technology that is out there today including the brand-new Qualcomm Snapdragon 820 processor.
Missed the full specs? You can find them all here in exquisite detail. Below you can find all our photos and press images of this phone to get a better idea of what to expect when it is unleashed later this summer.
Need more? Don't miss our other coverage of the Elite x3 including:
Daniel Rubino is the Executive Editor of Windows Central, head reviewer, podcast co-host, and analyst. He has been covering Microsoft here since 2007, back when this site was called WMExperts (and later Windows Phone Central). His interests include Windows, Microsoft Surface, laptops, next-gen computing, and arguing with people on the internet.
Boy o boy... my baby has finally materialized

This does look an amazing spec phone. I just want it to also have a Pureview camera, then it would be a no-brainer. 6 months is going to be a while to wait... but this phone really is a slap in the face to anyone who ever said Windows phone is dead. This is just the start of Windows 10 Mobile.

Technically Windows Phone is dead, but Windows 10 Mobile? Still lots to come.

The 950 is like the ugly duckling next to this beaut!

Still thinking about all this. I wonder about looking back at how the BlackBerry evolved into a business phone liked by so many years ago and maybe by some still today. Original Nokia phones that kept itself maybe in a measured design progression. MS, since purchasing a segment of the cell brand, either handcuffed by that merger and/or not, seems to be following their own lead on challenging other manufacturing to bear the costs to create something like the x3. And here is the result. I tend to think that this will allow MS to possibly create the same(surface phone?) as their own limited high end brand without having to compete in the manufacturing costs. (Low end MS phones to saturate Windows Mobile 10 forward until competition catches up)

Beautiful phone. My only hang-up is the lack of a dedicated camera button.

Agreed. Maybe they'll add one to the final version.

1997 called, they want their choice of wallpaper color palette back

Wallpaper color palette? What are you talking about, man?...

Does not have *every* available piece of tech, notably the zoom capabilities of 2013's Lumia 1020. If only...

Cool stuff glad HP made a windows mobile phone

OMG! HP, you've created a thing of beauty! CONGRATS!

This is the Surface Phone before the Surface Phone! One picture at a time -- LG V10

I despise chrome on anything. Looks so cheap and nasty. Having said that, the rest if this device is spec heaven. My only request would be to make it smaller. Bit big for me.

I despise chrome on anything too, but on picture 8/18 there's a all mate black deskdock so perhaps there will be an all mate black version!

How are you guys viewing the gallery?
The new Windows Central app doesn't have a link to the gallery (either that or its hidden well).
The old Windows Central app crashes when I try to open the 18-photo album.
The Windows Central website is slow as ***** and utterly useless in the Edge browser.
Any suggestions?

And I thought there's something wrong with me.

I thought I was the only who finds Microsoft Edge ****.

Looks like a cheap HTC imo. Not going to move many units. WP7 had a lot of phones like this and they just don't sell.

Apparently businesses already have lined up for this phone so that will probably be wrong. This is truly the kind of phone Windows Phone needs. This is at least tempting enough to consider coming to an OS with a work in progress app ecosystem. Not many other phones have that affect. One picture at a time -- LG V10

Is there any way to view the photo gallery on the new wc universal app? If not then please add this functionality

wow i think im in love lol. I have to wait and see what the camera is like and if it compares to my 930 and if gestures beta will work with this phone but so far it looks awsome, including the huge battery we havfe all been wanting in our smart phones. Is that a non pretruding camera 1 see?

I wonder how much the full bundle will cost companies: the phone; the laptop thing; the dock; the monitor, keyboard, and mouse; and whatever they charge for their cloud-based software thing.

Laptop extension looks so nice! Question, Does continuum support remote desktop app?

Article sure says photo gallery but cant find any of them using new WC app.Confused!!

Thank you Hp... For giving we the windows fans something to Bragg about...

I agree, this phone is damn powerful

Well I've been pretty fortunate with the 950 i just got have'nt had any major issues, i'm happy with the 50 size think 5.9 is a bit too large for me

That is one nice looking phone.

I see no HDMI connection on the dock....:sad panda: I still want to make a baby with it though.

Interested to know if the lapdock will sell separately and work with a 950 XL?
Windows Central Newsletter
Get the best of Windows Central in in your inbox, every day!
Thank you for signing up to Windows Central. You will receive a verification email shortly.
There was a problem. Please refresh the page and try again.