HP says it won't stop selling Elite x3 this year (updated)
A new report suggests that HP is planning to kill the Elite x3 with Windows 10 Mobile in November, after just a year of sales.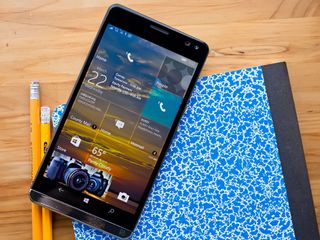 Update: HP has responded with the following statement:
Original article follows.
It appears HP is planning to end sales of its flagship Windows 10 Mobile smartphone on November 1st, according to a new report. Windows United claims that on November 1, HP will stop selling the Elite x3 in stores, with support for the device ending almost a year later in October 2018.
The cancelation of the Elite x3 isn't much of a surprise considering Microsoft's lack of interest or care for Windows 10 Mobile in 2017. After carting off development into the feature2 branch, Windows 10 Mobile itself has been left out to die as the rest of Windows 10 development continues on through Redstone 3, Redstone 4 and beyond.
It's a shame, too, as the HP Elite x3 is one of the best Windows phones ever to be available on the market. Unfortunately, due to Microsoft not caring about Windows 10 Mobile, and the Elite x3 itself costing $700 at launch, the device appears to have underperformed for HP internally.
What are your thoughts on the cancelation of the Elite x3? Let us know.
Zac Bowden is a Senior Editor at Windows Central. Bringing you exclusive coverage into the world of Windows 10 on PCs, tablets, phones, and more. Also an avid collector of rare Microsoft prototype devices! Keep in touch on Twitter: @zacbowden.
What was the point for windows 10 mobile ? Only to experiment with us users . Its a shame

Surprise the Elite lasted this long, besides the fact that it will still be available for a few MO months.

I see that ValueAct has sold it's Microsoft stock and their CEO is abandoning their Microsoft board seat. They wouldn't do that unless they saw the end coming. Once the cloud sales start coming back down to reality level, everyone will finally realize what Nadella's leadership has done.

uwp.pc on win10.pc, win10s and win10.arm? A freshman or startup would have no other alternative unless they are giving up win10 ecosystem entirely.
uwp.xbox on Xboxes.
uwp.iot, uwp.ar/mr.
BC, FC, XPA, free-unlimited-cross-platform-cloud-sync, store-region-hot-swap, GamePass, making Xboxes a complete ecosystem.
Office360, Azure, OneDrive on Demand, free project management tool / svn in Visual Studio, C#, open sources projects, #1 contributor of GitHub, etc...

UW doesn't make sense unless mobile is fully supported.

win10.arm runs what win10pc and win10s runs, are you saying devs should ignore all PC markets and majority, creators (game, design, music, office people, etc) should abandon PC this point onward?

Surprise HP stuck with WM10 for so long.. longer than MS who discontinued sales in LESS than a year with Lumia 950.

https://www.youtube.com/watch?v=_elqLDSt36k

Hopefully they will be on clearance now :)

I've just switched from the X3 to an android, should have done it long before. X3 and WP was just too buggy with now some essential app and entreprise support missing. I will however miss it's clean design and feel but it just wasn't enough anymore... PS Thanks MS for making me waste my money.

Buggy? In what way? X3 has been terrific and with firmware and MS updates it has only gotten better!!!

You mean like actually dumping Window Phones in a fire?

Well that's one way to at least make this phone useful

Take em to a landfill in Arizona... Those E.T. carts for the 2600 will finally get the chance to phone home.

Best response to this thread, regardless of how you feel about Windows Mobile.

thought there was a new x3 coming out? Im guessing that HP got fed a line of bullshit like most of us former windows 10 mobile users did from MS.

I'm guessing Microsoft didn't make more Lumias (or Surface phone) because they promised HP and other OEMs they will not compete with them. But, I strongly believe HP would have been more successful if Microsoft had also released newer phones. May be the ecosystem would have attracted other OEMs to release their handsets as well. I think, the PC market would be in a worse shape if not for the Surface line.

MS believed that they would have cshell (WoA) working well, as it was demoed on an 820 last year, and that was probably behind schedule.
It has taken them too long and so no devices have been released.

@Steve Adams; I think there is a new one coming maybe x4 naming or something including a new product line of devices. The new device will be more powerful than the x3 with a new processor including more memory and storage. The new Snapdragon makes this possible.

Windows on the new Snapdragon I holding out even though I in the market for a new phone I think I can wait on Windows 10 on a Snapdragon processors and since I'm in the market for a new desktop as well and Dell may solve the whole range of devices for me so yes I gonna wait for a while longer.

And it will be running Android!

It will came with android Its not a joke

Yeah HP might be heading the way Blackberry did and go with a secure locked-down version of Android.

Doesn't exist, lagdroid most insecure OS ever. Then there is the scroogle play store allowing malware ridden apps over and over.

https://mspoweruser.com/report-hp-experimenting-intensively-android-hp-e...

I would say that the amended comments from HP in the article more or less comfirm that they will move to Android.

Saying they will sell it through 2019 says they will move to lagdroid, that is a big stretch.

The "lagdroid" thing was funny when WP8.1 was around, with W10M it's no longer funny because...you know.

W10M was made to par with windows 10 PC for productivity, was most useful system, but people belive in lagdroid because lagdroid is least useful system.

I fel like you need to at least reach High School before you are allowed to comment on articles.

Support until October 2018. So that's approximately my deadline. If Microsoft has at least shown a promising upcoming mobile solution by then, I'll happily shift to that. Otherwise, I will admit defeat and move to either iOS or Android - I keep going back and forth on which one it would be. If I do switch, it will probably take something much more dramatic from Microsoft to win me back later. I know 2 years is a pretty common support timeline for Android phones, but only 2 years on a business-centric Windows is a bit disappointing.

I've finally decided to dip my toe into the Android world and bought a Huawei P8 lite 2017. I have a 950XL. Its a surprisingly capable phone. I paid £150. A new iPhone X is £1000 so ios is not an option. The Lumina 950XL is still a great phone but enough is enough.

I will admit defeat and move to either iOS or Android - I keep going back and forth on which one it would be. If I do switch

Yep, I'm in the same place. Currently experienmenting with an old Note 3 running Nougut & an iPhone 6+ to see which I prefer.

I will use each mobile as my daily driver for a couple of weeks. It took me an age to set-up the Android's home screen. Think I've finally got a configuration & app combination I like using the Arrow Launcher - so enjoying the Android more now.

Next up is the iPhone.

Once I decide on the platform, I plan to get either a Samsung Note 8 or iPhone 8 Plus.

FYI Android phones have gotten significantly smoother and more reliable since the Note 3. I'd reserve all judgement of the OS for the phone you are planning to get with it.

I moved over to Android, say goodbye to smooth scrolling if you do. For the first few days it was smooth, but after a week or so the cracks show. Android is still laggy and there are still screen resolution issues and you still have to customize the phone to make it look ok. Apps are nice though.

It is not going to happen. May as well leave now and enjoy what Android and iOS has to offer. No need to wait. I held in there forever but finally jumped ship earlier this year. Best thing I've ever done.

I'll keep using my L950XL until next Fall. If there is no sign of life on the MS' Andromeda/CShell mobile front, I'm thinking to swtich to Samsung Note (2018) which is supposed to include a foldable screen.

I recently read that the NYPD was forced to dump thousands of Windows Phones when MS released the Windows 10 Mobile update from the 8.1 OS. The NYPD phones had several custom apps. and features unique to police needs and MS apparently never wrote updates for those apps to work with Windows 10 Mobile, rendering all those phones useless to the NYPD. When you consider that MS paid billions to buy Nokia and since then has allowed the brand to die simply makes no sense. I am now using a Lumia 735.This is the last Windows Phone that will work with my carrier (Verizon), and I'm simply waiting for the End of Service Notice next Spring when I'm forced to move on to another phone.

@Concob: Actually, the Lumia 735 will not be the last Windows Phone for Verizon. Per two HP sales reps listed on the link below, a version of the HP Elite X3 that is compatiple with Verizon is getting released in Mid-October. Check out the thread I've been updating in the WP Central X3 forum. The HP Sales rep on currently listed on Verizon's Elite X3 web page has comfirmed it's currently in production and will be available for order via HP.com and the Microsoft Store in a couple of weeks. Hope this helps! https://opendevelopment.verizonwireless.com/device-showcase/device/4916

I'm rocking my X3 and love it. Still the best phone on the market. I pick up the S8, Note, iP8plus etc. and I feel underwhelmed. I recently purchased The Moto G5 Plus because as far as specs goes it is unbeatable at the price it sells for. I have had it for two weeks now and the phone is excellent - charging, battery life etc. Couldn't have asked for a better mid range phone. I got it for one reason - I need to take payments with the Square system and it's just not available with WM. Android is a terrible OS. It is overly complicated taking many steps to do simple things that are so easy with WM. I always use my X3 even though the G5 is fully set up with everything Microsoft inlcuding MS To Do, Outlook etc. My wife has a 950xl and still loves it over her iPhone for work, but she will have to get another phone soon, and it WILL be the iPhone either X or 8+ because for her business' she needs certain apps. She isn't happy about it though because she much prefers the WM OS and the camera of the 950xl. I highly doubt the camera of the iPhone X will be as good as the 950xl in some ways, but other ways it will. I have also been preparing for what seems inevitable becasue of Satya. I am preparing to look at the Pixel2, the LG V30, the Hauewi (Spelling??) the Xiomi, The Essential, Nokia 9/10, but quite frankly, I'd pickup a Surface device with telephony anyday of the week. Quality of Surface products is just superb. So, in conclusion, I totally understand where you're coming from. :(

You can use PayPal on windows phones they have a free card reader that plugs to the audio jack and their rates are better than those of square

I'm less concerned about the cancellation of this specific phone as much as I'm concerned that Microsoft has burned its hardware OEMs so many times at this point. Will they come back if/when MS has a new mobile offering?

Thats the reason they need to have a full Windows. MS will never abondon Windows and if they release a phone or whatever with full W10 then they can never technically abondon it so OEMs could make devices as they need/want. W10M was always an offshoot of W10 and had to be maintained separately.

You know what will sell less than W10M? Full Windows on a phone. That will never happen. Read the article from last week. That isn't in the plans. Andromeda is supposed to make Windows modular. Full Windows on a phone would be unnecessary, they need to be able to cut out the unneeded bits.

Exactly. Andromeda is full windows it just adapts to the form factor with differing gui elements.

It's my understanding that Andromeda is full windows but allows features or modules not needed to be disabled /not included to get what you need, so that would work for a phone too and allow OEMs to better differentiate too.

Are you so sure they won't abandon full Windows? It's already moving to SAS, and almost everything they're doing on the apps/service side is being developed for iOS and Android first and better. Why wouldn't they just drop the Windows pretense and just focus on services that are platform agnostic? I won't be surprised.

I wouldn't say everything being better on other platforms. I've used Groove on Android and it's definitely inferior to the Windows 10/Mobile versions.

But there is no reason to use Groove on Android. There are so many better options available.

Actually there aren't. I had my friends plow through the hordes of unrecognizable music players on Android to get a sense of the features, there is so much crap you can hardly find one that covers the bases.Groove does a surprisingly good job over there. Also noticed there are no capable Contacts apps and Android really lags behind WP (and even W10M) in that department. I mean try to get Telegram messenger to sync its contacts with phone contacts. almost impossible without spending lots of time trying to find some obscure app that wants to access everything on the phone to do this...it's a shame really the good things WP had and what Microsoft wasted with their idiotic management style.

Google Music, Apple Music, Amazon Music, Spotify, and any of the other music services are available and fully supported on Android. Windows phone is severely gimped when it comes to music apps. It really takes some real acrobatics to argue the opposite. Same with contacts.

So? How do I get One Drive integrated into Android so it works the same as Windows Mobile 10? How do I get the Outlook Contacts to sync when they refuse to do so? How do I get the Onedrive photos to automatically upload on Android? Having music services does not give me what I need daily at all.

Those are all issues with Microsoft services, not Android. If Microsoft services aren't working for you, maybe you should switch to better ones or inquire with Microsoft why their software is subpar. I am quite sure Microsoft fixed the contact issue through their Outlook app. That is the only one I have experience with. All the services I use work just fine on Android. I stopped using Microsoft services years ago because I was sick of their half baked and poorly implemented nature. Maybe it is time to move on from Microsoft, everyone else has for a reason. You can still use just Windows fine without Microsoft services.

Why would I move from the services I use everyday? Oh gee look, everyone is jumping off the bridge into the freezing waters, I guess I will to as well. LOL! Dude, claiming "everyone" is doing anything is something that worked in middle school, not as an adult. I told you what I need, not what you want me to use. I am the customer, not a sheeple follower.

You should stop using them because they aren't working for you. You just listed the issues you have with them. It is no secret that people have been moving away from Microsoft. That isn't a crazy statement to make it 2017.

Forget it man, you are not listening to me, as the customer. I am not moving away from what I am using every, single, day. :) I said what I wanted and needed to use Android, not the other way around. It is one of the biggest reasons I almost always use my 950 and that is that.

That ship is sinking for a reason.

Not sinking at all but, it is barely moving under its own power though.

@lbp775 why on earth would you use Groove, an outdated music library, on Android where you have so many options such as Google Play Music, Spotify etc.

All my music I own, and I keep it online. I have 90GB of music that I don't have to pay a monthly subscription for or use space on my device/s (phone/tablet/xbox). That's why I use Groove. Is there anything on Android that allows me to do the same?

That is the sad truth about MSFT burning all of it's OEMs in the past couple of years (HTC, Samsung, LG, Alcatel, Yezz Billy, BLU, MicroMax, VAIO, HP, ...) Even the thing where HTC and LG originally started with Windows phones and then moved to Android because of MSFT's incompetencies to make WP better.

It's true. I still remember my HTC Touch HD with Mobile 6.1. An excellent phone but rendered obsolete by the Iphone due to the OS not keeping pace. People had been hoping for so much more from Mobile 6 with regards to user friendliness, but were ultimately let down by Microsoft. The die for failure was cast at around about this time.

I am curious about the performance expectations HP had. Were they not paying attention? There has never been a successful Windows phone and they priced this thing in the stratosphere, especially with the software package they offered. This outcome was more than obvious.

Well, judging by the people that Windows Central interviewed from HP back then, they were either: 1 - Completely deluded and unaware that WP10/W10M had no future; or 2 - They were tyring to pull off the stunt Nokia pulled and get Microsoft to buy them out. This one obviously backfired 'cause Ballmer's not around anymore and Nadella isn't as stupid as he was to burn away cash to buy another mobile division for an OS without future. There was a lot of talk about "HP did what companies told them they wanted". I'm pretty sure they probably spoke to one company and that was it. I highly doubt any major corporation has ever told HP they wanted a WP10 phone.

@Djcbs Where I work, we were offered this X3 to test when it was launched. I can never forget the laugh we've had with this buggy crap. And HP even tried to tell us that the 722EUR price for us was a correct one for a, how did they mentioned it.. "a future proof device" :)))))) Lucky for us we are enough people with brains here to avoid wasting company's cash on a mediocre DEAD platform so we told them: No thanks! We have your laptops, desktops, printers, 2in1s, but please do not come to us with another wincrap phone again.

So he burned 5x more on LinkedIn

Tomorrow Jason will have an article saying how this is part of Microsoft's mobile strategy lol. Anyone who is surprised by this must be really drunk from the Microsoft koolaid.

what jason doesnt get is that ms is burning bridges with gasoline...heading to ms ignite now. will let you guys know if anything remotely related to mobile is announced. sataya is keynote.....sigh!

This comment made my day!

lmao! You're wrong for that one. I try to give Jason the benefit of the doubt, but its hard to tell sometimes.

:)))))) LOOL HP finaly realized there is no use in trying to sell tthat device with a pathetic OS. Good luck for the few who wasted their money on another DEAD device :))))))

Wow, so I guess the refresh might not be happening :(

Not on that chip at least.

They have been looking at Android according to reports. https://mspoweruser.com/report-hp-experimenting-intensively-android-hp-e...

That is all the "refresh" of his book is all about... Kill innovation and depend on cloud for profit

Glad, but still feeeling betrayed, that i went with the Galaxy S8+ instead of the Elite X3 when the MS store offered a replacement for my 950XL

Oh well. So much for the Quick Specs detailing a variant for Verizon. I was hoping for that, to at least hold me over until whatever's next for Microsoft in the mobile arena. sigh...

Mid-October release for Verizon. Check out the thread I've been updating in the forums. I spoke to the HP Sales rep on this page who comfirmed it's in production and set for mid-October release for Verizon: https://opendevelopment.verizonwireless.com/device-showcase/device/4916

It's amazing it lasted as long as it did. Oh, and Zac, what does 'the device appears to have underperformed for HP internally' mean? I would have thought that the external underperformance was the problem.

It simply means it didn't hit their internal sales numbers.

Thanks Capitan Obvious>...I could have told you it never met sales numbers....

Thanks but the point I was trying to make was that they were unlikely to have external and internal sales numbers. Therefore the word 'internal' is pointless in Zac's sentence.

I think they call them internal sales numbers because they do not publish them.

Was saving my pennies to eventually replace my 950 with this or a newer model; but this yet another "slap-in-the-face" situation tells me I'm destined for a Samsung or OnePlus...thanks, MS.

In Australia I was waiting for the price to dip below the ridiculous price of AU$1,099. I would snap it up at closer to $500

it was around 230 US$ here in PH last week. but right now it was 375 US$

This shouldn't be that big of a surprise... MS has already discontinued RS Feature 2 (and below), hardware capabie phones, which is what the Elite X3 is - HP would be just setting there "officical" commitment period. I was told that any phone that expected to run any future builds above Feature 2, would have to be equipped with a Qualcomm 835, minimum!

So, you're saying a new Elite x3, like maybe an x4? lol

on the plus side we can wait unitl the last few are sold and grab a bargain. Exact what I did with lumia 950

I've never really loved my Elite x3, it's no Lumia 1520, it has a poor camera and no camera button. Add to that the ropey firmware and I've been living with a disappointing phone for a while. My brief trip into Android before this taught me that Android is amazingly dull, and Apple is just beyond the pale. I'll just continue with the x3 for the time being, but we've never lived in a less inspiring time for mobile.

AppleDroid in a nutshell 🤣

Android really needs colored squares around their icons along with square, gimped widgets. That would really make it exciting! Oh wait, you can have that easily on Android.

Dude you can't even sort the apps alphabetically on Android. God forbid you can access a search feature to quickly filter the list of apps.
For all this "choice" talk that Frankestein's monster you can an OS fails at pretty basic things that require hours of searching and fiddling to somehow, maybe work.

Either you haven't ever used Android or you are using a launcher that doesn't list apps alphabetically. If you want that, there are plenty of launchers available incuding Google's. Almost every Android phone has a search bar right on the homescreen and many have one right on the top of the app drawer! Your experience is very limited or you are just stretching the truth to fit your world view.

There lies the problem, doesn't it? At one point we are arguing whether "Android is good" and at another we don't even know what we are talking about. I happen to have played around with a Xiaomi Mi 4 which apparently comes with MIUI and that neither sorts the apps nor allows you to search in the list. "Solo" launcher, "Holo", "Hola" and "Nova" launcher lacked one or another as far as I remember. I happen to have just installed Google Now launcher and when searching in apps, if you search for "book" you won't get Facebook. As I said, for all this "choice" you have to wrestle with it to get even get the basics right. This is the whole point: it doesn't just work. It makes you work and that's one of the reasons people on iOS are not so fond of Android. WP had gotten most of these right. It was fast, and as far as the UX goes, well thought out and wasn't as limiting as iOS. But it's gone, so there is no more any point in arguing whether it was better.

Any Android phone does just work in its own way and can be customized to work differently as well. I would expect Windows fans to understand choice and options, and that is why Android became so popular and Windows phone didn't. Open Android was better targeted at Windows fans while locked down Windows phone was targeted at Apple fans. Good luck selling Windows phone to Apple fans! We know how that turned out. Windows phone didn't work for me at all. The single row app drawer is terrible, LIve Tiles are just square featureless widgets and everything seemed to work in slow motion with all the real smooth animations everywhere (that seems to be fixed in W10M). Coming from Android, everything just seemed so slow to happen in WIndows phone and felt claustrophobic because your options were so limited. The "my way or the highway" approach of Windows phones was a bad strategy for Microsoft.

The APP Drawer will make things alphabetical, thankfully. I have my Honor 6X mostly where I would like but, until I can make it as well integrated as my 950 in the ecosystem I use, I will stick with switching back and forth.

To me Android just feels like a bunch of lifeless static desktop short cuts. It lacks the coolness of live tile showing me the latest news and vital information. Many times in the day I click on the news tile because of an interesting news photo or news headline.

>My brief trip into Android before this taught me that Android is amazingly dull, and Apple is just beyond the pale. They're both capable of doing their jobs and doing their jobs well. What, do you want your phone to sing Cabaret for you? IT'S A PHONE. Who cares if it's dull or pale? You buy it so that it serves you.

Mobile is dead for the most part. It is just a matter of time before something new comes about to take its place. Probably a folding phone. Question is whether Samsung builds theirs before Microsoft.

ZTE had one coming next month. Even if Microsoft somehow was first, it wouldn't matter because they have the difference experience ready to make a great device.

Microsoft had played their cards right they could have used ZTE to exploit the ultra low end, where Nokia would not tred. But yeah, Microsoft. ZTE does this successfully on Android, again and again, giving us great phones for like $20. And they were successful enough with the strategy to finance some pretty good mid teir phones. A $100 ZTE can feel like a $300 phone from someone else. People sleep on ZTE, but they make some interesting devices. I'm on a ZTE right now.

Others will always be better and successful, unlike MS who will fail every time.

Technically a folding phone is still a mobile.

I'm in the same kind of place. I don't like the thought of returning to Android, although I admit to some curiosity about what has changed for the better over the last 3-4 years. I think I could probably tolerate iOS. In fact I'm wondering about going back to a small and easily pocketable device like iPhone SE. I wonder if they'll put out an updated version of the current one. I'm just not ready to put aside my 950 XL. I still enjoy using it.

I won't be surprise the x3 was a MS funded project and HP will be making a new "mobile PC" base on whatever crap MS put out next.

Sad news I'll just keep on using my 950XL until it dies

The Elite X3 is available in some online stores for $230, planning to buy it for novelty as my last Windows phone. My Lumia 1520 is still a beast though and still useful in most situations. I'm a Microsoft fan and doing some UWP stuff at the moment. But our studio will abandon ship regarding UWP by early next year. With regards to Microsoft's consumer-facing endeavors, we thought the safest recourse is to run away from their empty promises. Lessons learned.

Next Article: Jason Ward writing about how it will help Microsoft's mobile strategy

Please no...the Internet is running out of storage...

Great, a good partnership and phone coming to an end. I thought there were rumors of a new X3 coming out in the fall. Oh well.

Next Article: Alcatel drops their phone production!!!

HP must be so pissed with Microsoft. The planning, design, development, production and marketing of that device would have cost them $$$Millions. Would love to have been in the meeting when HP found out W10M was being killed..."WHAT THE #$&@#$ DO YOU MEAN THEY'RE KILLING IT!!! WE'VE JUST SPENT A BAZILLION DOLLARS MAKING THE GODDAM PHONE! THOSE EVIL MOTHER $&#@$£!!!!!" Lol On the upside, at least now we know that Microsoft don't just totally shaft the consumer end of their customer base, they'll also happily stick one right up their manufacturing partners too. Equilibrium........

I think the rumours may have been an Android version, but who knows. You can't blame HP for doing this, MS had pretty much abandoned mobile before the HP came out.

Well, now that Dex is a thing, I can see HP bumming that off Samsung and running with it on their new X3 device you can actually do things on!

Microsoft should just partner with a good Android OEM like Motorola. Office apps, Arrow Launcher, and Onedrive work so well on my little Moto E4. Its too late to get into the o/s game on phones. I am amazed how well the little snapdragon 427 runs in this less than $100 phone. Its a perfect example of how well Android can really run without bloatwear. Microsoft could just sell it as a "office" phone. I don't think the new Windows On Arm is targeted for phones.

Uh, Microsoft shifted to silence as a strategy on Mobile. HP had zero marketing for it. How else was this going to turn out...? I even picked up the x3 and the Lap Dock, and returned them since I already have the Lumia 950 XL. Very interesting capabilities, but didn't see a reason to keep it over the Lumia...

Actually HP did market the Elite X3 early on. Maybe you missed it. As of late, none at all.

MS make us as idiots. I'll never forget this because I put my money on trash.

I don't know about it being trash. My L950 that I've had for 2 years still works.

But all the Doom and gloom and now HP says they will make this phone through 2019. Maybe the writer should have got the quote from HP before publishing the article

Yes, but I could easily see them stop selling through retail and only make enough to support existing enterprise customers needs.

They say that they are going to keep selling the Elite x3, but nothing about wich OS. It is gonna be Android.