Newly announced HP displays offer 4K, 5K, curved designs and virtual reality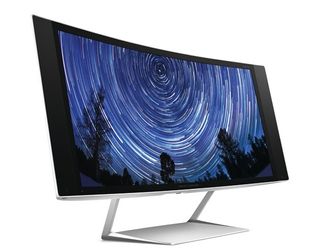 CES is just getting started and HP has already taken the time to announce some new products. The company has unveiled a number of new monitors, bringing 4K, 5K and even virtual reality to the modern day desktop environment.
HP will be competing against the likes of Samsung for market share on curvy screens. The company today unveiled new curved monitors, in both 27-inch and 24-inch variants. The new displays, branded Pavillion 27c and Envy 34c respectively, are marketed for business applications.
Choosing the Envy 34c will bag you a monitor with a resolution of 3440 x 1440 (21:9), dual HDMI support (with MHL) and a DisplayPort. The Pavillion 27c is a more down to Earth option, sporting 1080p resolution and support for VGA, HDMI and MHL. The Pavillion 27c is available now for $399, while the Envy 34c will arrive in April at $999.
HP also announced new 4K monitors, with both a 23.8-inch and 27-inch model to launch this year. Sporting a resolution of 3840 x 2160, the displays are identical when it comes to specifications and connectivity. DisplayPort joins DVI, HDMI, Mini-DisplayPort, MHL and three USB 3.0 ports. The Z27 will be available later this month for $749, while the Z24 will arrive in April for $549.
A 5K model will also arrive in March, if you're interested in parting with $1,299. The HP Z27q boasts an IPS display with a resolution of 5120 x 2880, as well as a similar port setup to the above 4K panels. A new 5K screen for under $1,300 isn't a bad deal.
Finally, the HP Zvr will enable owners to rotate and manipulate content on a 23.6-inch 3D display using a pair of compatible glasses and virtual reality. Four cameras are mounted on the screen to track head movement, as well as detecting just what you're looking at. Think of this monitor as the gateway to virtual-holographic 3D images.
This particular monitor supports both Dual-link DVI and DisplayPort. HP states that the Zvr will be available early Spring 2015.
Check out the press release below for more details on the new HP monitors.
HP Debuts Virtual Reality Display Reducing the Barriers Between Digital and Physical World
PALO ALTO, CA--(Marketwired - Jan 5, 2015) - HP (NYSE: HPQ) today expanded its portfolio of computer monitors with an interactive virtual reality display, 4K and 5K ultra high-definition displays and curved displays for consumers and professionals. Designed to immerse users into a variety of digital experiences, the new products include:
HP Zvr Virtual Reality Display: Rotate, manipulate and navigate 3D images from the 23.6-inch diagonal interactive display. The HP Zvr will change how users think, work, and create with virtual-holographic 3D images.
HP Z27s and HP Z24s 4K Displays and the HP Z27q 5K Display: Ultra high-definition (UHD) solutions aimed to increase productivity by expanding the visual workspace and connecting to more devices.
HP Z34c, HP ENVY 34c, HP EliteDisplay S270c and HP Pavilion 27c Curved Displays: An immersive personal experience that will enhance visual perception and audio experiences.
"HP's new displays complement our goal of delivering new technologies that maximize the visual experience and change the way people work and create," said Jun Kim, vice president and general manager, PC displays and accessories, HP. "HP displays feature performance, innovation, reliability and outstanding image accuracy that we believe will transform how customers connect and interact using technology."
HP Zvr - A Step Closer to True Holographic Viewing
The HP Zvr Virtual Reality Display provides for an immersive, real-time exploration and manipulation of 3D content. Imagine dissecting a frog or exploring an office complex without getting messy or leaving the desk. HP Zvr, powered by zSpace technology, is another example of HP's Blended Reality technologies that helps reduce the barriers between the digital and physical worlds, enabling users to express themselves at the speed of thought without the filters and limitations that technology currently places on them.
Users will appreciate real-time, natural interaction that allows people to work with virtual reality applications the way they are used to working today. Users interact seamlessly with a high-definition 3D stereoscopic display combined with full-motion parallax and direct interaction, delivering an intuitive user experience with lifelike realism.
The HP Zvr display is collaborative, allowing people to work together the way they would today, choosing to look at things in the real or virtual world, even while using the platform. The optional HP zView solution also allows real-time sharing of 3D models to a 2D big screen. Dual-link DVI or DisplayPort connections to an HP Z Workstation provide easy connectivity for architectural, MCAD, education, and scientific content.
Ultra High-Definition Displays(2)Deliver Outstanding Image Quality
HP's two 4K displays and its 5K display increase the viewing of image detail, can connect to multiple devices at once and are intended to increase productivity. By upgrading from a full high-definition display users will quadruple the real estate of the screen -- allowing users to see more data in spreadsheets, keep multiple windows open side-by-side or program more lines of code. Additionally, the new media being filmed in 4K (and higher formats) can be fully enjoyed to the smallest details and new scalar technologies combined with higher resolutions let users see a mobile phone, notebook and tablet all at once on the screen.
Users will enjoy 3840 x 2160 resolution on the HP Z27s (27 diagonal inches) and HP Z24s (23.8 diagonal inches) displays. These two 4K displays have a 16:9 UHD panel, with the sRGB or AdobeRGB color gamuts and 1.07 billion colors for incredible color presentation of highly-detailed digital workflows. The displays include DisplayPort, DVI, HDMI, Mini-DP, MHL(3) and USB 3.0 connections and are equipped with a four-way ergonomic stand, including pivot to switch quickly between landscape and portrait modes.
The HP Z27q Display has a 5120x2880, 5K wide-color gamut. It delivers seven times more pixels than a classic full HD display -- packed in a factory-calibrated IPS solution. The HP Z27q boasts premier imagery with 14.7 million pixels, 16:9 aspect ratio, 300 nits luminance(4) and 1.07 billion colors. The HP Z27q offers picture-in-picture and picture-by-picture, allowing users to display mobile device and PC feeds.
Curved Displays Enhance Visual and Audio Computing Experience
The HP Z34c, HP ENVY 34c, HP EliteDisplay S270c and HP Pavilion 27c Curved Displays deliver an elegant, immersive, curved visual and audio experience with enhanced peripheral readability. These HP displays offer an exceptional 3000:1 CR and low-haze enhancement technology to reduce reflectiveness without losing clarity, with an expansive 178-degree field of view. Users can mirror smart phone or tablet content to the screen through an MHL connection that also keeps devices charged and ready to go.
The HP Z34c and HP ENVY 34c 3000r Curved Displays, measure 34-inches diagonally, feature a wide 21:9 aspect ratio. These HP displays support a 3440 x 1440 ultra-high resolution with 98 percent sRGB and a premium 6 watt/channel speakers with DTS Audio. They include a VESA-compatible bracket(5) and offer picture-in-picture and picture-by-picture which allows users to view device and PC feeds at the same time.
The 27-inch diagonal, HP EliteDisplay S270c and HP Pavilion 27c 4000r Curved Displays feature a 1920 x 1080 full HD(6) resolution, 16:9 aspect ratio and 95 percent sRGB color gamut. They have integrated speakers with 4 watt/channel speakers with DTS Audio.
Price and Availability
HP Zvr expected availability is Spring 2015. Pricing available upon request.
The HP Z27s, and HP Z24s displays are expected to be available worldwide beginning in January and April respectively. Estimated U.S. pricing starts at $749 and $549, respectively.
The HP Z27q Display is expected to be available beginning in March at an estimated U.S. price of $1299.
HP Z34c and HP ENVY 34c are expected to be available worldwide beginning in April at an estimated U.S. price of $999.
HP EliteDisplay S270c and Pavilion 27c Curved Displays are available now for $399.
Windows Central Newsletter
Get the best of Windows Central in in your inbox, every day!
Rich Edmonds was formerly a Senior Editor of PC hardware at Windows Central, covering everything related to PC components and NAS. He's been involved in technology for more than a decade and knows a thing or two about the magic inside a PC chassis. You can follow him on Twitter at @RichEdmonds.
Sure is pretty. I like the concept of a curved screen, but you need to be sitting in the sweet spot, otherwise, you may get parallax effect.

What's parallax effect? Will it cause nausea"

It's where you'd get a slightly different view of the background based on your viewpoint. No, it should not be nausea inducing. Seeing the curved TV, there was no parallax effect that I could discern, but that would be because I was seeing the screen from the perspective of the camera, just off to the side. The one quibble I do have is when you view the picture straight on, the center of the picture appears the curve inward (like a bowtie shape). The line of thought is by having the screen curved, anyone watching will have a clear view of the screen, rather than the sides being hard to see.

Followed by explosive diarreha but you get used to it.

Curved is perfect for a monitor since you sit in front of your monitor. The TVs I find are a pointless gadget that people buy just to say they have it.

Have you used a curved tv before, ever?

I feel like 2015 is going to be a big year for displays and what they will be capable of. Might even come to phones.

Like we're not in overkill territory for phones already.

Yeah lol. The lg g3 being a good example. But I mean that maybe phones will get that virtual reality Tech. Not the type of vr in these displays, more of that 3d touch thing from the Nokia Goldfinger rumors. In my opinion phones shouldn't need to go past what the g3 has now.

Yeah, I always say that. On a small phone screen, there is no real difference between 480p and 4k. I bought a 720p only because of remote desktop. 1080p is more than enough even for remote desktop, they should focus on other things like bring back 3d support. And lower battery usage.

Might be a big year but not coming out of my pocketbook.

Your Canadian, right? Your government will find a way to pry your pocket book open.

I can't wait for a curved screen 6" smartphone in carry in my slim jeans!

2nd paragraph typo 27 and 24? You mean 34 right?

We will all need better eyes soon...

You'll need hardware which produce a lot of juice to handle resolution like that :)

I'm just not buying this curved screen stuff... at least not in it's current form. Bendable might have possibilities, but curved seems useless to me.

In the TV space the curved screen actually causes image distortion and is hopefully a fad that dies quickly. It might be more useful in the PC monitor space because of the closer viewing distance in relation to the sweet spot.

I am not a fan of curved TV screens, but a monitor with a slight curve would be fantastic as a single-viewer display. Now if only we could see more mainstream displays in the 30-36" range that are not TVs pretending to be monitors, and resurrect the 16:10 ratio.

Off topic but...
Please consider upvoting this suggestion I just created for the Lumia 1330.
The currently leaked specs are a bit dissapointing.
https://windowsphone.uservoice.com/forums/101801-feature-suggestions/sug... Thanks. Posted via Windows Phone Central App on Android

:sigh: The WP uservoice is for OS features, nothing else.

Just let the children play.

Stop posting off topic...

And they will not sell one monitor to me. They all have the terrible 16:9 ratio. I am a coder and graphics guy, I want 16:10 or 3:2. I don't watch movies all day. These monitors are all worthless. When are manufacturers going to create something useful for professionals? I want 4K or 5K of reasonable size (like 27 inch) at 16:10 or 3:2.

Speaking of movies, movies are more like 21:9 (something like that). 16:9 is for tv.

No thanks. I'll stick with reputable brands that have good customer service. Get your shit together first, HP, before throwing new stuff on the market. Yes, go ahead an call me a Negative Nancy but so far those displays have only been anounced. No reviews so far and no hands-on.

I've had HP products for years and not a single complaint. Their printers are particularly reliable. But that's just my experience. Posted via the Windows Central App for Android

Both my cousins had HP laptops (don't know the exact models) and they broke within a year (and within the warranty). Although, HP was unwilling to replace/repair them after my cousins sent them in because according to HP the failures weren't covered by the warranty. I have two printers (one a printer, one a scanner/printer combo). They work....but they tend to cost almost all my nerves when they decide to randomly not work with USB ports and I need to un-/install everything again. They're older models but they did the same thing on my last two PCs as well (XP+Vista). There are numerous complaints from customers about HP products and most times the product itself doesn't matter because the customer support is terrible. That said, I rather purchase a product with not only the quality in mind, but also the customer support. If the products were good and I never needed to contact customer support that would be fine too, but I'm not willing to take that chance. The experience may vary for everyone but in this case I tend to rely on the gros of unsatisfied customer reviews, or even on how drastic the majority of problems CAN be, even if it's 1 out of 10. Same goes for Acer. Bought a Netbook which suddenly overheated shortly after the warranty was gone. Also, the performance went downhill after only one year, even with regular resets to factory settings.

Which printer do you have??

Since many monitors are becoming curved I bet Apple will be ibend Wait iPhone 6 bends so they don't need to implement the idea lol

Yet again, Apple did it first.

Perhaps "Hp" has already started on this technology? "curved screens"? And I thought Samsung was the inventor... XD Maybe hp was secretly doing this project? No one knows.

How can companies market 4k screens that aren't 4k resolution? 4k resolution is 4096x2160. Not 3840x2160. For me 4k also isn't worth it until there all 10bit panels with 120hz on the 4k side. But I'm glad there working on the tech at least. One day we shall reach the good point.

Actually they're 2.16K. Post 1080 era, television marketeers decided that they would sell more units if they used horizontal ppi instead of vertical. PC monitors have always based their ppi on vertical measurements instead of horizontal in the past. Now PC monitor vendors like HP have jumped on the marketing bandwagon. 4K monitors in reality are twice the ppi that 1080's are in vertical measurement.

I get that jargon. But 4096x2160 is still the correct resolution. Not what they've been selling tv wise or monitor wise. But even so being 2.16k how can they legally get away with calling it 4k?

That's not correct. 4k means 4 HD displays. An HD display is 1920x1080. 4 of those is double each of those numbers, or 3840x2160. 4096x2160 would be 4 displays of 2048x1080, which is not a resolution I've ever heard of being used.

They choose there wordings wisely in a way. Theres 4k and 4k uhd. Uhd isnt the full spectrum of 4k. Even when you jump to 8k things change. Also note that 4k and 8k have been under development for sometime now. This isn't technically new tech. It's only new for consumers.

Sure. Just to be clear on the terminology though, a "4k" display refers to a quad 1920x1080 display (literally 4 HD displays), which is exactly 3840x2160. It does NOT refer to a 4,096 or even 4,000 pixel vertical in the same way that 1080p refers to 1,080 vertical pixels. That's also why morete908's comment above is not really on-point. Also, the reference to the number of vertical pixels is not driven from the PC side, but the TV side -- 480i (US NTSC TV vertical resolution) -> 480p -> 720p & 1080i -> 1080p. PC monitors were clasically sold by providing both axes of their resolution (640x480, 1024x768, 1280x1024, etc.). In the case of 4k, this is not a reference to the resolution at all, but a multiple of the number of HD (1920x1080) displays. That said, it may well drive a transition to new nomenclature for higher-res displays, for the reason morete908 suggests.

Ok then please explain there marketing ways of 4k 120hz. Because 4k is not 120hz. 120hz is only attained when 1080p is in use. But they don't tell you that. So 4k being 4 1080 or what have you and the 120hz is all misleading the consumer. So called 4k even on hdmi 2.0 only supports 60hz. For instance the dell 4k monitor that came out is why it got bashed so hard because it can only do 30hz. Which is all but useless unless all you do is write code or edit photos.

Zeroplanetz, I believe you are correct in that HDMI 2.0 only supports 4k at up to 60 Hz (1.4 was limited to 30). But I also believe that DisplayPort 1.3 can handle it up to 120 Hz. I confess I'm getting outside my confidence zone on these specifics. You don't really need more than 60Hz in actual refresh rate in most cases on an LCD. 120Hz allows for 3D (alternating left and right images) in 60 Hz, which is one of the few places it matters. Movies are only 24 frames per second (effectively 24 Hz). I know we want games to produce frame rates higher than that, but that's because an average frame rate of 100 will frequently have slow downs to 40 fps, which is fine but noticebale, but an averegae of 60 fps will frequently drop to 20 fps (and often lower), which does become a problem for the gamer. Also, on older CRT monitors, even 60Hz was painfully slow, because you could see the refresh flicker and many people would get headaches. But for an LCD (or future LED) monitors, an actual 60 Hz refresh rate is sufficient because it will not slow down during a complex scenes and there is no refresh flicker like on a CRT. However, none of that really relates to the term 4k and its resolution. neonspark is correct on the reasoning -- economies of scale for TV production drove the change from 16:10 to 16:9 in computer monitors (against Microsoft's originial preference for 16:10). Extending those production batches in multiples was the next most cost effective step, hence the 4k being 4 1920x1080 screens.

Also theres this which is my point... The term 4K is used to describe several resolutions with a width of about 4,000 pixels. 4,096 x 2,160 was established as the native 4k resolution by the Digital Cinema Initiatives. Most of the different resolutions are used in digital cinematography while the resolution 3,840 x 2,160, which is known as 4K UHDTV (2160p), is commonly used in digital television. Now some manufacturers are in the process of making native 4k screens but the 4k term is a very misleading name for consumers. And the fact that there all almost under powered is unacceptable to me.

The matter has already beeen settled. 4K will really mean UHD: 3840x2160 (60:9) Why? because that is what the UHD TV standard is. I don't think you'll see a lot of 4K screens 4096 x 2160 because of their weird aspect ratio 19:10. Nobody will bother with that except for film makers for the crop ability. And display makers are already eyeballing 8K so true 4K is basically a dead in the water standard really suited for the content creators and not the broad consumer market. Unless off course 19:10 screens start to take over but just as other wide aspecs didn't (remember 21:9?), that is highly unlikely to be the case. There is just too much 16:9 content out there today and consumers don't like black bars or stretching.

I might get one of the 4k screens...

Niggas be makin displays now !?

Curved monitors make a lot more sense than curved TVs imo.

Yet another LED panel. Where are the OLED monitors? Putting more pixels on an LED panel is like putting a gold earring on a pig. It's still a pig. And the cheap excuse that OLED is too expensive to mass produce at a reasonable street price is wearing thin. It's more about factories not being retooled to produce them and about squeezing the last drop of monetary juice out of LED before it gets 86'd.

Wow led has reached pig status already?

OLED price is still too expensive at these sizes. Contrary to your thinking they are not hoarding them all for themselves. Do you really think if they could make an OLED screen to blow the competition that they wouldn't? you think it is in some basement at HP labs and they are rubbing their hands laughing how you cannot buy it but they can make it?

HP is upping their game big time. Really innovative stuff

I was digging the idea of a curved monitor when I heard Samsung was going to do them but hate Samsung. I might just have to take a look at one of HPs when income tax rolls in in Feb-March.

A curved monitor would be awesome.

Unless they support HDMI 2.0 or DP 1.3, buying these would be buying into 30hz or horrible hacks like MST with DP 1.2 which work terribly with windows as I've found out after returning a Dell 4K screen for it cannot run at 60hz unless windows properly supports DP1.2 MST which it does not, as half the time 1/2 of the screen would be black on resuming from sleep. For those not familiar with the problem, current HDMI and DP cannot run 4Kp60. Screens that claim to do so by making your PC think it has two monitors of lower resolution and use DP1.2 MST to bind them. However as DP1.2 is terribly implemented in windows and this is just a hack to a proper DP1.3 solution, you're going to find a lot of teething problems after spending all that $$$ on this. And even if they support DP1.3/HDMI 2.0. you're still screwed for windows doesn't support neither including MS flagship tablet: SP3.

HP are rubbish, run as far away as you can from their awful products.
Windows Central Newsletter
Thank you for signing up to Windows Central. You will receive a verification email shortly.
There was a problem. Please refresh the page and try again.