HP plans to launch the Envy 8 Note, a Windows 10 tablet rocking LTE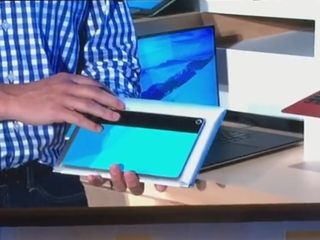 HP is looking to bring a Windows 10-powered tablet to the tablet, called the Envy 8 Note. What makes this tablet rather special is not only the operating system it's running, but also its LTE capabilities. This "revolutionary" tablet was teased back at Computex 2015 during Microsoft's keynote but now we're at least seeing more details become available.
According to a listing on the HP Switzerland website (which has since been deleted), specifications of the Envy 8 Note include:
Quad-core Intel Atom (Cherry Trail) x5-Z8300 processor
Up to 64GB storage (plus microSD slot)
5MP rear camera
microSIM slot for LTE
microUSB 2.0 port
4G LTE bands 1/2/3/4/5/7/8/13/17/20
Accelerometer, ambient light sensor, gyroscope, proximity sensor
As well as the above, we're also looking at full-sized keyboard and stylus accessories. Unfortunately, nothing else is known about this mysterious tablet, including availability and pricing. However, the HP page that was pulled did display a price of 699 CHF ($720).
Via: Neowin
Windows Central Newsletter
Get the best of Windows Central in your inbox, every day!
Rich Edmonds was formerly a Senior Editor of PC hardware at Windows Central, covering everything related to PC components and NAS. He's been involved in technology for more than a decade and knows a thing or two about the magic inside a PC chassis. You can follow him on Twitter at @RichEdmonds.
No front facing camera!!!? Lol wut?

How do you know if there's no ffc?

Lol so far ct has been a disappointment amusing to see that hp chose that in a highend line tablet if they couldn't do more damage to whats left of voodopc brand

I dunno. For what that spec sheets says, that theoretical price seems rather high. I know it's LTE, but comparing it to, say, the Surface 3, it seems pretty lackluster. Even more so when you consider it doesn't have a full-sized USB port.

A tablet at $720 will never success nowadays.

Well, Switzerland is an expensive country, and the Surface 3 is €599 and up in the Eurozone, so LTE would probably be at least €649, which happens to be about $720 as well, depending on the exact exchange rate. So, while indeed expensive, thanks to less favourable exchange rates and coldhearted accountants, it unfortunately seems a normal price this year for this side of the Atlantic. EDIT: Just saw that Surface 3 64GB LTE is $599, so that makes it €719, or ~$800...

Prices of devices are generally sold inclusive of 20%+ sales taxes in Europe. In North America, devices are always advertised without sales taxes. This thing will almost certainly cost about 20% less in North America than straight exchange would suggest.

I work for HP and everytime I want to get excited about a product it has something stupid like only 64 gig storage, no camera, overpriced, etc. I'm getting the Asus T100ha when ot releases to replace my T100ta.

720 ?? You must be kidding me

Bring a tablet to the tablet? Gotta love autocorrect :)

The 950 XL (if the teased specs are true) will do away with most mini tablets like the one above and the Dell Venue (which I own and love). Comparable processor Same or more storage Better camera LTE Continuum doc for USB ports Same if not more sensors...

x86 programs, negative plus the fact that you have to find a screen so not going to happen.

What types of desktop apps would you run on that kind of processor?

950XL will be twice the price I paid for a DV8Pro.

True. I wonder how much the new DV8Pro will be for this year's model?

What's with the cost cuts and using atom x5 instead of x7 when it already is not so powerful series. Then sell it at over price. Also, HP has a wonderful elite pro android tab with ultrasonic/ultrasound pen input recognition, how about bringing it to windows platform albeit with Core M?

I've go the HP Pro Tablet 608 which also uses the x5 Z8500 and its more than snappy enough. Unless I'm mistaken the only difference between x5 and x7 used in the larger surface 3 is a couple of hundred MHz so not massive in the scheme of things; features, cores and cache all seem to be identical. Its running well on Windows 10 speed wise, especially since going to 10547 from the release candidate. Atom does do very well as far as tablets go for stuff like web use which is a pretty high proportion of my use on a small tablet. Drivers need work though, I think Intel needs to get another Cherry Trail Win 10 driver set out and I'm suffering from the dreaded Microsoft I2C HID code 10 driver issue that seems to affect Atom tablets all over the place. Not sure if that one is Microsoft or Intel or both but hoping something will be out soon.

A small tablet with of HP with universal keyboard of Microsoft would be cool. It fucks all droid tablets except the social app updates one needs like snap chat, instagram etc. WhatsApp now can be accessed from web too.

Using that with my Pro Tablet 608 :-). Well I need to given the state of the I2C HID driver on Windows 10 at the moment...lets say its intermittent...

HP just needs to fully reveal it! It looks really interesting.

Seriously? No front cam on a tablet? What are they thinking...

Not nearly worth the price they are asking for, even with LTE. No wonder Microsoft has to develop their own hardware.

I know, these "partners" always seem more like saboteurs! =\

No LTE band-12 for T-Mobile... :(

I was actually kinda hoping it was more of a phablet than full tablet but then 8 is pretty damn big for a phone lol =P

I was saying oh, ah, oh, ah, plus few Oh yea... bring it on until I got to $720 line and i was like... what a total mess and went to next article. Why are these OEM gullible on pricing. I'll get SP3 no LTE or Surface 3 with LTE and other trimming for that price or less.

What exactly is revolutionary in this low end Atom based Windows tablet with lte-modem? Massive price?

I love it just for the hint of the design ideas. Of course at that price point with no USB and no frontfacing cam (uh?) this device won't happen like it seems. But guys I'd love an updated Lenovo Thinkpad 8. The form factor (with a pen) is perfect for me... :-(

I'm excited about a 8" tablet using digitizer from HP, this IMO should come with Windows 10 Mobile just like the Lumia 950XL. It's time to show the rest of the world how Windows 10 will do great for Phablets! and that Samsung is not alone launching that product. I really hope Project Astoria is going well, since this will have mobile OS and there won't be Adobe CS5 or other desktop productivity software available for this device, so hopefully all those Android Pro apps can run on this device smoothly by the time it gets launched.

So it's a Stream 8 with LTE and a huge price tag. So freaking what? Make it, say, $329 without the damn LTE battery-killer and I'll be interested.