HP rolls out Double Tap app update for the Elite x3 with more improvements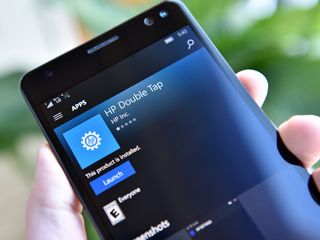 In my review of the HP Elite x3 earlier this week I noted how the 'double-tap to wake' and 'raise to wake' feature was a bit wonky. Part of the reason for that is the system relies on the accelerometer instead of the display itself. I also noted that HP was getting ready to roll out another update to further refine the feature.
Tonight, HP pushed out v1.2.4 of HP Double Tap just two weeks after the last update, and I must say things are getting much better.
While no new features are added, so far, at least the double-tap to wake and raise to wake are working a lot more reliably. It's neat to be able to pick up the Elite x3 when laying down on a desk to have the display turn on automatically letting you see any missed notifications. Alternatively, the display automatically turns off (and locks) when you place it back down flat as an added security feature.
That's not to say it's quite perfect or as seamless as using iOS 10, but you can see HP working hard to get it to that level. Additionally, I have noticed on my Elite x3 with Fast Ring (14946) this update breaks app functionality, which will need to be addressed. It's obviously working fine on Production.
HP should also have another firmware update for the Elite x3 in the coming weeks, which may add additional features and further improvements. Since the Elite x3's ROM is region-free, we should see a smooth roll out regardless of your country.
Download HP Double Tap from the Windows Store (opens in new tab)
Windows Central Newsletter
Get the best of Windows Central in in your inbox, every day!
Daniel Rubino is the Editor-in-chief of Windows Central, head reviewer, podcast co-host, and analyst. He has been covering Microsoft since 2007 when this site was called WMExperts (and later Windows Phone Central). His interests include Windows, laptops, next-gen computing, and for some reason, watches. Before all this tech stuff, he worked on a Ph.D. in linguistics, watched people sleep (for medical purposes!), and ran the projectors at movie theaters because it was fun.
I wish I could enable just the 'raise to wake' feature. I don't care much for the double tap or lower to sleep functions

Yeah, they should separate the two at some point.

Agree. I didn't even know my phone downloaded this feature last night and was wondering why my phone was acting up.

Nice! If only I could afford this device, I stopped using my 950 for my 1520 because Windows 10 Mobile runs much better on it and much more smoother. Seriously my 950 is not good, lags, gets hot, I just want a new phone with a Lumia quality camera. Guess I'll have to wait for that. :)

Something most be wrong with your 950 mine runs great it does get hot sometimes but it runs great let me ask you are you on production build or have you been using the insider program and rich ring and did you do a hard reset after your install im not trying to be a a** hole i just trying to help cuz my 950 works great and in the speed test I've ran it beats the 1520 in every aspect even the camera not to saying the 1520 ain't a good phone but it's just not as powerful as the 950 that's why I ask because it has to be on the software side a bug or defect on you phone cuz mine runs faster then the 1520.

I mentally ran out of breath trying to read your comment. :P

Re: jdholland79,
Holy freaking .... What a run on sentence. Please start with using punctuation. Think from the readers point of view. Did you know, that there are actually more wrong ways, than there are right ways, to communicate? Think about it. Like most things in life, its easier to do it wrong. Being careless is easy. Good communication shouldn't be confusing or a struggle to read. The words should disappear behind the thoughts.
No disrespect intended. Just an honest comment.
Best Wishes

Fixed: Something most be wrong with your 950. Mine runs great - it does get hot sometimes but it runs great. Let me ask you: Are you on production build, or have you been using the insider program and rich ring? Did you do a hard reset after your install? Im not trying to be a a** hole - i'm just trying to help, because my 950 works great. In the speed test I've ran it beat the 1520 in every aspect - even the camera. Not to say the 1520 isn't a good phone - but it's just not as powerful as the 950. That's why I ask. Because it has to be a bug on the Software side or a defect on your phone. Mine runs faster then the 1520.

I just did a hard reset, so we will see how that goes. I'll let you know, because I honestly was thinking that my device may just be a detect.

Hey you aren't alone. My 950XL on the Anniversary Update gets VERY hot while doing basic tasks such as opening Whatsapp, closing it, checking a few notifications, etc. The lower left area becomes so hot that I need to keep th phone on some cool surface or in front of an AC vent to cool down.
.
Then I need to soft reset because the phone becomes sluggish due to CPU throttling.
.
It's frustrating but this is definitely an issue. The same problem exists even on my 650. I've never tried the Insider releases on these two phones btw. All apps upto date also.

Hm, my 950xl does not behave like that. It gets handwarm on heavy load but other then that nothing happens and no throtteling as far as i can see. I can get it to that if i charge it with the dock, play a 3d game on it and put it in my qi station, but that really is not fair to the phone ;) (do not try that... It was only a small test and should not be done ;) ) Are u in india or some other very hot place maybe?

Anyone has a spare elite x3 I can use until Wharton Brooks come out with their device?

I seen Daniel with two in the wireless charging video.

One that is willing to be given away, that is...

Daniel? He'd rather give me a coffin. Lol

Can't wait to see what WB has to offer. I'd love to get the HP, then WB, then Surface! :)

Yeah. I'm eager to find out. According to windows central they should be ready before December

Wharton Brooks is the new Apple. Amazing that a couple of guys can develop this on their garage: "The innovations we are bringing to our devices will be the most disruptive since the advent of the smartphone in 2000."

Well, they've got everyone talking!
Or is it just you repeating yourself many times?
"many" = more than 3, you may need help counting up that far

How about we wait for an acutal device and then judge how good it's going to be?

We all know what they have to offer. And it is the groundbreaking...Moly phone rebadged to WB. Two guys aren't working in a garage on anything. As far as we know design, engineering, and any research and development are all done by another company. Wharton is just putting their name on an existing product, and "marketing" it in the US. If you can call it that. Which is why I do not understand the 100 articles we have seen on this Greg Murphy character.

It's going to be weird using a WP that doesn't have Microsoft or Nokia at the top.

It feels weird to me using Nokia since they're dead in mobile.

You get over it quite quickly after using this phone for a week and realize the quality, very solid, glad I got rid if 950xl

Should I sell my 950XL and get this phone or is it not that much better? The only real thing that i would worry about is the camera compared to the Lumia, is this phone an upgrade out side grade? Thanks in advance for any advice.

I have a 950 XL and a Elite x3 and can say the x3 is Definitly a Upgrade. There are only few things better on the 950: - Camera
- Replaceable Battery
- Double Tab Otherwise the x3 Easily Outperforms the 950 (Display, Speed, Continuum Speed)

Don't forget about glance screen

Glance Looks great, but I normally turn it off for battery reasons anyway, thanks for reply dude :)

Thanks, camera is the only factor for me from that list

Bummer as the 3 features you list plus glance are daily driver things for me. I have a 950 and will not upgrade until a phone comes that is an across the board upgrade. I hope surface phone is a full upgrade over the 950. I kept my 920 for 3 years since every other WP had some compromises compared to the 920. The 950 was the first no compromise upgrade to the 950

If you upgrade to Hp Elite X3, then you will get: Quick Charge 3.0 from the dock or buy other charger from Hp, Fingerprint reader, better display, the processor runs cooler, better haptic feedback, many good accessories from Hp, front firing stereo speakers, a faster more reliable iris scanner, better buttons, higher build quality, more RAM, bigger battery, high customer care from Hp for support and services, better front facing camera, more secure and many other small features

Thanks for the response, yeah, that's a nice little list, I'm going to try and have a play with one today if it's here anywhere in London

I wonder if sales of the x3 are meeting internal HP goals.

Is too early to annouce about that. At least wait until December

I Think the Update mad the Double Tab funktion even Worse for me... :-(

it does not react to double tap 3 out of 5 times. Before it was about 2 out of 4...

You are tapping it wrong :P

Is there no way this raise to wake en put down to lock will work on the 950's or ever brought over to them?

As long you can't independantly Configure them this is not a Great Idea... Really Frustrating sometimes on the x3...

The raise to wake function? I would be much more useful than the double tap to wake function

Really need these features in other Windows Phones too

I hope they do a Update to Configure these 3 Seperatly...

Why would they implement this with the accelerometer, and not the digitizer like everyone else?

Sadly the journey is over on Windows Mobile for me. I'm a Verizon Wireless customer and GSM just isn't as good in my area. So with the lack of support and the horrid news of don't expect the Surface Phone we've been waiting on for years, mostly this coming year to happen this Spring, I must bow out. The HP x3 looks great, but if no other devices are coming from the high end except maybe one which is GSM. They are building on a one primary device market for WM10. That just doesn't work and no my old Nokia Icon won't cut it. I hate this :(

I tried a demo unit at a MS store, and it was randomly turning off the screen. Not sure if a defective unit or the settings. The demo was running the latest production build. I enabled the double tap to wake, let it reboot, and it was ok, though not as well as 950XL. Will have to test different settings to see. As for another oddity, the bottom speaker didn't work while watching a video stream using Edge. Only the headset speaker was playing. I'm going to another store later to see if another unit works better. Overall, it feels more solid than 950XL. Screen is brighter. Camera is ok, not as good obviously. Still prefer a dedicated camera button.

why cant they just let the user decide between motion sensing and capacitive taps for this feature? they think their way is better? fine, make it optional
Windows Central Newsletter
Thank you for signing up to Windows Central. You will receive a verification email shortly.
There was a problem. Please refresh the page and try again.