The HP Spectre x360 is a 2-in-1 laptop that's thin, light and has long battery life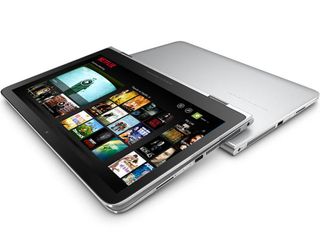 HP has officially announced its latest Windows 8.1 laptop, the HP Spectre x360. Some information about the notebook got leaked in January, and today's official reveal confirms most of the leak's information, including its 2-in-1 design and a long battery life.
The display of the 13.3-inch HP Spectre x360 has a hinge that turns it 360 degrees and allows owners to use the notebook with several modes. HP says:
The HP Spectre x360 also just 3.3 pounds and is 15.9 millimeters thick, with a CNC aluminum case that includes "polished metal on the sides that is achieved using a single machined cut, giving it a jewelry-like finish in a natural silver color." HP adds:
The HP Spectre x360 is on sale now at the company's website and will go on sale March 15 at Best Buy. HP is selling three versions of the laptop. One has an Intel Core i5 processor, A full HD touchscreen display, 4GB of LPDDR3 system memory and a 128GB SSD for $899.99. The second has an Intel Core i7 processor, a full HD touchscreen, 8GB of RAM and a 256GB SSD for $1149.99. Finally, the third version has an Intel Core i7 processor, a Quad HD touchscreen, 8GB of RAM and a 512GB SSD for $1399.99.
Which version are you guys most interested in?
Source: HP (opens in new tab)
Windows Central Newsletter
Get the best of Windows Central in in your inbox, every day!
Can it be compared to the SP3? This one's definitely priced well compared to SP3.

Anybody have good suggestions for me? I need a solid new laptop that's good for video editing...

Look for Yoga series from Lenovo. Nothing beats those specs.

Plus, you get Superfish for free! lol

LoL... Yea that whole thing has kinda put me off of Lenovo...

Awesome but waaay too expensive...

It depends on the type of video you are trying to edit. If it is just home movies for yourself, then an i7 based XPS 13. If you are talking 4K video with lots of effects, your are still going to need a desktop. Video from my Olympus OMD-E1 for my own little projects I can easily handle on my Surface Pro 3. video from my Panasonic DMC-GH4 4K video files I do for events and weddings cannot be effectively handled unless i use a beefed up deasktop. YMMV depending on your needs.

Well it will mostly be music video type stuff, not very long in length but using tons of different source material and tons of effects, won't be 4k most of the stuff will be 720p. Also any suggestions for a good program to use to enter a lot of text and text style transitions. My price range would be max 1300 of your American dollars... LoL

As far as video editing program, I would download the free trial of Acdsee Video Studio. http://www.acdsee.com/en/products/acdsee-video-studio There are more sophisticated and more expensive options, but I would start here to see if it does what you need. There is also Corel VideoStudio Pro X7 and CyberLink PowerDirector Ultimate 13. Download the trials and see what works best for you. The Adobe Premier and others at that level are very expensive and unless you are doing really professional work where you are getting paid, not sure it is worth the money. In the $1300 Range either the XPS 13 i5, Alienware 15 i5 or Lenovo Y50-70 Laptop i7 w/NVidia GPU w/16gb RAM. The Lenovo is much less sexy, does not have the best battery life, but hooked up to an external monitor will do everything you need to do for video. Replace the built in HD on the Lenovo with an SDD for speed and use the one that comes with the laptop as an external backup drive and that will give you the most bang for your money.

Wow, thanks buddy, will definitely look into those, nah I won't get paid, it's going to be mainly for a new YouTube channel I'm going to start, doesn't need to be a "professional" solution but like I say, will be importing clips from movies and all types of media, transitions and adding text will be very important. I just know how video projects can kill a pc that is not up to it and I can't wait 2 days for a 5min long video to be stitched up and rendered.

Try dell xps 15 revised edition. You can find competitive price on eBay. I got it new for $1124 last year, top of the line with i7 4702HQ, 512GB mSata, 16GB RAM, 2GB DDR5 750M NVIDIA, 3200x1800 touch display. Definitely good for video editing and overall all-rounder.

That sounds like a great deal! And the specs is exactly what you need for fluid video creation, will keep an eye out.

The Razer Blade would meet that description.

Thanks, will check it out.

Of your going to work at a desk and do intense editing it is best to use a desktop PC. It would be even better to make your PC so you have the right parts for video editing. If this is for light personal stuff then a laptop is fine. Make sure the laptop has the latest Intel core chipset (I think 5th Gen maybe 4th) and it would be best if it was an i7 but an i5 will work to but i7 would be better. Also make sure its a quad core. It would be better if the laptop had a dedicated graphics card as well (like a gtx 960 or higher. Look for 800 or 900 series graphics in laptop)

I want an 11" version of this

This looks good. Keep them coming - this is another reason I gave up on Apple devices - aside from being too expensive there is no competition from other manufacturers so less choice and diversity.

Compares nicely to sp3 but more on the laptop side. Its a lot cheaper too but I have the sp3 on 10 now and with the thinness and flexibleness of the keyboard design and the pen....i don't think I could go back. In fact with corei performing better than corem. I can't see how a sp4 would be better at this point. Ms must have some new processors etc on the boiler or something.....who knows. To stay on topic though. IV had specters in the past and hp computers are very reliable and well built. Infact I like them better than dell xps though I have not tried the new one yet. But again staying with surface.....it just fits me best.....great for work and I can split it and hand it to my 3yo to watch movies and its light enough for her and plenty durable.

The Sp3 will get better (along with devices that use a pen - N-trig / Wacom) once they push out Spartan. Annotating on websites will just take productivity to the next level lol.

John can you confirm if this has an Active Digitizer?

According to HP's press release, they'll work with the HP Active Pen, which looks like a rebranded Wacom stylus: https://www.windowscentral.com/e?link=https2F2Fcrea...

As far as I know, the HP, Dell, and Asus styli all work with Synaptics and not Wacom or N-Trig.

Oh, guess that's possible too. Either way, it's an active digitizer

Definitely interested. In light of the Superfish debacle, I don't think I'm going to be replacing my Yoga 2 Pro with another Lenovo (I know the Y2P wasn't affected, but it made me lose some trust in the company), so I'm glad other manufacturers are releasing competitors. I'd go for the QuadHD version because thanks to my Y2P and Retina MBP I use for work, I can now see the pixels in 1080p displays over 13".

If you purchased your Lenovo directly from the Microsoft store, it didn't have the superfish malware on it as Microsoft ships pure system without any adware

I know, and I could have also wiped out the drive and reinstalled a clean version of the OS myself, but the fact that they preinstalled something that can undermine security like that makes me not want to give Lenovo as a company any more of my money. Bypassing root certificates is ALWAYS a bad idea, and a large computer manufacturer should have had at least one person working for them that knew better. The fact that they went ahead with it anyway breaks any kind of trust I had for them.

John, no mention of MS involvement in this? I believe they worked quite closely with HP.

me likes long time hp fan been disapointed with my last hp but then gain i got it from walmart, but my last two before them was great and my quadcore destop still kicks but and its a couple years old, what I hate about my current laptop hp, its it get hot and shuts down all the time, as the vents are on the bottom instead of back or side and lke now I lying on a bed. Been looking at surface just because its most powerful but this one looks good would like to see a speed comparison as the specs are about the same.

Maybe the second version if it has a numeric pad included in the keyboard.

Sp3,alienware,spectre,yoga pro,xps.....ipad,galaxy note,Xperia z tablet,nvidia.....all these awesome specification tablets...
Feels like days of laptops are over now......waiting when Samsung sd cards will replace hard-drives....and tablets will have terabites of memory

Still none of those tablets on your list can compare in power and flexibility to the laptops on your list. The days of laptops are not over. People still need them to create the content that you consume on those tablets, and a lot more than that.

Dell Xps 13 will be the best Choice!!

Damn good hp this is my next

The only version of this im interested in is the one with an active digitizer, so none of them i guess... its a shame.

I take that back, looks like they support the HP Active pen which sounds active digitizery to me... this could be a good choice for my needs at a decent price point with good looks.
Windows Central Newsletter
Thank you for signing up to Windows Central. You will receive a verification email shortly.
There was a problem. Please refresh the page and try again.