HP ZBook 15 and ZBook 17 G6 dual review: Two workstations that bring muscle, durability, and DreamColor display
HP has updated two beefy mobile workstations cut out for specialized work. Is the refresh a winner, and how do they compare?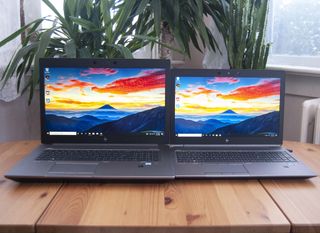 (Image credit: Windows Central)
HP's lineup of powerhouse laptops has now entered its sixth generation with the ZBook 15 G6 and ZBook 17 G6. There are a number of improvements to what HP calls the world's best-selling mobile workstation, but the fact that these deliver above-average performance for specialized work has not changed. They're rather large, heavy, and expensive, but the features offered are worth the tradeoff for those that need them. Let's take a look at the ZBook 15 and ZBook 17 to see what they're all about in this dual review.
HP ZBook 15 G6 & ZBook 17 G6
Bottom line: HP's refreshed ZBook 15 and ZBook 17 are undeniably powerful, expensive laptops packed with features for professionals. They're not easy to tote around due to weight and size, but those who need the performance will gladly trade portability.
For
Toolless entry for easy upgrades
Incredibly powerful hardware options
Loud, full top-firing audio
Stunning DreamColor 4K displays
Durable aluminum construction
Against
Very thick and heavy
Battery life (understandably) suffers
Extremely expensive
HP ZBook 15 and ZBook 17 G6 at a glance
HP supplied Windows Central with review units for the 15- and 17-inch ZBooks, now in their sixth generation. The 15-inch model is equipped with an Intel Xeon processor (CPU), 64GB of RAM in four sticks of 16GB, a 1TB M.2 PCIe NVMe solid-state drive (SSD), 4K DreamColor display, and NVIDIA Quadro RTX 3000 graphics card (GPU). It costs about $4,830 (opens in new tab) after some hefty discounts when configured this way.
The more expensive 17-inch model I'm reviewing is equipped with the same Intel Xeon CPU, 64GB of RAM split up over four 16GB sticks, a 1TB PCIe NVMe SSD, 4K DreamColor display, and NVIDIA Quadro RTX 5000 GPU. Altogether it costs about $10,393 before discounts, which bring the price down to about $6,444 (opens in new tab). It's clear just from the price these are not laptops for the average user. They're built for engineers, architects, editors, developers, and designers who don't want to sacrifice desktop performance when going mobile.
Here's a breakdown of the hardware in each of our review models. As you can see, there are a lot of similarities once you get past the physical size.
Swipe to scroll horizontally
Category
ZBook 15
ZBook 17
OS
Windows 10 Pro
Windows 10 Pro
Processor
Intel Xeon E-2286M vPro
Up to 5.0GHz
Intel Xeon E-2286M vPro
Up to 5.0GHz
RAM
64GB DDR4-2667MHz
(4x16GB)
64GB DDR4-2667MHz
(4x16GB)
Graphics
NVIDIA Quadro RTX 3000
6GB VRAM
NVIDIA Quadro RTX 5000
16GB VRAM
Storage
1TB PCIe NVMe SSD
1TB PCIe NVMe SSD
Display
15.6 inches
3840x2160 (UHD)
Non-touch, matte, 600 nits
HP DreamColor
17.3 inches
3840x2160 (UHD)
Non-touch, matte, 400 nits
HP DreamColor
Ports
Two Thunderbolt 3
HDMI 2.0
Three USB-A 3.0
RJ-45 Ethernet
3.5mm audio
Smart Card reader (optional)
SD card reader
Two Thunderbolt 3
HDMI 2.0
Mini DisplayPort 1.4
Three USB-A 3.0
RJ-45 Ethernet
3.5mm audio
Smart Card reader (optional)
SD card reader
Optical drive
No
Yes
Audio
Bang & Olufsen
Top-firing speakers
Three microphones
Bang & Olufsen
Top-firing speakers
Three microphones
Wireless
Intel AX200 (Wi-Fi 6)
802.11ax
Bluetooth 5.0
NFC
Intel AX200 (Wi-Fi 6)
802.11ax
Bluetooth 5.0
NFC
Camera
Front-facing 1080p
Front-facing 1080p
Security
Fingerprint reader
IR camera
TPM 2.0
Webcam shutter
HP Sure Start
Privacy display (optional)
Fingerprint reader
IR camera
TPM 2.0
Webcam shutter
HP Sure Start
Battery
90Wh
150W AC adapter
95.6Wh
200W AC Adapter
Dimensions
14.8 x 10.4 x 1.0 inches
(376mm x 264mm x 26mm)
16.4 x 11.3 x 1.3 inches
(416mm x 288.4mm x 33.8mm)
Weight
From 5.79 pounds (2.60kg)
From 7 pounds (3.2kg)
Design and features
Image 1 of 3
The ZBook 15 and ZBook 17 are thick. There's no way around it. The smaller model, though in line with other workstations of its class like the ThinkPad P53, is still not most people's idea of mobile. Its starting weight of 5.79 pounds (2.60kg) is going to be felt in a backpack. The 17-inch model starts at about 7 pounds (3.2kg) and is truly an intimidating figure sitting open on a desk. But the oversized dimensions are forgiven once we dig into performance and features.
Looking back at the G5 models, not a lot has changed physically for the G6 update. Dimensions are about the same for the aluminum chassis, you still get a ton of ports, and the keyboard and touchpad are laid out the same. HP has, however, upped the number of MIL-STD 810G durability tests from 14 to 21. The laptops are going to theoretically better withstand drops and solar radiation (like if you leave your laptop in your car on a hot day). Holding these devices, it's hard to imagine them taking significant damage. As an added bonus, the chassis doesn't pick up nearly as many fingerprints as a ThinkPad.
Connectivity is ample in both laptops, but the ZBook 17 brings a few extra options. On top of the ZBook 15's two Thunderbolt 3, HDMI 2.0, three USB-A 3.0, Ethernet, 3.5mm audio, SD card reader, and optional Smart Card reader, the ZBook 17 brings an optical drive and Mini DisplayPort 1.4. You can connect something like HP's Thunderbolt Dock G2 to either laptop for extra ports. Everything is well positioned for the most part; I just wish the ZBook 17 had USB-A on the right side to handle any external mice. My hand hit the release on the optical drive a few times while carrying the laptop around, but it's something that can be avoided once you know where it's located.
Keyboard, cameras, and audio
Keyboard and touchpad on the ZBook 15 and ZBook 17 are the exact same, though the larger model has more space around the sides because of the overall larger chassis. You have six rows of backlit chiclet keys (and number pad) that have plenty of travel and ample spacing. Coming from a ThinkPad, I prefer Lenovo's keyboard for the slightly cupped keys and soft feel, but HP isn't far behind and is certainly cut out for long days of typing. The only complaint I have is that the up and down arrow keys are bunched up and the top-right Delete, Home, End, and Pg keys are rather small and out of the way.
The sizable Precision touchpad is bordered by two sets of physical buttons, one for the touchpad itself and one for the nub pointer that's located between G, H, and B keyboard keys. The touchpad doesn't actually click down so it's either a tap or a physical button.
Image 1 of 2
Both laptops come configured with a front-facing 1080p webcam and IR camera for facial recognition through Windows Hello, and both have privacy shutters to easily block out the view. This shutter was standard on non-touch models in the past, but it's now moved up to handle touch models as well. The IR camera worked as it should for quick logins, and is backed up by a fingerprint reader embedded into the right-hand palmrest. The standard 1080p webcam delivers a crisp picture that's great for stills and video conferencing.
The ZBooks still have dual microphones to better pick up your voice while conferencing, and a third world-facing mic with noise cancellation is intended to cut out chatter from the surrounding world. HP also included dedicated collaboration keys on the keyboard so you can quickly pick up, mute, and adjust call volume when talking with colleagues.
Speakers got a workover for the G6 ZBooks, and the result is impressive. They're located on both laptops above the keyboard for top-firing orientation that's not muffled. A discrete amp chip on the speakers helps audio get overly loud, up to about 74dB, and there's no noticeable distortion at high levels. These are not your average Ultrabook speakers.
Rounding out some of the professional features is optional LTE connectivity. Neither review model includes the necessary network card, but there is a clear space for it inside. If you need to stay connected at all times, even outside of Wi-Fi zones, it'll be well worth the extra bit of money. These laptops are also compatible with Wi-Fi 6 for extremely fast wireless speeds.
Display
The ZBook 15 and ZBook 17 review units I received both have a 4K (UHD) DreamColor display that is designed for video work. They come calibrated from the factory and are tuned the same for a uniform end-audience experience. Both non-touch displays have a matte finish to cut down on glare, and both use an IPS panel for wide viewing angles.
Picture from both is incredible thanks to a billion colors and perfect contrast. The 15-inch model hits about 600 nits brightness while the 17-inch model tops out at about 400 nits. In either case, screens were bright enough to be seen clearly in a well-lit room. Adaptive brightness handles most adjustments accurately for a better user experience. Thanks to DreamColor Assistant software there are a number of color presets to choose from, including DCI-P3, AdobeRGB, sRGB, DICOM, and BT.709.
The small camera-like sensor in the corner of the touchpad had me scratching my head until I realized it's a built-in color calibration tool. You can set what color gamut you're working in, close the lid of the laptop, and let it calibrate itself. That's an awesome feature, especially for those who can't just calibrate for one gamut and leave it be.
Professionals who require accurate color reproduction should have no issues with the DreamColor display, but there are other options if it's not quite what you're looking for. There are more options available for the ZBook 15 — as low as FHD with 250 nits brightness — but the ZBook 17 also has some budget options. For extra privacy, the 15-inch ZBook has an optional Sure View finish that blocks the view of anyone who's not looking directly at the display.
Performance and battery life
The ZBook lineup is all about delivering high performance hardware, and in that sense the G6 models succeed. While there are lower-end configurations available for both sizes (down to a 9th Gen Intel Core i5-9300H CPU), the real beauty lies in the specialized options. Due to size and cooling constraints, the ZBook 15 has up to a NVIDIA Quadro RTX 3000 GPU with 6GB of VRAM, while the ZBook 17 has up to a NVIDIA Quadro RTX 5000 GPU with a whopping 16GB of VRAM.
Coupled with Intel Xeon E-2286M vPro CPUs with eight cores, up to 128GB of RAM spread out over four modules, and up to 10TB of storage (15-inch model tops out at 6TB), you should have no problems getting the right amount of power for the task at hand. Independent Software Vendor (ISV) certifications are included for popular design and development programs, ensuring the laptop is compatible.
Removing the bottom cover of either laptop is simple thanks to toolless entry. Slide a switch over to release the bottom panel, remove the cover, and you have instant access to RAM, SSD, and battery. It's not hot-swappable, but you can quickly pull it out and replace it without any tools. If you don't want to buy storage and RAM straight from HP, you can easily upgrade later.
Dual fans in each laptop keep internals at a suitable temperature. Even under sustained load while benchmarking the ZBook 17 was surprisingly quiet and didn't suffer from any significant throttling. The ZBook 15's fans seemed to work a bit harder, no doubt due to the smaller chassis, but fan volume still wasn't egregious.
I ran some benchmarks on both the ZBook 15 and ZBook 17 to see how they stack up against each other as well as some other laptops we've recently reviewed.
CPU
Geekbench 5.0 Benchmarks (Higher is better)
Swipe to scroll horizontally