HP announces four new ZBook mobile workstations
By Mark Guim published
HP today announced four new models of its ZBook mobile workstations, including one that supports virtual reality (VR).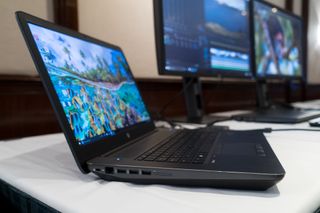 The company placed a lot of emphasis on security, and these workstations feature HP "Sure Start," what the company calls the industry's first self-healing PC BIOS with comprehensive encryption and protection. Digital creators have different needs and budgets, so they can configure the ZBook workstations to fit their work styles. Here a breakdown of the four new machines.
HP ZBook 14u G4
Creators looking for the smallest and lightest mobile workstation should take a look at the new HP ZBook 14u. It delivers high performance and graphics capability in a slim design, and it is just 22mm thick and weighs as little as 3.61 lbs. (1.64 kg). It has a 14-inch diagonal FHD display with optional touch, AMD FirePro W4190M graphics with 2GB of video memory, the latest 7th-Generation Intel Core processors, up to 32GB of memory and up to 2TB of storage. Creators could also go with the already-announced HP ZBook 15u (opens in new tab) if they need a bigger display.
Pricing and availability for the ZBook 14u will be announced this summer, according to HP.
See at HP (opens in new tab)
HP ZBook Studio G4
Out of the four new laptops, I'm most excited about the 15-inch HP ZBook Studio. This is their premium workstation, crafted with fully-machined aluminum and diamond-cut edges, and it measures in at just 18mm thick and weighs 4.6 lbs. It's equipped with powerful server-grade Intel Xeon or 7th-Generation Core processors, up to 32GB RAM, NVIDIA Quadro M1200 graphics with 4GB video memory, up to 2TB storage, and dual Thunderbolt 3 ports supporting full 40 Gb/s bandwidth. It's also available with a DreamColor 4K UHD display that supports 100 percent Adobe RGB. HP states that battery life is up to 16.5 hours, too.
The ZBook Studio is available now, starting at $1,399.
See at HP (opens in new tab)
HP ZBook 15 G4
If you crave more power and don't mind having a heavier and bigger laptop, the ZBook 15 is a better option than the ZBook Studio. In fact, this is the laptop model that is used by NASA on the International Space Station! It comes with Intel Xeon or 7th-Generation Core processors with up to 3TB storage and NVIDIA Quadro M2200 (4GB memory) or AMD Radeon Pro WX 4150 (4GB memory) graphics. HP also says it conducts advanced testing and performance benchmarks to deliver the optimal experience with the most important applications from leading software partners such as Adobe and Autodesk.
The Zbook 15 G4 is available now, starting at $1,419.
See at HP (opens in new tab)
HP ZBook 17 G4
The biggest workstation from HP's recent announcements is the ZBook 17. With size comes power, because this workstation can be configured with optimal horsepower and graphics cards to bring VR content to life in an ultra-smooth 90 frames per second (FPS) VR experience with two graphics card options. It's equipped with a choice of the latest Intel Xeon or 7th-Generation Core processors, NVIDIA Quadro or AMD Radeon Pro graphics, up to 4TB of storage, dual Thunderbolt 3 ports and more. There's also an option for the UHD DreamColor IPS anti-glare display.
The HP ZBook 17 is available now, starting at $1,519.
See at HP (opens in new tab)
Your thoughts?
I'm looking forward to testing out the ZBook Studio with my video-editing workflow, but I'm also tempted by the power and performance of the bigger ZBook 15 and ZBook 17. Which of these four workstations is the most interesting to you?
Mark Guim is Video Editor at Windows Central. He switched to Windows because the MacBook Pro isn't Pro enough. You can follow him on Twitter at @markguim.
Does the 14 incher have thunderbolt? It'd be awesome if it did as it could be a huge improvement over my SP3 for Lighting. Actually I'd probably also need to know if there was an option for a higher res screen (with touch), or would I have to go for one of the other models in that case?

It looks like HP hasn't updated their site yet. The 14u does not have Thunderbolt. It has USB 3.1. Display options are up to FullHD touch/non-touch

TIL that ThinkPads are no longer the only laptops certified for use in space by NASA. Good for HP! http://www8.hp.com/us/en/campaigns/workstations/missionz.html

I got a nice 11.6 inch ThinkPad demo at F*** for $129...love it.

Currently own top of the line Zbook Studio G3 laptop and happy to see, that parts are swapable:) Nice to see HP (finaly) implement decent 92Whr battery and use all availible space inside the chasis (for ex. G3 have only 64Whr variant and HUGE free space area near the battery). Also (finaly) there is a DreamColor FHD panel. Bad thing is I have expected at least Quadro M2200 inside G4 (cooling solution is good enough for that). But yeah, M1200 is bit better then previous M1000M: I've dissasambled the system BIOS and extract vBIOS for M1200 - they have lowered voltages (-13mv) and TDP (-4W), overclocked memory (+50Mhz) and GPU (+75Mhz). Also, +128 shader blocks. I believe, that they could implement all of this features earlier in G3, but knowing HP they do a perfect machine only on 2nd attemp (8*60w >> 8*70w, Zbook G1 >> Zbook G2, Zbook G3 >> Zbook G4). Changes to the system performance are so small and I don't see any reason to upgrade from Studio G3 to Studio G4 right now (just need to swap the battery for 92Whr variant). P.S. I'm running my 6820HQ undervolted -120mv and overclocked to 3600Mhz pretty stable during the year and I don't think KabyLake can bring noticible powersaving and performance improvment to my system. I'll wait for G5 with Pascal and freshier Intel CPU with Iris Pro.

The M2200 is an option for the ZBook G4, but not the ZBook Studio G4. Now have to make decision if you want a more powerful machine, but sacrifice size.

I meant, they could fit it into Zbook Studio without any problems as Microsoft did with GTX 965M (same chip as Quadro M2200) in Surface Book. Zbook Studio have, from my experience, best cooling solution in this form factor - even with overclocked CPU and GPU I can't see temps go higher 80 and 69 respectively.

BTW what pro apps do you use on your ZBook? Curious what made you go for the ZBook with Quadro, compared to say an XPS 15 with GTX

First of all, I love Zbook chassis and it's awesome DreamColor 4K display. Secondly, HP warranty service is much better here than Dell (also, workstations have better warranty). Zbook, compared to XPS 15, have two Thunderbolts with full bandwidth. And effective cooling system was also important. There are common reasons why I've picked Studio instead of XPS 15. Quadro or GTX thing was the last to think about. Quadro M1000M and GTX 960M have small performance difference in games, but M1000M is a beast in pro apps compared to 960M. Also, worth to mention, workstations with quadro hold the price much better than consumer laptops with GTX. In other words, Quadro is a universal GPU capable for both gaming and content creation. BTW, I'm using workstations with Quadro since 2011 and I love the quality they have provided compared to consumer alternatives😊

My company was trying to standardize on these and I told them for my department (Netops) not a good move. They were awesome machines while at a desk but datacenter visits was like carrying my kid. I had the 17 and loved it, ran an additional 3 monitors with it no issues ever. And cold boot was super fast. These are great machines but not for mobile warriors.

I had a 8710w workstation - and it was the noisiest machine I've ever had (desktops including). Quadro card is also not the best in my experience (gets too hot, wifi also was a bit problematic).
I hope they improved on that department, but for all I'm reading and hearing HP just doesn't care about the 'soundproofing' :), I've seen similar reports for their latest batch, was that 360 or not sure. I'd like to be proven wrong, as otherwise they have good specs, great keyboards.

I'm not creative...more of a gamer. Just found a lightly used MSI laptop for $500. 15.6 IPS Core i7 12GB RAM GTX 960 1TB HDD with area for SSD upgrade DVD ROM yes I need it👊
Windows Central Newsletter
Get the best of Windows Central in in your inbox, every day!
Thank you for signing up to Windows Central. You will receive a verification email shortly.
There was a problem. Please refresh the page and try again.