HP's new ENVY x360, Pavilion x360 and Pavilion models show that budget notebooks can be great
HP has launched its next-generation models in the ENVY x360, Pavilion x360 and Pavilion lines. Targeted at the budget segment, the new notebooks feature battery life and the latest hardware available.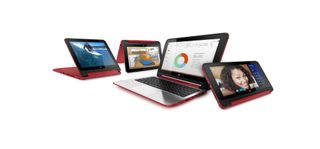 One of the main highlights with the latest generation convertible models — the ENVY x360 and the Pavilion x360 — is that they use the same geared hinge seen in the Spectre x360 (hands-on here), through which users will be able to switch the orientation of the notebook all the way from clamshell to tablet mode. HP is also touting significant increases in battery life. The Envy x360 shares a similar design as that of the Spectre series, and now comes with a brushed aluminum cover and backlit keyboard. The entry-level $679 configuration has a 15-inch 1366 x 768 display, fifth-generation Intel Core i5 CPU, 4GB RAM and 500GB mechanical hard drive. You can also configure the notebook with a full-HD screen as well as an SSD.
The Pavilion x360 series will be offered from $409, with the base configuration featuring a 11-inch display, Intel Pentium N3700 CPU, 4GB RAM and 500GB mechanical drive. Models with Core M and fifth-gen Core i5 CPUs will also be available, with the lower-powered models featuring a fanless design. HP is sticking to a colorful lineup for the Pavilion series, with the 11-inch Pavilion x360 set to be available in Natural Silver, Sunset Red, Violet Purple and Minty Green, while the 13-inch model will be sold in Natural Silver and Sunset Red variants.
HP is also launching new models in the Pavilion series, with models available in 14-,15- and 17-inch variants and Core i3 along with AMD's sixth-generation A10 CPUs. The Pavilion models will be sold in Natural Silver, Blizzard White, Sunset Red, Cobalt Blue, Violet Purple, Peachy Pink and Twinkle Black color variants. Following the acquisition of Beats by Apple, HP has announced that it will partner with Bang & Olufsen, with the latest ENVY x360 and Pavilion x360 models the first products to leverage the collaboration.
The ENVY x360 line will be available online via HP's website from June 18, and will be on store shelves from June 21. The Pavilion x360 series, along with the new Pavilion line of notebooks will debut online on May 21, and will be available at retail stores from June 21.
Source: HP (opens in new tab)
Windows Central Newsletter
Get the best of Windows Central in in your inbox, every day!
Harish Jonnalagadda is a Senior Editor overseeing Asia for Android Central, Windows Central's sister site. When not reviewing phones, he's testing PC hardware, including video cards, motherboards, gaming accessories, and keyboards.
Good news.
MS must start pushing such devices to schools. If possible even lower the price for limited time.

Looks intriguing...but can they stand up against the Dell inspiron convertible series...now I am spoilt for choices between the envy x360 and the inspiron 13...but June is too far off for me...

I've boycotted hp...but it's tempting, very tempting.

No apparent difference in my life...i never owned hp stuff before either. Can't say about the future.

HP is awesome, just don't buy any fan design from them. I've only had bad experiences with their fan-based computers, but their HP Stream 11/13 is really awesome. Nicely designed, and it's actually cooler than every other Bay Trail device I've used, not to mention a decent matte screen, good keyboard and nice touchpad. I didn't like HP before, but I see great potential in what fanless designs can do for them. You just have to take fan designs off OEMs, and they can do incredible things.

Thanks for the personal review.

Yeah... Wait for that fanless crap to set itself on fire, like all HP do.

Never had an HP device catch fire. You must be very unlucky. Or maybe you're a super hero & your special ability is to make things combust by looking at them?
:-)

An HP laptop in our office last week just went KABOOOM! out of nowhere. Yes, we at our office are thinking to boycott HP products. I had my own HP G7-1310US which used to heat up like an Ironing box on Windows 8.1. Next won't be an HP for me.

They should offer more SSD options instead of almost all of them with HDD. Many people would be better off with 128GB SSD, or even 64GB SSD, than 500GB HDD.

Agree. With cloud storage now, HDD are getting quite out dated

Agree SSD increases performance a lot. To me it should start with 128 GB. I have a SP3 i3 and the 64GB storage is becoming an issue. I know I can use 1 TB from my office subscription but I like to work with offline files is faster and works better for me.

I wonder if HP ever quit locking firmware down to their own branded drivers? My older hp envy is on windows 7 forever thanks to that policy of only running "certified hp drivers". Bsod if I install the official ati ones:(

Is that a low budget devices?

I can recommend the pavillion x360 13 inch. Got.mine configured with 8gb ram, 500gb had, and A8(2.3ghz), and battery life ia great for school (~4-5 hours).

This post sound like a paid one to me. lol

No, it just sounds like all the Apple hardware reviews out on the web.

The 2012 models were the last true ENVYs. The closest thing to an ENVY now is their OMEN series. All they did was bring the line down to mid-range branding. I have a new Envy17 with a 5th gen i7 and Nvidia's Optimus tech... Can you believe the dang thing only has ONE fan, and ONE HDD bay?! This isn't a small laptop I'm talking about, there's space a plenty.

I don't think that $400-700 is a budget notebook.

nice looking laptops. but my previous experience with hp's laptop = not good = overheat problem.
Windows Central Newsletter
Thank you for signing up to Windows Central. You will receive a verification email shortly.
There was a problem. Please refresh the page and try again.