HP's upcoming ENVY laptops offer power inside thinner and lighter cases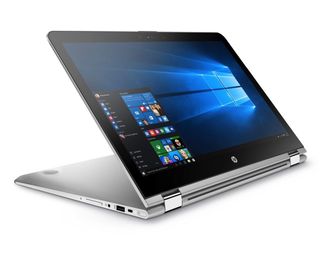 Along with the ultra-thin HP Spectre, the company will launch three new models in its ENVY laptop lineup later this spring. All three models are thinner and lighter compared to earlier ENVY laptops, and all have Windows 10 installed.
The new version of the HP ENVY 360 (opens in new tab), with its rotating hinge, will have a 15.6-inch screen, with an option for a 4K display resolution. It is 21% thinner than the previous version and weighs 4.5 pounds. Here are some other stats:
Longer battery life with up to 11 hours compared to 8 hours on the previous generation.
6th generation Intel Core i5 or i7 processors with optional Intel Iris graphics or 7th generation AMD FX 9800P Quad-Core Processor with Radeon R7 Graphics.
Full HD display option and clear, premium sound with HP Audio Boost technology with tuning by Bang & Olufsen to extend the entertainment experience.
Two USB 3.0 Gen 1 ports with one supporting HP USB Boost, one USB Type-C for data transfer, HDMI and SD card reader for maximum productivity.
Up to 16 GB of system memory and single or dual storage options with up to 2 TB HDD and up to 256 GB PCIe SDD.
The starting price for the HP ENVY 360 will be $679.99. It will go on sale May 29 at BestBuy.com and June 1 at HP.com, with sales in Best Buy stores starting June 12.
The regular HP ENVY laptops come in 15.6-inch and 17.3-inch versions, and both have USB 3.0 ports and a USB Type-C connection. Both also support HP Fast Charge, which allows the laptops to charge up to 90% in 90 minutes when they are turned off.
The 15.6-inch model weighs 4.4 pounds and also includes:
Choice of Intel Core processors up to i7 with option of UMA or Intel Iris graphics.
16 GB of memory with dual storage options of up to 1 TB HDD and 256 GB PCIe SSD.
Windows Hello support on optional HD IR camera.
The 17.3-inch model weighs 6.6 pounds and also includes:
Intel Core i7 processor with NVIDIA GeForce 940MX graphics.
Up to 1 TB HDD or up to 512 GB SATA SSD. The 17.3" diagonal HP ENVY laptop also comes with an optical disk drive.
Windows Hello support on optional Intel RealSense camera.
The starting price for the HP ENVY 15.6-inch notebook will be $779.99. It will go on sale May 25 at HP.com, with retail sales starting June 12. The starting price for the HP ENVY 17.3-inch laptop will be $1,029.99. It will go on sale May 29 at BestBuy.com and June 1 at HP.com, with sales in Best Buy stores starting June 12.
HP definitely has set their sights on Apple with this set of releases. Hopefully they didn't cut costs on things like the trackpad. Posted from Windows Central for Windows 10

Nice to see a high end laptop support AMD as well for a change, we the consumers need Intel to be constantly challenged. Otherwise where would the innovation come from? lol. As well as to keep prices from skyrocketing.

I know what your saying but AMD is still very much behind Intel. They really need to do more research and development if they want to have better products.

Personally I feel that selling off ATI's mobility division was the sign of things to come. They could have incorporated the power savings from the mobile chipsets into the other classes.

That's just for the graphics, right? In that case, isn't the fight for discrete graphics really between AMD and nVidia?

Yes and No, tech can adapted.

Does the USB-C port support Thunderbolt 3?

4K displayis great but the bezels ar ehuge they should try to achieve something like Dell have with the infinity display.

Nice windows, I have been using this for 5 month. It's features are really awesome.. Regares Admin of Best fire starter
Windows Central Newsletter
Get the best of Windows Central in in your inbox, every day!
Thank you for signing up to Windows Central. You will receive a verification email shortly.
There was a problem. Please refresh the page and try again.