HP's Windows 10 Star Wars Special Edition notebook to be revealed at 4 p.m. EDT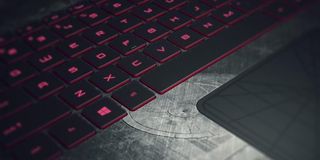 HP has now confirmed it will release a Star Wars Special Edition notebook, but we will have to wait until 4 p.m. Eastern Time today to get the details on this Windows 10 laptop. The reveal will come via the Periscope streaming service.
HP has been teasing the announcement on its Twitter page for the last few days, and on Tuesday it posted the image above, which shows a laptop with some red backlit keys and what looks like a Death Star-inspired art cover on top. Again, HP has yet to announce anything else about this laptop, but we will post up the news as soon as it is revealed.
Source: HP (Twitter)
Windows Central Newsletter
Get the best of Windows Central in your inbox, every day!
The force is late with this one I feel... I felt it yesterday!

May the Likes be with you

Now we just need a apple fanboy to come say come to the mac side

And that would be The Dark Side! LOL! I saw the first announcement about this and have been waiting to read more! I would sooo get this!

It has holographic Meg Whitman projection built in.

Is this for p​eople who money to waste?

Milk that branding, Disney! Since it's an HP, it's an instant no-buy in my book.

Periscope is really growing on me. Posted via the Windows Central App for Android

I'm no fan of HP, but I have to say that sneak peek looks pretty cool, especially the touchpad.

Still hoping for Jar Jar Binks Cortana voice download.

AKA the HP I live in moms basement edition.

Their should be a star wars themed hololens

Looks pretty appealing actually makes a change from all the standard laptops out there.