HTC Accord with Windows Phone 8 shows up on T-Mobile US roadmap, launches in November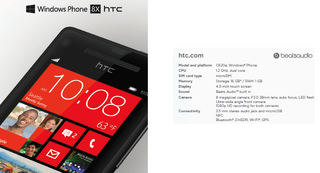 Coming to T-Mobile too
Following up on the earlier information about the HTC Accord aka 8X, it is now confirmed that the device will launch on T-Mobile in addition to rumored Verizon.
The information comes via TmoNews who has a screenshot of T-Mobile's computer system, showing the device listed with a non-specific November date.
The 8X reportedly will feature a 4.3" 720P Super LCD2 display, Beats Audio, NFC, microSD expansion with 16GB of storage and a 1.2GHz, making a solid but somewhat mid-range device. HTC is expected to reveal details on the 8X on September 19th in New York City.
In related news, there is a Dell BMW device also listed for T-Mobile though there is no information on what that is exactly—we're salivating at the idea that Dell may return to Windows Phone 8 with a Venue Pro follow-up. In addition, T-Mobile have reportedly dropped the HTC One X+ and HTC ERA for Android—another bad sign for the struggling Taiwanese company.
Source: TmoNews
Windows Central Newsletter
Get the best of Windows Central in in your inbox, every day!
Daniel Rubino is the Editor-in-chief of Windows Central, head reviewer, podcast co-host, and analyst. He has been covering Microsoft since 2007 when this site was called WMExperts (and later Windows Phone Central). His interests include Windows, laptops, next-gen computing, and for some reason, watches. Before all this tech stuff, he worked on a Ph.D. in linguistics, watched people sleep (for medical purposes!), and ran the projectors at movie theaters because it was fun.
Nice! Now I can leave at&t and go back to tmo! So sick of at&t's customer "service". Always had good experiences with tmo's people.

I'm the opposite Im t mobile want to move to at&t because of there wp phones. Im on a Samsung focus s unlocked I had the lumia 710 but I like high end devices & 710, HTC radar it hd7 are not that well the hd7 is just outdated.

Yup,,,I just spoke to my local t-mo rep yesterday and he confirmed that we were getting the accord and lumia 820,,,still no word on the vita,,,,unnnn I mean ativ-s they also just launched there truely unlimited data plans,,,just in time for my upgrade in Nov. Which also happens to be my B-day =)

I'm Canadian so I don't care about t-mobile, I just came to ask why these shots all show wp7? Bad photoshop/renders on HTCs part?

Uh... That's WP8 with the small square tiles

He changed it. It used to be this image: http://cdn.pocket-lint.com/images/HqkC/htc-accord-handset-image-render-leak-0.jpg?20120831-152338

All things being equal, that PureView camera is gonna kill everyone else.

It'll come down to pricing, and how much people want a good camera vs good audio.

both the new lumias have DOLBY sound .. dont believe me go chek the specs page at nokia's site ... its just stupid of nokia that they didnt mention it during the keynote

People in general stopped caring about good audio a LONG time ago. Actually, now that I think of it, only audiophiles are the ones that care about good audio at any given time.

Yeah, I'd take a good camera over good audio any day. I know of a few people that rave over the SRS enhancement on HTC phones (I have it on my HD7 and don't rate it much higher than Dolby or None), and the Beats audio on their upcoming mobiles is sure to sway many too.

Good microphone means good conversation quality and best video recordings audio track ;)

It'll come down to, will people actually switch to ATT for the 920 once all WP8s are released to all carriers?

At this point it looks like I'm headed to ATT from TMobile, just for that awesome Lumia 920. And I love Tmobile.

The ultimate package would be a Lumia920 on Verizon. Or maybe a Lumia 922 on Verizon. Hmmmm

same here. been on TMO forever, even after they only carried mid-range WP7 devices. You can see they're going to do it again on WP8.

Layoff the synthetic weed buddy. The camera is a plus. But if tmo's Nokia don't have a sd slot their screwed. If the Nokia does have a sd slot it'll be 50/50 some for the camera and some for music.
Still Samsung is gonna outsell them both from what's been shown so far for tmo phones.

Everyone has different values on features. As far as I can tell, slower CPU is not a thing I value. Who the hell knows how wp8 will run? WP7 is smooth because of its restrictive nature. The camera is more important to me personally than the sd slot. The design is also eye popping. Disappointed HTC is going to flood the market with different colors to take the lime light away from Nokia before they got to capitalize on it.

Struggling? Yet according to JD power they have the highest CS rates, higher than Samsung and Nokia ( which was close to the bottom by the way). How's that for struggling? I hope this will support HSPA on both the PCS and AWS bands. That would be great.

Financially. T-Mobile has reportedly canceled two of their devices due to issues. How is that good? The One series, while successful with tech reviews has been disappointing for sales.

Didn't HTC report a loss last quarter?

The fact of the matter is that Apple has HTC by the balls. HTC has no patents to combat Apple with and Apple can not only ban HTC phones via the ITC, but also collect massive damages againt HTC after the fact. The shoe I've been waiting to drop is for wireless carriers to start telling Android OEMs that they're not going to back their products because they are worried about the potential for the product to get banned in the middle of their marketing push.

HTC is in a very tough position with Samsung dominating Android and Nokia dominating Windows Phone. Nokia's carrier issues in the US presents an opportunity for HTC. If HTC can bring an amazing phone out for Verizon and Sprint there is potential for them to compete effectively with Nokia in the US and possibly get ahead of Samsung who is so heavily focused on Android.

I will never buy another Dell phone again. Screw me once, shame on you - twice, shame on me.
I will never see Tango or 7.8 for my T-Mobile locked DVP.

actually, tango is available for unlocked DVPs. its the carriers that haven't pushed out the updates to their branded versions. but yeah i hear you. i have one as well and im still bummed about no compass feature.

Why not? Dell actually has supported them pretty well, and Microsoft announced all of the original launch phones will get 7.8...

Dan the man, curious why this is considered mid-range?

If it is 720p display with 16GB standard, and a big f2.0 lens doesn't that put it a step above the Lumia 820 (mid-range phone)? 720p on a 4.3" display is high end in my opinion.

1.2GHz CPU. 4.3" display...and an 8MP camera is not pushing the boundaries of technology, is it? Besides the dual-core CPU, the HTC Titan II has more impressive specs. No 1280x760 display, 16MP camera (or anything to add to the One X's fine camera), smallish screen (for HTC), not 1.5GHz...etc. Look at the Lumia 920 or the ATIV-S--those push the boundaries in terms of specs or thinness (and battery size).

Do we know the thinness of the HTC yet? Shouldn't a display be judged by PPI, not screen size? 720p on a 4.8" screen is less impressive to me than 720p on a 4.3" screen. An HD 4.3" screen is pushing the boundaries of what is possible today; we've seen a ton of HD phones over 4.5" by comparison. Also the camera sounds like it could be better on the HTC than on the Samsung Ativ.

If PPI is all that matters, get an iPhone at 3.5" and their "Retina display". PPI is nice but even at 4.5" and 1280x760, the PPI is higher than the current iPhone 4S. How much more do you think it will matter to your eyes? Look, 4.3" is nice. But it's not flagship nice. Flagship phones nowadays have 4.5" or higher screens.

"An HD 4.3" screen is pushing the boundaries of what is possible today, is more cutting edge than what Samsung announced."

Explain? How is it pushing the boundaries compared to PureMotion HD+ with a high refresh rates (60Hz) and Super-sensitive capative screens so you can wear gloves while using your phone.

That i

s interesing, never been done. A 4.3" Super LCD 2 is not new.

Fair enough. I guess I'm so used to seeing low spec WP that seeing these specs makes me giddy whether or not there's something better in a different phone. Not to mention these specs should still fly with light weight wp8. I do agree it isn't flagship, I guess we all have to reevaluate what mid range is.

I'm sure it'll be great with fantastic battery life--the question is, if the the media has been lukewarm to the Lumia 920, what do you think they will say abou this phone?

So iPhone 4s wasn't a flagship phone? What? And the Galaxy Note is the most high end phone because it has a big screen? And the iPhone 5 won't be a flagship because it only has 4.0" screen?

I said the screen on this HTC is more cutting edge than Samsung Ativ S, not Nokia. I agree there are other factors which matter in display quality, but the hardware OEMs are fighting to bring 720p HD to smaller screen sizes. Everyone in the industry is capable of delivering 720p on a 4.8" display now. The boundary that is being pushed is to bring 720p to smaller displays. HTC here has achieved 720p on a 4.3" screen.

Pixel Density:
HTC 8X: 342ppi
Lumia 920: 332ppi
iPhone 4s: 330ppi
ATIV S: 306ppi
Lumia 820: 217ppi

Question: Who is marketing PPI today? How do you sell that as a feature? In other words, it sounds good for tech forums, but in real life I dare you to try and push that to regular people buying a phone...it's irrelevant. Apple at least came up with a gimmicky name for it. So did Nokia. Will HTC do someting similar? I dobut it. No, instead you'll get Beats Audio as your main selling point. Not PPI.

Pixel density was the main selling point of the iPhone 4, the "new iPad" and the Retina MacBook. If it's just a marketing gimmick it's been a very effective marketing gimmick on the public.

We're not talking about marketing here though, we're talking about technical achievement that actually matters in real life useability. 342ppi is a technical achievement above what Apple has been able to achieve thus far with the Retina iPhone. It means much crisper text and more legibility compared to the 480x800 display on the "mid-range" Lumia 820.

After hearing these specs I think the two factors that HTC will focus on for marketing will be the display quality and the camera quality (and possibly some exclusive software too). If true specs then so far this HTC 8X has the highest pixel density of any Windows phone announced.

I just don't see how these specs put the phone in the same class as the Lumia 820 which only has a 480x800 4.3" display. I'm not saying this phone is better than the Lumia 920, but I would say that it is at least as good if not better than the Samsung Ativ S (on paper).

"342ppi is a technical achievement above what Apple has been able to achieve thus far with the Retina iPhone."

I adamantly disagree with this statement. For one, PPI is simply screen resolution x display size. The smaller the display and the higher the resolution, the more dense the PPI. The iPhone 4S's resolution is 640×960. It can't match 720P by design. Likewise, a screen with WP8's 1280x760 resolution will even be higher. It's not like Apple tried to go higher and couldn't. But wait until the iPhone 5 comes out with a 4" display and 16:9 resolution... Second, do you think you'll notice the difference between this (342) and the iPhone 4S (326)? Third, who's technical achievement? That's not HTC technology, that's Sony who makes Super LCD 2.

And who made Nokia's screen? LG? Sharp?

As far as I know the addition of the 2 is an unimagininative indication that the bland brand name "Super LCD" was upgraded from TN to IPS. So, the Lumia 920 being better than the competion could be as simple as the fact that all WP devices available and announced before have been using either TN based LCD or AMOLED.

But, they still have the polarizing glass. That's a neat one.

Apple doesn't make the display or most of the parts for their phone either. Not sure why you'd bring that up. PPI is an important measurment of screen quality, the reason the Titan and Titan 2 were dismissed as low quality displays at 4.7" was the low pixel density.

The HTC 8X matches and exceeds the specs of the HTC One X (HTC's current Android flagship) in most areas.

HTC 8X vs. HTC One X
Display: 342ppi > 312ppi
Front Camera: 1080p > 720p
Storage: 16GB + mSD slot > 32GB + no mSD
Rear Camera: 29mm f2.0 > 28mm f2.0
CPU: 1.2Ghz < 1.5Ghz
Bluetooth: 2.1 < 4.0

Those are the only places where these phones differ. Everything else is exactly the same between the two flagship phones from HTC. The fact that they named this the "X" model indicates pretty clearly that they intend this to be their high end phone. "S" is mid-range sub-HD screens and "V" is the low-end HTC phones.

Also I think the rumors of the HTC "Zenith" phone might refer to the global version of the HTC 8X as the One X also had a quad-core version outside of the US. Zenith might just be an international variant of the 8X.


I can't really see how 1280x720px is that much less impressive than a display that's 768px wide.

Flagship has nothing to do with screen size, it has to do with the featureset. I would much prefer the 920 at 4.0" or 4.3",and I don't have small hands, I just don't want to carry around a small tablet. The 4.0" Focus is still my fav size phone, even after having the 4.3" HD7s for awhile.
The 800, at 3.7", is still one of the most perfect phones I've ever held. Drop the 920 specs into that, and it's still a flagship product.



I can't believe you of all people are arguing that this phone needed a 16MP camera to be considered high end. MP is not the determing factor of actual quality of the camera on this phone. The physical size of the lens is actually more important isn't it?

Until we know the actual specs of the Ativ S camera that matter shouldn't you be careful putting it ahead of the HTC 8X? 8MP doesn't tell us anything really.

SCREEN SIZE DUDE. In today's world BIG is what sells. At 4.3 as a Tmo customer I'm saying my HD7 was a 4.3. I need (want) something bigger. I understand 4.3 might be fine with you but the majority wants bigger. Also only 16GB? Same as my 2year old HD7

So nobody wants the Apple iPhone the best selling phone in the United States? And the Titan is a better phone than this because it is 4.7"? No. Screen size above 4" is not an indication of phone quality. There are big screen phones with lousy screens and small screen phones with high end screens.

16GB is also the same as the best selling version of the iPhone but with expandable storage via mSD. 16GB is also twice the amount of storage that comes with the Lumia 820. Expandable storage makes the included memory issue moot for most device manufacturers. A carrier can throw in a 16GB card in the box for free, does that suddenly make the phone high end?

Didnt MS announce only 4 launch partners for WP8? Nokia, HTC, Samsung and Huawei? Seems unlikely Dell would have a WP device launching with no intel at all and not being named a partner.

Fun fact: Dell wasn't announced as WP7 partner either. They came out of nowhere with the DVP.

According to wiki, "On October 11, 2010, Microsoft's CEO Steve Ballmer announced the 10 launch devices for Windows Phone 7, made by HTC, Dell, Samsung, and LG".

Correction: I was mis-remembering the dates. Dell was there but they were not announced back in February when WP7 was revealed. They were there for launch though in October.

That's strange because I remember debating on whether to get the HD7 or DVP around Oct.-Nov 2010, when I ended up getting the HD7 in Nov 2010 because Amazon had it for $50 w/contract.

Ah...got my dates wrong. Fair enough, I eat crow. They weren't mentioned in February at MWC when WP7 was first revealed, but were lated added for the October launch.

Dell venue pro wasn't ever officially supported by any carriers. It ran on t mobile but you couldn't find it in the store. Had to order it from dells website (where I got.mine). Its weird how dell dropped such an awesome device to little fanfare. I could have done work

Yep, I remember the DVP being on display at the WP October launch. Guess we'll see and all I can say to anyone buying it, good luck! :)

Yeah dell does their own shit

Im really excited to see this HTC phone, finally they are making something different in terms of design and with beats audio, a 4.3 720p display and different color combos, im sold!! But no ATT? :(

I'll trade you a Lumina 920 that works on all TMo bands for this HTC working on ATT! :)

noone has mentioned this, but the double wide tile with weather and time in this render is actually awesome. im sure this is an htc exclusive thing, but i hope some 3rd party developers come up with something similar.

What exactly is Beats Audio anyway.. i thought Beats were just headphones, like Skullcandy.

It's a brand name that's supposed to sell stuff. Sure to make someone feel the need to buy expensive things to get the matching logos. And HTC is one of the owners of the brand. But HTC seems to have put more than a logo and the EQ setting in their phones. GSMArena does fairly extensive sound testing, and decided that the One S had the cleanest audio of any phone they've tested, and the X and V got well above average as well. Hopefully they continue the trend.

Doesn't sound midrange to me. Most of this stuff we've never had so I guess everything will feel premium for a while, LOL

It's basically the same specs as the HTC One X with some minor improvements to the cameras, the pixel density, and the addition of a memory card slot. So unless the HTC One X is already considered a midrange phone it seems a little crazy to me to call this midrange. I don't think HTC would use the X name if they didn't think this was their best phone.

Is that photo a real leaked image of the htcc phone or just a fan render? If it's real, it actually looks really good!

That clock live tile looks awesome!

It shows weather as well, so I'm hoping it's a new, Modern themed version of HTC Hub. It had some useful features, but the HTC Sense style of it was horrible.

HTC further announces phone naming conventions. Windows Phones will be named after Hondas. Androids will be named after Toyotas.

I love my 03 Accord but I'm not impressed with this Accord, maybe they will come up with Crosstour or Pilot.

This is not a 920 killer, but I think it could be an 820 killer. I was very disappointed with Nokias choice of screen resolution for the 820. It's the same resolution I have on my 710. My only hesitation is the access to nokia apps.
I'm on T-mo, if WP8 takes off maybe they will add the 920 to the stable. My contract is up January, if I can get a 920 I'm in, if not I'll wait.
I love Office intergration and increasingly using SkyDrive. Sammy if your listening, Galaxy Note WP.

Glad to see this option but I really want to see if T-Mobile will actually carry Nokia Lumia 920

The specs of this device beats the Nokia 820 hands down imo. 720p Super LCD 2, f/2.0 camera. Also remember, if htc brings out a 2000mah battery in this thing, htc 8x users will potentially see much longer battery life with dual 1.2ghz cpu's vs dual 1.5ghz.

I cant wait for the 19th.


I'm looking forward to this. Still wish it was 4.0", though. Also wish it had 32Gb internal storage. I can't believe after all these years we're getting nowhere with internal storage.

99% of customers are not using the internal storage up so hardware manufacturers and carriers have no incentive to overload these phones. It's also smart to do it this way and give the carrier the option to choose to include a memory card if they want to.

Errrrrrrrrr HTC with f2.0 lense?

They did f2.2 like the others last generation, so I guess they're just keeping up.

The HTC One X had an f2.0 so this is probably just a slightly improved version of that. (29mm vs. 28mm). Also the front facing camera got a spec bump over the HTC One X.

If T-Mbile dosent get the AtivS or Lumia 920 I thiink I can be happy with this.

If T-MO doesn't the AtivS or Lumia 920 I'm not so sure that I could stay with them. They really need to have a high end wp8 device I think they all should. Low-middle range is nice but you need to have a blend of both.

Still leaning towards the ativ, and this comes from an hd7 owner. My phone has been great but there are some things that could have been better. Battery life for one. A 1230 Mah battery is just horrible for anything. My Zune HD has 660 Mah and I can leave it on all week and still have at least half a battery despite having volume at max and constant song switching.

It's your turn HTC.! Eyes on you. IMPRESS us WP fans.!! What'd you got.??? :)
Windows Central Newsletter
Thank you for signing up to Windows Central. You will receive a verification email shortly.
There was a problem. Please refresh the page and try again.