HTC Accord aka 8X with Windows Phone 8 specs reportedly leaked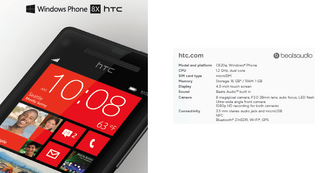 Specs and new image of the Accord?
The same source who leaked the original Accord images has come forward with more info this morning on the device, expected to be sold under the name 8X (similar to the One X series).
The specifications do fit in with the mid-range expectations as it reportedly has...
1.2GHz dual-core CPU
16GB of storage/1GB of RAM
microSD expansion
4.3" 720P Display with Super LCD2
8MP F2.0 camera with a 28mm lens; ultra-wide angle front-facing camera
Bluetooth 2.1, NFC and Wi-FI round it off
The device is rather nice looking and we've heard from our own sources that the phone will come in a variety of colors—an obvious move to compete with Nokia and their Lumias.
More of course is to be revealed on September 19th here in New York City, where we will cover the event live. HTC was rumored to be launching three Windows Phone 8 devices, including a high end phone called 'Zenith'. Though we're hearing that phone won't be coming soon, if it were even real to begin with.
Source: @Football4PDA 1, 2; Thanks, Daniel, for the tip
Daniel Rubino is the Executive Editor of Windows Central, head reviewer, podcast co-host, and analyst. He has been covering Microsoft here since 2007, back when this site was called WMExperts (and later Windows Phone Central). His interests include Windows, Microsoft Surface, laptops, next-gen computing, and arguing with people on the internet.
lets see if sprint will get this since they removed HTC Arrive. Lets see what Htc event next week

I would not hold my breath on Sprint the last thing from Sprint was earlier this week an internal memo leak and they are nowhere ready to commit to either WP8 or RIM's BB10. Maybe VZN or TMo maybe all WP8 networks.

Lots of confusing conflicting information here. Is the HTC 8X the high-end or mid-range phone? Is there really going to be an HTC quad-core phone this year with a 4.7" display (Zenith)? People are saying that the "X" brand is what HTC uses for their highest end phones so then why are some people saying this dual-core 4.3" phone is the HTC 8X?

I would NOT bet on the Zenith.

Interesting, the thing that is most suspect about the Zenith is the unnamed quad-core Snapdragon. Still if HTC claims they are "going big" with Windows Phone 8 they really need something that's going to stand above everyone else and a quad-core chip would probably do that. Quad-core + LTE seems like it's the next big milestone for Qualcomm and it would be a big deal if HTC were the first to deliver that in the US for the first half of 2013. The LG Optimus G is the only quad-core LTE device and that is only coming out in Korea.

Christ, just WTF is it with people and their hard-ons over quad-core? *sigh*

So just because it has a 4.3" screen and no quad-core it's not going to be a high-end device? C'mon man!

What if a phone could last 2 year with updates? Pretty good to have the hardware doubled out. If everybody is droping dual core, buying a quad core is the smart move, that if your not going to keep changing phones....wich i aint.

Yea but the thing is that these dual cores are just as powerful as the quad cores coming out now and much more efficient than the dual cores that came out last year. The quad cores, while awesome, won't be as efficient as the 2nd generation quad cores that will come out next year and won't be as powerful, there's no way to know if they will truly future proof you or not.

MicroSD and 16GB!! if only this would be a Nokia device *sigh*

Those are the same specs as the Lumia 820.

No they aren't, the 820 only has 8gb of built in memory ;).

I think it could be either 8GB or 16GB? Even if it's 8GB and you add a 32GB card, 32GB is the biggest microSD card you can add anyways. The system limits it at 32GB iirc.

This HTC supposedly has a 720p screen which I think would be very impressive to see on a 4.3" screen. And I think this HTC phone sounds like it might have a better camera than the Lumia 820. The Lumia 820 does have the cool super senitive touch screen and the inductive charging option though, not to mention Nokia apps.

I wouldn't count out Nokias camera in the 820 either. It's true that it's not the same technology packed camera in the 920 but one thing people need to keep in mind is that now with WP8 and the new core, Nokia can and probably has, brought over all the advanced camera software underpinnings that go with their camera hardware that they didn't bring to their WP7 models. Because of limitations on WP7 that is.

I think the 820 will have quite a good camera itself, minus the fancy OIS the PureView 920 has.

The 820 may have a good camera but they definitely didn't take any time highlighting it or demoing pictures taken by it. In fact the 820 got 5 minutes of show time.

Wait a minute... I'm under the impression that the 820 does NOT have the nice screen of the 920... From Engadget I think. Am I wrong or is cool8man? If it has a nice screen I'm much more interested, as I like the removeable battery and SD card slot...

820 has a WVGA screen. Skip it and let Nokia know that they have to step up their game in the mid-range.

True. I think the Nokia apps are some of their greatest differentiators, as opposed to the quick shit that Samsung and HTC hack together. I really just wanted a Titan 2 with modern specs, or a One X is pitch black running WP8.... We'll see.

Well, the 820 only has 8GB of memory for apps and stuff (can't store apps on the SDcard). This has 720p screen and I'm not sure if we know what the resolution is on the 820. This would be a GREAT device either way. HTC threw down the gauntlet on this one. (it would be the highest range tmo wp8)

But it's not, deal with it!

the 820 has an sd card slot!

and i was complaining about nokias bluetooth 3.0

Why does it seem like the vast majority of bluetooh accessories coming out are still just 2.1? A few of the really big expensive devices are 3.0, but that's it. Is there any benefit at all of using a bluetooth 4.0 or 3.0 phone with a 2.1 accessory?

It's called being future proof.

I don't understand why the OEM don't support bluetooth 4.0

If I understand this chart correctly. The qualcomm chipsets suport BT 4.0
http://www.qualcomm.com/chipsets/snapdragon

Is it a driver issues?




I think so, OEMs still need to write their own drivers, though MS probably has some generic ones for WP8 as well as a reference for them to work on. For example I think the new Lumias do BT 3.0?

I will take the ATIV. I will take the 920. I will take this. I just want something on Sprint this year or I am off to T-Mobile where some family members have a family plan with an empty slot.

Any rumors as to what Magenta is getting?

Anything because they're refarming their HSPA+ coverage to the PCS band.

If you are on Sprint the best thing for you to do is to abandon all hope. You'd probably have more luck with a smaller carrier like T-mobile, MetroPCS or US Cellular getting WP8. Sprint has sold it's soul to Apple.

I'm on Sprint, so I'll take what I can get.

Here's what you'll get:
- iOS
- Android

Seriously. If you want WP on Sprint, it'll be late 2013 or 2014 before Sprint gets its head out of its ass.

I tipped this 4hrs ago. They never acknowledge me :(

You and a bunch of other people probably just saw this on other site like wmpoweruser a few hours ago. I'm sure they probably did too.

There there. You can have my shoulder.

Something tells me that this phone will feel good in my hand. I like HTC builds and they now went more sharp egdes and flat instead of rounded. i wanted a 4.7 inch device....but this might have to do. STILL, HTC support man....I hope they are on board.

I like HTC phones, but to be honest, at first glance this phone doesn't wow me. Specs are good, but so is the ATIV-S...and in my opinion is a better looking phone. I guess I'm pretty set on Sammy, but I'm keeping an open mind til HTC brings forth what they have.

If the zenith is not real or isn't coming until 2013, then I will be a happy 920 customer. I have been holding out for HTC before I made my decision and I prefer large/powerful/beautifully-designed phones such as the titan/oneX line. Buy I won't wait.for 2013 for this magic to happen. The 920 is a delight to see and hold (I was at the ny Nokia event)

Finally a potentially decent upgrade for my HD7. I want the Nokia 920, but I'm not terribly crazy about moving to ATT. It'll all boil down to whether the HTC screen is an improvement over the HD7. Everytime I see a Nokia screen it is just so much better.

My old HD7 had the worst screen I've ever used on a mobile phone. If this screen is anything like the One X's screen you have something great to look forward to.

If this is smaller and lighter than the 920 then I'm sold. However I could always pick the 920 anyway, so when my mates will go like "maaan, this thing is heeeavy" I'll tell them to get a fuarking gym membership and workout like I do cause apparently they aren't fit enough for a bad boy like this :-/

Hmm. These specs say F2.0 camera. Wasn't it reported on this site that the 920 has an F2.0 camera and this is a big deal and way beyond everything else? Is it now just a standard spec for new phone cameras that are any good?

I don't think it's a "standard spec." If HTC is putting an f/2.0 aperture lens on a camera then it means their heart is in the right place ;-)

Welcome to the new Nokia Reality Distortion Field?

Because this is just a rumour. When its announced for certain, then I'm sure it will get all the rah rah it deserves -yawn-
Its just an 8MP, decent f.20 - but its now been surpassed by a graphene BIS sensor and OIS on the Lumia.

The 920 verus iPhone and SG3 demo was _amazing!_
If its true (and not a "trick") the 920 is an amazing low light camera. Which for many (us in the UK who spend most of our time in the pub or darkness) is the perfect event/party cam.
Much to love. The HTC specs.... meh.


I'm glad I finally have so many options when it comes to picking a Winows phone...the 8X sounds impressive, so I'm seriously weighing the pros and cons between this and the 820 since I'm on T-Mobile. One question though: What exactly is a wide angle front lense, in regards to the FFC??

The 8x comes to TMo on Nov 14, according to TMonews via WMPowerUser, about 9 1/2 weeks from now.

So if this gets released mid November, would it be worth it or should we just wait for the 8x2 that get's released in January?

Nokia 920 looks good but, I do want to see what other OEM's are going to put out, officially. Dual-core works just fine for my needs but, if WP8 is redesigned to support up to however many multi-cores, I think a may just wait for a quad-core, just so I will not have to worry about upgrading for a while. Then again, who am I kidding, I will be upgrading at the end of each contract. Lol
Windows Central Newsletter
Get the best of Windows Central in in your inbox, every day!
Thank you for signing up to Windows Central. You will receive a verification email shortly.
There was a problem. Please refresh the page and try again.