HTC Arrive ... arrives for $199 on Sprint -- with copy/paste!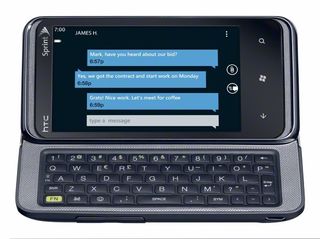 After a couple of days worth of teasing, the HTC Arrive -- aka the HTC 7 Pro -- has, erm, arrived on Sprint! It'll officially go on sale March 20 for $199.99 (after two-year contract and $100 rebate). And that's not a bad price for the tilting, sliding phone. And best of all, it'll have the cut-and-paste update on board when you pull it out of the box. Can't beat that.
Other features of note:
3.6-inch touchscreen at 480x800
1GHz Snapdragon processor
16GB of internal memory
1500mAh battery
5MP camera with flash and 720p recording
Bluetooth 2.1 +EDR
Wifi b/g/n
And all the usual Sprint customizations and WP7 features.
Full specs and the presser are after the break, and there's more at Sprint. Who's gonna pick this one up?
Glance-and-go when it matters most
The HTC Arrive™ smartphone is the first device from Sprint based on Windows Phone 7. It offers an innovative design with a sliding full QWERTY keyboard and tilt-up display and provides an incredible experience leveraging well-known Microsoft services, like Microsoft Mobile Office, Zune and Xbox LIVE.
Windows Phone 7 features Hubs for quick and easy access to the user's most valuable content, including People, Pictures, Games, Music & Video, Office and Marketplace. Additionally, the Start screen is customizable with Live Tiles that come to life with real-time updates. Depending on the app, the Live Tiles might show pending messages and appointments, news and weather, or game and friend status – all continuously refreshed by the Web.
PRODUCTIVITY
Windows Phone 7 with a unique Start screen and Live Tiles allowing quick viewing of everything from pending messages and upcoming appointments to game notifications
Integrates with many popular Microsoft consumer services, such as Xbox LIVE, Windows Live,
Bing™ and Zune
Full HTML Web browser with Bing Search
Office Hub gives you read/edit access to popular Microsoft Office Applications (Word, Excel
and PowerPoint), plus Sharepoint for collaboration on the go and OneNote
Corporate email (Microsoft Exchange ActiveSync®), personal (POP & IMAP) email and text messaging
Windows Phone Marketplace offers a single view to showcase apps, games, music and premium
Xbox LIVE games
Wi-Fi® (802.11 b/g/n)
ENTERTAINMENT
5MP camera with flash, autofocus and digital zoom and
720p HD camcorder
SRS WOW HD surround sound
Media player with 3.5 mm stereo headset jack
Sprint Zone™ one-stop wireless account access, phone tips, news and more
Sprint TV and Movies® and NASCAR Sprint Cup MobileSM
Stereo Bluetooth® 2.1 (+ EDR)
Voice and text prompts in both English and Spanish
SPECIFICATIONS
Qualcomm 1GHz Snapdragon Processor
Dimensions 4.63 inches (117.6 mm) x 2.32 inches (58.9 mm) x 0.61 inches (15.5 mm)
Weight: 6.5 ounces (184.27 grams)
Main Display: 3.6-inch (91.4 mm), 800 x 480 WVGA capacitive touchscreen with multitouch
Internal Memory: 16GB
Battery: Standard 1500 mAh Lithium-ion
Talk Time: up to 6 hours
Phil is the father of two beautiful girls and is the Dad behind Modern Dad. Before that he spent seven years at the helm of Android Central. Before that he spent a decade in a newsroom of a two-time Pulitzer Prize-finalist newspaper. Before that — well, we don't talk much about those days. Subscribe to the Modern Dad newsletter!
I'm definitely picking this up. Been waiting for months for WP7 on Sprint.

Is there a rule that slider WP7 phones must have small screens or something? I want a 4 inch screen phone with keyboard, man...

This is torture. Now that Sprint actually has a WP7 device, but it is useless. Please, someone give us global roaming?! I don't want to be stuck with RIM for the rest of my life!

I'll be picking up two. One for me, and one for the wife. "I don't want to upgrade until I can have a 'Zune Phone'" she told me. Looks like it's arrived. :P

I'll be picking up two as well, wife and myself, but mine first her update doesn't come around til may.

Ha, ha. Same here. And who knows by then they could have some more form factors.

Finally Sprint gave us a phone worth buying, I hope they keep up with the other wireless providers and give us the same cool phones as AT&T, Verizon and T-mobile.

Any word on whether demo units will be in stores ahead of time? I really need to see and feel this thing to make sure its not a brick before I fork out $300.

It's not a brick. Smaller than TP2. It's not Focus thin either, but it's a decent size for a slider KB...not sure it could be thinner.As far as demo units, no word.

Thanks Daniel,I love WP7, so if this is a form factor similar to the EVO Shift, I'll be all over it.

It's not as chunky as the pre, and it is wider and taller, measure it in mm, (millimiters)

I called the Sprint Store here in Boston to see if they had any functional demo units and the guy didnt even know that a WP7 phone was coming to Sprint. Gotta love the sales rep training.

Nice bump in storage over the Euro version, really is strange why allegdely Euro carriers are content with having the small 8GB storage while the US version has 16GB. Makes the Euro version really unattractive IMO.

Anyone else notice that the Sprint Navigator wasn't listed as a feature? Though if I remember correctly references about it were found in the HTC ROM image?

Yeah, I'm gonna get it. First thing I'll do after it powers up: remove the Sprint LiveTile.

Any other Touch Pro 2 users hesitant about jumping to get this one? I am all for Windows Phone 7, and from what I have seen, it looks like the WP7 system is a monstrous much-needed improvement over WM 6.5. Yet, (maybe for no reason at all) I would rather have a Samsung Windows Phone. I don't know, but HTC really ticked me off passing off the TP2 (not to mention the first Touch Pro I had too) as a sound and well functioning device, that of which it has not been. The TP2 has some nice spots, but some parts of it are just really poor, and for that, I hope Samsung comes in with a Sprint WP7 Focus or similar.... or even Nokia maybe.

Samsung is no darling with their phones either. Ask anyone(including me) how well they have handled their Android phones.

I keep going back and forth between the two, too. If Sprint really does get the Omnia 7, that'll make me more likely to switch to them, but I'd also have a difficult choice to make between the two (and that's saying something about Samsung's design since I very much prefer a good physical keyboard). I have time to wait for Nokia, too, I think, so I'm sort of glad I'm still in contract.

It makes sense that Sprint would want to wait for the NoDO C/P update before it released a phone that is more or less targeted at the more business user with that full KB. At least IMO that is.

Considering they couldn't release a phone BEFORE the NoDO update, they didn't have much choice (NoDO contains the CDMA drivers Sprint needs).

The photo on the sprint website shows the xbox hub running in landscape mode, which none of the hubs currently support, including the start hub. Maybe this means the new version finally has full landscape support?

As far as I can tell, full landscape support will be included in the March (NoDo) update. Check the tweet that Windows Phone Support gave in reply when I asked that very question:http://twitter.com/#!/WinPhoneSupport/status/40838646408028160

FAIL! No 4G wimax, no 4+ inch screen, no front facing camera, no 8MP camera, no HDMI, no 1080p video! Why would I want this device? Just terrible...... I hope Sprint gets a better device soon!

It is written:He who tradeth in his Android device shall prosper all the days of his life and shall rue the day Android devices cometh like a plague upon the earth.

I'm a hardcore wm user and always will be. I don't want an android phone so sprint better get a better wp7 device like yesterday! After all this waiting we get a phone that doesn't even compare to the hardware of an Evo or better. Sigh...

Any information on off-contract pricing? I want to save my upgrade for the Pre3.

I doubt Sprint will every carry another Palm device after the Pre debacle. I am still on my Pre- and heavily considering a switch to WP7 mainly because there is no future for webOS.

The back-windows-search area has always bothered me since we first started seeing this device and these pictures seem to exaggerate it even more now; it seems way too big. I think, if they went with physical buttons instead of touch or even putting circles around the symbols (maybe even staggering them slightly for more character and to make more use of the space), it would've broken up all that black area and made it look better. Or, of course, making the screen bigger.I also wish it could've had WiMax (or hope that it carries the possibility to if it's not supported by the OS yet).Other than that, there's a strong possibility that I might jump ship from Verizon when my bf's and my contracts are done. Show me whatcha got VZW.

Great content on how the small businesses are getting ignored in these issues, especially when looking for small business loans or financing. The success of merchant business cash advance funding can be seen in the case studies on http://www.onlinecheck.com/blog href="http://www.onlinecheck.com"> Business cash advance
Windows Central Newsletter
Get the best of Windows Central in in your inbox, every day!
Thank you for signing up to Windows Central. You will receive a verification email shortly.
There was a problem. Please refresh the page and try again.