HTC Radar 4G on TMobile for $99 on Contract coming 2nd November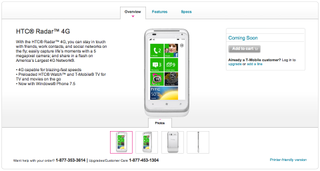 TMobile has announced plans to release their 4G HTC Radar for $99 on contract on November 2nd (opens in new tab). The handset comes with free shipping and packs some impressive specifications. If that isn't enough, it will pack HTC Watch and T-Mobile TV for TV and movies on the go. For a quick reminder of the insides:
1Ghz processor
8GB storage
5MP camera with F2.2 lens (FF camera)
Windows Phone Mango
Source: TMobile Shop (opens in new tab), via: @TMobile (opens in new tab)
Windows Central Newsletter
Get the best of Windows Central in in your inbox, every day!
Rich Edmonds was formerly a Senior Editor of PC hardware at Windows Central, covering everything related to PC components and NAS. He's been involved in technology for more than a decade and knows a thing or two about the magic inside a PC chassis. You can follow him on Twitter at @RichEdmonds.
wait.... T-Mobile TV for free?That alone may make it worth it lol

The app is free, but the service is $10 a month. They just neglect to tell you that when you first sign up on the app ;)

i'm glad they're pricing this to move, 8gb of storage is a freaking joke though. :\now can att release some info for the titan/focus s already?!

Good price, would prefer 80 bucks though.

There are some content on T-Mobile TV that's free but the good stuff still requires the monthly subscription price. Also, are you certain that T-Mobile is getting HTC Watch? Or do you mean Netflix?This is, btw, a great price for this phone. Here's hoping they advertise this thing and sell a bunch.

HTC Watch is an HTC service to rent/buy movies from them that's going to be launched. It's going to come with the phone as Ann appYou've probably seen it on some HTC Radar demos. Or at the bottom of the Dock Mode app for HTC phones, though clicking it does nothing.So it's not a T-mobile service but an HTC one.

okay... what about the Titan?

Idk about this phone yet, I still want to play with it.Large screen & 16GB vs 4G & FF cameraTo name the selling points.But I'm sure not everyone wants a big screen, like my sister with her girl pockets. She does like my hd7 but it sticks out of her pockets like a sore thumb!

Exactly. Not everyone wants (or can even manage) a 4+" screen. There is nothing wrong with this device.

8gb FAIL, 5mp FAIL 3.8in FAIL! $99 winner... this phone sucks all around. consider you'll only have 5-6gb free cause of the OS.

Nice that it comes with 25GBs of free cloud storage isn't it. This is a low to mid range device. What the **** do you expect for $99?

for the ONLY mango phone on tmobile i would expect something better not this **** I'm already considering the jump to AT&T. you can't just have a low end phone only and nothing else. HTC HD7 is not but its old time for something new to keep current WP7 interested.

Hopefully Nokia will have some good news for us on Weds.

I guessing that 80% of HD7 owners were not planning on getting a second gen device yet anyways.

I'm guessing the if the HTC Titan or Samsung Focus S was coming to T-Moble that 80% of HD7 owners would be making that alot of HD7 owners would be making the switch.

this comment is fail! seriously how many times are u going to continue to say this dumb trash? don't like the phone then don't buy it!

Suppose someone has a go-phone or dumb phone and they want to go with a smart phone? Did you ever think of that? Might be fail in your eyes but this would be an excellent first smart phone for some. Take your worthless opinions somewhere else..

Saying that this phone sucks is like saying that the Appalachian Mountains are not worth seeing. They are not the most formidable peaks to gaze upon, but still worth the time.I wish the Radar would make it to AT&T. It may not be the device that I want, but I know that it will fill a need for many people. I think that it is gorgeous!

I would have thought that the specs would be better. Almost the same as my HTC Surround 7. Minus the processor. I would not mind picking it up if I wanted a introductory phone, which this one will be.

Well, faster CPU/GPU, FFC, faster memory, better camera, better screen. A much better phone then any of the 1st Gen phones. But you're right about one thing. This is an introductory phone. AT&T got the high end devices.

NEXT! There is no way someone like myself who has an HD7 will go out and buy an HTC Radar if so the percentage is very, VERY small. Here's hoping Nokia brings something good to T-Mobile if not then i might have to jump ship which I do not want to because i hate AT&T. Too bad Sprint is neglecting Winmo.

I somewhat agree. As a HD7 owner myself I'd find it very difficult to leave my 4.3in screen. That said, the Radar is a better phone. Come on Nokia. Give me good news on Weds.

Chances are that HD7 users are not planning on paying retail for a new device right now anyways. This is a great device for people getting their first smartphone.

It'll definitely be interesting to see how the Radar does. I know I wouldn't pay $99 for it, but I don't think I'm the target demographic for this phone. My penny LG Quantum with 16GB onboard storage and keyboard was the right fit for me, which is why ultimately Android and WP will take the market. Most people like choice and variety. If Apple made multiple form factors they would really shake things up.

Right now for 4 days only on T-MO if you add a new line they will give you a HTCHD7 free.... guess they are cleaning out inventory.

That's a damn fine deal. I'm almost tempted to get one for the Wife. She has a Moto Defy at the moment and so want's my HD7. Was planning on giving it to her once I upgraded but not sure that will happen now unless T-Mobile get something other then the Radar. If Nokia dissapoints on Weds then it will be a free new HD7 for the wife.

I am seriouly hoping Nokia surprises us. But, to be perfectly honest,I am just now getting around to taking full advantage of my HD7. The HD7 is a great phone, but if I dropped it tomorrow I would want a newer tech WP7 device to replace it with....and it wouldn't be the radar.

played with one this evening at my local t-mobile store (wasn't out on display yet but, they had it behind the counter and when the guy saw my DVP he offered to let me play with the Radar for a few minutes while he played with my DVP). Nice phone. Feels solid and fits the hand well. Not sure if the silver is for me though and, I prefer a larger screen (like my DVP) but, it definitely is a nice phone.

@Mods, am I the only one unable to view/vote on the comment score? Seems like it hasn't worked for a few weeks now. Maybe it is just me...

The local TMobile received the demo for the Radar yesterday and I played around with the phone for some time. It runs so smooth. It is a great size (not too small). I am just incredibly disappointed in the device only having 8gb (6.?gb For use). if this had 16gb, it would be eighth for me. Too bad.

There's speculation that the T-Mobile Radar 4G may very well ship with 16GB.
Windows Central Newsletter
Thank you for signing up to Windows Central. You will receive a verification email shortly.
There was a problem. Please refresh the page and try again.