HTC to release Bluetooth headphones device for Windows Phones?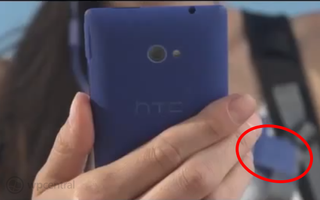 Bluetooth accessory for HTC Windows Phone owners?
HTC could be building a portfolio of official accessories for its Windows Phone 8 family of smartphones if a recently published video is anything to go by. Nokia has unveiled a number of extras that future customers can purchase to further enrich the Lumia Windows Phone experience. Through the inclusion of wireless charging and NFC, the company can offer a collection of products that stand out.
It looks as though the Taiwanese manufacturer is deciding to go down a similar route in attempt to increase profit margins on the platform. With the Beats Audio for marketing, HTC can make use of the popular brand to push forward media accessories, including Bluetooth devices and headphones.
At approximately 0:26 in the video, which is located in this article, we can clearly see a device attached to the actress. A pair of earphones are plugged into the top of what appears to be a Bluetooth receiver of sorts - Advanced Audio Distribution Profile (A2DP). No technical data is available, so it's unknown how the device is powered, as well as if this accessory fully supports hands-free calling.
There's no mention of pricing or availability, apart from a "sold separately" notice. We imagine a device such as this to retail for no more than $40 (£30), but this is an official accessory from HTC, so we could be surprised when the announcement is made. What we can take away from the video is that this accessory could well support NFC, as well as be available in matching colours to HTC devices.
We'll know more when HTC officially announce both the HTC 8S and 8X to the world - not long to go now. Be sure to check out the HTC Windows Phone 8 video below in the meantime.
Let us know your thoughts in the comments.
via: WMPU
Windows Central Newsletter
Get the best of Windows Central in your inbox, every day!
Rich Edmonds was formerly a Senior Editor of PC hardware at Windows Central, covering everything related to PC components and NAS. He's been involved in technology for more than a decade and knows a thing or two about the magic inside a PC chassis. You can follow him on Twitter at @RichEdmonds.
This phone is starting to look better and better to me!!!!

I'm starting to agree with you, though not because of the new earplugs. The styiling is nice. Right now HTC and Nokia are putting out 4 very exciting devices for WP8 bottom line is with this sort of line up from both OEMS = a win for WP8 and that is really all I care about. is seeing the OS take off because it's really a good OS that's not reciving it's due from all big tech blogs ..

I have something similar from Nokia (bh-111)

Who cares what you have from Nokia? The article is HTC!!

I cared that's why I was reading comments. You know see what people were thinking. Bigger question is what's you problem?

& I have something similar from Sony Ericsson (HBH-220)

It doesn't seem to have a Clip to attach it to things, like the collar of a shirt, that might be a bit inconvenient.

Nice looking ad, well done.

Yeah that was a pretty cool ad.

Ad looks nice but still don't believe they taking WP as serious as droid like they claim...check one x+ specs now that is s flagship phone imo ...fail HTC

All it has over the 8X is a bigger screen, which is only super LCD, not super LCD 2. In what way does bigger screen = better phone?

I'm with you. If I could get the One X+ with WP8 I'd throw my money at HTC.

1.7 quad core, 64gb on board storage ???

Yea but it's Android so it still sucks. Now stop with the trolling and go to Android Central. Why you reading on windows if u supposedly don't like it...talk about hater!

Calm down, not everyone expressing their opinion is a troll if it doesn't match yours. I would love to see 64gb storage on the 8x (or even 32, especially since there is no microsd slot). What HTC is putting most of their effort is yet to be seen, based on what they do when these phones come out. Its all about continued support and Android doesn't have the best track record

Plus who needs quad-core and 64gb?!?! Like really?!? Go to sleep!

Seriously WTF is with people and their hard-ons for quad core and huge amounts of storage? They'll never be happy.

Doesn't using a Bluetooth device completely bypass the separate amplifiers that are big part of the selling point of the 8x?

Yes. What is the point of your question?

It would be pretty neat if they put the same output amp in the BT device.

They look like regular earphones not Bluetooth...I think that was a fail on wpcentral's part....just saying...still love wp8 :D

trolling .....lol I'm a WP fan I'm not dumb tho I can tell a top spec phone from a mid spec phone whatever the OS. Only oem fully supporting wp8 is Nokia

I mean I'm getting the Nokia 920 but I think the HTC 8X is top notch.

If Nokia is only OEM supporting WP8 then why did HTC get the " signature series" brand. I doubt MS would give that to HTC if the support wasn't gonna be there. Just a thought.

Good point. I'm baffled at all these HTC/Nokia comparisons. People should be happy that a rockin', cool and diverse line of WP8 devices are coming out.

My thoughts exactly. I am undecided between HTC and Nokia. Both have great pluses and minuses. Both are good phones with enough differences to attract different customers. I'm glad the line up of available phones are all great designs, including Samsung.

While I do think HTC is supporting wp8, I think the only reason they got the name was because Nokia didn't need it. HTC makes good phones but is never the premium brand (WP or Android) so MS is giving them a boost. That's my belief anyway.

What fact? That Android phones can ramp up their specs in order to run a sloppy OS that is bloated with software apps by the OEMs? You know Microsoft controls the hardware guide for WindowsPhone right? There is zero need for quad core processors in a WindowsPhone.

So you dnt think 64gb on a phone boosted for music is better spec. And quad core not massively needed still alot higher spec phone that tho that I'm sure if it was a WP you would be gushing over lol get a Nokia they are pushing WP forward...HTC ain't thas for sure

I Think 64 GB on a phone that geared for music would be a nice touch. The lack of 64GB though is not a deal breaker. HTC may have a bit of forethought here. Alot of people are moving their music to the cloud. Through Amazon Music, Google Music, Spotify, Zune Pass and other solutions, there is sigificantly less need for high capacity phones. If you are in dire need of the high capacity, then you look to the 8s with the micro SD slot and move on.

****cough**** fanboy ****cough**** move on lmao

Fanboy...maybe. I've never owned an android phone. Supported enough for work to not desire one. I have owned multiple iPhones and iPod touches. The iOS platform feels stagnant to me. It always looks the same and everyone next to you in the office has the same device. I will agree that the HTC could offer higher capacity, we both know they won't. The market just isn't there yet for them to invest. HTC is all about making money, not about giving the minority high capacity needing consumer what they want.

Exactly that is why the storage space is not a problem for me. I had an iPhone 4 with 16gb and I had enough space for what I needed. With SkyDrive and other streaming options for music, storage space isn't needed as much.

Yeah 64GB is great... 64GB + microSD even better :D

It's a decent phone but not their top of line is all I was saying. They could of put more inside their flagship WP8 device...as they have proved with droid, which I hate btw ;)

You do know that there isn't a phone in existence that actually uses the power of quad cores, right? It sounds nice on paper but people who buy into that are paying for something they can't even use.

Lol yea sorry for swimming earlier I just hate when people troll, but again I'm sorry we're going to have to agree to disagree because I still think the HTC 8x is a top of the line phone, The I-phone doesn't even have quad-core that's why I don't think that's important and the 16gb is the one thing I totally dislike they should have definitely went with at least 32gb Like Nokia...smh.

Swimming = Assuming** LOL

Awesome phones from Nokia and HTC. Now all I am waiting for is Windows Phone 8. If it doesn't come with cool new features I am going to be very sad.

The 920 & 820 are still choice 1 & 2 for me, (bad experience with HTC) but that ad seriously gave me goose bumps!! Finally somebody gets it! Show what the device does that the competition doesn't! THAT is how you move units!!!! The ball is in your court now, Nokia... Game on.

MS need to push the ads too this time imo. Big campaign pushing the 3 screens idea and then OEMs individual ads added to them will get the publics attention...all need to be at least of this quality tho

This we can agree on. MS and the OEMs need to up their add campaign.

I haven't seen one ad for a windows phone ever. I see Samsung adds for droids and i see iPhone ads all the time. The only reason I found out about WP is because a guy on a local radio show kept talking about how awesome his Lumia 900 was. Without that i wouldn't have known. Ads have to happen this round or WP8 will fail.

There was a huge push for ads when the 900 came out. I used to see it on tv, in the paper, and on banner ads with att. But many people fast forward through commercials, don't read the paper, and block ads. I think they did quite a bit of advertising

Lolololol people here complain too much.

It the internet, everyone complains behind the thin veil that is anonymity.

Could be bundling 50 Cent's new headphones perhaps?? Said to sound better than Beats even though they are wireless. http://www.gadget.com/2011/12/06/50-cent-headphones-now-available/

The phones have beats branding, why would they put a competing product in?