Leaked official HTC 8X video reaffirms the Windows Phone sporting LTE?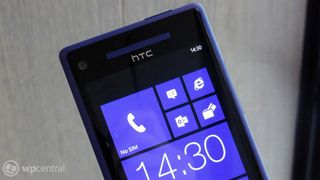 A video of what appears to be HTC 8X marketing material has been leaked on YouTube, and it reveals an interesting feature of the Windows Phone - LTE support. Earlier last month we took a look at the HTC 8X sporting the Verizon 4G logo, which further confirmed -- alongside the leaked roadmap -- that the US carrier would indeed be taking the handset under its wing, and that it would be compatible with greater network speeds.
The HTC 8X was recently spotted downtown San Francisco for what we can only assume to be carrier testing and optimisation, but it's hard to tell. For the HTC 8X to be compatible with LTE connectivity makes sense due to both the manufacturer and Microsoft billing this as a hero Windows Phone.
Back to the video, we can see the "4G" connection status being displayed throughout, and while this could well be just a holding band in marketing efforts, we'd like to believe this represents what the Windows Phone will actually be capable of with regards to speed and compatibility. Of course, to be featured on the fast US carriers, one will have to boast such compatibility.
We're expecting to be able to grab the hero Windows Phone on AT&T, T-Mobile and Verizon in the US these coming weeks. While there's nothing to say this video isn't official, we'd like to sway towards everything being in order. Of course, should this be official marketing material, we strongly doubt HTC would make the mistake in misleading customers on whether or not LTE is supported.
For reference sake, the 8X sports a 4.3" Super LCD2 display with Gorilla Glass2 at 720P resolution. Joined by a 1.5GHz dual-core Qualcomm S4 CPU, 1GB of RAM and 16GB of non-expandable storage. The 8X boasts an extra internal amplifier and Beats Audio to improve sound quality through the use of dark magic.
To close up, who's excited to get their beastly hands on their own HTC 8X?
Source: YouTube; thanks, Darek, for the tip!
Rich Edmonds is Senior Editor of PC hardware at Windows Central, covering everything related to PC components and NAS. He's been involved in technology for more than a decade and knows a thing or two about the magic inside a PC chassis. You can follow him over on Twitter at @RichEdmonds.
If it does not have LTE, it would be another reason to skip HTC.

well, if it's cheap in India, below 20,000, then I would love to buy this!

Do u really think it will be less than 20k ... Htc one S is same as this and its abt 29k n it was launched at 33k... I just hope lumia 820 is less than 25k in india

I've got the HTC Titan (v1), and I get the 4G notification at the top on the Bell Mobility network in Canada.

I was about post the same thing. I have the Titan on AT&T and get the 4G icon but it's not LTE just 4G .

Same with the Lumia on AT&T.

On the Lumia 900 the 4g symbol is replaced with an LTE when on LTE. They are not synonymous.

The Titan released in Australia earlier this year was touted as a true 4G mobile. It's basically equivalent to the Titan 2 in the US

Well I might get this for my wife since for some reason the didn't put a front facing camera in the 8S

"You don't know the power of the Beats Audio. I must obey my master!"

awsome, now lets see this add on tv !!!!

Agreed. This would be much better than any Windows Phone ad to-date if it were to hit broadcast media. With the right placement, this could prove to be a pretty impactful commercial. At the very least it makes people sit up and say, what is that phone. From there they may even walk into a store and ask for it. That's a start.

God for Us customers. We over in Sweden have only one phone on the market that will give us true 4G speeds... Nokia Lumia 920.

Beats audio with dark magic :D
Seems legit tough: as Microsoft didn't allow HTC to use a dedicated audio chip, their only option was to use the dark magic to boost the audio signal :)

Really.? How about the One X? Does the HTC One X have that dedicated audio chip.?

I thought all the US carriers (Verizon, in particular) were requiring LTE to gain adoption? And why would they not at this point?

Why is this a surprise? If its coming to Verizon, it is required to have LTE. And 4G logo is not same as LTE, there should LTE logo as well. And WP is already capable of LTE.

+1 Exactly. Not sure what the questions and speculation are for. Vzn has already stated their requirements in order to support a windows phone.

The 8X has a built in audio amp. That is a hardware feature, and I don't think it should be classified as Beats Audio "Black Majic"

Unless a new titan comes to Verizon by January, this will be my next phone! Unless my screen brakes more before then. :-P

"With the Beats logo on the back, it's obviously being positioned as something of a media machine, but what's not immediately obvious (at first glance, anyway) is the presence of two new amplifiers; one located on the audio jack, at a higher-than-normal position (to make it louder, sure, but more importantly so it can power bigger cans), with the second amp on the speaker, to improve the audio quality." -http://www.gizmodo.co.uk/2012/09/htcs-first-windows-phone-8-smartphones-the-8x-and-8s-are-much-needed-shots-of-colour/

As others pointed out 4G doesn't necessarliy mean LTE anymore (at least in the US).

I was actually a bit concerned about the 4G logo since it didn't say LTE.

I thought the biggest take aways from the video was more confirmation that skype is going to work over 4G and the 'interesting' (I thought they looked cool) headphone/remote that I assume is going to be bundled with the phone.

Glad I wasn't the only one who noticed the headphones...stuck out like a sore thumb, lol. I hope it does get bundled with the phone, I miss the days when HTC's came with headphones, though the ones I got with my surround had terrible sound and quality.

If it's the Verizon version then it will probably say 4G instead of LTE.

I'm not sure what the point of this article is considering windows phone already supports HSPA+ and LTE already...

Because there is some question of if the 8x is going to have LTE or not.

There are lots of reasons to think that it is, like the LTE branding seen on the VZW phones and just the basic fact that releasing a non-LTE phone in this day and age would be suicide. On the other hand, the official site for the 8x doesn't mention LTE in the specs which has me a bit concerned.

But..... Vzn REQUIRED an LTE capable windows phone in order to carry it. So I don't see the point of the article either. Obviously ANY wp8 that vzn carries will have LTE.

NEWSFLASH: the earth is round ;-) Any and all WP8 devices in the USA will support LTE if the carrier has LTE (VZW/ATT today, Sprint is drowning in iPhone debt).

Does anyone else find it disturbing that the time/signal strength indicator at the top of the screen seems to be showing almost the whole time even during the skype section of the video.

No.

You're almost never seeing actual phone usage in an ad. Its digital just like everything else in the world today.

4g does not mean LTE. ATT phones show 4g for their hspa+ service and LTE for LTE service. My area doesn't hace LTE yet. My phone always shows 4g

Depends where you're from. 4G means LTE in many places

Isn't HSPA+ considered 4G too?

Anyone notice the HTC Sense like clock tile, including the weather on it???

I pray that Microsoft has put more things into WP8 because that GS3 is really looking good too me right now..

kill gs3 nightmare quickly before it gets you

All of that camping. When / where does the phone get charged?


Wireless charging. It's everywhere.
Seriously, this is where the ability to swap in a fresh/spare/backup battery comes into play. Lemme back up, if I was camping, I doubt my phone would really be on at all if I even took it with me, but in the scenario I did bring it, it would not be used that much. I'm pretty sure. Pics. Maybe.

A lot of people have dogged this phone as not being 'high-end' enough. And the 920 has some impressive features. But I'm feelin' this phone more and more. That wide angle 2.1 FFC is starting to call me. And the colors are poppin'. It's a really nice phone, IMO.

wtf are you talking about? lol im confused by this article, was there ever a doubt that the new win8 phones wouldnt be lte?? pretty sure verizon even said last spring they wouldnt carry anymore windows phones until ms got them moved up to lte capability...this report by you guys of all people is odd lol
Windows Central Newsletter
Thank you for signing up to Windows Central. You will receive a verification email shortly.
There was a problem. Please refresh the page and try again.