HTC TITAN II available on AT&T April 8th for $199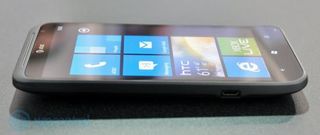 AT&T has officially announced availability dates for both the Nokia Lumia 900 and the HTC TITAN II in a press release sent out today. The TITAN II is also set to join the 900 and be launched on April 8th, for $199.99 on contract. Should you be on the network and awaiting solid second generation handsets, the choice of the TITAN II or Lumia 900 is certainly an intriguing one.
The HTC TITAN II, a 4G LTE Windows Phone, packs a 4.7" LCD display, 1.4Ghz chip, 16MP rear camera, 512MB RAM and 16GB storage space. The handset is also heading to Telstra in Australia in early April as well, with some UK stores removing the original TITAN from product lists - we could be seeing a global rollout later in April.
Source: AT&T (opens in new tab)
Rich Edmonds is Senior Editor of PC hardware at Windows Central, covering everything related to PC components and NAS. He's been involved in technology for more than a decade and knows a thing or two about the magic inside a PC chassis. You can follow him over on Twitter at @RichEdmonds.
As much as I hate at&t...this will be my next phone.

Wow, this and the lumia 900 both look amazing!

I can't decide ... LUMIA 900 or TITAN 2? my first instinct was TITAN 2 so probably going to go with that for the bigger screen and 16MP camera :) unless someone can talk me into the LUMIA900?

Lumia: nicer, more stylish build quality, easier fit in the hand (IMO 4.7" doesn't make sense without a higher-res screen), and probably a better camera (it's not all about megapixels. The Lumia will have better optics).
Truthfully, I have no idea why anyone would pick the Titan over the Lumia.

Well you can be certain that you will have full software support from Nokia since they've put all their eggs in the WP basket. Also the Amoled, beautiful design and exclusive Nokia Maps.

No one should have to talk you into or convince you to purchase a Lumia 900. Weigh the benefits, decide which you like, and purchase it.

However, free offline navigation is a huge bonus on the Lumia devices.

16mp camera, wow. I am getting that. Titan II all the way.

Titan has a way too big screen and 8mp camera is enough, i will go for Lumia 900 because it is slim and look cooler than lumia 800 and titan as well.

Well after how quickly the TITANS price dropped, I couldn't justify the 199.99$ price tag

Lol! I suspect that the Titan II will drop in price rather quickly just to get rid of the stock. I'd wager as soon as May the Titan II will be a penny.

Well my TITAN is an awesome phone so I expect the same of the TITAN II. I notice that it will even be easier to handle one-handed as they moved the search and back buttons closer together. I need to find out how good the speaker is on the NOKIA & will have to play with them to compare but I think it will be the 900 for Momma, and the TITAN II for me.

Agree my TITAN is great, was waiting for the Nokia but really pleased with my TITAN, now deciding whether to give this one to the girlie and get the TITAN II, the only thing is she always complains that i give her all my old phone...


I know, right. She has my old Focus and loves it but I know when she sees the 900 its all over. She will say I always get the new one so it's her turn ;-). I have a plan though, cuz my sons will love our old phones, haha.

why is only att getting all the wp7 phones this is bs

Because Verizon and Sprint have declined newer models until "Apollo" and t-mobile is directed to the more lower priced and budget oriented consumer. Leaving at&t who is like we'll take but won't give it updates and that five for manufacturers as long as someone buys the handset.

*that's fine for manufacturers

I like the battery size and form factor of the lumia, but I cant help but drool over the 16 Megapixel camera. Both phones are a win in my view.

I vote for neither. Waiting for a new WP with keyboard by April 2013. There's still hope! ivore for neither. Waiting for a new WP with keyboard by Apeil 2013. Thera still hope

shame that most of you were cursing at AT&Trash for not delivering the 8107 and now you planning to sign up for them for another 2 years? I wouldn't give them anymore of my money

Accept who is delivering updates??? I'm on Sprint now, and they are worse than AT&T as far as Windows Phone support. By switching at least I'm going to a carrier who is dedicated to the platform.

Then don't complain if you don't get updates, they aren't that dedicated to the platform. T-mobile is the most dedicated

Someone needs to get a hands-on asap with this and see if they've resolved the voice quality issue present in the first TITAN. I'd love one of these but am leaning toward the 900 due to the voice issue and the lower price.

Agree I hate ATT. Tmobile is falling off and laying employees off. Not a good look and I really like tmobile.

Titan 2 for me please! Gotta have the larger screen, if only there was a 4.5-4.7 inch Nokia option....

I'm enjoying my Titan and wonder if HTC will incorporate the camera from the HTC One into their future WP7 phones?

Techiedude

Let's hope they fixed the muffled voice quality. And if so, HTC needs to push that fix out (if possible) to the Titan. Oh wait, AT&T probably wouldn't agree to this firmware update. :(

Hopefully they can work around that. I am pretty sure that Samsung fixed the autobrightness issue with my Focus S by issuing the update though the Marketplace instead of through at&t. They updated the "extra settings" app and that fixed the problem.

Just really tired of the same old designs from HTC for the majority of their phones. The build quality is excellent, but I want someething differnet. Definitely the Lumia 900 for me.

SO, the Lumina 900 is $99 on contract. and the Titan 2 is going to be $199....
So what is the better phone ?
Windows Central Newsletter
Get the best of Windows Central in in your inbox, every day!
Thank you for signing up to Windows Central. You will receive a verification email shortly.
There was a problem. Please refresh the page and try again.