HTC TITAN quietly removed from online UK retailers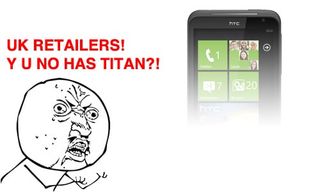 It would appear as though some UK retailers and carriers are silently ditching the HTC TITAN (our review) Windows Phone from their online properties. Retail chains include The Carphone Warehouse and Phones4U, as well as O2, Vodafone, T-Mobile and Orange. Searching the websites for the handset yield no results. We've reached out for possible confirmation of / reasons behind the sudden removal.
Could the TITAN not be selling well enough, or will we be seeing a compatible TITAN II hitting the UK shores? Should you be interested in the TITAN I, you can still pick one up from Amazon UK (opens in new tab) (eXpansys), Clove UK and BuyMobilePhones to name but a few.
Thanks Sam for the tip!
Rich Edmonds is Senior Editor of PC hardware at Windows Central, covering everything related to PC components and NAS. He's been involved in technology for more than a decade and knows a thing or two about the magic inside a PC chassis. You can follow him over on Twitter at @RichEdmonds.
Nice troll face :D
If the reason was TITAN2 they woulden't just quit.
I'm betting it's not selling at all..

working at CPW I can honestly say the only WP7 phone that sells well is the Lumia 800 The titan is awesome but just too big for most people TBH, However heres hoping we get a Titan @ soon :)

I love my titan, the size scared me at first but now I wouldn't be without it,everything else seems so small. I've used an Samsung Omnia 7 too and I like that too. Windows phone rocks leaves everything else in the shade.

O2 didn't offer it anyway. Pretty sure, the same can be said for Orange, Three, and Vodafone.

Contracts were available at CPW and P4U, though? Might explain the pull form both retailers with only unlocked versions being left at Amazon, etc.

Glad I got my Titan when I did. Fantastic WP7 phone.

I have the Titan, got it from cpw London.

I wonder how much hTC them self are to blame. I looked to buy a Titan and the largest carrier in Sweden had dummys up, and they had some attempts to show it of, but no companies in the west of Sweden ever got deliverys and I had to turn to expansys.se to get a non Swedish version... but our language was installed, puh.

HTC's first Windows Phone for China which is set to release is the Titan. Could it be that they are concentrating on getting these out-of-the-door for China and leaving the Radar for the UK market?

Although I have a Lumia 800, I think the Titan is a fantastic device, too bad it's so expensive, quite more than the Lumia 800, where I live.

Orange never offered it and T Mobile have only ever had the Omnia 7 and now the Lumia 800. The Titan has never really been that prominent which is not suprising as it was up agains the Nokia marketing juggenaut.

Bought my Titan this week. Only £40 more than a Lumia 800 (sim free). Love it. Everyone who sees it loves it. TBH I was going to get a Lumia til I discovered it needs a micro sim and I really couldn't be bothered with the hassle of getting a new sim and having my number ported.

HTC barely lifted a finger to market the Titan...therefore they shouldn't expect any success with it.
Its elementary.

UK doesn't suffer from the collective "bigger is better" overcompensation mentality the US does. Like the classic Taco Bell Grande Burrito commercial: "why does everything in America have to be so bloody big?!"

I love my titan but in most UK phone shops wp is not even advertised In store. I see people walking round with galaxy 2 or taking pics with there ipads the size is not the problem the advertising is.

Damn you WP7 because of your recommendation I have bought this phone.....any reviewer you says call quality is good on this phone need to retire from technical reviewer job, you got to be kidding me ....
Google "Terrible Call Quality" in google and first link will show up, HTC acknowledge issue but not ready to do anything about it...device has basic call quality issue, bluetooth implementation sucks, bad internmet access and several places where other phones are able to get signals Titan is not seeing signals, and this is when it claims to be 4G phone....Iphone 3gs was giving me much better and smooth experience in those areas.... Hotspot is another issue if you are using hotspot for an hour and then try to make a call, it wont call at all (phone is hot)
if you started hotspot surfing internet on laptop, then try making a call and laptop internet gets disconnected
I am using it from day 1 and got several complains about other person had issue hearing me....
You guys have mentioned none of that...I dont trust you anymore as no reviewer could have missed these glaring issues


I bought a Titan and returned it after about 2 weeks. LOVED the phone, and almost exchanged for another one, but I, like heda_p, also had call quality issues. It is a quite large problem, and I am surprised so many people have not heard about it. To the other party it sounds like you are in a tunnel or hole
The AT&T salesperson told me that HTC phones are synonomous with piss poor call quality. So I passed and went with a Galaxy S2 Skyrocket. I will definitely return to WIndows Phone. I am waiting for the Titan 2 or the new Lumia 900 for my return. I thought Mango was a terrific operating system, but MSFT does need to improve the app selection.
An interesting note: when I first told the salesperson my problem, her first question was "Why did you get a Windows Phone? Those phones suck. Let me show you our newest Android Phone." I had heard about the bias at AT&T but had never witnessed it firsthand.

You should have asked how the call quality on the HTC Sensation XL was...and saw the bias spew from her mouth as they are basically the same phone just with Android instead of WP7.

Can't say I have had any of the above issues also with all the reviews I have read before taking a 24 month contract on this phone yours would be the first truly negative review i have seen.

The Titan is a fabulous device. IMO the best WP7 device on the Market at the moment. I have had mine since release in the UK & have nothing but praise for it. I enjoy every minute using it & have had absolutely no problems with it other than a slight annoyance when occasionally it loses WiFi signal when coming out of sleep mode. It's a pity HTC & MS did not get their weight behind it. Everyone who tried the device had nothing but rave reviews about it. I have absolutely no regrets buying this & would probably choose it before even the Nokia Luma 900 as the Nokias have been riddled with bugs. Time will tell if the 900 is any better. Well done HTC on a well built & amazing device.

I've had my Titan for about two months and not had the call quality or Wi-Fi problems that some have described. The only issue is the little "sleeve" around the micro USB port just WON'T stay in. In fact, I'd say the Titan doesn't feel as solid as my previous 7 Pro but that's my only niggle.
At first the screen was unthinkably, monstrously huge. Now I find it perfectly sized and I can't see myself ever being able to have anything below maybe a 4.3" in the future. It must have sold at least a little, as it's made it to 3% on I'mAWP7 UK stats, where the 710 hasn't even appeared yet.

WiFi,won't work at all when Bluetooth is in use.I sent it back to HTC .They put a new chassis in ,basically all new inside ,and it's still the same.However my iPad is just the same,so after all that,I blame my WiFi router.It's all very strange.Sorry HTC for blaming your phone.TITAN'S are brilliant,and let us in UK have TITAN2asap.This phone is so easy to use,and the sound quality is excellent.
Windows Central Newsletter
Get the best of Windows Central in in your inbox, every day!
Thank you for signing up to Windows Central. You will receive a verification email shortly.
There was a problem. Please refresh the page and try again.