Nokia Lumia 900 to hit AT&T on April 8th, Pre-orders begin on March 30th (Updated)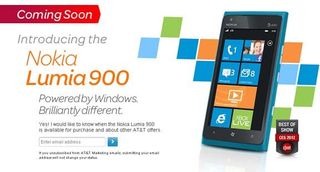 While we still haven't heard anything official from AT&T, CNET is reporting this morning that AT&T has told them that the new Nokia Lumia 900 Windows Phone will hit shelves on April 8th. The Lumia 900 will sell for $99 after two-year contractual discounts.
Earlier rumors had the Lumia 900 possibly launching on March 18th (opens in new tab) but then the rumored release date was pushed back. The $99 price tag might have been the only constant in all the speculation.
You will be able to pre-order the black and blue versions of the Lumia 900 beginning March 30th in stores and online. The white version will be available on April 22nd.
Still no word on the out-of-contract pricing and should we hear anything, we will definitely pass it on.
source: CNET (opens in new tab)
Update: The official press release from AT&T just hit the wire confirming the above. Beginning March 30th you can pre-order the Lumia 900 in stores or online at AT&T's Lumia 900 webpage (opens in new tab). The two year contract does require a minimum monthly voice package of $39.99 and a data plan of at least $20 a month. Oh, and don't forget the activation fees are now $36. You can catch the full presser after the break.
AT&T Brings First LTE Windows Phone to Market with Nokia Lumia 900, Available for Customers April 8 for $99.99
Dallas, Texas, March 26, 2012
The Nokia Lumia 900, the Windows Phone named "Best of CES" for all smartphones, will be available exclusively in the U.S. from AT&T* on April 8 for $99.99. One of the first 4G LTE Windows Phones in the world, the Nokia Lumia 900 gives AT&T customers more 4G LTE choices than ever before and the largest selection of Windows Phones in the U.S. For more information, customers can visit www.att.com/lumia or AT&T's Consumer Blog.
Customers who can't wait to get their hands on this new smartphone can pre-order it in cyan or black beginning March 30 by visiting https://www.windowscentral.com/e?link=https%3A%2F%2Fwww.kqzyfj.com%2Fclick-100048247-13650413%3Fsid%3DUUwpUdUnU10612%26url%3Dhttps%253A%252F%252Fwww.att.com%252F%26ourl%3Dhttp%253A%252F%252Fwww.att.com%252Flumia%252F&token=YLu9OF7P or any AT&T company-owned retail store. Qualified business customers who receive wireless service discounts can pre-order the Lumia 900 online, beginning the afternoon of March 30, at https://www.windowscentral.com/e?link=https%3A%2F%2Fwww.kqzyfj.com%2Fclick-100048247-13650413%3Fsid%3DUUwpUdUnU10612%26url%3Dhttp%253A%252F%252Fwww.att.com%252Fnokialumia900.&token=J8EuLhcD
Running on AT&T's superfast 4G LTE network, the Lumia 900 delivers an unsurpassed mobile experience. With 4G LTE speeds, the people-first style of Windows Phone 7.5 and outstanding design lets customers access their emails, music and social media quickly and helps them look good while doing it. The Lumia 900 will be available in unique and eye-catching cyan blue and a matte black on April 8, with a newly announced high-gloss white version on sale beginning April 22.
"AT&T and Nokia's relationship spans many years and we're thrilled to introduce their first 4G LTE Windows Phone only for our customers," said Jeff Bradley, senior vice president – Devices, AT&T Mobility. "The Lumia 900 is impeccably designed with clean lines and a camera that rivals stand-alone digital cameras on the market today. Combine that with the people-first Windows Phone experience and our 4G networks – the nations' largest – and it's clear that this is one of the best phones customers can find."
The Nokia Lumia 900 has a 4.3-inch ClearBlack AMOLED display for rich, bright images both indoors and out and a long-lasting 1830 mAh battery for enjoying content.
Its 8 megapixel camera includes Nokia's exclusive Carl Zeiss optics, with large aperture (F2.2) and wide angle focal length (28mm) for high-quality, uncropped images even in low-light conditions. The front-facing camera boasts a large aperture and a wide angle lens that ensures sharp, bright images for high-quality video calling, right out of the box. Additionally, customers can enjoy their favorite music and videos from their Lumia 900 wherever they are with the Nokia Purity HD On Ear Stereo Headset by Monster, also available beginning April 8.**
The Nokia Lumia 900 offers AT&T customers a range of leading content experiences such as:
AT&T U-verse Mobile lets U-verse TV subscribers browse the U-verse TV program guide, schedule and manage their DVR recordings, and watch hit TV shows while on the go. The U-verse Mobile library includes more than 100 TV series and more than 700 TV shows from a variety of genres.
Nokia Drive, available to download from Windows Phone Marketplace, provides free voice-guided, turn-by-turn navigation with a dedicated in-car user interface that turns the Nokia Lumia 900 into a GPS navigation device.
The exclusive ESPN sports hub is pre-loaded on the Nokia Lumia 900, and provides a one-stop sports application for news, videos and scores.
Limited 4G LTE availability in select markets. 4G speeds delivered by LTE, or HSPA+ with enhanced backhaul, where available. Deployment ongoing. Compatible device and data plan required. LTE is a trademark of ETSI. Learn more at att.com/network.
Limited-time offer. Nokia Lumia 900 requires a new 2-yr wireless agreement with voice (min $39.99/mo) and min monthly data plan ($20/mo). Subject to Wireless Customer Agrmt. Credit approval req'd. Activ fee $36/line. Geographic, usage and other terms, conditions and restrictions apply, and may result in svc termination. Coverage and svcs not avail everywhere.
Taxes and other charges apply. Data (att.com/dataplans): If usage exceeds your monthly data allowance, you will automatically be charged overage for additional data provided. Early Termination Fee (att.com/equipmentETF): After 30 days, ETF up to $325. Restocking fee up to $35. Other Monthly Charges/line may include a Regulatory Cost Recovery Charge (up to $1.25), a gross receipts surcharge, federal and state universal svc charges, fees and charges for other gov't assessments. These are not taxes or gov't req'd charges. Visit a store or att.com/wireless to learn more about wireless devices and services from AT&T.
*AT&T products and services are provided or offered by subsidiaries and affiliates of AT&T Inc. under the AT&T brand and not by AT&T Inc.
About AT&T
AT&T Inc. (NYSE:T) is a premier communications holding company and one of the most honored companies in the world. Its subsidiaries and affiliates – AT&T operating companies – are the providers of AT&T services in the United States and around the world. With a powerful array of network resources that includes the nation's fastest mobile broadband network, AT&T is a leading provider of wireless, Wi-Fi, high speed Internet, voice and cloud-based services. A leader in mobile broadband and emerging 4G capabilities, AT&T also offers the best wireless coverage worldwide of any U.S. carrier, offering the most wireless phones that work in the most countries. It also offers advanced TV services under the AT&T U-verse® and AT&T |DIRECTV brands. The company's suite of IP-based business communications services is one of the most advanced in the world. In domestic markets, AT&T Advertising Solutions and AT&T Interactive are known for their leadership in local search and advertising.
Additional information about AT&T Inc. and the products and services provided by AT&T subsidiaries and affiliates is available at http://www.att.com. This AT&T news release and other announcements are available at https://www.windowscentral.com/e?link=https%3A%2F%2Fwww.kqzyfj.com%2Fclick-100048247-13650413%3Fsid%3DUUwpUdUnU10612%26url%3Dhttp%253A%252F%252Fwww.att.com%252Fgen%252Flanding-pages%253Fpid%253D3309%26ourl%3Dhttp%253A%252F%252Fwww.att.com%252Fnewsroom&token=XUtOLvoP and as part of an RSS feed at www.att.com/rss. Or follow our news on Twitter at @ATT.
© 2012 AT&T Intellectual Property. All rights reserved. Mobile broadband not available in all areas. AT&T, the AT&T logo and all other marks contained herein are trademarks of AT&T Intellectual Property and/or AT&T affiliated companies. All other marks contained herein are the property of their respective owners.
Cautionary Language Concerning Forward-Looking Statements
Information set forth in this press release contains financial estimates and other forward-looking statements that are subject to risks and uncertainties, and actual results might differ materially. A discussion of factors that may affect future results is contained in AT&T's filings with the Securities and Exchange Commission. AT&T disclaims any obligation to update and revise statements contained in this news release based on new information or otherwise.
George is the Reviews Editor at Windows Central, concentrating on Windows 10 PC and Mobile apps. He's been a supporter of the platform since the days of Windows CE and uses his current Windows 10 Mobile phone daily to keep up with life and enjoy a game during down time.
I'm in for one Matte Black on day one, possibly hour one. I wonder if stores will actually be open on the 8th to pick these up?

I wonder the same, since it is Easter Sunday. I, for one, have priorities beyond this phone on Easter Sunday, so you won't catch me skipping church service for it, but if it is a Sunday release, I will definitely be on my way afterwards.

I'll be attending church as well, but will be following your example and attempt to pick it up afterwards :-D

I've got my money ready! Is it April 9th yet?!?

Still waiting for ATT to make it official. I wonder if anyone who signed up to be notified by ATT has actually gotten an email notification yet regarding availability and price?

Its as official as it can get: http://www.youtube.com/watch?feature=player_embedded&v=CuU91TU7O3s

Great find! Wow, video posted on March 23rd, and today is March 26th and CNET (and others) are just now reporting this. Video also states that glossy white will be available on April 22nd.

I have a feeling the video was uploaded on the 23rd but wasn't made available until this morning.

No email yet. AT&T will likely wait until they actually announce it before pushing those. I wonder, I've never pre-ordered a phone before, does that mean I get it shipped to me ON April 9th or does it arrive on April 9th? I'd rather be at the AT&T store at open to get it rather than sitting by a computer screen clicking refresh on my tracking code all day.

It will arrive in the 9th.

Who is willing to wait another two weeks after the cyan and black versions are available? I'm tempted ...

I would if it was a matte white, instead of glossy. I don't know why, but I lost all interest in the white as soon as I found out it was glossy

I bet they went for glossy because it will protect from discolorment, as the matte would attract tiny dirt particles that will alter the white's pale shade. I like white version, but I am not sure about the glossy finish either.

Excellent news, beautiful phone, will it get Apollo?

Nothing about the TITAN 2? :/

Titan II is coming the same day for $199.99. I'm sure there will be an article up here soon, but for now check http://www.theverge.com/2012/3/26/2903141/htc-titan-ii-att-april-8-199-99

http://www.engadget.com/2012/03/26/att-htc-titan-ii-april-8th/

This is when it gets real.

Yes! Microsoft just confirmed all of this by posting a new topic on the Windows Phone Blog.

So... What do you think? Is it time to ditch the Samsung Focus for the Lumia 900? Or is it better to wait 'til fall and see what Nokia releases for a Windows Phone 8?

I'm ditching my Focus now for a 900. Its been flaky the last few months and I just can't put up with it anymore. I know full well that I'll probably want whatever comes with WP8 too (Lumia 1000?), and might buy it off-contract.

I'm going to wait for next Gen. processors, and HD screens. Hopefully we can get HDMI out. That would be nice.

Not as nice as HDMI out, but Nokia did release a DLNA app called Play To - it will stream media from your phone to DLNA-enabled devices (TVs, set-top boxes, etc.). I have HDMI out on my Nokia N8 and I have used it probably 10 or 12 times, mainly to view pictures I captured with my 12mp camera on a HDTV, or show of Angry Birds full screen. Other than that ... not a whole lot of use for me.

I haven't really used HDMI on my N8 either. I guess it's a 'good to have', but it's not a 'need to have', at least not for me.

Yeah, I'm going to wait as well, but it will be a challenge. I still have a few months warranty left on my N8, so I'm going to ride it out...I think :)

The Easter bunny Is going to have a lumia 900 in the Easter egg hunt!

I hope the rest of the world doesn't have to wait for May to get that phone.

Will Costco be carrying the Nokia Lumia 900 and accept preorders on March 30th as well? Usually, they don't charge tax on the whole phone the way that everyone else does. It would be a whole lot more savings if this was true.

I read a thread over in the forums about a poster who talked to someone from Costco. He was told Costco wouldn't get the Lumia 900 until 2-3 weeks after it releases in AT&T Stores. I will try to dig that thread up to make sure I am remembering correctly.
UPDATE: From the aformentioned thread: "He also said Costco usually gets the phones 2 weeks after the ATT stores" http://forums.wpcentral.com/lumia-900-ace/188495.htm post #8

What is faster? Pre-order on March 30 and get it in the mail (maybe already on Saturday?) or go to a store on the 8th/9th?

I'm wondering the same thing.

Me too. I took April 9th off of work just in case AT&T isn't open on Sunday. I would think they ship out the devices on Friday (6th) but I doubt I'd see the phone before Monday evening. I may journey to the AT&T Store.

This is off subject but is anybody else having trouble with notifications on the me tile? I've been only getting Facebook notifications from two people lately, and missing everything else. What's up with that????

I really hope the rumor about more money is invested in getting AT&T reps familiar with the 900 and the WP OS is true. My discussion a couple days ago when I stopped by the AT&T store near my house.
"Any word on when they're releasing the Lumia?"
"The Lu...the Lumina? Probably late summer, early fall."

My store sales manager said that they already are getting phones the sales people have them and cant bring them on the floor demo units are not in yet but will be cant see them until March 30th but he has his and used it and is very excited about it and they will be pushing it heavily. They are all going to Little Rock for training on the 30th. It supposed to last all day.

Anyone gotten word from the Microsoft Stores that took pre-orders yet?

Wonder if the pre order includes the gloss white?

Gloss White comes on 22nd but if you want to pre-order for white then you can go to ebay store and order it, it`s available for $829. I like it also and few people got from ebay already.

Any news on third party pre-orders (amazon, etc)? I will buy the phone off contract and would like to use my amazon gift cards.

I seriously hope Rogers Canada has this the same day

So is the $99 upgrade a Limited Time Offer or will it always be $99? Im trying to decipher that from the above PR. Anywho.... Ill be preordering the Cyan version. So long 3gs.

no nokia lumia 900 for me!.... my ATT account says I quality for an upgrade in october! LOL

I think it's odd that the MS Store representatives don't even know when this phone is being released. I stopped by today (on the way home) to ask when pre-orders could purchase the phones and the woman simply said "When they are released." I asked her if she knew when they were being released and she said no, quite rudely too. I left asking the person at the door if they were open on Easter and he said yes - guess I'll show up on Easter day and *hope* they'll sell me a phone. Last time I go into that store expecting good customer service.

Well I am elligible for a discounted update on 4/9, is this a coincidence or a sign from the Windows Phone and Nokia genies? It looks like I will be trying for a Cyan Lumina if I can get one :-)

So are the att stores going to be open on the 4/8 or do i have to wait untill the 9th? does anyon know ?

Ok it's the 30th but I can't a place to pre order the phone. Come on ATT go live already with pre orders. Or am I missing something?

I got right online, placed my order no problems!!!!!!!!!!!!!

Hey, if you're reading this late, there's a way to turn off the 4G LTE from the Nokia Lumia 900. Just do a Google search for AT&T, 4GLTE and "found a way to turn LTE off" should bring you to this Web site. Very cool. Any way to save money living in San Francisco while working at just a hair salon helps!


Windows Central Newsletter
Get the best of Windows Central in in your inbox, every day!
Thank you for signing up to Windows Central. You will receive a verification email shortly.
There was a problem. Please refresh the page and try again.