HTC's Entire 2009 Lineup Apparently Leaked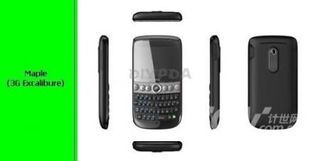 Well this is going to take the wind out of HTC's sails a bit for whatever they were going to unveil at Mobile World Congress in a couple months. See, images marked "DIYPDA.com" (re-posted by user Arlen of PPCGeeks and via Modaco and wmpoweruser) have cropped up -- a full twenty five photos of upcoming HTC devices. We have the full gamut here, from the HTC Iolite (previously seen) to stuff we've been waiting for for quite awhile, like the above HTC Mable, which looks to be the long-awaited 3G update to the Excalibur/T-Mobile Dash.
We have the Twin, Topaz, Rhodium, quite a lot. There's everything from WinMo Standard Messaging devices to black slabs to sliders, and they all look good. Darn near every carrier is represented too.
More after the break
First up, the Iolite, which we are expecting to sport a WQVGA screen, 3.2mp camera, 512 ROM and 228 RAM, WiFi, etc.
And here we have the HTC Twin, which appears to be the CDMA + GSM world phone edition of the Iolite
And now the HTC Maple, aka the 3G Excalibure, which appears to finally finally be the update to the Excalibur many of us have been waiting for.
And the HTC Topaz, which looks to update the HTC Diamond in both European and US Flavors. Given how AT&T apparently took a pass on the original Touch Diamond, we'll be pretty excited to see this hit here.
The HTC Citrine and the HTC Topaz C look pretty similar, with the Citrine apparently headed for T-Mobile. We're tempted to say at least one of these is destined to be the US version of the HTC Touch HD.
Next up we have various version of either the HTC Rhodium, HTC Barium, or the HTC Tungsten -- all of which seem to be different carrier replacements for the Touch Pro / Fuze.
The Willow W and the Cedar W both looks like more straight-up messaging devices.
The Beryl, Firestone, and Whitestone all seem to be different variations on the same black slab theme -- but the Whitestone W clearly appears to be a media device, check out that nice little stand!
The Thoth is the Athena 2, an update to the "is it a UMPC or is it a WinMo device" what many have grown fond of
And before the original Iolite even makes release, we have a clever update to it called the Magnet, with an off-center d-pad.
We're not sure what to make of the Sapphire -- may be Android devices? Check out those crazy chins.
And for similar chin-based reasons, we're pegging the Memphis, Hero, and Jasper-C as Android Devices as well.
Get the Windows Central Newsletter
All the latest news, reviews, and guides for Windows and Xbox diehards.
AMAZING! you guys and everyone else are all over this breaking news! THANKS HTC for the new devices!

Oh crap - I am getting "buyers freeze" now (keep waiting on "next")! I would love either the Tungsten or the Citrine on Sprint. I would have a Touch Pro now if it had a full screen which is pretty much what it looks like they are doing on the Tungsten. Sweet!

Did anyone notice that Turgsten is a name for an old Palm device. This Turgsten could be a PalmOS or a Palm WebOS device.

If you want a great phone, then make it yourself. Dont count on someone else to make it for you. Just stop complaining about it.

I want that full screen and keyboard, about time HTC. Unfortunately I'm not seeing a headphones jack on the Rhodium... but the Topaz seems to be sporting one so now all we need to find out is how much this going to put me back. Hmm... not sure if I want to abandon the keys just yet but those screens look amazing

I want that VZW "Tungsten W" SOOOO bad now!!

After seeing Palm's WebOS, I know I'm not gonna be buying any Windows Mobile 6.X device. Everyone has passed Windows Mobile 6 and I doubt 6.5 can really be so different to catch up the competition. Hopefully Windows Mobile 7 will be the real deal, but Windows Mobile 6.X is now super dated (I have 6.1 on my AT&T Tilt).

I have a Touch Pro, so was interested in the Rhodium/Barium/Tungsten etc. (who knows what the Euro Australian 'main' name will be). Has anyone noticed that the keyboard on these new ones has less keys? My Touch Pro has the same 5 rows as the ones in the pics, but it has 1-9, 0, '-' and '=' across the top - 12 keys. The ones in the pics only have 10. Coming from a TyTnII previously, I was rapt to get the 5th row with the numbers available directly instead of through a function key. It's unfortunate that they seem to be going the other way and cutting down on some keys, meaning more use of the function key again (and before any comment that it's to make it easier to touch type - I don't have dainty fingers, but have had no problem typing fast and accurately on the Touch Pro keyboard, so I don't need bigger keys).

I dont know if anyone noticed but if you look at the top right of the "Willow W" you can clearly see the sprint logo. Also will the Jasper C be the new android phone destined phone? I am hyped Sprint is putting up a pretty good lineup. The "tungstens" look like windows mobile phones. I am really psyched on this lineup. I am glad HTC bought the designing company. But this will make me pick between Windows Mobile 6.5 vs. Android vs. webOS. This is going to be a good year for phones.

Yes, the Sapphire should be the next Android device (G2?). The Sapphire 1.5 has carrier designation DCM for DoCoMo (you can even barely see the DoCoMo logo on the top-right of the device), and DoCoMo has already previously indicated it is working with HTC to be the first to bring an Android device to Japan. Sadly, most of these devices still appear to lack a proper 3.5mm headphone jack. Maybe it seems a bit trivial, what with extUSB adapters easy to come by, but it's just one of those things that makes a device that much more appealing.

Quite simple,the Iolite,everybody knows what model is (a Touch Pro,without keyboard and less scrrem resolution and style XD),The Mapple (3G T-Mobile Excalibur) and the Twin (GSM+EVDO version of the Iolite) too,Topaz it

ummm...just because there's a chin design doesn't mean it has to be an Android device...or vice versa for that matter. Just putting it out there. It'll be interesting to see for sure that these are A) Real and B) what's actually going to be released in the coming year.

I am looking forward to the Whitestone. My priorities are a large screen and a big display area. I plan to put my AnywhereMap GPS software on it and I need a big screen so I can look down and get the information I need quickly. When flying at 170 mph near heavy airspace you can't spend a lot of time squinting at a small screen.

Why would you be going at that speed, mate?

I assumed he meant flying not driving

I have a Touch Pro, so was interested in the Rhodium/Barium/Tungsten etc. (who knows what the Euro Australian 'main' name will be). Has anyone noticed that the keyboard on these new ones has less keys? My Touch Pro has the same 5 rows as the ones in the pics, but it has 1-9, 0, '-' and '=' across the top - 12 keys. The ones in the pics only have 10. Coming from a TyTnII previously, I was rapt to get the 5th row with the numbers available directly instead of through a function key. It's unfortunate that they seem to be going the other way and cutting down on some keys, meaning more use of the function key again (and before any comment that it's to make it easier to touch type - I don't have dainty fingers, but have had no problem typing fast and accurately on the Touch Pro keyboard, so I don't need bigger keys). m65 kamagra attorney lawyer scrub