I switched from Surface Book 2 to Surface Pro X, and I'm in love. Here's why.
Chalk this one up to a happy (if painful) accident.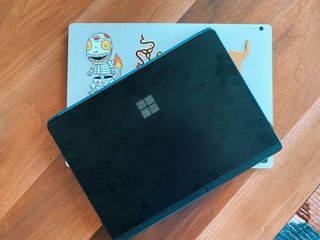 (Image credit: Dan Thorp-Lancaster/Windows Central)
I've been a Surface Book 2 user — and fan — since it was released in 2017. I bit the bullet and preordered the 13-inch model shortly after it was announced, and I never looked back. However, when my Surface Book 2 met an untimely demise due to an unfortunate incident involving a glass of water a few weeks ago (it got very wet), I started re-thinking what I wanted out of a portable PC.
Enter the Surface Pro X. I wound up going with Microsoft's latest iteration on the long-running Surface Pro line, and it's been the perfect fit. Still, it's a relatively big step down in terms of capabilities. Here's why I ultimately decided that it doesn't matter, and why I'm loving the Surface Pro X.
Surface Pro X is the perfect fit
When I picked up my Surface Pro X, several people on Twitter rightly pointed out the sudden "lane change". Making the jump from an Intel processor with a discrete graphics chip to Microsoft's custom ARM SQ1 chip (a riff on the Snapdragon 8cx) does have its downsides. But, for me, the positives outweigh the negatives.
The key here is that my laptop is no longer my main PC. I bought the Surface Book 2 when I didn't have a desktop PC to fall back on, so I went for power and maximum app compatibility. Now, I spend more time at a pretty powerful desktop rig than not, so my priorities have shifted drastically.
The three biggest draws for me with the Surface Pro X were LTE connectivity, portability, and battery life. There are several LTE laptops on the market nowadays, but none of them check all three of those boxes quite like the Surface Pro X.
Honestly, I got the SB2 when I didn't have a desktop to fall back on. I have a pretty beefy gaming rig now, so I just wanted something with LTE that would be good for working on the go.Honestly, I got the SB2 when I didn't have a desktop to fall back on. I have a pretty beefy gaming rig now, so I just wanted something with LTE that would be good for working on the go.— Dan Thorp-Lancaster (@DthorpL) January 31, 2020January 31, 2020
My Surface Book 2 felt great to use, but it wasn't exactly the most portable PC in the world, and I started to feel that over the last year or so. The Surface Pro X, by contrast, is a device I can fold up, toss in my backpack, and barely notice it's there the rest of the day. With LTE added in, the portability argument gets even better because I can set up shop nearly anywhere to knock out some work on the go.
The Microsoft SQ1 ARM chip that powers the Surface Pro X is no slouch when it comes to battery life, either. Like some, I initially worried when I saw Microsoft's quoted battery life of "up to 13 hours" when compared to the figures quoted in the 20-hour range on some other ARM laptops. Thankfully, my fears have been unfounded thus far: I can easily go beyond a typical workday on a single charge, and topping back up is fairly fast.
Beyond my three must-haves, there have been some other pleasant surprises as well. Windows Hello is, for some reason, significantly faster on the Surface Pro X than it was with my Surface Book 2. Combined with instant-on, I can open the Pro X up and get to work in just a second or two. That's something I've gotten used to with phones, but it's incredible to see on a PC.
Surface Pro X definitely has its limitations
Despite my love for the Surface Pro X, its not all sunshine and rainbows. There are definitely limitations to consider when looking at an ARM-based laptop, and the Surface Pro X won't be for everyone.
The biggest concern for many will be app compatibility. Native ARM apps feel great to use, but emulating Win32 apps can prove to be quite frustrating. And if you need to use a 64-bit "classic" desktop app, you're out of luck (at least for now).
The good news for me is that I live mostly in my browser, and the new Microsoft Edge works flawlessly with ARM chips. For the few apps I need when working on the go, there are either ARM64 versions available, or I can install them as Progressive Web Apps (PWA) via Edge. I was initially skeptical of this approach, but PWAs have proven to be quite responsive and don't feel out of place alongside true desktop apps.
The biggest stumbling block I've encountered is in my photo editing workflow. I occasionally have to take and edit photos for work, and I previously relied on my Surface Book 2's SD card slot and Affinity Photo to get the job done. With the Surface Pro X, there is no SD card port, and Affinity Photo simply isn't compatible with ARM devices yet.
I've since picked up a USB-C dongle that includes an SD card slot, but it's not the most elegant solution in the world. Without Affinity Photo, I've also had to learn some different apps as well. Polarr has proven a pretty good alternative, but it's not as capable as I'd like. Pixlr is also great for a web editor, but it isn't quite as smooth as a native app.
All of this is to say that you'll have to take inventory of everything that is an absolute must-have app before you take the leap and pick up a Surface Pro X or any other ARM-based laptop.
Happy with Surface Pro X despite the drawbacks
I won't lie: I had a bit of hesitation in choosing the Surface Pro X when looking for a replacement for my Surface Book 2. I fully expected to use it for a week, call it a "neat piece of hardware," and return it for something else. But the weeks keep coming, and I've only come to enjoy using it more and more.
For someone like me, who mainly does a lot of writing and working in a browser, the Surface Pro X is a near-perfect device. Anyone who has legacy apps to worry about, or has to take on some particularly heavy workloads, will still want to look elsewhere. But for my money, the Surface Pro X has been a great fit.
Windows 10 on ARM
On the go

Surface Pro X is the first major overhaul to the Surface Pro lineup in some time. The PC packs a custom ARM processor, LTE connectivity, and a new thin-and-light design.
Get the Windows Central Newsletter
All the latest news, reviews, and guides for Windows and Xbox diehards.
Dan Thorp-Lancaster is the former Editor-in-Chief of Windows Central. He began working with Windows Central, Android Central, and iMore as a news writer in 2014 and is obsessed with tech of all sorts. You can follow Dan on Twitter @DthorpL and Instagram @heyitsdtl.