#IDARB is now available on Xbox One and is free for Gold subscribers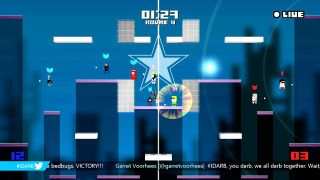 #IDARB was originally slated to become available for free on February 1 part of Xbox Games with Gold. However, Microsoft has switched the flip early and it is now available to download for everyone on Xbox One to enjoy.
#IDARB is a chaotic 8-player eSport jumping jetpack future arena ball game that is inspired by Bomberman, Smash Bros., and NBA Jam. Creators of the game over at Other Ocean started the game just for fun and then started using feedback from fans on Twitter to add enhancements to the game.
The objective of the game is to score the ball into your opponent's goal in a 1v1 up to 4v4 scenario. Whoever has the most points at the end of 4 rounds wins the game. This sounds easier than it is in reality, but that's part of the fun and competitiveness of the game.
You can add multipliers to your goal by adding bounces to your shot or making a goal from a long distance or even by doing alley-oops. The game also has other cool features that allow you create your own logos, characters, teams, and even your own theme music.
#IDARB is full of so much over the top fun that it's hard not to enjoy the game without a smile or some intense laughing. I don't want to spoil the surprise, but the halftime mini-games are just as fun as the game itself. Also, if you're an amateur chef, #IDARB features some wacky recipes from some awesome developers such as Abbie Heppe's Banana Bread recipe.
I've had the game since early December, and it's great to play with friends over or just to play some crazy multiplayer with random people online. The game is free for those with Xbox Live Gold and runs for $14.99 if you don't have the Gold membership.
Also, if you missed our interview with the head developer of the game Mike Mika be sure to check it out here. I'll see you guys on the #IDARB court!
#IDARB - Xbox One - 402.78 MB - $14.99 (Free w/Gold) - Xbox Store
Get the Windows Central Newsletter
All the latest news, reviews, and guides for Windows and Xbox diehards.