#IDARB is now available on Xbox One and is free for Gold subscribers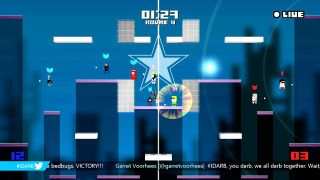 #IDARB was originally slated to become available for free on February 1 part of Xbox Games with Gold. However, Microsoft has switched the flip early and it is now available to download for everyone on Xbox One to enjoy.
#IDARB is a chaotic 8-player eSport jumping jetpack future arena ball game that is inspired by Bomberman, Smash Bros., and NBA Jam. Creators of the game over at Other Ocean started the game just for fun and then started using feedback from fans on Twitter to add enhancements to the game.
The objective of the game is to score the ball into your opponent's goal in a 1v1 up to 4v4 scenario. Whoever has the most points at the end of 4 rounds wins the game. This sounds easier than it is in reality, but that's part of the fun and competitiveness of the game.
You can add multipliers to your goal by adding bounces to your shot or making a goal from a long distance or even by doing alley-oops. The game also has other cool features that allow you create your own logos, characters, teams, and even your own theme music.
#IDARB is full of so much over the top fun that it's hard not to enjoy the game without a smile or some intense laughing. I don't want to spoil the surprise, but the halftime mini-games are just as fun as the game itself. Also, if you're an amateur chef, #IDARB features some wacky recipes from some awesome developers such as Abbie Heppe's Banana Bread recipe.
I've had the game since early December, and it's great to play with friends over or just to play some crazy multiplayer with random people online. The game is free for those with Xbox Live Gold and runs for $14.99 if you don't have the Gold membership.
Also, if you missed our interview with the head developer of the game Mike Mika be sure to check it out here. I'll see you guys on the #IDARB court!
#IDARB - Xbox One - 402.78 MB - $14.99 (Free w/Gold) - Xbox Store

(opens in new tab)
Windows Central Newsletter
Get the best of Windows Central in in your inbox, every day!
Nice. Looking forward to this immensely.

This is an immensely fun game!

It really is a great game. My only complaints are it really needs 8-player online matchmaking play (right now you can only do online play as 'console vs. console', meaning 1vs1, 2vs2 [if you have a friend over], 3vs3 [if you have 2 friends over], or 4vs4 [if you have 4 friends over, something that just doesn't happen very often for those not in high school anymore], but I get that they're a small indie team without the AAA publisher resources to do that; it'd be nice if Microsoft stepped in and helped them out with that; I'd like to have different arenas, but it seems like they're all the same (there is an argument to be made that any popular sport has a regulation field/court/arena, etc., but this is a videogame: let's have fun and mix it up with platforms in different places, different sized goals, vertical instead of horizontal, etc.) Other than that, it's a fantastic game. Very original and creative, and, in a different epoch (read: high school or college), I could see having some fun couch-gaming parties with 7 other friends. BYOC (bring your own controller because I ain't buying 7 more).

Invitation accepted! Game can be super fun. And yes, it would be nice if Xbox could host the game's online services.

I'm with you on expanded matchmaking. I'm not in high school or college anymore. All my video game friends live hours away. Needs more options. Other than that - its pretty fun.

So I get a free xbone if I get a gold membership? Yeah no no yeah.. It draws a red box.... Onya Mike

Tried to download it but its asking for credit card first, although, I am a gold member.

It always ask for a credit card or PayPal account when you press buy it should say free or $0.00. Posted via the Windows Central App for Android

That's the problem. It says added a credit card first. I did press the get it for free for gold members but this is what I get later . Screenshot.
Shared files from OneDrive http://1drv.ms/1yK88Ce

Change payment method to Account Balance or aomething.

The download is acting up a bit!

Hope it comes to the Windows Store or PC!

got it downloaded, looks stupid but I'll see soon enough

I have a bunch of games already queued up for when I finally get me a Xb1. One more to the list.

"switched the flip"? Someone is suffering from a little dyslexia it seems.

Shhh.. I'm clueing for looks.

Nice. You had me at cross between bomberman, smash bros and NBA jam.

Same. Bomberman kept me occupied for long periods of time when I was a young lad

Thanks to SmartGlass it will be ready for me too try out when I get home :)

It draws a rekd box lol ew #rekd

Looks like a game from "Master System" year's... But ill try it anyway...

And just 12 achievements. Easy gamerscore.

Started the download from the bathroom. Now I just need to dumb this load and go out and try it out.

While you're there, I recommend some Mirror's Edge or some Shoot 1UP.

I turned vibration off, still on in online game... Awful. And really laggy.
Windows Central Newsletter
Thank you for signing up to Windows Central. You will receive a verification email shortly.
There was a problem. Please refresh the page and try again.