ID@Xbox Spotlight: Spectra set to leap from WP8 to Xbox One, becoming a universal app
Spectra is an upcoming ID@Xbox racer from Gateway Interactive that has punished Windows Store users for some time with its demanding retro racing.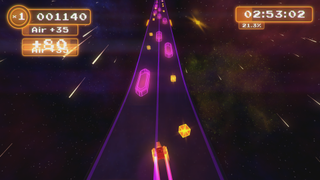 Spectra will join Halo: Spartan Assault as one of the only two games available on Xbox One, Windows Phone and Windows 8 simultaneously with synchronous progression. So let's take a look!
Retrotacular and laced with score-chasing challenge
In Spectra, you pilot a rocket powered Nintendo Gameboy (seriously) across procedurally generated race tracks, laden with obstacles. Spectra's race tracks are generated using infectious 8-bit chiptunes composed by Chipzel as a basis. Chipzel became famous for her work on Super Hexagon, another retro hit mobile game. Spectra sports ten tracks in total, each taking place randomly across the length of Chipzel's sound track, each of which are typically 5-7 minutes on average.
For those who didn't pick up the Windows Store versions, the gameplay takes cues from the likes of the classic Sonic special zones, F-Zero and endless runners like Temple Run. On touch devices, you tap left and right to avoid obstacles and by using left and right on the joystick on Xbox One. You can also hook up an Xbox controller to your Surface or similar Windows tablet to enjoy the game.
As you progress through a level, you'll pick up coins and be awarded bonus modifiers for narrowly avoiding obstacles and hitting speed boosts for jumps. You can deposit your built up points by avoiding coins for a couple of seconds, but by doing so you will sacrifice your modifiers. Smashing into obstacles will see you lose any points you haven't deposited, creating a an increasingly tense risk v. reward scenario.
Crashing into obstacles won't kill you, but it can cause you to lose control of your vehicle. The race track in Spectra is a slippery one, particularly when it comes to sharp corners. As levels ramp up in speed and complexity, keeping your racer on the track becomes a tricky business, and falling off it will end the game.
I caught up with Gateway Interactive to discuss future plans, Spectra's origins and their support of the Microsoft ecosystem.
Jez: What made you guys decide to make a game like this? What were your inspirations?
Gateway: There were multiple inspirations that all just sort of fell into place really! Originally Spectra was a Game Jam game. After working heavily on a different project we really needed a break so we booked out a stand at Insomnia and decided that within those two weeks leading up to the event we would create something to show, thus, Spectra was born!
We love games that have a focus on the audio and wanted to do something based off that. We were hugely inspired by F-Zero and Audiosurf (games that we have commonly been compared too) as well as Wipeout and Rainbow Road from Mario Kart.
The core of Spectra is the music. We were super lucky to meet the chiptune artist Chipzel at GDC 2013 and it was just a simple case of asking if we could use her music from her album of the same name.
Jez: Spectra holds a special place among some Windows Central readers (myself included) for its synchronicity between phone and tablet devices - what made you guys opt to add these features? Why target Windows touch devices instead of the other more 'popular' platforms?
Well the simple reason is, why should you need to play the game twice? The fact that you can finish one level on a certain platform and then pick it up again on another is the way forward so as not to regress a player's experience. The game was originally for touch screen devices and what with our great relationship with Microsoft, the Windows Store seemed like the natural progression! We plan on touching other platforms too, as we are currently in the run up to the game's release on Xbox One - which we are super excited for!
Thanks to Gateway Interactive for saying hi!
Spectra: a solid side of maddeningly addictive fun
After 24 hours of UK election mayhem Spectra was a satisfying distraction, particularly if you pretend that you're speeding away from the country into the vast emptiness of space. Spectra is a very simplistic, but delivers big on its core racing premise. Progression synchronicity between devices is a welcome bonus for any Windows touch gamer, but sadly, the Windows app store versions lose out on full Xbox integration. What gives ID@Xbox?!
Regardless, the future looks bright for Gateway Interactive, who are already in the planning stages for a new racer. Be sure to check back in June for the release of the Xbox One version and Windows Phone version. If you can't wait until then, the Windows 8.1 tablet version is still available to download here (opens in new tab).
Giveaway!
The winners were IsaacJ and Idan Cohen, please send me a PM to receive a key!
Windows Central Newsletter
Get the best of Windows Central in in your inbox, every day!
Jez Corden a Managing Editor at Windows Central, focusing primarily on all things Xbox and gaming. Jez is known for breaking exclusive news and analysis as relates to the Microsoft ecosystem while being powered by caffeine. Follow on Twitter @JezCorden and listen to his Xbox Two podcast, all about, you guessed it, Xbox!
That looks like a really cool game!

I dreamt I was playing it

It looks good! I want to play on the big screen

Don't forget the small screens

Interesting, looking forward to it

Does look a good game and would like a free copy so I could review it :)

Looks and sounds good! We need more games available on Xbox One, Windows Phone and Windows 8 simultaneously.

awesome! would love to try it

I cannot wait for this. Come on msft, more universal apps.

Looks like it has an old school Tron feel to it.

Looks awesome! I would love to try it out.

A beer, some peanuts and a code, please!

You won a code! Please send me a PM. :)

look like a great game!!!!

Oh, I saw this game was listed in the Xbox store and then pulled a few days ago. Very cool visuals and soundtracks. Would love to try.

Beautiful looking game. I'd love to give it a blast!

Just leaving a comment :P

Looks like fun love time burners

Not necesarily, because audiosurf scan a song and then constructs the track also syncs the track with the song. Anyway we (my sister and I) still waiting for audiosurf version for wp8/10

Universal is great. Give it to me.

from screenshots it reminds me of audio surf.

Excellent game and now it's coming to XB1! Great for gamers

Looking forward to seeing this!

This looks awesome! I'd love a free code!

Nice !, remind me of old NES game :)

Finally this ecosystem is showing its stand out potential

Woah, this game looks sick, I want it!

Yes! Xbox One needs more fun music focused games and the fact that this is a racer is just a bonus.

Sounds great. Love the neon graphics and cross platform play. Reminds me of the orbital graphics style of wp7. Miss that little game.

looks addictive as hell :D

With or without a giveaway code I will support

Reminds me of skyroads a little bit

Reminds me of rainbow road on Mario kart. Im in.

Pick me! Pick me! Per-lease!

Slick graphics. Reminds me of Tron.

I saw this game the other day on the store. It wouldn't let me purchase it then it disappeared. I agree with The Hurricane22 reminds me of rainbow road in Mario kart 64/f-zero.

This looks interesting :)

Looks Fine. Hope I win one key. Good Luck all others. I love Games they can played on all Windows Plattforms. But the New Halo is a Universal App on all 3 Plattforms? Why i cant see it on XBOX Store?

Looks great! I love universal games!

It's like F-Zero? Count me in!

would be nice to win a copy

Ohh would definitely love to win this and give it a try

I don't want the code for Xbox one as my parents won't buy mr one instead tell me when its gonna come in windows phone ?

Looks interesting, I wouldn't mind adding it to my collection.

I hardly play any games, but this piques my interest. Looks cool!

Wouldn't mind getting this code :)

Awesome, we need more universal apps

This definitely looks like a game I'm going to check out regardless of I win or not, but hopefully I do :)

I'd like to give it a try early!!!

All of this might be great, as of this moment Spectra has been delisted from the Windows Phone store. It had a fair amount of negative reviews amounting to the app not working .. this was June of 2014. Try as I might I cannot find this game on the Windows Phone Store, or the Windows Phone Beta Store for the Lumia 520 or 1520. (here) I do see it in the Windows Store for PC & ARM tablets (Surface/Surface2), listed as a universal app. Just not for phone. Perhaps they're working on something.

Game looks awesome! Would love to win

Hello, how are you today? I'm fine, only I don't have a code.

Just downloading it on my tablet, looks like a great game.

Specra looks awesome, I would love to play it

This looks pretty interesting. I watched someone stream it but they quit as soon as I joined so I haven't gotten to see much :(

On my 1520 & on my Xbox One too, that would be cool with me!!

Sweet! I love me some games! PLEASE please please pick me! :)

Man I really hope there will be a huge influx of developers taking advantage of this type of availability between devices with Windows 10.
I'd love to try this game out, and I would love to win it, but would probably support and buy it anyway. XD

Hope I can win a code because the game looks good.

Cool contest and a cool game. I'm in.

So is there no cross-buy? We really need more of those titles especially for the mobile games showing up on consoles.

If I got the code for the Xbox one, would I also unlock it for download on my phone, or is that a separate purchase?

This game looks rad! I'd love to play this on my Xbox One!

Would love another game to play!

looks pretty cool and Xbox could use more of Playstations game sharing features.

Would be awesome at the 1520 screen! ;)

I am playing it on my 1520 right now! It IS awesome!

I couldn't find it in the store... :/

I couldn't find it in th store on Windows Phone 8.1 as according to the article, it is to be released in June BUT the new universal Store Beta and Windows 10 downloaded the Windows RT version to my 1520 that runs Windows 10 (10080). I made a quick and rough video to show it. I was completely shocked that it downloaded it but even more so that it works perfectly and runs smoothly, better than games made for Windows Phone. https://www.youtube.com/watch?v=a_-MEy3bvrk

Cool!!!! Thanks for the reply! :D

Pick Me Pick Me.......Nah don't. I don't have a console.

Why would they ever care about windows ? The article did it. Rolls eyes

I've had this game on all my phones and PCs since it launched. Looking forward to adding Xbox to the list.

Looks like a fun game.. I'd like to try it on my 1520.

Progression synchronization is great.

Nice! I'd love to get a code!

You won! Please send me a PM to receive your code!

Looks cool! Great to see available universal games increase by 100%!

wellll... it doesn't look too bad. :) it's good many developers are thinking of Windows universal stuff.

Tablet to WP8 to Xbox one game? If this has synchronized saves, then it sounds like a keeper.

I don't quite understand how it can sync on Xbox One and Windows 8 and Windows Phone 8 if it lacks Xbox Live integration on the latter two platforms. Or will they be able to ID@Xbox that on Windows 10 and make it a truly universal Xbox game? I'm confused.

Games don't need xbox live integration to be able to sync, hence why there are a number of games that do it.

I cannot think of a single game that syncs on Xbox consoles, Windows 8, and Windows Phone that does not have Xbox Live integration on all of them. Can you?

The black Jez Corden would probably be named Dez "freight-train" Gordon, lol Thanks in advance for the game!!!

Halo: Spartan assault doesn't transfer progress for me, I had to start again on windows 8.1

I want the early access! :D

I always did love F-Zero... I could definitely go for some retro racing action right now.

Humming me some 8 bit grooves...

I want the code! I want the early access!

Reminds me of Audiosirf on the Zune

Wow!Really excited about developers bringing in games extending over windows10phone,pc and Xbox one...

This has been gone from the wp8 store for a while

Lately, indie games started growing on me, and I'll definitely check this one as well.

I like the style! Also would like free code :D

Me likey codes, Me likey codes, Me likey codes

This game seems interesting! Hope I get a code :D

I'm glad to see more universal apps start coming to the One. I have a feeling a flood of them will start in July.

These retro games are kinda cool. Might give it a try.

Wau, seems to be great game :3 almost feel the game in my library :D

Pro TIP: If you are running Windows 10 (10080) on your phone you CAN play it on your phone right now!!!! I clicked the link in this aticle for the Windows 8.1 tablet verion and opened the Store Beta which allows Universal Apps, the store checked to see if my phone was an ARM device and it installed it just like it was a ARM tablet!!!! The install took a little longer to start but it acquired the license (the new store shows detailed installations) and then sped up the download. I am playing the Free Trial Windows RT 8.1 version now on my 1520! It is smooth as butter! Does anyone else know any Windows RT 8.1 apps/games that are NOT on Windows Phone but run on RT so that we try them? This is MAJOR if Microsoft allows the apps and games to just run as is instead of artificially blocking the ARM compatible titles.

Quick hands on video of Spectra on my Lumia 1520 running Windows 10: https://www.youtube.com/watch?v=a_-MEy3bvrk Edit: I'm not 100% sure what is going on that allowed it to be installed via Store Beta and not the regular Windows Phone Store but I am glad it works.

I really love games with a retro look like this!!

Looking forward to this game. Universal apps/games will be a very cool feature. :)

Looking forward to more and more games being cross buy on Windows platforms.

I would absolutely love to play this game. It looks so cool I wish it didn't get past me the first time, or I'd already have it.

I wouldn't mind an early shot at it.

Retro Neon Psychedelic Power Activate!

It looks like a lot of fun. Adding it to my wishlist

Whoaaa like the neon graphic and simple design..seem like modern game..like it

I want a code too.. Looks awesome

Cross platform is awesome!

Ich freue mich sehr auf das Spiel :)

Letting my presence be known

The game looks very cool :)

Reminds me of audiosurf, very cool.

Love the visuals, can't wait to try!
Windows Central Newsletter
Thank you for signing up to Windows Central. You will receive a verification email shortly.
There was a problem. Please refresh the page and try again.