If you pirate Quantum Break on Windows 10, your character gets an eye patch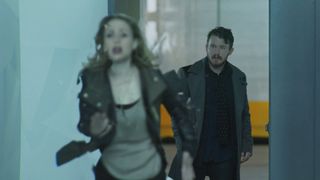 Microsoft allowed people who pre-ordered the Xbox One version Quantum Break to get the Windows 10 version for free in the Windows Store. However, you still need to sign into your Microsoft Account to play that version of Remedy's temporal-based action game. If you don't, the game's player character Jack Joyce gets an interesting makeover.
As spotted by Reddit user disastorm (Via Gamespot), Joyce will sport an eye patch if Quantum Break on Windows 10 is not used on a authorized Microsoft Account. This was done as a fun anti-piracy measure, according to Remedy's official Windows 10 FAQ on the game:
If you didn't get the Windows 10 version of Quantum Break for free, you can still buy it in the Windows Store for $59.99.
Anyone here who got the game for free on Windows 10. Did you get a code for it? I'm supposed to get a copy for preordering on X1 but nothing yet.

Same here. Still nothing.

I haven't got my code yet either...

first of all TELL ME how to pirate this game

LOL, look over your fellow torrent sites, I am sure it's all over the place by now....Or like everyone else, buy it or wait for it to go on sale (in about a month, you'll find a used one on ebay for under $30)..

it is an exe on program files, I am sure there is a way to run it without store. but I am not sure if people would do it, first alot of time to get just to the folders on program files, and then downloading and uploading to a torrent, I guess people should write a script to install or something, I doubt it would just work by putting it on a folder, so you should make sure everything works about the local user settings so probably one powershell script to install and make sure it works without the Windows Store.
​So it's possible but not really worth it, unless someone really wants to crack it and give it to people. and if someone can't afford it, well, they should go and play solitaire which is free.

More to the point, how do we trigger this cool Xander style eye patch in a legitimate copy? Me want!

Yup, they officially made the pirate version cooler.

You're kidding right? A lot of time to get into your programs folder? I'm not sure you understand how computers work. Games like this get cracked on the first day, it's very rare that a game takes more than a week or so to crack, and even then.. it is always cracked.

Wait for blackbox repack or rg mechanix. They are the most newbie friendly repackers for games IMO. Try Kickass Torrents or Pirate Bay. If Pirate bay is down for you, search proxy bay and you'll find a site where all the proxy links are provided. ah ​Ad Block suggested if you have a parent beside you.(or behind, whatever)

7-10 days after release is what Microsoft has said. Posted from Windows Central for Windows 10

It takes 7 to 8 days after release to receive the free pc copy. I'm assuming you didnt read the FAQ before ordering Quantum Break?

Mine appeared instantly last night when I launched the game. It was an alert/message on the Xbox One console.

Very fun way to protest against piracy. At least you can get eye patch mod for free.

I bet somebody knows how to remove that eye patch. Not supporting piracy, just sayin'.

Wait... so it actually allows you to play it, pirated? o:

Do you know how piracy works?

Of course I do. But this makes it sound like it doesn't even try to prevent the game from running without a crack :P Which usually, unless you crack the game, it tries to prevent the game from running.

Nope. It's a bug that could easily get patched. Quantum Break hasn't been cracked

Most more recent games aren't being cracked. It's a big shift from the past when cracked games were releaed a month before the actual game releaess.

give it a week, normally in 2-3 weeks it is "patched" I dont download them but, I do watch them...

What eye dont understand is how no one has made a patch joke yet? I mean its right in front of your face...

So cute. Now watch people pirate it just because they want that eye patch.

I wish we can pirate it, but not gonna happen as Denuvo is part of every new AAA release. Piracy is dead.

If I have leaned anything about Piracy in the last 20 years is...give it time, pirates ALWAYS find a way (99% of the time)

If the Portuguese, the British and the Spanish Empires couldn't crush piracy, it certainly won't be a bunch of game developers who'll be able to do it ;P

British were the pirates.

Nonsense. Pirates were from numerous countries, not exclusively British. Learn some history.

I meant sanctioned by state. Aka privateers. Others did that too but Brits pioneered the practice.

What is Denuvo? Posted via the Windows Central App for Android

Pure unadulterated evil. Otherwise known as DRM (copy protection).

LOL I like this... because other players will see you're a crook with that eye patch while others who are true fans who support the devs and platform paid for it.

I think Quantum Break is only single player.

Why haven't i thought of this ?
LOOL Posted via the Windows Central App for Android

So I guess if we preordered a hard copy through someone like Amazon , we are out of luck?

You maybe should pirate it...it's insanely expensive for Germany on PC and users are rapporting about a pretty bad console port. This game is really not good PR for the Windows Store again...oh MS why...just why...

Hands down, the dumbest comment on here. Pirate it... :p

Hands down, the dumbest comment on here. Pirate it... :p

I agree... Why buy if we can wait pirate teams release for free?

Just started playing it. Seems very fun. Tons of Alan Wake hidden gems. The university blackboard is hilarious. They got the same voice actor from Alan Wake for some voice work.

I hope they don't do live-action video for the next Alan Wake like they did for this game and in the AW trailer scene in Act 1. I like QB, but I'm not a fan of the live-action episodes... they pull me out of the game, and don't seem advantageous over the game engine cutscenes every other game uses.

So basically pirates get rewarded.

Yep, unfortunately. The eye patch is cool.

I will pirate the pirate patch. :)

How in hell is that piracy ? If I buy a game on the PC and install it on 1 PC, another family member uses MY computer under their own profile and plays the game, according to this, it's piracy. Give me a break... Software on 1 PC, any user using that PC can use the software as long as 2 people are not using it at the same time. If that is the case, it will be the LAST time I buy a AAA game from Microsoft, I'll just stick with Steam or other sources (retail box etc)

Can they even start the app as its visible only for you right? Could this new definition of piracy be even more stupid, meaning that its you logged in to windows but logged out from store.

Store apps are tied to the MS account in the Store. The piracy only triggers when you're not signed in to the Store with that account. It doesn't matter which Xbox Live profile you're using for the game, and you can use multiple profiles as long as you are signed into the Store with the MS account you purchased the game with.

Safer not to download anything ever from Store. Piracy is serious crime and whether one logs out from store intentionally or accidentally its still a crime.

How is that different from Steam? It's still your account that gets logged into from the steam client to access your library.

I dont think my dx11 pc can even run this game. Posted via the Windows Central App for Android

Since there is no official demo, this is one legitimate reason to try the isodemo version.

Where do i find this ?
I too want to confirm if it works on my rig or not Posted via the Windows Central App for Android

I would love to play this game, but I feel like I would get small bang (5 hours playtime) for big bucks (60 usd). That is not very fair thinking of the upcoming titles.

Im on act 2
2 so far 3 hrs in.. were did you get 5hrs?? Its a chose your own adventure. Replayable with different events. Way more then 5 hrs... Posted via the Windows Central App for Android

The game is awesome! Of course, I think it actually does manipulate time as I played for an hour yesterday and found 6 hours had actually past by in the rest of the world, like I was the only one to not experience the forward jump in time.

This is like Batman Arkham Asylum... The devs programmed it so that if the game was a pirated copy, then Batman's cape would start to glitch out or something. Posted via the Windows Central App

Pretty convinced that Microsoft Games opening up the platform to PC will not increase sales in any significant way, mostly due to piracy. They're better off just releasing them on Xbox.

Read. These aren't pirates. The game hasn't even been cracked. Some people just don't want to have to sign in to a Microsoft account to use their PCs.

how reality works: legit users will have to deal with this "funny" bug while real pirates will remove the "feature" along with ms account logins entirely

Waht if disconnect the MS account from the store after downloading the game? I only log-in with the MS account in the Store when I need to download a new application.

LOL, I actually bought it but want the eye patch now.

I'm sort of confused on one thing. If you bought a copy and get the free win 10 version could you give it to a friend or does it have to be redeem with the same Microsoft account it was purchased on the Xbox One!?

This anti-piracy measure makes perfect sense if they ever make an Oculus Rift version.

Captain Jack Sparrow. Ahoy!!!

Apparently, for Microsoft, $ 59.99 == € 69.99 This stays on the shelf for me, I'm not shelling out 79 bucks for a PC game, if I wanted to buy overpriced games I would have bought a console long ago.

All the more reason to pirate the game. Too bad I already got it for free when pre-ordering on Xbox. Still haven't received my code, though.

Are there live shots ... Like shows that go with the game, if so where do I view them?? Posted via L930 WM10

after successful download

it costs INR 4500 here in india on windows store !! for comparision tomb raieder costs INR 1000 in the windows store in india !! dafuq are they doing ?? 4.5x price of a video game !!
& that too when windows store is the only way to get it !!

Somebody arrest that disastorm guy, he's using a pirated version.

If they are going to let you play it pirated, what they should have done, in addition to the eye patch, is removed save points, so that if you ever shut down the game you have to start from the beginning. Sure, you could leave it running until you finish it, assuming you never have to reboot you machine for some reason.

He looks cooler with the patch
Windows Central Newsletter
Get the best of Windows Central in in your inbox, every day!
Thank you for signing up to Windows Central. You will receive a verification email shortly.
There was a problem. Please refresh the page and try again.