iHeartRadio's stations added to the Groove Music app for Windows 10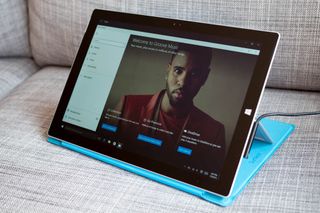 Windows 10 users who regularly access the Groove Music app will find something new. The app will now be able to access the live and custom radio stations from the iHeartRadio streaming service.
Microsoft says:
The new feature does require users have the iHeartRadio app already installed, but it does not require a subscription to the Groove Music Pass. Microsoft says:
Source: Microsoft
Windows Central Newsletter
Get the best of Windows Central in in your inbox, every day!
This is pretty damn awesome. :) love it

The Radio feature always had great potential which was never really used

I'm glad Microsoft went this route BC they improved this feature (until now)

Does this include windows 10 mobile?

Or is this only for fast ring

Sweet! Does it include win 10 mobile?

Not yet AFAIK the new iHeartRadio app is not live for Mobile yet.

Doesn that mean I can listen to it in India?? And without any sort of pass??

No vikash.. Microsoft doesn't love India that much.

I get this same answer everytime I open my groove music. This service is currently not available in your region. So much for loving MS

Very nice! I hope we can see integration from other apps like this in the future.

Is iheart US only? In the "German store" it states that iheart is currently not available.

iHeartRadio is available only in the US.

iHeartRadio is not just the states, they have stations in Australia and iHeart here works on iphone and droid but not windows, very disappointing.

Would be nice if they can also implement one with international stations as well guess the rest of the world will just have to keep getting by with an app. Posted via Windows Phone Central App

Not seeing the functionality in the app on Windows 10? Is this another US only feature?

iHeartRadio is currently available only in the US.

It works without switching to iHeart Radio, right? As in, it's not just a launcher for iHeart

From what i can tell you have to switch to iHeart Radio

Then I don't get the point.

Any example of an artist that has it? I was hoping we can just play local station like in the iheartradio app.

I wasn't able to find anything either. I looked at a couple artists.

Ok, but IHeart Radio is not available here in Brazil...

What's the major media brand in Brazil? =)

Spotify, Deezer, Rdio, iTunes etc.

Sweet, love groove and iheart

Tried half dozen mainstream type artists with no link to iheart. Maybe it's not working yet?

I do not see this feature in Groove. Can anyone confirm that it exists? If so, what artist?

You still need the iheart radio app installed.

How about Microsoft improves on the radio functionality of Groove instead of partnering with an external US-only service? Is it that difficult to generate auto-populated playlists based on genre, for example? It's ridiculous how little progress in functionality is made over the years.

Pity they sold off MixRadio, they really could have done something special with MixRadio and the people who made it possible.

Why even bother if you still have to have the iheart radio app on your phone.

Integrated with Groove but still I have to install a different app?

I don't think they're really integrated but they do communicate with each other... =[

Well this way functionality doesn't get broken when IHeartRadio makes changes.

Cortana gives updates from Fox News. Now, Groove integrates Clear Channel's corporate sponsored music. Gross.

Well, brother when you got the dough, you can push your information wherever you want it to go, right? Money talks and BS walks...it's the way of the western world, these guys don't make the rules, while we're among the rabble that drools. =\

I don't know how all this works, but I do know that Groove music app in Windows 10 Mobile does an amazing job of creating a "Radio" stream from picking just one song. I have been doing this on my commute daily for weeks. It's uncanny how well it seems to pick songs that fit the same "mood" of the original song I pick. I just can't figure out how it is doing it, because it is a far tighter "match" than a simple genre-match. There MUST be lots of tagging associated with each song that somebody must have gone through the trouble of creating. I discovered this when I heard a song I had never heard before on the radio. It was not my typical taste for music, but the song grabbed me. So I did a quick Groove (Music Pass subscriber) search and found this unknown-to-me artist and the song. (Kolby Koloff--song called "Grow") Next, I used groove to create a Radio Playlist by choosing JUST that one song as a catalyst. For the next 45 minutes I heard amazing matches to that "mood", none of which I had ever heard of before. Again, it is not my normal taste for music, but the actual functions built into Groove for instantly finding songs to match a song I felt like hearing, was phenominal. I would normally welcome this Iheart feature, but I don't think I actually would use it to replace this new (to me) discovered ability of Groove. Still can't figure out how it works so accurately.

Hope to do this on Android and Xbox One soon too. Posted via the Windows Central App for Android

If apps can talk to each other like that on Windows 10 it'd be nice to finally have last.fm working with Groove Music!

Right...or maybe even Pandora, among others..? =p

Well if they could do this with Groove, why not the photo apps, people app etc slowly bringing back the hub model that made WP so unique and efficient in the first place.

OK, I must be stupid but I cannot find any connection betwee iHeart and Groove. Yes, I'm in the US, a Groove and iHeart subscriber with both apps installed. Any help?

Awesome. So far Groove has been missing out on radio features. It would be nice if it was because they're planning to go the extensibility route.

I'm hoping "spotify-like" curated public playlists in the future.. why did they sell mixradio again? :(

Yup. Me, too. I'll come back if they do.

once again something that's for the US only :/ they need and international radio station not something the most windows users have no access to.
Windows Central Newsletter
Thank you for signing up to Windows Central. You will receive a verification email shortly.
There was a problem. Please refresh the page and try again.