New Surface Pen leaked image shows charging cradle
Charging the Surface Pen could be easier or harder, depending on who you ask.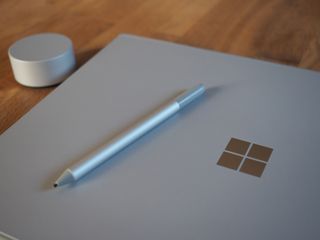 What you need to know
A leaked image of a new Surface Pen shows it sitting in what appears to be a charging cradle.
The cradle has a cable on the side which appears to be charging the cradle.
The cradle charging system lines up with recent FCC filings.
A leaked image of the upcoming new Surface Pen has surfaced on the internet thanks to Brad Sams. The image shows a black Surface Pen resting in what appears to be a charging cradle. The cradle has a cable on the right side that is likely charging the device. This image could be of the upcoming new Surface Pen that rumors suggest will be announced at the October 2nd Surface event.
While all leaks and rumors should be taken with a grain of salt, Brad Sams has a strong reputation in relation to Microsoft and the Surface brand.
Based strictly on this photo, it seems that the new Surface Pen will feature wireless charging. This is similar to how the latest Apple Pencil charges, though Apple decided to have the Apple Pencil rest directly on the new iPad Pro while Microsoft seems to have chosen to use a cradle design. Going off only these images, it's impossible to say if the Surface Pen will be able to charge in other ways.
As reported by Windows Latest, a recent FCC filing mentions a "charging coil" in a filing about a Surface Pen. There's a chance that the FCC filing could be for this new Surface Pen, though that is not confirmed at this point.
If the new Surface Pen is charged wireless and uses a cradle, it might see mixed reactions. Some users prefer to use batteries and to not have to worry about charging, while other users prefer being able to charge a pen directly from a device.
News Writer and apps editor
Sean Endicott brings nearly a decade of experience covering Microsoft and Windows news to Windows Central. He joined our team in 2017 as an app reviewer and now heads up our day-to-day news coverage. If you have a news tip or an app to review, hit him up at sean.endicott@futurenet.com (opens in new tab).
In the leaked renders there appears to be a cradle built into the keyboard of the "ARM" Surface Pro. I suspect this is just for other charging situations. The biggest shock for me here is the apparent absence of an eraser button on the pen itself. That's no good.

there is a button its on the top of the image towards the nib. and the eraser button could still be built into that erasing tip, best wait and see.

There's no image of the pen though, where do you find it doesn't have an eraser?

Actually now I'm taking a look at the image on my PC screen (now officially procrastinating) and I can see a dome-like shape at the eraser end of the pen. Hurray!(?)

I guess there is still an eraser based on the image, it is just alot more rounded now than before which looks more like a pencil eraser. The wireless charging capability is a welcome feature, but my concern now is the ergonomics of the pen which looks fat or shorter than the current Surface Pen, and how much the pen performance will improve, especially the jitter problem which was a common issue when tested by several artist reviewers, not that its that bad but not as good as Wacom and even the Apple Pencil. I hope you can also charge the pen with the tablet since if it only relies in Type Cover, then that seems limited since I can't use the tablet and pen alone if I want to have the pen charged. Not every use case like when drawing or taking handwritten notes need the Type Cover attached.

But the cover also protects the tablet touchscreen while traveling (which is otherwise the most vulnerable point) and maybe the cover will be lighter than first?

After all that, why then is wireless charging a welcome feature? Considering it replaces not charging at all, but using a battery that lasts 6 mos and a spare battery takes up less room than that charging cradle. Can't tell you how many times I have gone to use my Apple Pencil (1st and second gen) and had to charge it first.

Good points, and points I myself have made. But wireless charging when the pen is stowed away solves the problem. When you take the pen out of the cradle, it's guaranteed to be ready to go. You don't even have to source new AAAA batteries that one time a year (which people complain about for some reason but is really nothing because Amazon). This (and also the way the latest iPad Pros work) means users basically never, ever have to worry about batteries, period. That's a great thing!

I don't know anyone who thinks the constant charging needed for the Apple Pencil versus the once a year battery change on the Surface Pen is more convenient. You never ever have to think about the Surface Pen running out of battery except for once every 1-2 years and you can swap the battery in seconds. Can the Apple Pencil charge in seconds?

I used to worry about an 'eraser', either the top of the pen/stylus/pencil, or a button, but got over it. Flipping the thing over is kind of old school. A holdover from pencils with erasers. Buttons are nice but either hard to find, or too easy to find accidentally. I don't use the pen a lot, but actually find just clicking the eraser tool direct, convenient, and deliberate. Apple's new pencil has a nice feature where you can just tap the barrel and it switches from what ever tool you are using to eraser, and back. Maybe this copies something like that, with the possible addition of a MS settings panel with a dozen options.

I use the Surface Pen constantly for note-taking and the eraser is a life-saver. It's so natural to just turn the thing over and start erasing. But having a button (or a dedicated tap as you describe it) isn't bad either.

Looks like USB-C cable is plugged into the cradle, which (to me) means the cradle itself could be a rechargeable device, maybe charge that bad boy up once a month or something via USB-C and then just unplug it if you feel like it and lay your Microsoft pen in it to keep it charged. More wishful thinking: that the cradle is magnetic, and could hold the pencil inside it to shield/protect it while knocking around in a bag.

So it looks like there will be a cradle built into the new Surface Type Cover which will do the charging, and that this is an external cradle, and I imagine it's for Surface Studio and other desk-bound applications. If this is the way things are going I think it's a good innovation and will make the pen experience lots better for us heavy pen users.

Granted I am an occasional user of the surface pen, I might change the battery ever other year. How long does the battery last if you are using the pen 4 hours a day? A week, a month?

I use the pen on my Pro 4 a few hours a day and it lasts between 10 and 12 months. It's incredible.

I imagine this pen is purely optional and you can use either one going forward but maybe not back..?

I'm not a fan of a rechargeable pen but I'll live with it. A Surface Pen can easily last a year on a AAAA battery. Name me any rechargeable device that can last a year on a charge. Will the new pen last a year on a charge? Doubt it. The Apple Pencil certainly doesn't last a year on a charge. The reasons for built-in rechargeable battery are 1) a selling point of convenience for consumers and 2) it lets you design thinner/smaller devices that don't have to fit the housing of standard-sized batteries. Can you imagine how think an iPad would be if it was filled with AA batteries?
Windows Central Newsletter
Thank you for signing up to Windows Central. You will receive a verification email shortly.
There was a problem. Please refresh the page and try again.