Alleged Surface Pro 7, Surface Laptop 3 marketing images leak
The marketing images offer a distant look at what Microsoft might have in store for October 2.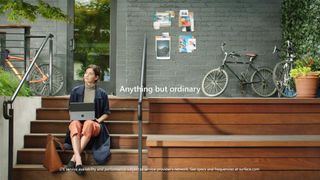 What you need to know
The first alleged images of Microsoft's upcoming refreshed Surface lineup have leaked.
The images show the Surface Pro 7 and Surface Laptop 3, and they appear to be from planned marketing materials.
Microsoft is set to unveil the new devices in full on October 2.
Microsoft is set to launch its refreshed Surface lineup on October 2, but we may have received our first glimpse of what we can expect from two of the devices. Noted Microsoft leaker WalkingCat tweeted four images that appear to show planned marketing materials from the upcoming Surface Pro 7 and Surface Laptop 3.
https://twitter.com/h0x0d/status/1178571702621491200?s=20
The images are all of people using Surface devices, which are pictured from the rear. From what is visible, it doesn't look like we can expect any radical departures from the current industrial design (at least for the exteriors) of either the Surface Pro 7 or Surface Laptop 3. Without a full, closer look at the two Surfaces, however, it's hard to say for sure.
According to a recent alleged leak, Microsoft is reportedly planning a basic set of updates to add USB-C to the Surface Pro 7 and Surface Laptop 3. Both devices are also likely to get upgraded to Intel's latest 10th Gen Core CPUs. Additionally, a larger, 15-inch AMD variant of the Surface Laptop 3 is reportedly in the works.
Further, new colors, including "glacier blue, yellow sandstone, and poppy red" are reportedly coming to the Surface Laptop 3. Rumors indicate there may be a version offered without Alcantara fabric as well, along with, potentially, AMD processors.
Perhaps the biggest additions we're expecting to see are related to another variant of the Surface Pro line, which may be known simply as "Surface 7." This design, according to the same recent leak, will feature more of a modernized departure from the current Surface Pro 7 design, including a nearly borderless display. This model may also feature an ARM processor instead of Intel's chips.
Of course, we also expect Microsoft to tease Centaurus, its rumored dual-screen Surface device. However, we don't expect Microsoft to formally launch this device until sometime in 2020.
The upcoming Surface event is set to take place in New York City starting at 10 a.m. ET on October 2.
Dan Thorp-Lancaster is the former Editor-in-Chief of Windows Central. He began working with Windows Central, Android Central, and iMore as a news writer in 2014 and is obsessed with tech of all sorts. You can follow Dan on Twitter @DthorpL and Instagram @heyitsdtl.
The 4th image seems vague. It could be the rumored Surface Earbuds? I can't see any device in the photo.

The device is supposedly in the bag, according to WalkingCat (see the quoted tweet).

Oh yeah, missed that part. Thanks. We'll that's make it even more of a mystery since it could be anything.

It's the dog leash, is also a fitness wearable

The print at the bottom of one of the images indicates an LTE model.

How I'd love to have "MS Cars" to come. ...that is, an MS version of CarPlay or Android Auto that could be powered from any MS device. ...only one would need apps for that to exist.

There's no motivation. There was discussion when Microsoft still committed to Windows phones but it never happened.

Wasn't Ford's in-car system a Microsoft product for many years?

Was MS Sync. Now it is Ford Sync. no longer running on Windows embedded.

What would be the point of having a Surface (or other MS device) plugged into a car's entertainment system? It would need LTE for streaming, link to a phone for taking calls and texts, and require a phone for other things. MS could make something that runs on Android (similar to their launcher) but it would have to do accomplish all of the same things that the Google Assistant does, Apple would never let it run on their iPhones.

It's hard to tell but these detachables look like they have slimmer profiles than the current Surface Pro's. Wednesday should be interesting.

Seems like a pretty strong hint to Centaurus in the first pic.

The picture with the caption that mentions LTE also mentions a surface.com which currently just redirects to the surface pages on microsoft.com. Maybe this site will be launched on Wednesday as well.

The image of the 3 people show a guy holding a Tablet of some kind it could be the New
Surface "Book" minis it's Keyboard. The Back of this Tablet is not a Surface Pro's, Surface Go's
or Surface Laptop's back unless the Surface Laptop got a new hinge to make it Flat. Folks
if it's the Centaurus folding 2 separate touch screen Tablet. WOW it's way bigger than the
2009 Microsoft "Courier" was. Look closely at this Tablet

Looks like a Surface Pro to me but I could be wrong. It could also be the ARM powered Surface. The top left if the ARM Surface, top right is the Intel Surface Pro, bottom left the Surface Laptop, and the bottom right is something else or a repeat (like the ARM Surface).

I refuse to comment on articles pertaining to patents... rumours... or leaks.............. doh! I guess I just did. ;0)

ARM Surface isn't very useful. The biggest benefit is being able to run art software that has Pen Support on a Tablet natively - full versions at native performance levels - which may not be available on iPad. Corel Painter, Capture One Pro, Krita, Gimp, etc... And compatibility with plugins we already own (which may be older versions that won't be updated). ARM basically means starting over, and the iPad [Pro] is a better candidate for this than a Surface; especially if one doesn't mind getting a Mac or iPhone, as well... Additionally, Microsoft crippled the Surface Go by putting only 4GB RAM and eMMC storage (slow AF) in the base version, making it worse than a budget iPad at similar price points ($128GB Storage and 3GB RAM in the iPad, with a better screen and far better tablet app ecosystem). Windows 10 performs awfully with 4GB RAM for anything other than mobile apps. The entire range seems messy. Even the base Surface Pro 6 ships with Windows Home and 4GB RAM, now. They're basically doing what Apple used to do with the pre-Retina Macbook Pros and Airs.

Windows on ARM will have emulation for x86 applications, and given how far Qualcomm claims they've come with their chips, even in emulation x86 apps run about as well as they would on a 7th gen Intel i5 U-series, but with 20 hours of real-world battery life and always-on. That would be a complete show-stopper if it weren't for the fact that the Intel silicon appears to be catching up in terms of battery life without sacrificing power. The bottom line is that the advantages of mobile-OS tablets are coming to Windows, and that's a big deal.
Windows Central Newsletter
Thank you for signing up to Windows Central. You will receive a verification email shortly.
There was a problem. Please refresh the page and try again.