Surface Pro 7 reportedly getting new design with nearly borderless screen
Two versions of the Surface Pro 7 are reportedly in the works, one of which may feature a nearly borderless screen and an ARM CPU.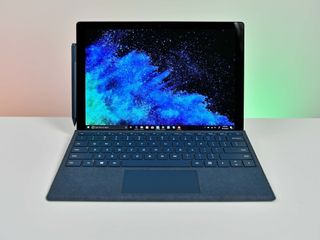 (Image credit: Windows Central)
What you need to know
A new report alleges to provide details on some of what Microsoft has planned for its October 2 Surface event.
Among the leaks are a Surface Pro 7 with a borderless display and ARM CPU, more colors for the Pro range, and a Surface Laptop 3 without Alcantara fabric.
The leak is reportedly based on a review of images of the devices, though the images haven't been provided.
We're mere days away from Microsoft's October 2 Surface event, but a new report has surfaced alleging to have details on the designs of two of the devices Microsoft plans to show off. French blog Frandroid alleges to have seen images of the Surface Pro 7 and Surface Laptop 3, both of which are largely expected to debut at the event. In an effort to protect its source, Frandroid explains, it hasn't published the images themselves, but the site has described some big changes reportedly coming to both lines.
Surface Pro 7
The device that appears to be in for the most change is the upcoming Surface Pro 7. According to Frandroid, a version of the Surface Pro 7 will see a "drastically" modernized design, featuring a nearly borderless display. The report likens the look of the display to the latest iPad Pro, though it notes the bezels on the top and bottom are a little wider than those on the sides in order to accommodate the camera and magnet.
This model will also drop USB Type-A and the MiniDisplayPort in favor of USB-C, according to the report. It will also likely come with LTE connectivity and may be the ARM version of the Surface Pro that has been rumored in recent months.
While Microsoft is said to be planning a major redesign of the Surface Pro 7, the report goes on to say that other, more traditional models that carry forward the previous generation's design will also be available. The main change here is that these models will include a USB-C port in place of the MiniDisplayPort, through USB Type-A remains as well. This version is also said to pack Intel processors; likely the company's latest 10th Gen chips.
Lastly, the report notes that the model with the new design may end up being known as simply "Surface 7" while the Intel models will continue forward the "Surface Pro 7" moniker. The codenames for the devices are reported to be "Campus" and "Harper" respectively, two names that were recently dug up by Microsoft watcher WalkingCat on Twitter.
Surface Laptop 3
The Surface Laptop 3, meanwhile, will reportedly see a slight design shift of its own. At least one model will be offered without the Alcantara fabric covering that has been included since the launch of the original Surface Laptop. It will also see the addition of two USB-C ports, according to the report.
Further, three new colors are said to be launching with the Surface Laptop 3: yellow sandstone, glacier blue, and poppy red. These would join the black, platinum, blue, and red variants available in previous generations.
Get ready for October 2
As with all leaks and rumors, it's best to take all of this with the requisite grain of salt. However, we'll know much more once the event kicks off on October 2. In the meantime, Microsoft's Surface chief, Panos Panay, recently posted another teaser for the event on Twitter, and it's quite the tease at that.
Windows Central Newsletter
Get the best of Windows Central in in your inbox, every day!
Dan Thorp-Lancaster is the former Editor-in-Chief of Windows Central. He began working with Windows Central, Android Central, and iMore as a news writer in 2014 and is obsessed with tech of all sorts. You can follow Dan on Twitter @DthorpL and Instagram @heyitsdtl.
Pretty underwhelming and predictable so far. If the "Surface 7" is Campus and WalkingCat is right that another codename is the pen for Campus then we have at least three of the codenames IDed as full predictable evolutions of the system. Thrown in another codename for the Surface Pro 7 and you have little excitement. An 8cX Surface will be nice, but I am losing hope of any great "one more thing" moment

man, no offense meant, but what a horrible life you must have to be that negative about an event that hasn't even happened.

Do you see the irony in claiming his life is awful for being unimpressed by future hardware while you take one Internet comment and judge an entire person's life with it?

it doesn't mean he's judging an entire life with that one comment. but everything we say or do is a reflection of our life and personality. not in its totality but at least in one or more aspects.

Keith not calling you out or anything. I agree that the comment was silly. But that is not ironic in any way. look up the definition of irony.

It's an educated guess based on his own words.

Seems like your life is underwhelming

Agreed 100%! Most of the "rumored" news is very underwhelming not two buts about that. But this is the norm. Just about every Microsoft events are wholeheartedly underwhelming. There's a saying "Where's there is smoke there is fire." Well, Microsoft is generally the opposite of that. I never get too hyped about these things. If they just happen to drop something noteworthy then great. But I'm always of the mindset there won't be any real thing of significance. Well, at least to me.

I would be surprised if the ARM version is called Surface Pro but it makes sense that it would be the standard Surface, something that was discontinued after the Surface 3 and somewhat brought back with the Surface Go. I wonder if that means they're getting rid of the Go as it's due for an update. The design of that didn't age very well (huge bezels) and starting with eMMC storage was a bummer. I'm still not sold on ARM for Windows, not until there are enough native programs/apps and emulation can be done with minimal loss. A 20-hour Surface would be nice but there's no point if the ecosystem isn't there. Looks like I may just opt for the Pro model even if it isn't re-designed. I'm alright with the SP6 design, just give me 10th gen Intel and (hopefully) LTE.

Well if Win32 emulation gives Intel 7th Gen i5 U series performance or better, what's there to complain about? It's early but Qualcomm's data says that that's the case.

Personally, I would like to see them replace the Surface Go with a Windows 10 ARM version, and make that the alternative. MAYBE they cancel the Go's smaller form factor with Centaurus, then leave the Surface and the Surface Pro in the same chassis, between ARM and x86. I think that's a risky strategy, because you could easily run into scenarios where people pick up the ARM version, not know it's ARM, then miss out on legacy software they are expecting to have. Personally, I think you need to do something significant to differentiate between your x86 and ARM devices.

I have the Surface Go like its design and do not think eMMC storage is a bummer. It does exactly, what I bought it for.

It sounds like Surface Connect is staying with the Pro line for now. Good move. Any hints of physical compatibility with the Kensington dock? I doubt I'm upgrading this year from my Pro 2017, but if the Pro 7 is compatible, it gives hope that the 8 will be as well, when I may be considering an upgrade.

Sounds like a nice refresh but I'm definitely more interested in the Surface Book 3 (hopefully announced on Oct 2). I'd LOVE an updated 13.5 in. SB with slimmer bezels, better detaching mechanism, and RTX graphics (or at least 1600-series GTX graphics). Hope they have a nice trade-in program for SB2 owners too.

I'm hoping the Surface Pro and the Book become the same thing. Just an optional GPU keyboard. Best of both worlds.

I'd love for them to either make the Surface Laptop a hybrid (I really think it's an awkward contradiction to the Surface heritage as a Macbook competitor that fights its pen-supporting display) or change the Surface Book's hinge to do a 360-degree fold like the Yoga, XPS 2-in-1, and ASUS Flip lines. However, not sure how they'd manage a strong hinge that can do the detach of the Book, along with the 360-degree flexibility of the competition (including the Surface Pro) while keeping whatever connection setup they use for the dGPU. My biggest thing, though, is I really want something AMD-powered. I don't like the Surface Laptop, which is basically the world's most expensive disposable laptop. I really hate that form factor and its unique design (a glued-together chassis of disposable materials). I want AMD in a Surface Pro or Surface Book. I'd buy wither of them. IDK Why they're pushing those chips to arguably their most niche product.

Those Laptop colors sound like they'd be awesome options for a new Go. For as "fun" and portable as Microsoft advertised, it was a bit odd to me that they only stuck with the workplace-safe colors on the Type Covers. If the Go gets any updates, let's hope some new colors are in the mix. Heck, even on the Pro keyboards.

"it was a bit odd to me that they only stuck with the workplace-safe colors on the Type Covers." They didn't stick with them, they actually reversed the history of the brand. Type Covers used to come in several fun colors, but they backed off and emulated the boring options of the Surface Laptop, while not even adopting the interesting chassis colors (sticking to the bland silver and the admittedly nice black). I do find it hard to figure out who the Go is for if Centaurus happens though. It'd be like a mix between the Go and the LG V50's second display design. I really like Centaurus as a concept, though I would have liked it more as Andromeda.

I find the Go more interesting as a secondary device because of its low price and versatility (touch & nice keyboard, tablet-size, kickstand, full windows). I have a Pro 1 now as secondary device and I think I will later upgrade it to a Go 2 or Go 3 or newer Pro. The Go also lends itself well for casual gaming besides tablet like things (browsing, reading, movies etc).
Unless Centaurus is as cheap, but I suspect it will be more expensive.

Is a borderless screen appropriate for a tablet? I didn't think that convertibles and tablets would ever lose their bezels entirely.

If the software is done properly, a tablet can have fake bezels when held in hand and bezels are useful, and no bezels when docked. That being said, I don't care for the "no bezel" look on a laptop either. The only time I care about bezels is when I have two monitors side by side.

Actually, I recall WC a few years ago reporting on a Microsoft patent where a Surface Pro-like device had exactly this feature: adjustable bezels.

As someone who recently moved from a Lumia 950 to the LG G8, I can say that the bezel-less, curved display is NOT something that is implemented well or good for general use. It's not a catastrophe, but I've had quite a few times where I've reached across the screen and accidentally tapped something on the curve or held the phone locked and activated double-tap to wake because of the lack of bezel. Obviously not as big of a problem for an actual laptop, but I would think the lack of side bezels to cause a few problems for users in tablet mode. That said, Microsoft had traditionally done a darned good job with their palm rejection, so maybe they can do it right.

I think it's a gimmick like notches and punch holes in phone screens. Hopefully MS emphasizes practicality over everything else.

To be fair, less bezels does allow for either a smaller device at the same screen size or a bigger screen at the same device size.

That's true. Dell's laptops led the charge on that. But "borderless" on a tablet isn't a great idea. Of course the latest iPad Pro (apparently what the new SP7 is being compared to) isn't anywhere near borderless.

Nah, that's just what they said when they released a product with large bezels. I can quite easily hold my tablet without wrapping my hand around the front of it.

Remember that you are not every user though, and they have to (well, should) plan for the masses as a whole. Women and children have smaller hands, and children and older people probably have less strength to hold such things for long periods of time. The sky isn't falling for those people or anything, but it's beneficial to have a design that can easily be held from many angles.

If the above is true than you would still have bezels at the top and down sides, so especially for portrait mode is not a problem (which for me makes the most sense hold 3:2/16:10/16:9 tablets with 1 hand).

LOL **** like these are said every single year yet all that happens is the next generation intel processor gets rammed in the device and thats it. What happened to all your previous leaked futuristic devices LOL

"This version is also said to pack Intel processors; likely the company's latest 10th Gen chips." Boooooo. I would instantly purchase an AMD-powered Surface, but I have no interest in buying into Intel, whose thermals continue to run amok and whose progression has slowed to a crawl. They now make you choose between CPU and GPU power on their chips and can't get to scale on anything of note. I really wish they weren't relegating AMD to the Surface Laptop, which remains my least-favorite piece of Microsoft hardware that I can think of.

Well if you don't like intels thermals you're going to hate AMD, that said I agree with you, intels 10th gen chips are a mess. I just know some of these surface pros are going to get stuck with 10tg Gen chips with HD 620 graphics which would be unacceptable. Hopefully snapdragon continues to make progress.

The later (Pascal) Amd chips are as efficient as Intel 8/9th gen chips if oems implemented them properly, so not too bad actually. The next gen of AMD that will be made on 7nm will a really interesting deal I think.

I have a question regarding ARM. My Surface 4 is starting to flake out and will soon be shopping for a new Surface or other branded equivalent. What are the pros/cons of a ARM based surface. I understand battery life might be better. But are there limitations to it that would make a consumer stay away?

They can't run x64 apps like the upcoming Age of empires 2 definitive edition, so unless developers release an arm64 version you're out of luck. Other than that it's reduced cpu&gpu performance for a high price. Also some older hardware drivers will not work.

Upside is probably better sleep which still is a hit or a miss on Intel (of course there is hibernate instead of sleep but it can be annoying in certain cases).

The teaser video is interesting. First, you see the Surface Hub displaying a countdown clock. Then you see faded images on the screen with the countdown clock. The first image is a Surface headphone, which looks different. I new mouse. Then you see the lid of the Surface laptop open. Then a close up of a Surface Go (basically my guess), and finally, an image of a keyboard. Somewhere there is also an image of a surface studio (different shaped base and black). You would think someone good at image processing could tease out more details. The image of the Surface (without the keyboard with kickstand fully extended) appears to show a more rounded edge. The image is of the left side and only shows the sim card slot which means it is not a Surface 7. Thus I would guess it is a surface go with ARM (better battery life, acceptable performance for basic computing tasks--light office tasks, email, surfing, etc.). We shall see.

My money is on Microsoft under delivering even though theyve promised nothing ;). I'll watch the vod of the event if they actually announce something interesting.

I don't really get the 'underwhelming' comments, what else can MS do about the Pro besides newer chips, usb-c and smaller borders? I can only think of AMD, but than mostly the 7nm chips would be interesting but those aren't ready yet (so probably next year), and Thunderbolt (which is a nice extra but becomes more redundant with each newer usb c gen).

Make it as thin as iPads, replace the stupid proprietary connector with type-c and remove the type A. And you got the perfect thing. From this on, only internals updates are needed, nothing on the external side really. It would be perfect. Oh and the legacy not-touchy Windows 10 needs to be replaced with something adequate for this form factor

But why is thinness beyond a certain point so important? It already is thin, only 1 mm more than an ipad, how small of a difference is that?! ;) It is not like that trimming down that 1 mm thickness will change the device or how you hold it, it will only make it look a tiny bit sleeker while worsening heat cooling (which is a problem for Surface Pro and Book devices), dropping usb-a (which gets more used than usb-c) and dropping the proprietary connector which again is useful since usb-c is not ready yet for magnetic charging.
The legacy non-touchy Windows 10 has nothing to do with the Surface Pro, that is the Windows department laziness.

Why is everyone obsessed with borderless tablets and phones. How are you supposed to hold a 10+ inch device that has no bezel?

If you don't think about it and just pick up a tablet, I'd be willing to bet you're probably holding it by its sides. Supporting the device from the bottom and sides is much more natural than trying to hold by the bezels. Also if you can 1 hand a 10+ inch device for more than 2 minutes, you're probably free climbing as a hobby.

The up and bottom have bezels, so when you hold it with 1 arm (portrait mode) you have bezels. Of course if you hold it in horizontal mode with 1 arm (which is weird, why not just hold it in portrait mode for better weight distribution?) you will only have small bezels.
Windows Central Newsletter
Thank you for signing up to Windows Central. You will receive a verification email shortly.
There was a problem. Please refresh the page and try again.