What to expect from Microsoft's hardware event in New York City this week
A new Microsoft hardware event is taking place on October 2 in New York City, here's what we're expecting to be revealed.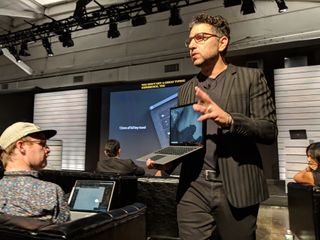 This week, Microsoft is expected to announce a plethora of new Surface hardware, ranging from new Surface Pro's, to wireless earbuds. This is going to be one of the biggest hardware events Microsoft has ever held, and speculation around what will and won't be announced is rife. So, here's everything we're expecting to see Microsoft announce on October 2 in New York City, thanks to various leaks and information from sources.
What we're expecting
Surface Pro 7
Kicking things off, let's talk about the Surface Pro 7. We're fully expecting Microsoft to take the wraps off a new Surface Pro, which will feature updated specifications featuring 10th generation processors in the i3, i5, and i7 configurations. We're also expecting to see Microsoft swap out the Mini DisplayPort for a USB-C port, however we're not expecting said USB-C port to support Thunderbolt 3. Overall, this device should remain much the same externally, with the only notable difference being with the inclusion of a single USB-C port.
Surface Laptop 3
We're also expecting Microsoft to announce a third generation Surface Laptop 3, and this is where things start to get a little more interesting. Microsoft is expected to unveil both a 13.5-inch and 15-inch variant of the Surface Laptop, both featuring USB-C in place of the Mini DisplayPort found on the Surface Laptop 1 and Surface Laptop 2. Just like the Surface Pro 7, we're also not expecting to see Thunderbolt 3 support alongside the inclusion of USB-C.
Specs wise, rumors suggest Microsoft will be using AMD processors for the Surface Laptop, a first for the Surface line as a whole. It's unclear which specific processors will be used, but it's likely a variation of different AMD processors depending on the SKU you choose to buy. Externally, the Surface Laptop 3 will remain much the same, except with the option to not have Alcantara around the keyboard. We're also hearing that the Surface Laptop 3 will feature a removable SSD, which is pretty interesting.
Surface Pro with ARM
In addition to the Surface Pro 7, we're also expecting Microsoft to announce a new Surface with an ARM processor in it. This device is very likely to be marketed as a Surface Pro product, but the reason it's worth a seperate mention is because this device is going to feature a radical new redesign of the form factor. The Surface Pro with ARM will feature slimmer bezels, a rounder body, and an overall cleaner aesthetic compared to the regular Surface Pro 7. We're also expecting this device to feature a new Type Cover and pen accessory, which work together to charge the pen accessory wirelessly.
The device will be powered by a Snapdragon 8cx, alongside two USB-C ports, a headphone jack, and the Surface Connect port, just like the other Surfaces being announced too. The screen will be slightly larger than the Surface Pro 7's at 13-inches, which is due to the slimming of the bezels making room for a larger display. Of course, since this device is powered by an ARM processor, it will also support LTE allowing for always-connected data even when on the go.
This device is not expected to be part of the Go product line. This will be a premium product, likely priced neatly alongside the Surface Pro 7. In fact, we're hearing that Microsoft will call this device a Surface Pro, but with a different suffix that isn't 7.
Surface Earbuds
Microsoft is also planning to release a new pair of wireless Surface headphones in the form of earbuds. These aren't a successor to the over-ear Surface Headphones announced last year, but are a nice addition to the overall product line as many prefer in-ear headphones. The earbuds, likely called Surface Earbuds, will feature a similar feature set to the Surface Headphones, including a touch-sensitive control mechanism on either bud, and Cortana integration.
Surface Centaurus
Centaurus is the codename for Microsoft's dual-screen, foldable tablet/laptop. This is a device that we're expecting to run Windows Lite when it's ready, but we're not expecting Windows Lite to be ready for prime time until sometime in 2020. So if Microsoft is to announce Centaurus this year, it'll have to do so alongside an announcement of Windows Lite, or briefly tease it at the end of the show with a more specific launch event sometime next year.
Microsoft showcased this device to multiple employees at an internal all-hands meeting earlier this year, which is very unusual for the company. The Surface team is notorious for keeping its projects secret, even from others within Microsoft. Centaurus being shown off on stage internally to employees makes me think Microsoft wants this device to be announced sooner rather than later. We'll have to wait and see what happens on October 2.
What we're not expecting
Surface Go 2
The original Surface Go is now over a year old and will be even older by the time a new Surface hardware event is due. In spite of this, we're not expecting a new Surface Go so soon. The Surface Go is in a difficult position, as it's a device that can't cost more than $399 starting, so Microsoft needs to find a suitable processor upgrade while also maintaining that same $399 entry level price point. The Snapdragon 8cx is a flagship processor, and as such, is not suitable for the Surface Go. So for now, we're not expecting a Surface Go 2.
Surface Book 3
We originally heard that a new Surface Book was on the cards for October, considering the current generation Surface Book is coming up on two years old. However, multiple sources have come forward to suggest that a new Book will not be present in October. So for now, we're filing this one under not happening. Perhaps a new Surface Book will be unveiled in the spring instead.
Surface Andromeda
This shouldn't come as much of a surprise, but we're not expecting any pocketable phone form-factors from Microsoft in October. Andromeda simply isn't happening anytime soon, and that's probably for the best.
Surface Studio 3
The Surface Studio is a product line that Microsoft has never updated on a yearly cadence. As such, we're not expecting any updates to the Surface Studio in October.
What do you think?
So that's everything we're expecting, and not expecting, to be announced at a hardware event later this year. It's fair to say that big things are in store for the Surface product line, and Microsoft as a whole. What are you looking forward to most? Let us know in the comments.
Get the Windows Central Newsletter
All the latest news, reviews, and guides for Windows and Xbox diehards.