What to expect from Microsoft's hardware event in New York City this week
A new Microsoft hardware event is taking place on October 2 in New York City, here's what we're expecting to be revealed.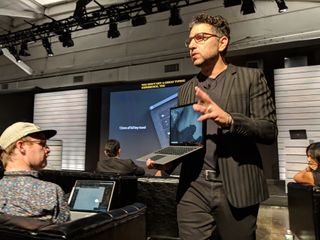 This week, Microsoft is expected to announce a plethora of new Surface hardware, ranging from new Surface Pro's, to wireless earbuds. This is going to be one of the biggest hardware events Microsoft has ever held, and speculation around what will and won't be announced is rife. So, here's everything we're expecting to see Microsoft announce on October 2 in New York City, thanks to various leaks and information from sources.
What we're expecting
Surface Pro 7
Kicking things off, let's talk about the Surface Pro 7. We're fully expecting Microsoft to take the wraps off a new Surface Pro, which will feature updated specifications featuring 10th generation processors in the i3, i5, and i7 configurations. We're also expecting to see Microsoft swap out the Mini DisplayPort for a USB-C port, however we're not expecting said USB-C port to support Thunderbolt 3. Overall, this device should remain much the same externally, with the only notable difference being with the inclusion of a single USB-C port.
Surface Laptop 3
We're also expecting Microsoft to announce a third generation Surface Laptop 3, and this is where things start to get a little more interesting. Microsoft is expected to unveil both a 13.5-inch and 15-inch variant of the Surface Laptop, both featuring USB-C in place of the Mini DisplayPort found on the Surface Laptop 1 and Surface Laptop 2. Just like the Surface Pro 7, we're also not expecting to see Thunderbolt 3 support alongside the inclusion of USB-C.
Specs wise, rumors suggest Microsoft will be using AMD processors for the Surface Laptop, a first for the Surface line as a whole. It's unclear which specific processors will be used, but it's likely a variation of different AMD processors depending on the SKU you choose to buy. Externally, the Surface Laptop 3 will remain much the same, except with the option to not have Alcantara around the keyboard. We're also hearing that the Surface Laptop 3 will feature a removable SSD, which is pretty interesting.
Surface Pro with ARM
In addition to the Surface Pro 7, we're also expecting Microsoft to announce a new Surface with an ARM processor in it. This device is very likely to be marketed as a Surface Pro product, but the reason it's worth a seperate mention is because this device is going to feature a radical new redesign of the form factor. The Surface Pro with ARM will feature slimmer bezels, a rounder body, and an overall cleaner aesthetic compared to the regular Surface Pro 7. We're also expecting this device to feature a new Type Cover and pen accessory, which work together to charge the pen accessory wirelessly.
The device will be powered by a Snapdragon 8cx, alongside two USB-C ports, a headphone jack, and the Surface Connect port, just like the other Surfaces being announced too. The screen will be slightly larger than the Surface Pro 7's at 13-inches, which is due to the slimming of the bezels making room for a larger display. Of course, since this device is powered by an ARM processor, it will also support LTE allowing for always-connected data even when on the go.
This device is not expected to be part of the Go product line. This will be a premium product, likely priced neatly alongside the Surface Pro 7. In fact, we're hearing that Microsoft will call this device a Surface Pro, but with a different suffix that isn't 7.
Surface Earbuds
Microsoft is also planning to release a new pair of wireless Surface headphones in the form of earbuds. These aren't a successor to the over-ear Surface Headphones announced last year, but are a nice addition to the overall product line as many prefer in-ear headphones. The earbuds, likely called Surface Earbuds, will feature a similar feature set to the Surface Headphones, including a touch-sensitive control mechanism on either bud, and Cortana integration.
Surface Centaurus
Centaurus is the codename for Microsoft's dual-screen, foldable tablet/laptop. This is a device that we're expecting to run Windows Lite when it's ready, but we're not expecting Windows Lite to be ready for prime time until sometime in 2020. So if Microsoft is to announce Centaurus this year, it'll have to do so alongside an announcement of Windows Lite, or briefly tease it at the end of the show with a more specific launch event sometime next year.
Microsoft showcased this device to multiple employees at an internal all-hands meeting earlier this year, which is very unusual for the company. The Surface team is notorious for keeping its projects secret, even from others within Microsoft. Centaurus being shown off on stage internally to employees makes me think Microsoft wants this device to be announced sooner rather than later. We'll have to wait and see what happens on October 2.
What we're not expecting
Surface Go 2
The original Surface Go is now over a year old and will be even older by the time a new Surface hardware event is due. In spite of this, we're not expecting a new Surface Go so soon. The Surface Go is in a difficult position, as it's a device that can't cost more than $399 starting, so Microsoft needs to find a suitable processor upgrade while also maintaining that same $399 entry level price point. The Snapdragon 8cx is a flagship processor, and as such, is not suitable for the Surface Go. So for now, we're not expecting a Surface Go 2.
Surface Book 3
We originally heard that a new Surface Book was on the cards for October, considering the current generation Surface Book is coming up on two years old. However, multiple sources have come forward to suggest that a new Book will not be present in October. So for now, we're filing this one under not happening. Perhaps a new Surface Book will be unveiled in the spring instead.
Surface Andromeda
This shouldn't come as much of a surprise, but we're not expecting any pocketable phone form-factors from Microsoft in October. Andromeda simply isn't happening anytime soon, and that's probably for the best.
Surface Studio 3
The Surface Studio is a product line that Microsoft has never updated on a yearly cadence. As such, we're not expecting any updates to the Surface Studio in October.
What do you think?
So that's everything we're expecting, and not expecting, to be announced at a hardware event later this year. It's fair to say that big things are in store for the Surface product line, and Microsoft as a whole. What are you looking forward to most? Let us know in the comments.
Windows Central Newsletter
Get the best of Windows Central in in your inbox, every day!
Zac Bowden is a Senior Editor at Windows Central. Bringing you exclusive coverage into the world of Windows on PCs, tablets, phones, and more. Also an avid collector of rare Microsoft prototype devices! Keep in touch on Twitter: @zacbowden.
Sounds great! My opinion on the Go2 is that it should use an 8cx. I like the buds and they will be a welcome addition to my Surface Headphones, plus I share my surname with the codename.

8cx is an overkill for anyone wallet for a tablet this small though.

8cx is likely too expensive for that device category.

Isn't there a cheaper version coming, like 750cx or something? I forget the name but pretty sure WC talked about it a while ago as a potential chip for the Go 2.

I think a Snapdragon 850 or 855 is a cheaper option to the 8cx

Just found it (days later lol), it's the 7cx I was thinking of...
https://www.windowscentral.com/qualcomm-cooking-cheaper-snapdragon-7cx-a...

Given what they've been discounting aggressively lately (Laptop, Pro, SurfaceBook) and what not (Go, for the most part), I don't think anything is coming (for the Go 2).

Lol surface go 2 is a go for 2020 lol

I'd like to see a Go2 (Go Too?) Mine is my go too device for the general stuff I do, personally. That's mail, web browsing, blog reading, shopping, etc. Mine has LTE, which was super handy when the power went out. I could still access the power company web page and see that not only did they know, they had a restoral time posted. Yea, could have tethered a cell phone, or just used a cell phone, but the laptop was way more convenient. Smaller bezels would be good, but don't change the overall size. It is kinda perfect. I have regular Surfaces for more in depth work, but for sheer portability the Go just works.

Project Morrison will have a hard time differentiating itself in the tight earbud market. One way would be to work in a way to handle texts from a phone the way my Windows Phones could.

I'd buy Surface branded earbuds just to spite all the folks out there with Apple's goofy AirPods.

That would be a function of the phone, not the earbuds. Shame MS doesn't make one. Text handling alone makes me miss mine. Didn't matter if it was earbuds, headphones or my car handsfree set, text handling was perfect.

Agreed, text handling from headphones and the Microsoft Band (before Windows 10 screwed up the Bluetooth connectivity with the band) were amazing on my old Windows Phones.

Too bad there won't be Thunderbolt 3 on the Surface Pro. That means it won't work with any docking stations that people already have. Can't believe Microsoft has been so stupid with the Surface line.

It's only based on rumors.

As was the case when the SB2 came out alongside another Surface device with USB-C support, they aren't going to put Thunderbolt on some devices and not the rest. It's too confusing for the customer base (especially enterprise environments, where all of the accessories should/must be interchangeable). If they release a Surface Go with USB-C and ARM, then it can't use Thunderbolt, so they'd be better off keeping the entire product line on USB-C sans Thunderbolt. What's more, USB 4 is as good as Thunderbolt anyway, and should allow for interoperability between AMD and Intel variants, so it's better to skip Thunderbolt and take the heat for now until USB 4 shows up and can fill the gap (without any royalties).

First of all, there are no royalties. Intel has made Thunderbolt 3 open. Secondly, USB 4 is simply renaming Thunderbolt 3, it's the same thing. At the enterprise I work at, we all have Thunderbolt 3 docking stations. No one uses anything else. Keeping Surface products out of business because they aren't compatible with their existing docks is just stupid.

I did not realize that Intel provided the Thunderbolt 3 system to USB-IF, so that's news to me. However, even after 5-6 months and publicity surrounding the USB 4 announcement, there hasn't been any news relating to whether ARM or AMD chips will be able to use it, so it's still way too difficult for Microsoft to justify creating variants of the same device where some support TB3 and others don't. Until that can be fleshed out, it just makes more sense to make all USB-C ports functionally equivalent. Again, it has nothing to do with their existing docks. If it did, Microsoft wouldn't have had any reason for releasing 2 Surface devices with USB-C (and severely ******* off most of us SB2 owners by failing to update the Surface Dock to support its increased power draw). Edit: Side note: There's no royalties for TB3, but there's still licensing...

Actually, Asrock already sells an AMD AM4 motherboard with Thunderbolt 3 support.

USB 4 isn't really simply renaming Thunderbolt 3, since it isn't a required feature - which is pretty dumb on their part.

There are plenty of great USB-C docks that allow for 1/2 HDMI/DisplayPort displays, along with Gigabit Ethernet, SD card readers, and 2+ USB-A ports. The only I use with my Surface Book 2 has 1 HDMI and all of the other additions I mentioned, plus a full-speed USB-C port to add any other devices. I use it for a wired keyboard and USB headset, Ethernet, and a USB-C monitor, so I can connect everything from one plug. The Thunderbolt docs are overkill unless you're looking to attach PCI devices (GPUs, for example). Otherwise USB-C is capable.

You say that like there are only Thunderbolt 3 docking stations.

I think his point is that his company has already spent X dollars on thunderbolt docking stations, so if the Surface Pro doesn't include thunderbolt then their next computer purchase won't be sending any money to Microsoft. I personally think the HP Elite tablets are better anyway after using one.

My guess is MS probably knows people want to use external GPU's if they were to incorporate thunderbolt, but sadly the Surface line (as it is) just doesn't appear to be designed for none stop high cpu intensive programs/games. I can only imagine how much heat they'd produce.

If it's using Ice Lake, Thunderbolt is built in. MS would be foolish not to expose it. big reason why TB3 wasn't supported before was architectural. Not enough lanes. With Ice Lake and Sunny Cove, support is baked in.

@Dusteater - you always have something to complain about. Even if it had TB3 you would find something to complain about. Also the surface range is targeted at industry and most major companies are just finally starting to switch to USB type c docking stations and peripherals let alone TB3 so you really are looking at your own stupid narrow view who continues to moan and complain. You are nearly as bad as bleached. I can say first hand that the amount of assurance work that has to go into making sure the new usb type c peripherals are assured and compliant in accordance with certain industry standard so you really dont have any idea what you talking about

You don't need TB3 for docking.

Looking forward to an improved Go2. C'mon MS, batter up! :)

Both a Surface go with 8cx would be a great device as would a Surface Pro 7 8cx 2 in 1 device
but I want to see a "Centaurus" with a built in 4/5 gee feature phone now that would be a
an device no one would expect to see but would sell well enough to put in the market
place

A large folding dual screen PC with no touch ecosystem and an astronomical price won't sell well at all. They won't release it, they kill it at the last minute.

That's assuming they haven't been working on improving the touch features / interface to coincide with a Centaurus release...

I am sure they are doing that, but really what is the point of dual screens, especially when there won't be an app ecosystem to support them? Tablets are not popular outside the iPad and high end tablets are especially not popular. Centarus will probably be well above $1000. No way it will be able to sell in any appreciable numbers at anything above $500. It will need a very strong use case to not be laughed at by the world.

"Centaurus" is a large device. About the size of a small tablet and thick. I have no idea how anyone would use such a device as a phone. Plus, MS has zero interest in getting back in the phone market.

Just my luck, the only device that i'm interested in "Andromeda", probably won't make the cut. :(

Never should have been mentioned in the article. Leave it to WC to try to trigger phone fans again...the dead horse just keeps getting beat :/

Nah, readers here would've asked anyways. It's better to address it in the beginning than not.

Yeah, lots of masochistic WP fans here! lol

Yes LoL Zach sucks at predictions lol example surface book 2 not coming in 2017 lol

@petrozio I'm with you on this. Despite the numerous haughty comments from people who just happens to feel otherwise, and won't accept any disagreement...

I would get a surface book 3, or surface laptop 3 if it had thunderbolt hands down. I won't if it doesn't. My surface book 2 is so sluggish for productivity related things, an eGPU is so necessary. I'd get a surface go if they make the bezels significantly smaller. If they don't I won't. Microsoft seems to be off their games with these updates to hardware lately and not keeping up with the competition on their specs front.

Not just lately, how about ever? They can't figure out how to include a Thunderbolt 3 port, which everyone else has been doing for YEARS. They don't want you to use standard docking stations, they would prefer you buy their overpriced docks with lacking features that aren't compatible with any other computer. This is plain anti consumer behavior designed to make them more money. Irony is that less people will buy this stuff because it doesn't work with anything else.

... The SB2 included USB-C specifically so you could use any dock you wanted. In fact, the Surface Dock isn't fully compatible with the SB2, since it can't provide power at nearly the necessary rate for SB2 to perform properly (60W from the Dock vs 100W from the included charger). Not to mention the fact that this article is suggesting with reasonable certainty that the sLaptop 3 will not even have the Surface Connector, so you'll only be able to use U(niversal)SB-C docks. As for TB3, they've been playing around with Windows on ARM for years, and there's been talk for at least the past year that they'll release a Surface device with an ARM chip. ARM cannot use TB3. If they release 2 variants of the Surface Pro 7, one with ARM and one with Intel, and push TB3 to the Intel, they're going to create massive confusion. Most people don't understand the differences between USB-C and TB3, so they'd be setting themselves up for all sorts of confusion and complaints when folks buy the ARM-Surface Pro 7 and a Thunderbolt dock thinking they'll work fine together and then assume they've got a broken Surface when nothing works. I think they're best to stick to just USB-C and wait for USB 4, which has the same throughput as TB3 without any of the royalties or Intel requirements. This way they can switch between Intel/AMD/ARM based on system requirements, capabilities, and price whenever they see fit.

There are no royalties to use TB3, and USB 4 is TB3, just renamed.

You don't need TB3 to use standard docking stations. You're getting worked up by your own mistake.

I know it's listed in the "Not gonna happen" category, but I'll say it in case Microsoft is reading. I still want an Andromeda device. Please make this happen eventually. Outside that, if Surface Laptop and Surface Pro are dumping the Surface Connect in favor of USB Type-c, I would also expect a new Surface dock that uses Type-C. It probably won't be an on-stage announcement, but an aside right after the event. Bonus points to Microsoft if it works with all Windows laptops and not just Surface devices. I'm looking forward to any AMD processors that may be used (although I'd prefer in a tablet or 2-in-1 over a traditional laptop). Between a Ryzen and dropping the proprietary Surface Connect, I might actually consider a Surface if that happens.

I'll second, third, and fourth this. Microsoft, put a Surface in my pocket, pls.

YEP. Andromeda 2 trillion percent.

If this list is a preview of what's to come I'd be VERY disappointed. This new lineup was suppose to introduce a new Surface Pro with bold changes, not the usual battery/processor update. I am a big fan of the Surface Pro line and how it refreshed the laptop industry (making MacBook and other non 2-in-1 so outdated).
I love the Surface Studio and it would have the potential to do the same if it was smaller and cheaper for homes. I love the Go because it is the most lovely laptop on the market. Now let's face it :
- Surface Pro only marginally improved since SP3, it is time for it to embrace
- Surface Go is under powered and with a fat bezel screens that did not make sense last year, so...
- Surface Laptop is not even a 2-in-1, I love the design a lot but you could keep it as it is while making it a 360 device. It is the least it should be to make the touch screen more useful.
- Surface Studio is genius but a niche market. This investment makes no sense yet for MS if it is not mean to spread into more users hands in the future. It does not look crazy to ask for the follower new offering:
- A borderless 11" Surface Go 2 in the same form factor, with more power
- A new, cheaper, 23" Surface Studio for families
- A refreshed 27" Surface Studio with more power
- A Surface Laptop 3 with a 360 hinge
- A borderless Surface Pro in 14" in the same form factor than today
- A flat Surface Book 3 But the Surface family has always been very ambitious, beyond competitors offering. It needs to evolve in a deep way to shake things again.
I hope Panos and & crew still have the faith to push the market further with what made SP3 and Studio that incredible. Therefore my Dream Surface line of devices would be:
- 12' borderless Surface Go
- A new borderless Surface Laptop 3 with a 360 hinge in 13" and 15" for those who wants a laptop that do not detach with the Surface flexibility
- Ending of the Surface Book line, because it has to be merged with Surface Pro
- Two new 15' and 13' Surface Pro models with smallest possible bezels and 2 variants of covers: a type cover and a new "power cover" that brings an additional battery and a powerful GPU option. No need to choose anymore between power and portability/kickstand
- All touchpads with embedded screen for all covers What do you guys think?

Definitely NOT a bigger GO. Size is perfect. .Most other stuff I agree except a flat SB. Why? The hinge is amazing. 360 degree hinge on laptop - not sure about that. I like the way it is. Just more power.

I love the look of the hinge but the gap is not practical : dust and stuff comes in, and it needs more room that a thin a light should require.
Regarding the size of the Go I agree, and thinner bezels mean you can insert a bigger screen in the same form factor :) There is currently lot of wasted room available that can be useful on lot of situations (watching a movie for examples) where you do not have a big finger usages on your Go.

I don't understand the want of not having bezels on a tablet. You have to hold the thing, what's the point of a bigger screen if you're covering it with your hand?

I've had the same question. Small bezels, yes. But no bezels? Not sure how this would work.

I read an article on this were the bezelless design is being worked on to where the edges can be held and it doesn't interfere with other touch input. Not sure if it was Samsung or Huawei. Made Me think it was like SP with inking and being able to leave your hand/palm rest on screen.

I have stubby, Scottish, hands. I can hold a tablet with one hand and not have to put my hand over the front of it.

Bezel comments are usually from people who focus on the aesthetic. I agree bezels can be unattractive and a waste of space...but yes, you do need to hold the device and it is not a big deal to me. I also have a visceral reaction to the word bezels...it was a common critique of every windows phone ever released. I always assumed that it was from people either paid by google of obsessed with bezels as THE only issue.

I think you cannot underestimate the aesthetic impact on purchase decisions, especially when competitors provides thinner bezels. Surface Pro / Go devices bezel makes it less attractive for a lot of people, myself included. Take side by side an iPad Air / Pro and the Go, our lovely Surface design is great expect the large bezels that ruins it for me.
This is a very competitive market, a premium market, you have to be really good at everything as well as having your uniqueness. The overall Surface Go lovely design is its uniqueness but the bezels are simply not premium. The price you pay is premium, so the device should be flawless to deserve it. The Surface family deserves better than follow Apple while the SP3 took the high end laptop market by storm when it came out.

How do you hold it? You could ask that question of iPad Pro users. Seems to work just fine. I'd guess many of us use our Gos with a keyboard much of the time, while I don't even have a keyboard for my iPad Pro. Note the 11" Pro is 7.02" x 9.74" and the Go is 6.90" by 9.65". That's about .1" bigger in each direction for a noticeably bigger screen. I'd absolutely go for a 'bezelless' Go. It already has USB-C. An ARM version might be nice, but mine already has LTE. Wasn't cheap, granted, but don't expect an ARM version to be either. Priced phones lately? Don't forget you have to pay for that cell data too, assuming you are thinking ARM for the always connected PC experience. Otherwise, what's the point? Oh, and it's not aesthetics, it's a bigger screen in the same form factor, for me.

Bigger screen. Look at size of HP Elite X3 compared to the Samsung Galaxy S10+

I have the Surface Pro 4 (i5/8/256) and since 1903 update, I have some issues.
In fact, when idle, it now use 5GB of RAM in stead of 3 (don't know even why).
Battery is always between 4-6 hours but since 1809 update, when I arrive at 10%, it suddenly shutdown and impossible to turn it on before put on the plug and let it charge. It has been 2 years and a half now I use it nearly everyday as a student in IT and I'm planning to change it for the Surface Book 3. The only thing that stopped me in March to take the Book 2 is the waiting for the refresh of the device (new CPU mainly) and because I would really prefer Thunderbolt 3 support and maybe a second USB-C port included with all other connectors already present on the device. I'm waiting to see what's going on.
I read on multiple websites that rumors suggests the Book 3 to have Thunderbolt 3 support, 10th Gen CPU and maybe GTX16xx GPU, 18h of battery time and smaller screen bezels.
If that's not coming, I'll switch to the Lenovo ThinkPad X1 Yoga 4th gen even if I won't be able to have an as good price as I can have on Surface devices (20% off on Lenovo device, 50% off on Surface device).

I'd bet $100 that none of the Surface devices releasing this year come with Thunderbolt 3, if I know someone would pay when I was proven right... The rest of what you're asking for will probably be there. Maybe not the smaller bezel. Most importantly, where are you getting Surface devices for 50% off??

Enterprise reduction thanks to the family company where I'm working sometimes as a student job 😉
Microsoft offers this reduction to any company willing to have devices in order to make demonstrations to customers. Thanks to that, I had my Surface Pro 4 with Type Cover 50% off and made it possible for my father to make contracts on Surface devices. Now it's time for me to upgrade and somehow to push our customers on newer devices.

About the RAM issue, could you check the number for "non-paged pool" in the "Memory" overview of the Task Manager under the "Performance" tab?

I just checked and here's the info:
8Go of RAM, 2 locations used, 1867MHz.
RAM used 5.8Go (210Mo compressed)
Non assigned pool 303Mo
Pagination reserved 370Mo Apart from switching from 1809 to 1903, nothing else changed for installed apps, etc. I also noticed just now that when I do multitasking with Edge opened in the background (multiple tabs), after some time it decides to close all my tabs and keep only the one focused the last time I focused on Edge.

303 MB for the non-paged pool seems perfectly alright. Then it's now the issue I've been having.

Interesting, I have the very same issue with the SP4 shutting down somewhere between 10 and 15 % too since today. But I have 1903 installed since a couple of months. Maye it is just a coincidence for you. I checked battery wear level with HWMonitor afterwards and it showed 36 %! I was at 10 % last time I checked couple of weeks ago. After fully charging it again, wear level went up again to 24 % which is at least somewhat better … very likely, our SP4s now just reach the age where the battery starts to die. Quite disappointing in a device where you cannot replace your battery … it should have a better battery management system so the battery is able to live longer. Modern Li-Ion batteries really don't have to have excessive degredation after just a couple of years.

Surely same for me, the battery yes. I was wondering about that and Microsoft propose to exchange the Surface ton an other one. It was possible for me to do it before the end of the European warranty but it was clearly not the right moment.
Anyway, it has been a great time with it but as always, there's always a time when you need to upgrade. I really hope Thunderbolt 3 will be included in any or all new Surface devices.
If not, hello Lenovo with the ThinkPad X1 Yoga 4th gen, WQHD screen (so I can hope to be closer to the 18h because the 4K panel offers 9h only) 😅

I just checked with HWMonitor and it's very strange.
I'm currently at 21% and in charging mode and my wear level is 10%.
After 2 and a half years, it seems to not being too much defeated even though I use it nearly everyday.

I would think the Surface Book 3 will have a redesign, kinda like the Pro 3 at the time. Maybe a larger trackpad, different hinge, or something along those lines?

I've had the SB2 since launch. Took it with me all over the place (if I had to guess, probably 30+ flights, including northeast Africa in the absolute desert of Djibouti), used it for gaming, running multiple virtual machines at once, installed Linux on it, etc, and it's still running great. Most importantly, the hinge is still about 80% as stiff and reliable as it was on day 1. If they change the external design, my big hopes would be that they move the audio jack to the bottom left when looking at the screen (currently sits at the top right, which gets in the way when switching your right hand from a mouse to the keyboard), make the touchpad fill the available space below the space bar (as you said), possibly putting the power and volume buttons on the left side instead of the top left, taking away the keyboard's volume up/down buttons and replacing them with forward/back media control (currently just has play/pause, and then mute/vol up/vol down), and maybe minor changes to the hinge based on whatever new ideas and tech have been made available since the SB2's launch). The thickness of the hinge is solid and really helps in holding it on the move, using it with the screen reversed, etc. I really can't think of much they should/could change. Honestly, I'm keeping my SB2 at least another year, maybe even longer. It's just such a great device for the amount of work/play I'm able to do. I do wish they would have made some built-in undervolting changes to both the GPU and CPU. Using Afterburner and Throttlestop, I'm able to really bring down the heat generated by the system and extend the boost times without any impact on performance. Granted, I don't want to change mine much, but the little bit that I've done really allows the device to shine and it's something M$ could have figured out in just a few days of stress testing.

Linux isn't performing well on all Surface devices because of proprietary drivers issues.
How did you manage to fix HiDPI issues, no IR compatibility for facial recognition, no Pen detection, Surface connector not recognized for something else than charge the device (I think this particular problem is specific for Surface Pro line, but not sure), battery issues (even if I think it has been improved since open-source drivers of last year), etc. ?

People requesting smaller bezels on the Surface Go I think really don't use it as a tablet. You need the bezels to hold it with one hand and not interfere with UI. Phones can get away with borderless because they can be palmed in one hand and thus securely held by only putting pressure on the bottom and edges. Tablets cannot be held this way securely with one hand. The existing bezels could be made a little smaller, but not borderless. They serve a purpose.

You don't need bezels to hold it. Use a iPad Pro and you will see.

See that the iPad Pro has bezels? They're much smaller than the SGo... but they're definitely still there.

I hope the talk about software and encourage developers for their platform.

Developers are still interested in Microsoft products, just not the kind of developers you might be thinking of. They're not consumer focused devs. All of those folks are pushing Windows users to the browser. IE Disney+ recent announcement. It smells I know. A good app is always better than a great website in terms of usability. But that's the way it stands right now. The only apps we can expect in the store from now on are desktop class apps for use primarily with a keyboard, mouse, and perhaps a pen. That includes games. The only games you can expect to see are arrow key apps or XBox controller apps. Bottom line... even with Surface Go's growing sales, don't expect any touch friendly apps or games. That ship has sailed. And sunk far off at sea. Touch apps can't and won't happen without a pocketable device.

Hmmm. You may be correct. But I'm a consumer and use my SP5 all the time for work and fun.

The updated Surface Hub 2 maybe ?

It's already been presented and on market for preorder for the "Surface Hub 2S" (first arrivals by end of the year).
So no, there won't be any Hub this year. Expect a new Hub in like 3-4 years maximum.

Definitely want to see: GO2 with more power and way way better battery life. It should last all day on heavy use with 20%left at midnight. Want Surface laptop 3 100%. Better specs. Want Surface Book 3 with improved specs and other colour variants. 15" black Surface Book would be sick. Love to see Surface buds, AND Andromeda so I can get rid of Android phones. Samsung makes amazing quality build devices but Android is **** boring. Also, VERY MUCH need Surface Headphones 2 with improvements to sound quality, a little thinner, and different colour options. If people still think we don't need Andromeda then ******* think again. Windows phone MUST live on, it's the only phone OS that is worth using. Foldable is ripe. I would get the Galaxy Fold when re-released but because of Android most likely not. I'd pre-order Andromeda in blink.

Yup. Biggest issue with surface go, terrible battery life

Dan and Zack. Any news on a surface display, screen with pen support?

This all sounds about right. Would love to see Centaurus at least shown with Windows Lite. Not sure about the Go 2 as that would be best with Lite as well, maybe we'll see it next summer.

That might be nice. I imagine a Surface Studio sort of form factor with the base serving as a dock. Maybe both Surface connector and USB-C (TB?) options. You could use it with your Go, Pro, Laptop, Book, or HP Spectre for that matter ;)

In the past I had used sp3 and 4, sb1 and since last year using sb2 with 1tb. I was very much excited to buy go 1 as my travel device to replace both laptop and iPad but it is not up to the mark. It definitely needs battery and performance enhancements. Less bezels would definitely look great but zero bezels are not good ergonomically for this type of device. Would love to see a foldable device.

Lol oh my God lol 😂 surface pro 7 is not going to be at this event all a surface laptop 3 that's 2020 lol 😂 Andromeda not going to be there lol 😂 surface go 2 now it's 2020 lol 😂

They are going to gen 10 chips that will have integrated thunderbolt but will not support thunderbolt? That makes no sense.

And then, at the end, when everyone thought they were finished, Panos goes like, "oh, I forgot something", and then reaches into his pocket...

I was thinking the same thing. Microsoft's "...one more thing."

...and0 pulls out his Note 10 to show how well it works with all the new Surface PCs.

Stay out of my dream would you please...

That's frickin' hysterical. You win the internet today.

Zac is clearly lying about something. My guess is Andromeda. We'll have to wait until October to find out what he's lying about.

Clearly lying in what way? Your imagination? About watching porn on a Samsung phone ?

Now would be a great time to release a competitor in the duopoly smart phone OS space.

They tried 3 times, 3 times it was a huge fail thanks to Devs not porting there apps.
As Microsoft clearly said (and some guys working there said to me last year) : "There won't be any mobile device coming from Microsoft for the coming years.
Smartphone market is arriving to an end, expect us to be part to the new evolution of it, the new after-smartphone era, not the actual-smartphone era." Oh and if in case you're wondering for an hypothetic Band series rebranded as a Surface device : "In a timeframe of 5 years, don't expect us to launch anything in the wearable market. It's too soon for the moment to present something really different on the market and the focus of the brand is on currently on the triptic: Cloud, Surface, Xbox."

I'm a dev and have a Moleskine slam full of app ideas just waiting for Microsoft to get back into the mobile landscape with Andromeda and/or Centaurus. The main problem with app development is that users just don't want to pay for apps on Android or iOS; and I don't speculate that it will be any different on the Microsoft Store. Therefore, the only way to monetize the app is to trick users into clicking on an ad or show ads with a hidden 'X' that appears after an unreasonable amount of time, which is not good for UX. So, after the expense of developing an app over the course of 4/6/12 months (depending on the app complexity), devs have to be able to pay bills and put food on the table for themselves (and a staff of devs if not flying solo). I think there are some devs willing to port their apps and others willing to release new apps on the platform, but if they can't pay the bills, it's not going to happen.

Everything points to MS getting closer to Samsung. They have all of there apps pre-installed on the new Notes. The cost to rebuild a mobile infrastructure would be huge. Why would MS want to get into a declining market. The market is declining as people no longer see the need to upgrade phones every 2-3 years. Having MS enter the market would not change this dynamic. They would just be chasing fewer dollars being spent on phones.

You guys are mistaken. The surface connect will be on all the laptops. .Surface connect isn't going anywhere.

Microsoft Surface Connect is legendary, just like Apple Magsafe was at the time.
There's always a time where a change will be made.
If it's not this year, it will be next year. Microsoft doesn't offer the Surface Hub with newer options and you can have far better adapters in USB-C than with mini-DisplayPort/Surface Connect. As Microsoft is making new adapters, and all using USB-C, I think they're effectively making the change like Apple made a couple of years ago so, expect them to make the change this year or next year.

Not launching an AMD Ryzen 3750H or updated with Vega 10 or above Surface Book 3 would be a huge mistake. The opportunity is for the Surface Book 3 to also be a capable Xbox One X + and potentially powerful enough to be comparative to Scorpio Benchmarks. This would make the Book 3 top tier a solid DevKit for Xbox Devs as well as give the product one more unique feature over MacBooks. Am I right?

Definitely agree, although you'll likely need more gpu horsepower than a vega 10 to beat an xbox one x. An xbox one s however? Maybe...

None of these devices offer anything that I need and haven't already got with my older Surface Pro. I'd like a Studio, but not at that price.
The only Surface device I'm truly looking forward to is the Andromeda - here's hoping it'll show up eventually!

Yep, Andromeda 1000%. I WANT A WINDOWS OS PHONE. FULL **CKING STOP. ANDROID SUCKS BOAT HOLES, AND APPLE CAN KISS MY BOAT HOLE.

I'd like to see a redesign of the hinge on the SB3. No other 2-in-1 (AFAIK) uses a latching mechanism, and instead relies on a hinge to do a complete flip. It's much easier to get into a drawing state this way than by pressing a button, releasing it, maybe putting it back on the base if there isn't enough battery, drawing, then flipping it back. I like the XPS/HP/Lenovo way where it's just fold open. Also, love the way the C930 has a pen storage built in. That's super appealing to me. Would love to see SB3 resdesign account for this, but I think it's unlikely given that they don't even include the Pen anymore with new surface devices.

The hinge on the SB is awesome and is one of the only ones that doesn't sit the keyboard on some filthy public space. Much better design, and what's a few seconds to do this? DO NOT CHANGE THE SB HINGE, EVER!!!

The Surface connect is not being replaced.

Looking forward to Surface Laptop 3 - minus the carpeting...

**** pile would be awesome!

What I use daily: SB2 for work from home, bed time video. Surface Studio, home surfing the web, media playback, occasional drawing. Surface Go LTE, on the train and office as a personal device to bypass work firewalls. Surface Headphones, on the train and walking outside. I am happy with all the them. I guess what I like to see is instant on and longer battery life on SGo, if they can make it fast enough with the ARM based chip and still keep it at similar price point. I like how I can charge SGo with USB battery pack if needed. A longer battery life never hurts. But the performance is slow on SGo, which is expected but quite noticeable whenever you switch from SB2 or SStudio to it. It is also slower than my phone.
Surface earbuds can be a fine addition esp on hot weather days, and if they are designed well, for use during workouts. Surface Headphones are great in the winter to keep the ears warm, and for noise canceling. I use MS launcher and MS apps on Huawei Mate 20 PRO. Hope Your Phone gets improved too for non Samsung phones in the future.

Why not a Surface VR headset? Please Microsoft, let make it <3

Remove surface connect but not adding thunderbolt? That would be an incredibly stupid move. Give up compatibility with existing docks, and limit to generic docks...

I know. If they don't add TB3 then they should use USB-C in parallel with the Surface Connect port like on the Surface Book 2. I think they should keep Surface Connect and swap Mini Displayport for USB-C in that case.

What should be replaced with USB-C is Mini DP rather than Surface Connect. I like the magnetic port. Of course, it would be nice if Microsoft could bring this design to USB-C.

Yes absolutely. Mini Displayport is getting pretty old now and USB-C would definitely be better.

I really want Surface Book 3 to be announced, so that Surface Book 2 has huge sales and I can afford it. Also, I hope it's a tiny update so I don't feel bad about buying the Book 2. That's why I'm kinda glad if it doesn't have Thunderbolt 3. I know, selfish, but still.

Need a great new SurfaceBook 3 with awesome specs.
Bring back the original Surface Book keyboard keys

The keys got worse? They were really awesome on the first gen SB, maybe better than a ThinkPad.

if they swapped surface 2 go, it sounds like a chinese take out.

god i hope they finally make the bezel disappear or even thinner on those surface lines.

Hopefully doesn't go down like this. Lol highly unlikely a surface pro 7th and surface laptop 3 surface go 2. So surface book 3 Centaurus surface phone Andromeda and a surface watch Is more likely.

Microsoft really does need a watch, but the watch needs Andromeda. So, I say not a bad guess. …and, of course, the earbuds.

I hope surface book 3 get the specs bump and a black option!

No Surface Phone, no interest.

I'd like to see them drop the Surface Book as it's an expensive bug-ridden monstrosity. The Surface Pro already serves those wanting a tablet experience. Seeing as the tablet experience on Windows 10 is horrific, it just seems stupid to have two separate Surface tablet devices on the market. I can't imagine the Surface Book was a best seller, whereas the Surface Pro is Microsoft's most popular Surface branded device. The constant firmware botches on the Surface Book proves Microsoft cannot write firmware to save their lives, so they should put this device out of it's misery. I'd like to see the Surface Laptop 3 get an Ice Lake/Comet Lake update and more BTO configuration options. I'd also like to see them offer a beefed up Surface Laptop variant (that replaces the Surface Book). If Apple can have two major laptop sub-brands that serves two very different usage scenarios (MacBook Air & MacBook Pro), why shouldn't Microsoft? We just have to hope they can finally release reliable firmware for their devices as most of us are fed up with the sub-standard unreliable crap that gimps our hardware.

Yeah... nope. The Surface Book definitely has a market. I disagree with your statement that Microsoft can't write firmware; they definitely can. Surface Book has had issues but then it's a unique device that has only had two generations. The original Surface Pro wasn't perfect, but it's amazing today. I don't think the Surface Laptop could or even should replace the Surface Book. Even with beefed-up internals, the fact that it's only available in 15 inches is a drawback for a pro user. For digital artists, the Surface Book is a dream-come-true. It's powerful enough to handle photo and video editing but it also has the versatility of the Surface Pro in that you can lay it flat for drawing. It is also a lot more "lapable" than the Surface Pro. You compare the Surface line to Apple. Really? Although Microsoft draws attention to the similarity of the specs of Surface devices and MacBooks, they are completely different devices. Does Apple have a 2-in-1 MacBook? No. Does Apple have inking support on MacBooks? No. Does Apple even use touchscreens on MacBooks? No. The only Surface device that should possibly be compared to a Mac is the Surface Laptop because it's a traditional clamshell, and that is ALL Apple does with MacBooks. Microsoft does so much more.

Folks Surface Go is now selling at a super low price I think that Microsoft is getting rid of
it's old Surface models for new ones with an *8cx ARM CPU LTE model giving the
Surface Go super battery life & LTE. A lot of folks will buy this model of the Surface Go
because it would be s super light weight mobile device you can do work with that does
no require super video editing or intense Computer aided design work. for those things
People should buy a Surface Pro 6 or the coming Surface Pro 7 or a Surface Book.

I would like to see something even cheaper and decent than the Surface Go. The Go is great and small and for the most part affordable. I think they can go even cheaper and personally I hate tablets, but I would buy a dirt cheap latest and greatest Microsoft tablet if they had one. Am talking 99 dollars cheap...

That isn't going to happen with the Surface line. Surface is an aspirational device to highlight the best of Windows. A $99 tablet is never going to have the quality Microsoft would expect, and in fact would likely do more harm than good. Could they get something decent at the $300 level (about what a basic iPad costs)? Maybe if they can push for acceptance of S-Mode or Windows Lite. They would have to kill off legacy support for any hardware at that price to run apps though.

If they don't have USB charging they REALLY REALLY need to make the surface charger modular because I have gone through three chargers due to the surface connect cord getting damaged some how. And now I'm using a third party USB to surface connect adapter. But apparently I'm playing a risky game by doing so, and I'd rather have an official solution.

I don't get the Thunderbolt hype for Surface Pro machines. The thermal design is too tight to really take advantage of an eGPU (since graphics intensive games also tend to be CPU heavy) and for other TB applications USB-C speeds are more than adequate on a Surface Pro (again, you aren't video editing on this thing).

I dunno, you could do a bit of video editing on these devices. If you're sticking to 1080p, it's pretty doable.

I've got a decent chunk of change saved up but given Microsoft's past track record, I think I'll hold onto my cash for awhile until I'm certain any new "experiences" or "devices" will be supported beyond the first generation. If andromeda is released I'd buy it there and then but given that's apparently shelved along with the tablet experience. I'm not holding my breath for a decent foldable PC experience either.

I'm so glad I made the switch to the Elite X2, I'm loving a tablet that I can plug into my eGPU at home and play the latest games with ease. But still be able to carry it around at work without weighing a ton.

I've said since the SB launched that they'd missed a trick not converging it with Surface Pro. At work I use a Surface Pro and I don't need the dGPU or any keyboard 90% of the time as I dock and use a proper keyboard and mouse and most of what I do is email, web and documents. I do sometimes have to do data visualisation or more intensive stuff though so would definitely like more power for that. Also, gaming! The problem is that the SB screen doesn't really work stand alone as it doesn't have the kickstand or the ports etc. To be docked on it's own.

It seems like a logical progression, in time. The technology isn't quite there... the connection between the SB's screen and the base is highly specialized right now. Microsoft does not sell them separately, and doesn't support trading out the components among different devices with different specs. Maybe they'll start using something that works in a more standard way, like how some laptops can use an external GPU over TB3. If the connection between the screen and base was something like a TB3 connection with a different magnetic connector, then it could handle power delivery and GPU support in a somewhat standardized way, and maybe they could sell the tablet and keyboard separately. They also have to contend with the large amount of space the locking mechanism takes up in the tablet... there isn't currently space for that in the Surface Pros. In the meantime, the SB is their high-end, does-everything laptop. They're not going to shake that up until the technology to connect the base is totally mature, then they can try making optional bases available for Surface Pro. I agree, the convergence will happen eventually. I'm thinking we're still a few years out at least.

Finally a new dock. The old one is ageing and crappy regardless of its age. I still regularly plug in my Surface Pro only to find out that the external monitors have been switched. I have to unplug and plug in the dock connector again, but then the USB signal cuts out and I have to wait 10-15 seconds for it to come back. Too bad about Surface Connect (if it really is going away). Magnetic pogo is the way to go for a dock connector. I worry about the reliability of a USB-C plug.

It doesn't make sense to drop surface connect for non-thunderbolt USB-C, and that has long been a scenario that Panos has spoken against. It would make perfect sense to replace the mini-DP with USB-C. Previously, they were unable to add thunderbolt hardware because it was not included in the chipset, and it would have used too many PCI lanes. It would necessitate choosing between the surface connect or TB3. Now that TB3 is included on new Intel chipsets, it's feasible to do TB3 on a Surface. I highly doubt they'll drop surface connect unless they are fully adopting TB3. Otherwise, we'll see the mini-DP get dropped for standard USB-C, and we'll still see the PCI lanes dedicated to the surface connect.

Uhm hasn't Surface Connect been a shameless rip off of Apple MagSafe? Just a thought

Well not.much there except Centarus that aren't straight evolutions (pro 7 and SB3). The 8cX is an inevitable result of WOA and I am guessing the type pad and pen may be similar to the Samsung setup on the Tab S6. The earbuds are nice, but like with the headphones they will have a hard time displacing existing members in the space. The question is how much the Centarus will be an aside or an actual predicted usage case view.

Panos once stated that even though they had the Surface book, they created the Surface laptop simply because people were asking for it. Well, many of us have been asking for a Surface Phone / Andromeda for quite a while. Time for Microsoft to deliver on what people want. Like the Studio or Hub, it may be niche, but it still fills a visible hole for a form factor that is missing from Microsoft's mobile device lineup.
Windows Central Newsletter
Thank you for signing up to Windows Central. You will receive a verification email shortly.
There was a problem. Please refresh the page and try again.