Incipio Ultralight Hard Shell: A splash of color for your Lumia 920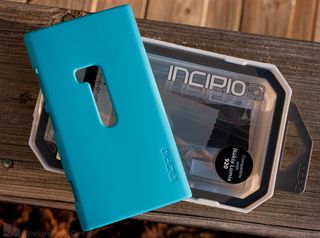 If opted for the black Nokia Lumia 920 and are looking for a way to add a little color to your Windows Phone, take a look at the Incipio Ultralight Hard Shell. Even if your Lumia 920 is already bright and colorful, the Incipio Hard Shell can give your phone a little variety.
Along with adding color to the Lumia 920, the Incipio Ultralight also offers a little protection to your phone from scratches and minor dings. Not sure how well it would protect the Lumia 920 from drops though.
The design of the Incipio Ultralight Hard Shell case is simple. It's a molded chunk of molded polymer that wraps around your Lumia 920. The end of the Incipio is raised ever so slightly to prevent the Lumia 920 from sliding out. Cut outs are present for the side buttons and camera. The Incipio case leaves the top and bottom of the Windows Phone exposed.
The Incipio case is light and thin enough not to add any noticeable bulk to the Lumia 920. The only noticeable feel difference is that the case does recess the buttons a little.
For those who use the Nokia wireless charging pad, the Lumia 920 will charge wireless when fitted with the Incipio.
The Incipio Ultralight Hard Shell Case is a nice case option to offer a little scratch protection and color to your Lumia 920. The Incipio case is currently running $23.95 and comes in black, neon blue, neon pink and iridescent gray. You can find the Incipio Ultralight Hard Shell Case here at the Windows Phone Central Accessory Store. (opens in new tab)
George is the Reviews Editor at Windows Central, concentrating on Windows 10 PC and Mobile apps. He's been a supporter of the platform since the days of Windows CE and uses his current Windows 10 Mobile phone daily to keep up with life and enjoy a game during down time.
I just bought the Incipio dual pro case on ebay. Hope I didn't make a mistake. I feel like I should have bought the Otterbox commuter.

I have the otterbox and work on building site and it provides great protection, but there is no denying its a hideous beast lol. I like the look if these

Cool looking case and the Incipio Dual Pro is nice as well. Going to wait a few more months and this puppy will be under $15 on Amazon. Nice to see a few more options for cases lately.

That seems vastly overpriced in my opinion unless its made in America. eBay is selling a variety of colors that color match the themes for $4 free shipping straight from China. They have a slight rubbery feel and come in yellow, magenta, pink, dark blue, light blue, white, red, and black. The side button hole openings are identical to the Incipio case above.
I find the Rock case which comes in lime yellow, metallic cyan blue, black, and white to actually be even slimmer than those cases, but it's a hard plastic and not rubber type feel. The button openings on the Rock are much better aligned though, so it's become my case of choice, even though I like the cobalt blue color from the other series.
Anyone looking for a slimline case, check out the Rock series on eBay. There about $8 but are extremely slim and add a nice touch of color. I can post photos if anyone wants to see the comparison.

could you post some picture of your Rock Case with your lumia 920?

This case: http://www.rockphone.cn/en/Html/Product/156.html

~£5 on ebay UK, from HK

I like the DualPro a lot more than the Commuter. The silicone on the commuter kept peeling my screen protector and the hard shell made it slip around when I was using it on a table or desk. Much happier with the Incipio.

I used an Incipio case in a very similar style to this one for my Samsung Focus and it was great. Very slim, so it added minimal weight and bulk. The molding itself was very sturdy as well so it offered great protection. If I were going to buy a case for my Lumia this would most likely be it.

DO NOT GET THIS CASE. It gets super dirty and I've tried literally everything to clean it. Magic eraser, fabuloso, dish detergent, laundry detergent, sneaker cleaner. Nothing cleans it period.

Idk man, I've had this case for weeks and I leave it on tables with food everywhere at the restaurant I work at, its still flawless.

I haven't even had it for a week. The corners are black, the edges are green (I own the blue). I don't know how yours isn't discolored by now.

I agree, it gets dirty really fast. The corners and edges are turning black on mine and I do my best to keep it clean. I have the blue one by the way.

I like the DualPro a lot more than the Commuter. The silicone on the commuter kept peeling my screen protector lên nào siêu thị áo cưới mu moi ra bmw 320i mui tran thành lập công ty

I'm pretty happy with this case. The Lumia 920 is a tank, so I'm not worried about dropping it. Between this and a screen-protector, my Lumia will be fine from scratches and dings.

but my 920 is already blue....

Thank god. Better then the s line cases we bought

My 920 is red and I would prefer to keep it red, seems like they would have thrown all the available colors to the cases. I did notice another brand of cases had red but I want to make sure it functions with wireless charging before I purchase it.

all cases work with wireless charging. if the otterbox defender can still charge your phone, any case will still charge.

You could throw a 920 with the full otterbox defender rig under a 18 wheeler, and it would be fine. I love my defender.

A case on my beautiful yellow Lumia 920...? Nope... ;)

Actually, the yellow case would match it exactly.

Bought this from the MS store when I picked up my phone. I do like it and as the article says it doesn't add much bulk.

What advantage is it to buy are HARD case vs a rubberized case? Seems to me you'd want something that absorbs shock but a hard case is as hard as the surface you want to protect it from and thus no protection at all.

Dual pro looks better. Maybe its just the pics but this case looks funny

It's good for Canadians who are stuck with the Rogers exclusive boring black Lumia 920.

Putting a case on a L920 is like putting a bra on a Ferrari; you just shouldn't do it!

I bought two cases for my black Lumia 920, one cyan and one black at the Microsoft store. The Cyan one shows a lot of dirt after about two weeks of use, then I went to buy the black one, makes the phone look even more stunning

Have a yellow Lumia but hardly any good yellow cases out there. Only thing that has been okay is Diztronic case in Amazon.

Check Ebay for Rock cases. I have all four colors (Red, cyan,black and white) for my venerable Red 920. The yellow is the most beautiful among them and it somehow compensates my inability to get the yellow 920. I had to settle for the Red because I waited for 3 weeks for the yellow and eventually AT&T has to cancelled my order. I drove 2hrs from Columbus to Cincinnati after MS customer service had confirmed that MS Store in Cincinnati had the yellow and got only to be disappointed one more time.

Bought something similar from Nillkin china on eBay. $8. Supposedly coming today but don't know yet because of snow storm.

I have it for my 900, the case and screen protector are really nice. For the 920, the screen protector is too long and the button cutouts are a bit tighter, had to sand them down for my dad's 920. Its still pretty nice once you get the holes right. Maybe its a first batch issue.

Making me nervous. Had to wait two weeks for it.

Hmm, seeing this case might make the wait for the blue one in europe a bit unnecessary. Might go for black if they don't announce it before the official release in the Netherlands. Perhaps not this case but another one that is also blue


I can upgrade now and for once in my life, I really want a current phone. Since it looks like Sprint isn't getting any WP8 phones anytime soon, I've been thinking about getting one of these since we have AT&T's 4GLTE in Atlanta. I really want to test out these 4G LTE speeds for transmitting my graphics design work.

George Ponder,
The button openings on the Incipio Feather (Ultralight) are not quite well aligned, as shown in the picture.
I plan to buy one but, does the it more difficult to depress the buttons?
Windows Central Newsletter
Get the best of Windows Central in in your inbox, every day!
Thank you for signing up to Windows Central. You will receive a verification email shortly.
There was a problem. Please refresh the page and try again.