ING Home'Bank in Romania launches Windows Phone app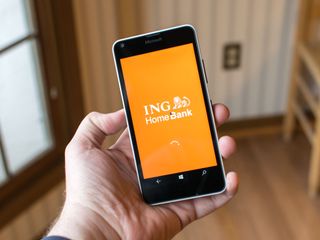 Another banking app for Windows Phone users has recently appeared, this time for residents in Romania. The local ING Home'Bank is available to download, offering its customers a number of mobile banking features.
Here's a quick breakdown of its features:
Thanks to Cornel for the tip!
Download ING Home'Bank (Romania) for Windows Phone (opens in new tab)
Them Romanian girls are amazing

LOL back in high school I met this Romanian girl and had the same thought.

Not only Romanians are amazing but all eastern European girls. My love to all those beautiful ladies.

Haleluia its raining apps :)

Seriously apps just keeps coming to windows platform daily

I wouldn't get too excited though. Keeping them updated is more important than just being available.

This app is available in The Netherlands for a while now and gets updates.

Agreed. The real test is whether these new apps will be supported with updates. All these new apps are useless if there are no support after being released.

MyTube is constantly updated from what i've seen

Cool. Maybe in future, Banca Transilvania will lunch an app too :)

cool. waiting for BRD too...

BRD's app is very good. You should use it.

I'm waiting too that Banca Transilvania to launch an app too.They had one for Windows Phone 7 but they deleted it from the Store.

I just miss COC. Thats all if SUPERCELL release it then it'll be awesome!

Hotel Transylvania has released their app yesterday

The forecast is an upcoming App Tsunami. Get ready. Don't say Microsoft didn't warn you.

It's only a Modern 1.0 App (WP8.x). I'm still waiting to hear about UWP Apps from key players in the socio-economic game. This is not the deluge MS forecast.

AirBerlin just unpublished their app, the Tagesschau news-app from ARD (world's second largest broadcaster) won't come to Windows because of "low user numbers", Bahn (German's largest railways network) disabled the online-booking for Windows 10 Mobile users,... And what's even worse: Microsoft had one of their worst holidays sales for their mobile devices ever. They are down to 2%, during 2014 they still had 5.8%. That's a 4% drop even though they just released the brand new 950 series.

Whether you like it or not, uwp must succeed and only a foolish company or developer wouldn't want to embrace the uw platform, there's just no reason not to.

Yes however uwp does not mean that the app will be on Wm as well. A company could pick desktop and Xbox for instance. And publish a Wm one. So there is a market but it might not be on mobile, since its up to developers.

Where did you get those holiday figures? Would love to see some source with hard data backing your claims?

Now only if Navy Federal decide to do an app. They dont have any plans at the moment! :(

We are loved in Belgium and in Italy.

That's what i was thinking too for Belgian users. Posted via the Windows Central App for Android

only waited for 2 years - thank you based microsoft. e timpul să constat cu ajutorul unei interfețe user-friendly că sunt sărac oriunde m-aș afla :(

Well at least the Romanians get to do their banking on WP...I switched all my bank accounts to Wells fargo as they are the ONLY US bank I know of that has a WP app, and it's kind of a web page reskin but it works well

All major banks in Poland have WP apps. It's a "must have" in this part of Europe. Wake up MS! We will not wait for Cortana, Groove, Band (the list goes on) like forever.

Great news for all ING customers :)

Finally, they are the greatest, i emailed them back in august i think about an app for WP and they told me back then that they are working on one since they had several people asking for one. Finally i can check my banking stuff with ease.

One of them too, and happy for posting the news. ;)

I've been one of the persons nagging them too :)

Be nice if hsbc could make us an app

Finally! I've been requesting this application to ING Romania for more than two years.

The things moving in the right direction for windows!

An app should come for ING Vysya as well...

Finally! Best app for this year!

Glad to see more and more apps joining the Windows ecosystem . Hopefully that's just the beginning .
Windows Central Newsletter
Thank you for signing up to Windows Central. You will receive a verification email shortly.
There was a problem. Please refresh the page and try again.