inKin's fitness-social media app finally reaches Windows 10 Mobile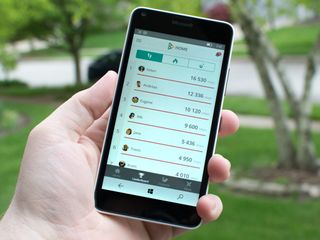 As promised several months ago, inKin has launched a version of its app for Windows 10 Mobile. The app connects to a social media service that links friends, family, and co-workers to different types of fitness devices, including the Microsoft Band.
In addition, inKin links up to devices and apps from Fitbit, Garmin, Jawbone, Misfit, Withings, iHealth, Lumo and more. Here's a look at its features:
LIVE FEED: collect your health and fitness data from different fitness devices and apps. You can connect as many devices as you like, and choose which activity trackers show which metrics on your metric page. * GOALS: set goals for different fitness metrics to help you stay focused on your progress.
CHALLENGES & COMPETITIONS: join and create different challenges and competitions for steps, calories burned, distance, and active time. Challenge – you have to reach either your daily or total goal during a certain period. A participant completes the challenge once he or she meets the requirements. Competition – the participant who reaches the highest metric (steps, calories burnt, distance, activity time) wins the contest. A private contest is visible only to friends you want to compete with. A public contest is visible to all inKin users – anyone can join and participate in public contests.
DUELS: choose an opponent and start a 24-hour head-to-head step challenge. Once the duel has been accepted, it will begin the next day. Your results will be announced after 24 hours.
DASHBOARD - your daily progress, challenges & competitions you are participating in, inKin global score results, suggested friends and more.
LEADERBOARD: shows the performance of friends and family on a day-to-day basis.
GET SOCIAL Support your friends on their fitness journey with likes and comments. Find new fitness buddies in your local community and across the world.
Download inKin from Windows 10 Mobile (opens in new tab)
Windows Central Newsletter
Get the best of Windows Central in in your inbox, every day!
release date of .312 for noninsiders ? - Windows 10 L730(10586.218)

It sounds like a really cool app!

Nowhere near as much as it should be. This is the solution to fitness band social media that everyone needs.

As far as I know is a new service. Quite strange that "Finally", wasn't that long they launched their iOS app. Windows Central app

This is a brilliant social network for the ms band users and others. They have been online for quite some time and only recently developed mobile apps... The W10M looks good... That will save me login online everyday...
Great that this harmonises all the takes until one central social network... The challenges and duels are also more fun than the Fitbit rewards etc...
Highly recommended of you have a fitness tracker...

So far, I'm inclined to agree. We waited a long time to see Microsoft Health get a taste of that Fitbit-style social integration... and when it came, it was a BREATHTAKINGLY lazy Facebook integration with almost no features. There's nothing but daily step comparisons and challenges. They slapped that together with so little content that I actually wondered if it was strictly to respond to the great team behind Fanband bringing us Bandsider.

I have been using for a while and I like it, I strayed because of no mobile app so this is welcome news!!

It's a European startup, not much exposure yet.

Yet, they have tons of users from the US !!! I am struggling to find users based in Europe... Some UK, some France but not much Europeans!

and when are going to fix the Fitbit Alta issue that doesn't sync whit our wp10 phone..first things first

You do realize the two apps have absolutely nothing to do with each other right? You do realize that? Please tell me you understand this...

Perhaps you should ask your question to Fitbit instead, since other Fitbit devices sync with WP... Nothing to do with Microsoft nor Inkin !

Perhaps you should ask your question to Fitbit instead, since other Fitbit devices sync with WP... Nothing to do with Microsoft nor Inkin !

Not dead yet. ~~~~~~~~~~~~~~~~~~~~~~~~~~~~~
ROJO > ARLINGTON, TX > LUMIA 1520 ≥ 950... WAITING FOR 6.2" SURFACE PHONE

Wait until any negative news...the dead heads will return. :)

This looks really cool. So, help me understand a bit, this means the data from my Fitbit Blaze can be seen by MS Health? Or does it jut mean that both services will be aggregated by this app?

Inkin pull whatever data from your Fitbit and Ms Band , Garmin etc and compare with other within the Inkin Social Network... This is only one way ie wearable -> Inkin.
No data pushed to the wearable. So no, MS health won't see any days from Inkin...

Thanks for clarifying. It looks fun nonetheless.

The app lookes like an iOS clone. Is this ported using Islandwood?

It's not. A web wrapper app wouldn't take several months to develop. Posted from Windows Central for Windows 10 Mobile

I have it on good authority that it's a web wrapper as are the 'apps' on iOS and Android. Native apps will come later. You can tell it's a web wrapper by the way the window goes back to the last screen when you hit the back button on the phone.

Umm, you do know that you can add back button event to a uwp app and just go back through the history in that frame.

Trust me on this... all 3 are web wrappers. Native apps are on the roadmap.

In the absence of fitocracy, I'll give it a try

I have a fitbit alta coming today i'll give it a try. I'm still hoping to pick up a band 2 but waiting to get one around $100 bucks

The app just keeps turning and I can't acces. Anyone else have the same problem?

I am. It's never got past its animated opening screen.

Only happens when you don't have internet connectivity in my case

Great.. lovely app Good idea

I tested the Android app for a while. I really like that we Band users can now have a decent social feature. If anyone wants a "kin" on there hit me up. https://app.inkin.com/user/3736
Windows Central Newsletter
Thank you for signing up to Windows Central. You will receive a verification email shortly.
There was a problem. Please refresh the page and try again.