The insanely addictive Crossy Road is coming to Windows Phone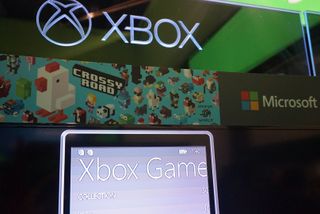 If you're a fan of highly-addictive, yet slightly-frustrating mobile games, you're in for a treat. Crossy Road, an insanely popular Frogger-like game on Android and iOS, is coming to Windows Phone.
The game is running on some devices at GDC, but we weren't yet able to get a hands-on with it as of this writing. We don't yet have any details concerning a possible release date, but the game is being advertised in some promotional material at Microsoft's booth (pictured below).
In the meantime, for those of you unfamiliar with Crossy Road, the game features a pretty simple premise: you control a chicken trying to cross a road. Sounds easy, right? Well, there's a catch: there is no other side of the road, and you're dodging obstacles such as traffic, trains, and hungry eagles along the way.
The object of the game is to simply survive for as long as you can, and you'll snag coins on your journey across the road that allow you to purchase other characters to use on subsequent attempts.
Are you guys excited for Crossy Road on Windows Phone? Let us know in the comments below.
Windows Central Newsletter
Get the best of Windows Central in your inbox, every day!
Dan Thorp-Lancaster is the former Editor-in-Chief of Windows Central. He began working with Windows Central, Android Central, and iMore as a news writer in 2014 and is obsessed with tech of all sorts. You can follow Dan on Twitter @DthorpL and Instagram @heyitsdtl.
I have played copy of "Crossy Road" game... Search "Crossy Bird" in Windows Phone Store...!!

It is a big game. Everyone here at school plays it. Can't wait to get it. Next is fun run 2...

We'll probably get it 14 months from now, just like every WP app that's announced.

Look on the bright side we'll still get it lol.

What optimistic, being realistic!
dont screw it up

And when it comes play it. Show that we appreciate it.

Not every app. Trivia Crack, 0h n0, 0h h1.....

In december there was a game Plague for which the beta Signup were asked for. Wil that be coming or cancelled for in futre or someeone is sleeping :/

I wondering that as well.

Found this on Feb 19th. http://i.imgur.com/ZpZBQ1F.png Should be released soon, hopefully.

Nice. I've been wondering about it too, but I couldn't remember the name.

wow, I always come forgetting to send an email to them asking to bring the Windows Phone version, and now I get that it's confirmed :D

As long as it's really made for Windows and not some bad port.

With a lot of indies making games for xbox one, and how incredibly easy it is to port them, I can see windows devices getting a lot of popular games before other mobile platforms, and that is only going to give it a massive boost :) also add to the fact that every game will have xbox achievements too, it's going to be so awesome!

Will this game have Xbox achievements? They're advertising it with Xbox but you never know...

Still waiting for Halo Spartan Strike :(

Yeah many games like Plague, Quizup, Nd many more

Its nice to get games and all, but I'd rather Microsoft put some effort in keeping apps like bank of America

Not to mention Chase Bank.... By the way you tried using mint app? It works ok for me to handle bank and credit card stuff

Hopefully this won't be as far behind as Candy Crush Saga. How long until Soda Saga is ported over? Oh, that's right, long after it's irrelevant.

Uhm, is Road Crossing 2 the same???

I have played copy of this game... Search Crossy Bird in Windows Phone Store.

FINALLY. For those of you who don't know. Crossy Road is like a real good 3D version of all those crossing games. It has unlockable characters, AND it has both potrait and landscape support.

3D Frogger for those that remember.

This is good news, all the 3rd party crossy road games are bad. Lol

6677g.com on the App Store has a crossy road endless arcade edition out already >.> so someone already ported this game to WP :/

I have played copy of this game... Search Crossy Bird in Windows Phone Store

Sounds fun. We get these apps when everyone on the other Os' get bored of them and stop using them lol

Not really, infact its the opposite. We're getting it because its popular.

Lol dude you cant tell me I'm wrong. 2 perfect examples, Candy Crush and Flappy Bird. We got both of them when they died out, obviously there will still be people that play these, but they are both dead. Just like our app store.

Umm, Dong Nguyen never developed Flappy Bird for Windows. The ones you see in the store are clones which were made by other people. Point is, we never officially had Flappy Bird.

True. He was planning it then had that mental fit and pulled it from everywhere because he was making too much money. Ermm...

I never said he developed it, I said we got it when it died on the other OS.

You are correct. Because developers have figured out how to prey on windows phone users. You make that smash hit on ios and Droid, the hype gets huge. Then when that revenue stream starts to dwindle, u can always release it windows and charge twice as much. Because we will flock to it like vultures.

I seem legit? I'm a human not a fucking ad telling you to buy stuff.

Yes very excited! I've tweeted the developers asking for a windows phone version where I think I asked too many times has now worked out woo hoo!

Halo Spartan strike? When it's it coming?

I've been playing it on my girlfriend's iPad (yes, I know) for a couple of weeks and I love it. The fact that it doesn't push microtransactions on you makes it very enjoyable. I'm glad it's finally coming to the Windows family.

Fuck yes I'm excited! I've heard nothing but positive things about this game. Plus, it's nice to see popular games from Android and iOS make their way to Windows. Hooray! EDIT: I've noticed the article doesn't make mention of Xbox Live support. Is this to be the case? Or is it being released as a non-xbox title?

Will this have Xbox support?

Rather late than never, I guess.