Instagram for Windows 10 Mobile is now available to download as an early beta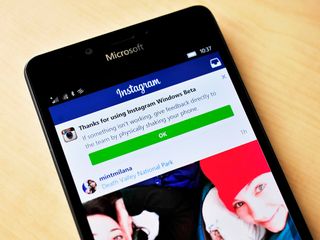 Over the weekend, a video revealed what was supposed to be the iOS-ported version of the new Instagram app for Windows 10 Mobile.
Today, that app is evidently available to download for the public. We have just installed what looks to be a full-featured Instagram app for Windows 10 Mobile on our Lumia 650, Lumia 950 and Lumia 950 XL.
There is even a little notice at the top welcoming us to the Windows 10 Mobile Instagram beta.
From the app description:
"Thanks for using Instagram Windows Beta. If something isn't working, give feedback directly to the team by physically shaking your phone."
"Instagram is a simple way to capture and share the world's moments. Transform your everyday photos and videos into works of art and share them with your family and friends."
"See the world through somebody else's eyes by following not only the people you know, but inspirational Instagrammers, photographers, athletes, celebrities and fashion icons. Every time you open Instagram, you'll see new photos and videos from your closest friends, plus breathtaking moments shared by creative people across the globe."
Over 400 million people use Instagram to:
Edit photos and videos with free, custom-designed filters.
Improve photos with 10 advanced creative tools to change brightness, contrast and saturation as well as shadows, highlights and perspective.
Find people to follow based on the accounts and photos you already love.
Connect with Instagrammers all over the world and keep up with their photos and videos.
Send private photo and video messages directly to friends.
Under the 'What's new in this version' there are the following notes for known issues:
Facebook login
"Share to" functionality
Crashes/stability in creation workflow
We can confirm some instability issues including taking photos and using the editor to post then the images. However, all the features appear to be there we had no issues logging into our existing account. App performance is not as good at 6tag, but this is an early v1 beta.
We'll be posting a hands-on video shortly, but for now, feel free to grab the app while it is still open. The app is not available for Windows 10 for PC, and there is no mention if it will become available in the future or if this will be a mobile-only app experience.
Update: We have been told that the Instagram beta app is not ported using Project Islandwood (iOS), but instead is using Facebook's own Osmeta technology.
Download Instagram (beta 1) for Windows 10 Mobile (opens in new tab)
Big thanks to Fela A. for the tip!
Daniel Rubino is the Executive Editor of Windows Central, head reviewer, podcast co-host, and analyst. He has been covering Microsoft here since 2007, back when this site was called WMExperts (and later Windows Phone Central). His interests include Windows, Microsoft Surface, laptops, next-gen computing, and arguing with people on the internet.
Nice surprise for a Monday.

Indeed! Also shows that Project Islandwood has a lot of potential - if only we could garner decent user additions (and not fall) and the app developers have an open mind.

This isn't project islandwood, read the "Update" at the bottom of the article :)

An OS in meta form before beta I suppose Posted from Windows Central for Windows 10

An OS in meta form before beta I suppose Posted from
Windows Central for Windows 10

Well said on the decent user addition.
It's said this is not an islandwood port, it's written using FB own language.

Totally a nice surprise. Just moved to those 10 mobile and 6 tag doesn't seem to be updating its live tile. So this is coming at just the right time. Thanks for letting us know. Anyone happen to know why 6 tag is not updating my Windows 10 live tile?

I don't know about that specific issue, but 6tag was made for Windows 8(.1). This may be why it's not working. I know that Rudy is working on an updated W10 version, and given his reputation I know it will be awesome. However he is just one person, with quite a few apps, so I understand it takes time.

Right now, Rudy Huyn is busy working on the Dropbox app (the company hired him a couple of months ago). He will eventually update all his for W10M. Have some patience.

Yeah, and this one person also has a full-time job unrelated to WP.

I​ have the impression that Dropbox is his full-time job now?

I also had the problem with the live tile for 6tag, in the latest updates it was solved. The trick is to pin your timeline (or any other), not just pin the app.

I'm having the no live issue as well. Can you please explain how to pin your timeline? And what images does it so? Back in the day it would show random images from instagram. Not really interested in seeing my own pics, their already showing on my photos tile

What I mean is that you can pin anyone's timeline from inside the app, resulting in a live tile that shows that TL's new images. If you just want it to show the pics from those you follow (that's what I meant by your timeline, my bad), instead of just pinning the app icon, pin it from inside the app. That way you're pinning the photo stream, not the app. I think that's what I did that made it work. And yeah, I remember back in the WP 8.1 days, I had two icons for 6tag pinned. One was the blue one with the icon, the app tile. The other one was the one I created from inside the app that showed the new images everyone else that I followed was posting. I hope this helps you.

I've done that on 6tag (pinning from within the app) and all that gives me is a tile of the latest picture when I pinned it. It never changes... hmm...

Yayy, I can finally uninstal the older Instagram beta =) ...I use 6tag but I had the old insta app pinned for more reliable notifications as well as Creating locations, glad this has finally made it's way ...here's hoping they actually update it, unlike the previous version.

I really hope they will improve scrolling. It feels like it's a Silverlight app with the choppy scrolling :)

OMG! Now, lets get official facebook and twitter apps made for windows 10 on mobile and Ill be a happtly person. Sent through Windows Central app for Windows 10 from my Lumia 525.

So recently I picked up a Moto X Pure and I still have my 640 and the differences in the apps that the platforms have in common is astounding. On Windows you still can not approve timeline items and a few other things have to be done on the mobile web. Instagram works a lot better but I preferred 6tag anyway. Everything about the Windows on a phone platform is superior outside of the thrid party apps. The tiles, contacts, email, and every other phone interaction is better. I wish there was a midrange windows phone that supported Hey Cortana for a truly hands free experience while I drive.

How about the Acer Jade Primo and the Microsoft Lumia 650?

650 doesn't support hey Cortana, Primo isn't really midrange +640/Win10

The Primo is a solidly midrange phone.

The Lumia 650 is not midrange. The processor is low end. The Acer Jade Primo is not available yet and we do not know US pricing on the device. The kit is going for $880 US but is not for sale here neither is the phone which from estimates will be over $400. I bought the Moto X Pure which came out the same time this did and for a 32 GB unit it was $379.99 with the same specs. So I agree that the Jade Primo would be great.

I would think the primo will cost $500+...not what I consider midrange. Although primo could cost $400 still to expensive for me to consider midrange...and I don't think it will be that cheap. +640/Win10

I can only imagine what this years MS Build event holds for us.

Totally waiting to get a look at the new universal FB Messenger app!

If porting is the way forward then I'm all for it..... More apps should be ported... Exciting times ahead Posted from my Lumia 1520 high on Windows 10 Mobile

Not working on L535. Crashes just after app is opened. Any solution? Or should i wait for next update?

Try uninstalling it and reinstalling it on the device not the sd card Posted from Windows Central for Windows 10

Move it to the device, wasn't working on my 640 as it was installed on my SD card

I also had same issue. Would not open after installing to SD card. OK, trying to install to internal memory. Promoting W10M 8-bit tile art

Yes, installed on internal memory and now working

Same issue... working now, thanks.

I don't get it. I've been using Instagram on my Lumia 950 for months. Is this a different version?

LOL. Yes. Says in the article. Windows 10

Sorry, it's Monday...my slow thinking day....Oooooookay then....so I guess I need to uninstall the current instagram app I'm running, head to the store and download the new app...bit confusing though...why don't they just update the existing app?

Because a w10 application can't run on wp 8.1

Also because there will be phones out there still running WP8 so you cannot just update the old app.

I just dont get it. I have also been using Instagram beta for months.. and the onlu one available onmy store is the same one i have been using.. So ****** up

Follow the link in the article and you will find the other instagram beta application. You can't just find it in the store because it is still hidden.

My link won't download the app Posted from Windows Central for Windows 10

It's about to rain and storm apps!!

For me, most news occurs on the week beginning. Almost nothing goes on over the weekend. Zachary Bowling - ZAD Apps

That's the most important app for me, i'm happy :)

Generally the updates are on the top of the article...

Agreed. A pretty big one, too, as an avid Instagram user myself. This is a step in the right direction.

Crashes on start on my 525

Install in internal memory

The app in the store has the screenshot from the iOS app :P
Look at those network bars :D

The big question is if you encounter an error will they auto block your account permanently. That's what happened when I install the original Instagram Beta.

iOS Style 3D touch is also supported

Do you know if it supports the higher resolution image uploads like iOS & Android??

Have you heard anything about the messenger app? Posted from Windows Central for Windows 10

There's a meta before a beta? Hahaha. Instagram for WP Beta! Coming in 2017 even though there was a beta in 2014, but lets pretend that never existed With the official release on in 2020!
What a joke.
Been with windows phone for 3 years now. Giving it a chance after a chance, defending it. Now I've realized it's not worth it. I hate android and IOS, but they are superior. See you windows. It was nice.

I might be late or slow, but the shaking thing doesn't work for me. What am I missing?

The store link is not working for me. Currently running build .122 on a Lumia 625

Hope it won't stay in "Beta" like the WP app

Will this always be a beta?

Don't use it myself, but glad to see some progress on the promises made by Microsoft/Facebook

Except 6tag is still better. I mean, auto playing videos? Who ever thought that was a good idea?!

So do you want an official app, or not? I'm confused.

Not when the official app is worse than 3rd party alternatives. The official apps for Twitter, Instagram, and Vine are all bad in various ways. (On all platforms, not just Windows.)

In terms of general userbase, though, it's this official app that counts. For most people that would consider moving to Windows 10 Mobile, they'd want official apps at the same standard they are used to. Slightly more hardcore users will then opt for the choice that suits them - which may or may not be third party apps like 6tag.

But 6tag didn't have push notification :p

You get +4 for that! Posted from Windows Central for Windows 10

It's a Instagram thing. So do you want an official app, or not? I'm confused [2]

I wonder if Rudy will scale down his development time on 6tag given there will now be an official app. If I recall correctly, I thought I read at one time he really only develops apps where there is not an official app.

He said he Was making 6tag a universal app. I'd prefer 6tag to the official but it's good to have the official app on board

I recall reading that as well. Hopefully he comes through with it as I do enjoy using 6tag.

Your thoughts were not correct,you can develop an app third party provided the official owner allows it

I wasn't implying that you could not develop a 3rd party app if an official was also available... My understanding was he only has "interest" in developing apps where a proper 1st party app is not available. Given Instagram now appears to be putting effort into their WM10 app. I wonder if he will scale things back?

Lol at least they're showing interest in Windows

Videos in instagram autoplay on Android too. At least for me.

AutoPlay is also on 6tag, right? I'm always (trying to, actually, groove is buggy as hell) listening to music so every time I open 6tag I get a warning that autoplaying a video will stop the music player, so it offers to momentarily turn auto play off.

actually if you go to settings > general there is a box you can check on or off for auto-play videos

At least it defaults to the sound off though.

Not interested in a company which never updated it's app for windows 8 or 8.1

You should try it out, if you like photos and social apps, it's a good one. Anyway since we have 6tag it's not as urgent to get a good Instagram app from Instagram.

"nobody is making windows phone apps because they think the market is too small and it's not worth their time, so when an app with a big footprint actually comes around to WP, i'm not gonna download and support it because **** them. there is no way these kind of actions could lead to more of the same behavior where developers ignore us, because they'll know i mean business when i stick it to them big time!"

Looks to be a great app finally! It just can't be any worse than the perpetual beta Instagram had previously on WP 8.1

I'm not hip to these apps. I always thought Instagram was like an Uber for weed delivery.

Is that like Dial-a-Joint? Or, in this case Text-a-Splif.

Omg wat? I suppose you could successfully use it for that lol, but out never crossed my mind

I just need Windows 10 Mobile release data :D


You're going to get a thousand people telling you to jump through the hoops and over the hurdles to deal with all the b.s. Of the insider preview. I'm with you, but good luck.

I think it's more the fact users should no longer need to use what is at core a beta-testing service just to get Windows 10.

Apparently, this week. That's the latest rumour, anyways.

Is this ported via Project Islandwood? Posted from Windows Central for Windows 10

Probably not, an Islandwood port would make it have a Windows 10 look and feel, while this is near identical to the iOS app. Probably ported with Osmeta, like the Facebook Beta app for Windows 10 desktop Posted from Windows Central for Windows 10

Huh? Yeah, this was ported with 'Project Islandwood', which does nothing to change the look/feel, it simply ports a working iOS app into an identical, mostly working W10 app.

Looks to be using Osmeta, not Islandwood.

Who said that? Islandwood ports only have a Windows 10 feels if the developer wants so. This is a port of islandwood and yes, this is the design they are going to use from now on. Posted from Windows Central for Windows 10

It wasn't ported via islandwood. Facebook used their own porting tools.

Will this be an update to W10M users who are using the current 8.1 version of Instagram Beta? ​Edit: I'm not an Instagram user.

No, it's a new app. You have to find it and download it.

When the app is ready, they will update the current one (for W10M users only of course).

without steve jobs we would never have this app

no jobs = no iphone = no app

Without him we'd already have a better one in the first place. Not that I'm complaining...

Microsoft should change it's name to "Microbeta"

I know what you mean. We have beta OS, beta apps. It's a beta system, really.

Notice that the app ISN'T available for desktop as some thought would be.

That's not necessarily indicative of anything, tbh. Plenty of UWP apps have arrived on one and not the other only to reverse weeks or months later as the app develops. It makes sense that Instagram would be mobile-prioritizes for what I would hope would be obvious reasons. Regardless, Rudy's 6tag is supposed to be on both, so there will be options.

Yes I thought about that but since it's a UWP (assuming it is a UWP), it would be better to debug both versions no? I mean, assuming that Instagram has any interest in having the service working on desktop which, honestly, I don't see much of a reason for. Specially if they do the same as they do on iOS where the iPad version of Instagram doesn't work on landscape (which is the default mode on PCs) making the entire UX horrendous. And yes, 6tag will be but that's an entire different game. 6tag is specifically designed for Windows. We're talking about the official Instagram app here, which is just an iOS port.

Lol "just ios" ports it's better than nothing, or than lagdroid ports

Both are better than this crapdows :-)

I would love and use Instagram on pc every day. It would save much battery life on my phone. Posted via the Windows Central App for Android

Instagram is for phones, they haven't made a desktop app at all, for any platform.

They do have a website though!

The website is watch only, right? You can't post pictures through it as far as I know.

If they release a w10 desktop version of it, they will probably leave the creating capabilities out. Only watch, like and comment.

For this to be a beta, it's actually really smooth and nice to use. They do need an option to stop auto-play but if this is indeed an Islandwood port, then that means iOS users don't have that option either. I think I'll still prefer 6tag due to the ability to stop auto-play, hide sponsered post and save pics but I like having a big name official app that's on par with the other platforms.

well, I still have Instagram "Beta" on WP! :p Posted from Windows Central for Windows 10.

Can we upload videos? Literally all I care about

Yup! There's some instability in regards to photos and video uploading but it's there.

I hope it wouldn't be another "forever beta" Instagram app

Looks great. There's a nice visual effect using the phone sensors, it changes the color if you move the phone. iOS effect? Looks like Facebook devs are indeed having fun porting iOS apps. First that Facebook PC app, now this one. This Instagram app still have a "back" button (which we don't need) and some iOS toggles.