Instagram live video now rolling out on Windows 10 PC and Mobile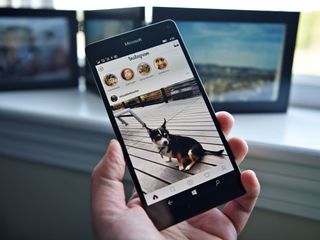 Several weeks after the feature started making its way to users on other platforms, live video is now beginning to become available to Instagram users in the universal Windows 10 PC and Mobile app.
The feature isn't available for everyone just yet, but it is now live for at least some users (via MSPU) following an update to the app, and should gradually make its way to others soon. Once available, however, you should be able to go live by swiping right to access your Story camera. From there, you can switch to Instagram Live with a toggle at the bottom of the screen and start broadcasting.
You can, of course, also check out Instagram Live videos from your friends in the Stories bar at the top of your feed, and from other Instagram users in the Explore section of the app. This is on top of new Snapchat-like features for Instagram Direct, which you can now use to send pictures to others that disappear after opening.
Have you seen the Instagram Live feature pop up in your app yet? Let us know what you think in the comments!
Thanks, Sed P. for the tip!
Download Instagram from the Windows Store (opens in new tab)
Dan Thorp-Lancaster is the former Editor-in-Chief of Windows Central. He began working with Windows Central, Android Central, and iMore as a news writer in 2014 and is obsessed with tech of all sorts. You can follow Dan on Twitter @DthorpL and Instagram @heyitsdtl.
Does it include Boomerang in this new update?

Boomerang is separate app...

Not anymore. It's baked into the new Instagram camera on Android/iOS.

Does it include those new stickers yet that they annoy you with in the story? Also where did it all go wrong with 6Tag. Wanted to buy it but the features are significant worse than to the original app

The developer, Rudy Huyn, had always stated that he made apps to fill a void. Meaning if there wasn't an official version, he'd make an unofficial one. When the company came out with an official one, he stopped developing it for the most part. I was a big fan of the app for years, especially the feature where you could pull up posts based on your location, but the official app is basically on par with other platforms now, so we're taken care of.

Exactly, plus Instagram has regularly updated this app since its release. At least once every 4-6 weeks. So not only is there an official app, but it's actively being developed. Huyn steps back when that happens so no 6tag.

I just wish he would give it one last update and keep it around for reposting pics and saving videos. Right now it takes almost a minute to open on my idol 4s

We should all actually be thrilled that Instagram is regularly updating their app for us. It's one of the few big-name apps that we can actually count on for that.

Actually he has stopped or slowed down development of all his apps, as could be expected as he works for dropbox now. As can be seen with the 6tin app, which gathers more bugs the longer it has not seen an update.

6tag haven't been updated in ages. Rudy must have discontinued it as the official app came out.

Good thing I didnt pay for it yet

I would still pay him for his generosity

Getting paid to do something isn't generosity.

I paid for the app to upload videos months ago, but even I rarely open 6tag because Instagram is really improving, I am not disappointed that I paid for 6tag.

Of course I did, like a jackass

How long did you use the app? How much did you pay for it? Are you really that disappointed that you paid a minimum amount of money to help compensate a developer who built a world-class app to fill a void for our community?

He got compensated very well...Ad revenue. He made a big bank on that.

That's very true, I love how these apologists conveniently forget that.

I didn't forget that he got compensated for ad revenue, but you see in these comments all the time that developers talk about how little they actually make from that. Rudy worked hard to deliver a first class app, better than a lot of official ones. You shouldn't call yourself a jackass for supporting someone who supported the ecosystem we bought in to. If it wasn't for him, or Daniel Gary for that matter, we wouldn't have had an official Instagram app until recently. A cup of coffee or two, is well worth it to support these guys, even if the support diminishes, or stops later.

I'm not all that salty that I supported him I'm salty that 4 days later IG gives me the same for free with no time limit

Big bank on app ads? Um....not from ANYTHING that I've heard.

I purchased 6tag with video upload and ad removal only to have the official app get the same feature with no 15 second limit 4 days later. The beta was around for years he wasn't filling much of a gap other than those extra features.
Still, id be nice if he'd at least give it a final push with stability and remove that 15 sec limit.
Its pretty crappy in comparison to the official one but I'm sure that's good for the ecosystem right?

What about this app?
Its too laggy and buggy.

Works fine for me (Lumia 830, latest RP update) but some iOS-like gestures bug me. If you tap the back button at an Instagram story it'll simply close the app. I don't mind direct iOS ports as long as they work, but at least fix this. Facebook doesn't act like that for instance; it just brings you back to the last screen, exactly as it should.

I mean this app... Windows Central

Oh I see. I have no issues here either, except that I miss direct Store link (old 8.1 app would just open the Store instead of sending you to MS Edge).

Who's down voting this? 🤣
I mean the app really is buggy.
Maybe if we introduce adds we can have a better funding model.

"Who's down voting this? 🤣
I mean the app really is buggy.
Maybe if we introduce adds we can have a better funding model." Is it the least bit on-topic? Glad to see the DV's (and nope it wasn't me that did them). Nothing more annoying than seeing the routine complaints (& then an entire debate) about the app, in an article that's NOT about the WC app. There's well-known avenues, where users can post their complaints & input (-ve or +ve), it's been pointed out to users here ad-infinitum, any post in an article that's NOT about "the article", should be auto-downvoted & removed by mods IMHO.

Well, without this app... There would be no topic to consume... Right?
I think this is the only exception where your explanation goes.

"Well, without this app... There would be no topic to consume... Right?" Not really, there's a thing called browsers, they work well depending on the device, if W10M's your main smartphone OS, there's also a good 3rd-party browser now that does an okay job for spammy sites like WC, can switch back to other browsers for all other stuff. And the point holds true, there's places to discuss this, this thread is NOT the place. How's that Instagram app, any complaints, or things you like???

I see what you did there (and no it wasn't me either). I mean, the WC app has a direct link to the Feedback Hub so what's the point on starting a discussion in a random article like that?

The only problem I have with WC app is in the forums, when I reply to a thread, the page becomes blank.

Fair enough, I don't check the forums that much so I wasn't aware.

I would love for them to let u see the whole thread titles and what forum they are from when u are viewing recent threads. I also need them to make it so that when u touch a thread it takes u to the first unread post

I thought I got it, but not yet. The wait is on...

Is anyone else having a issue linking their twitter accounts? Won't let me link mines

I wish the Facebook team would take notice and update as often as Instagram does and bring the live feature to their app and video calling and snap chat like features to the messenger app

Guess we were right about Ig somehow getting it first on w10. I really wonder why they put so much more effort on IG than FB on w10

They have maintained them as a separate team. While it would be nice to have shared resources, this does have the benefit of not holding back features when they are ready.

Still waiting on boomerang...

Normally they just come straight back

How do we do the disappearing pic?

You take a picture like you would add it to your story but instead you can send it to specific people. Very similar to snapchat.

Happy to see this feature come to the Windows Phone... But disappointed to see that the other features like stickers and boomerang not make it as well. Hopefully in a future update... Fingers crossed.

What's the new update build number?

Very glad to see it being still updated, although it's like a month or two behind the other apps, I'll take what we can get! Next up is Facebook to update their app

A month behind is par for the course with Instagram.

Don't have it here yet but good to know it is on the way. Now if Facebook could bring Live to its Windows 10 apps.

I can't install the app..in the last days i'm getting an error. I unistall the app, restart the download, but it dosen't finish. The instalation starts and i get a error. Any other apps downlaod and install correctly =\

So far, no update to the features. I just generally hate the entire design of this app to begin with. It's really horrible in every respect.

Same exact as on other platforms. 6tag still had a better design... But now its behind in features

Kudos to them for keeping this app up to date, but I can't help venting that instead of adding new features they should fix what's broken first. Not having the ability to browse and post pictures for me is a major flaw, especially since that is the main purpose of this app. I see no pictures when trying to post one from my existing library.

Got it when I downloaded the app on my new 950XL Yesterday some how. :-)
Funny how people jump to automatically asking about boomerang and complaining it isn't in the update...
Oh well. Glad we have a feature rich official app now!

All we need is Facebook live

Video finally works on Instagram! ☺

Still no boomerang in stories? ://

So... my IG updated but I can't figure out how to go LIVE

Swipe right to view the camera. Then select live (small text) at the bottom of the screen. It will switch from regular camera to live.

I'm not seeing that. My version number is 10.707.48352.0

I am getting an error message every time I try to download Instagram. Can anyone help?

It's there. It's just not obvious where it is. Swipe left to the camera screen when you are in the app. Tiny print at the bottom says "live" tap that and go.

Not there... Nothing at all in fact. Just shutter button

Wierd. What build are you on? If you are on the newest Fast Ring build. Use then"Reset App" function. It should re-download the newest version. If not....log out, uninstall, soft reset your phone, then reinstall the app and log back in.

Ill try that the reinstall logout reset method. Thanks

Lol was about to give you the bad news (it didn't work). I months behind in terms of builds, and that's because I have no more storage. Gonna wipe it clean this week anyway so maybe it'll fix in a newer build.
Windows Central Newsletter
Thank you for signing up to Windows Central. You will receive a verification email shortly.
There was a problem. Please refresh the page and try again.